Plan it Teach it
Easy to use, interactive resources.
138Uploads
6k+Views
2k+Downloads
Easy to use, interactive resources.

I have created this resource to coincide with teaching reproduction. There are 37 printable slides with the terminology printed separately to the corresponding definition. This is a multi-use resource that could be displayed around the classroom, or as a starter/plenary (get students to choose one of the words without looking and then write the correct definition). This could also be useful when revising with students when discussing exam practice.

Interactive escape room lesson for teaching an introduction to Business Studies. Easy to prep lesson as resources, task cards just need to be printed in advance. The lesson provides a fun introduction into a range of business topics (entrepreneurs, communication, and a range of key terms). Included: Five task cards to complete the escape room PowerPoint Lesson Plan Answer sheet

This lesson is designed around the iGCSE Business Studies curriclum (Cambridge) however could easily be used for other exam boards. This lesson focuses on Laissez-faire, autocratic, and democratic leadership styles. There is a printable starter and main activity included. Included: PPT (with bell ringer & plenary included) Starter Main Activity *Because of copyright issues I have not included examples of real world 'leaders' however I would recommend doing so to contextualise the issue for students.

This lesson is focused around the reasons new and existing business fail. Included: PowerPoint (with starter activity, main activity, and plenary included) Lesson Plan *This lesson requires you to print out newspaper articles (the links are provided) so some preparation is needed. However if you have access to computers in the lesson you could simply save them into the public drive so they have access.

This is a lesson I used with a KS3 (year 9) class sitting their GCSE a year earlier; covering the 'social impacts of ICT'. Included in this resource pack: PPT (with activity and discussion points) Starter activity Online activity Lesson plan

There are 50 slides in this PP, alongside a range of starters/plenaries for each sub topic within the unit. There are also a range of questions that could be used for different activities and stretching students thought.

I used this for a year 8 careers lesson, looking at a range of industries and the skills that are needed to gain employment within them. Included: PPT Starter acc Plenary acc Fact-sheet to support main activity.

Full lesson included on opportunity cost. This lesson was originally designed for the iGCSE Business Studies Cambridge course, however it would definitely be suitable for most business courses. Included: PPT (with bell ringer and all the key information to teach the topic) Lesson Plan x2 teaching activities (one printable and one on PPT) Homework Printable plenary activity

This lesson could either be used to introduce yourself/the topic or as a cover lesson for another teacher.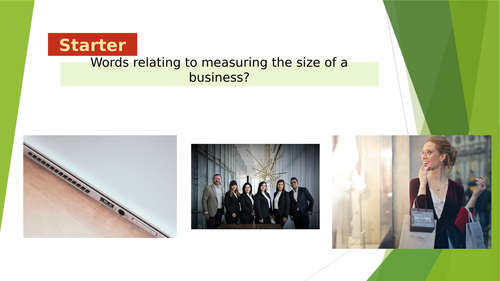 This resource includes a PPT alongside a starter, main activity and plenary included inside of the PowerPoint. This is predominently a research idea, getting students to focus upon Nissan as the case study therefore access to the internet or further info on the company will need to be provided.

Careers pathways lesson: This lesson gets students to think about the different career opportunities they have after leaving school, what they include, and which they could be best suited to. Included: PPT Starter Main Activity Plenary

6.1 Government economic objectives and policies Lesson about Government economic objectives and policies; Included inside: Starter, main activity, and plenary.

Included: PPT (with bell ringer, starter, and plenary) Main activity Homework activity *Notes are included in the PPT (notes section) to assist with delivering the lesson.

2.2.2 - The role and function of management. PPT (with bell ringer and plenary) Printable starter Printable main activity

To be able to define what a franchise is. To be able to explain the benefits of a franchise. Students should be able to explain what a franchise is, what the benefits are for both the franchisor and franchisee. Included: PPT Starter Main Activity Plenary Lesson Plan

Included: x3 printable activities each suited for the different topics on motivation. Non-financial motivation Financial methods of motivation Scenario's to apply students understanding of the methods Each could be used for a separate lesson and build upon student's understanding of motivation in business.

1.2 Classification of businesses 1.2.1 Business activity in terms of primary, secondary and tertiary sectors: • Basis of business classification, e.g. by using examples • Reasons for the changing importance of business classification, e.g. in developed and developing economies Resource bundle includes: PPT Starter x2 Main activities Plenary On the PPT there is a section for assessment however this is included in the next resource pack as it includes questions relating to the second L.O's in the topic.

Homework focused upon verbal and written communication. A range of activities are included to introduce and build upon the topic. Answers are included on the second page.

Homework focusing on the four factors of production. Could be used in conjuction with a range of Business Studies courses. Three activities are included & answers to the questions are included on the second slide. Please leave feedback if the resource was useful.