11Uploads
1k+Views
228Downloads Contains differentiated word problems based on the STONEAGE. Divided into three sheets with a caveman depicting the difficulty level. Contains a STARTER AFL sheet that acne be used to group the children at the start of the lesson. Simply print and cut on paper cutter or get the children to cut. Suitable for Years 3 and 4 but could also use for Year 2. Fully editable as on WORD. A selection of 4 Pre-Prepared Game Cards. DIFFERENTIATED ALREADY. The children play as either Orcs or Elves and take it in turn to choose a square and half the number, if they get it right they colour the square their colour. The winner is the player who has conquered the most squares by the end of a given time or by the end of all squares being taken. Works superbly with clips of the Hobbit, Lord of the Rings or Warcraft on Youtube. Can easily extend to doubling or even giving equations using certain operations that would give the number in the square as the answer. Superb Warm-Up, Continuous Provision or lesson activity. Just Print and GO. Numbers changeable is you require. Extension - Can give students blank cards they create themselves. You can also create some coloured squares that are worth double points if conquered. Doubling, Halving, Addition, Multiplication - The possibilities are yours to decide. Use the MOGWAI (you know Gizmo from Gremlins) to share out division problems . Contains: Differentiated sheets with division sharing problems on - extension tasks for lessons afterwards. Mogwai tokens - to cut (or laminate and cut) so the Mogwai can be shared into cages (circle on a mini whiteboard). SmartBoard Flip - Featuring starter game, examples and work through guide. No lesson plan but easy enough to follow via the flip and resources. Change the date, print and go. Can be reused easily by changing numbers however you like. Ideal for years 2/3. (Possible for Yrs 1 and 4 too depending on ability requirement) The children will enter Santa's Workshop and begin to build thinking, reasoning and communication skills to decide who should win "The Most Important Part of Christmas Award". The lessons can be used together as one theme afternoon or day or spread over a week to enable further in-depth analysis and reflection on the choices made. Using deeper thinking skills children build persuasive arguments through a number of challenges faced by Santa, his elves and the reindeer. Contains individual sheets or large classroom signs to transform areas of your class into the buys Christmas workshop. Visit Santa's Route Planning department, the Reindeer Barn and the watch tower where we decide who is naughty and who is nice. Building on PSHCE, Communication and thinking skills this broadly open bundle is suitable for Key Stage 1 and Key Stage 2. Previously used as a judged Outstanding Lesson. Everything you need to keep children focused in the last week of term, however keeping learning relevant, pushing thinking skills and building a classroom culture of debate, discussion and quality communication. Children create a Pet Rock - Decorate a rock. Then after being told about MRS NERG - The 7 Life Processes, apply this knowledge into to creating a care guide for their rock. Save time by simply downloading these three differentiated sheets - with space for either a photograph of the rock or a hand drawn picture. The children fill in and they make a lovely display. 3 Differentiated Sheets - Complete Time Saver. A collection of resources to explore division ideally for lower Key Stage 2. Enough resources for many themed lessons. Worksheets and lesson ideas provided. Grab a BARGAIN. Simple differentiated sheet - Print onto A4 or A3. What will the children buy from the alien shop? Add up, calculate change, what can you buy for X... Possibilities endless - Simple resource but ready to use. Also a continuous provision sign inviting children to design their own shop. All numbers changeable. Read the Sailor's Diary - A recount entry, highlight key information then use the database of information to cross reference the key geographical observations to match the Sailor's account to which island he is on. In the example provided he is on the Galapagos, but students could then create their own dairy entries using scientific and geographical facts to support creative writing. Children record conclusions on a thought map. Individual and a large paper provided for supported group (shared write) An advanced application skill suitable for KS2 children.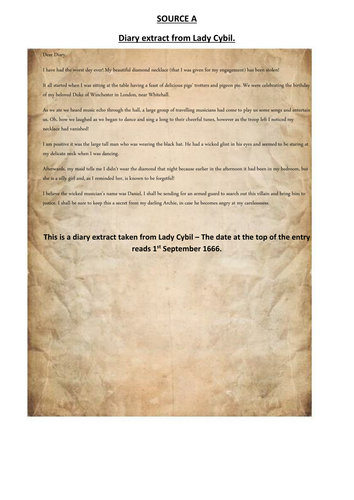 Using a bank of historical sources the children will solve the mystery of the Diamond in the Fire. The children are slowly provided with Historical sources A-G and slowly retrieve evidence from the text to solve the mystery of who stole the precious necklace and how it ended up in The Thames during the Great Fire of London. This activity can be advanced as you like, with support and guidance providing the differentiation making it suitable for any KS2 Year Group. I have used Hot Seating of characters, drama and even researched the Great Fire on iPads to stretch this mystery out over the course of a week. A superb resource that allows children to use evidence to interpret historical sources, infer beyond the literal and pull direct comprehension from text. History, English and Guided Reading. This is like a murder mystery dinner party for your classroom! Below is a sample from the Teacher's Guide that explains some of the findings from the Historical Sources: Source A - Lady Cybil had a birthday party. She believes she wore her necklace but her maid tells her she didn't. She cast suspicion on a mysterious Daniel, however she admits she is a forgetful and absent minded character. Source B - Shows Lady Cybil did not meet a DANIEL as the musician was called David. Source C - This shows that the day after Lady Cybil's diary entry the Great Fire of London occurred. This could mean the city was in chaos so perhaps the robber got away in the confusion of the next few days. Possible side research on Great Fire. This also gives important locations to use later with the MAP evidence. The guide continues like this revealing the story and guiding teachers through this exciting mystery.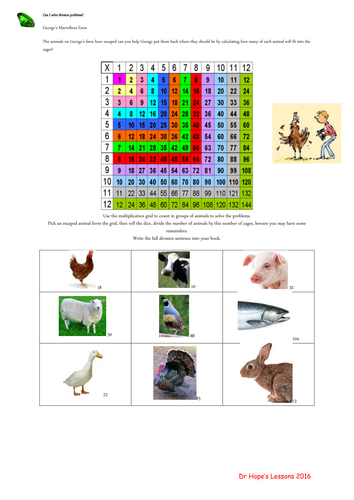 Differentiated self explanatory sheets that help George divide the escaped animals from the farm. Each of the sheet is differentiated - Ruby, Amber and Emerald. Based on Roald Dahl's - George's Marvellous Medicine. Focus - Division by sharing, moving to division by chunking into multiplication knowledge. Ideal for Years 2 - 4. RUBY - DIVISION based on sharing animals into cages - can assist practically by drawing circles on white boards and practically adding animals. AMBER - DIVISION based on making jumps along the number line beneath the animals - division by chunking and as repeated addition. EMERALD - DIVISION based on using a multiplication square to assist in solving a wide variety of problems. Children will record in books as full number sentences. LAUNCH your traditional tales/twisted tales project by creating a beanstalk in your classroom. Then allow the MAGIC letter to appear from a mysterious Fairytale character. Give each group a RUNNER bean seed to grow but attach the little magic scroll to each one... The wonder and magic has been created. Children create a science investigation to determine which liquid allows the seed the grow the best. After forming a conclusion the children must then use literacy skills to write a letter and set of instructions back to the characters in Far Far Away to tell them how to grow the magic beans. Also included Wanted poster to stick around your room (just replace the picture with characters from books and films you study). This was used as a HOOK to apply science, English and wonder into our TWISTED tale project, where the letters down the beanstalk finally revealed it wasn't Red Riding Hood in trouble but the kindly wolf. Contains: STORY Letter scroll, Poem Scroll for beans, example investigation sheet and modeled writing sheet. Everything you need for a few lessons worth of magical learning! Objectives: Writing Instructions Designing an investigation Recording and concluding a scientific investigation Reading and interpreting (Story on the scroll) Creative writing - Letter writing to Fairytale Folk