Jennene01's Shop
Artist and Educator for over a decade.
11Uploads
4k+Views
774Downloads
Artist and Educator for over a decade.
This Pop Art Power Point includes: 6 lessons fully outlined within the slides Assessment based starter task Language and Literacy tasks Retrieval tasks for colour theory Skills development for coloured and normal pencil Observational skills (can add extra challenge by working from actual tins in class and or at home) Independent Learning 3 pathways to succeed levelled examples of pupil's pieces making great visual aids Step-by Step tuition and links to online tutorials (not mine) Self-Evaluation Great for year 8 and to cover a half-term. Ideal for towards the end of the school year or during busy assessment times. Non messy, fully engaging with various levels of challenge. Enjoy.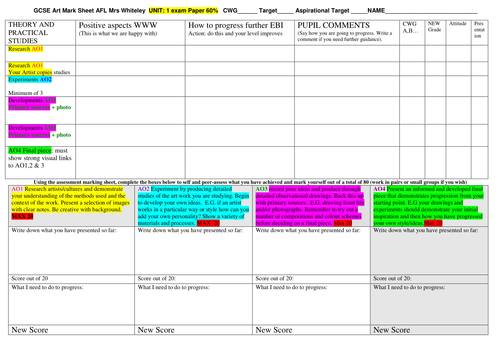 I developed this over a number of years of trial and find this promotes a clear understanding of pupils knowing where they are. It is split into two, Unit 1 you can use 2 or 3 times as preferred and unit 2 for the externally set exam. Peer Assessment Self Assessment Formative and Summative with the opportunity to show clear feedback to pupils to encourage progress. I hope you enjoy.
This project includes: The bones of a power point with: a project brief, suggested task list and prompts for final pieces. Lesson objectives are not included to give you autonomy. The visuals took me two days to compile. They include a variety of media examples (sourced freely from the internet, no copyright was apparent and the images are for inspiration and education only) linked with the elements and colour. In addition a number of the visuals have questioning prompts on them that you can use as discussion points and for peer assessment. The project looks at 'parodies' and is full of interesting ideas. I printed off 3 sets of each and had them laminated. I suggest using them in conjunction with a colour wheel and art literacy maps. The project also comes with an tracking sheet, you can offer feedback and show progress with this. It also has the project brief on it. I make folders and have pupils' stick an A3 copy of this in that so it is large enough to be seen! It also link to the AQA assessment specification for clear marking. Many thanks. Each element comes with high res images for your piupils to be inspired by and study, line, colour, observational drawing, texture…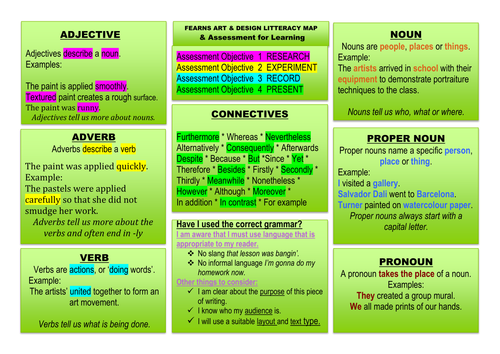 Literacy maps are being utilised more and more within schools to assist pupil learning. I have created and adapted this one from various sources to make it subject specific. It is also in font 16 and on a green background making it user friendly for a variety of learning needs. I hope you find it useful.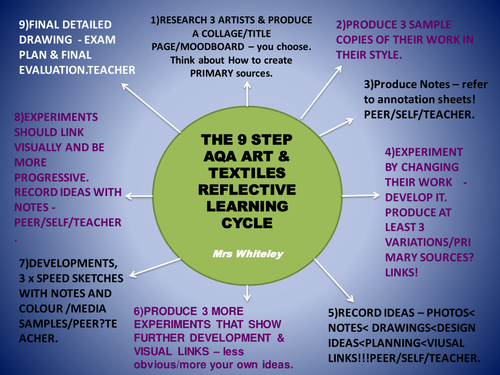 This is a reflective learning guide for pupils' to follow for each of their projects - it is a generic format so it can be used for any project. It is a comprehensive guide yet a simple learning circle that makes life easier for pupil's and teachers. It includes vital points where pupils should utilise self/peer and teacher feedback. It is also a development circle that creates opportunities for further ideas and experiments - crucial to identifying learning and assessment for GCSE Art & Design higher grades. It will also assist with reaching desired outcomes for all artistic standards. I hope you find it useful, you can adapt/change the wording as fits for you if you need to. I have copies on my wall and laminated copies for pupils to follow in class, plus paper copies for them to keep and refer to.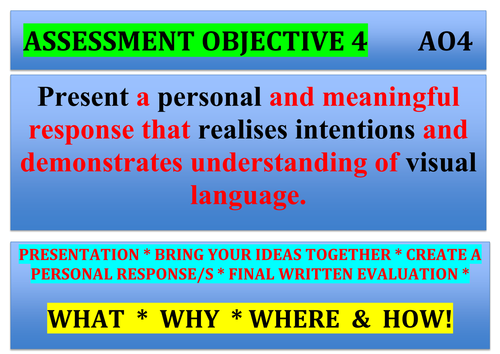 This is the new levels and descriptors for AQA GCSE Art & Design. You can use it to create a Learning Wall as it is the essential objectives mix. My pupils pin their names on the wall for each objective when they are self and peer assessing. it is layed out as follows: Title - you decide on this, mine is GCSE Art & Design/Textiles Sub Title: Mine is - What Grade am I? Then under that along the top the 4 assessment objective descriptions Down along the side edge the grades/marks In the gaps then, the relevant assessment criteria. It is all colour coded. You may need to refer to the new specification to put your criteria in the correct order. I hope it saves you a lot of time! My display also includes my differentitated reflective learning Help Guide. Also included FREE for you in this pack.
An A4 PDF to download and print as many times as you like. Spirit of Ice a unique design by me the artist www.jwart.info MA Fine Artist Has value scale embedded for differentiation to aid tone and or hue choices for light to dark. Practice boxes that double as a learning guide Add colour pencil or paint or both. Bring out further detail and increase skills for mark making, pointillism and line pressure. A quick convenient lesson ideal for Winter and a 'cool' colour palette.
Amazing set of videos broken down into bite size files to enable you to teach to your own timescale. Excellent exercises to simplify how to look at colour value and match to tone. This is a great resource that breaks down: How to draw a self-portrait using a mirror or from a photo. Step-by-step follow along videos break down all of the facial features including how to add tone and shadows Knowledge retrieval for the tonal ladder How to look at skin tones and match to a tone Can be applied to multiple skin tones Shown in real time Soothing voice over with clear instructions Self-evaluation, peer and teacher assessment opportunities
This is an excellent packed resource that enables everyone to achieve - leave no one behind. Actual sketches of artists work (mine) developed into work sheets that can be treated as: Colouring sheets: develop a number of skills in a control way, e.g. coloured pencil blending. Simply print onto cartridge paper or other for other wet media and get creative. This bundle aids teaching: Pointillism and other mark making methods Includes a number of examples to create various pathways and levels of challenge and a slide show. An ideal engaging substitute lesson. You can vary the printing size. Add borders etc Over ten print outs for you as jpeg and PDF and bonus video tutorials Curriculum links: Surreal Nature Environment Feelings Art Nouveau Fantasy Art And of course, you and your pupils are welcome to explore my style. I hope you enjoy. www.jwart.info MA Fine Art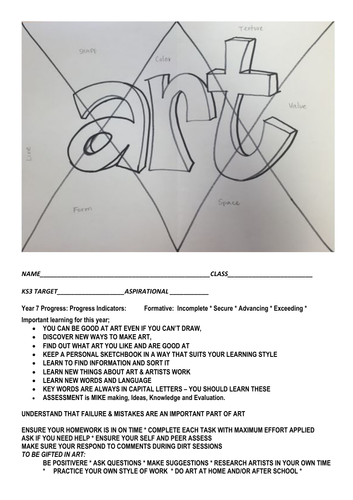 A full half term introduction to art. Great for year 7's as they begin high school. PDF and editable words doc. Instructions for assessment. Information for pupils on what they should learn in year 7. Tried and tested resources that get great results and engage your year 7's Can be printed out as a booklet in any format of your choosing. Spiral bound or stapled. Lots of ways included to stimulate discussion, show examples and enable pupils to demonstrate what they have learnt. Very useful starter for introducing art & design. Time saving and a good way to save costs on sketchbooks.
A stunning Christmas themed colouring (coloring) page with work boxes to help guide colour application. Simply download and print the PDF onto your chosen paper. Add paint, coloured pencil etc it is also a perfect resource for teaching mark making through line pressure and pointillism. Ideal end of year resource and cover lesson. Great for exploring colour and meaning and association with times of the year. Prints to A4 PDF Sample examples also attached for reference.