22Uploads
17k+Views
5k+Downloads

This is my main IWB smartboard resource that I used to sequence my literacy lessons together during an 'Enchanted Woods' topic. I read the story to my class whilst I was using this resource and they produced some of their most imaginitive writing to date. I have included 2 IWB resources: Main Enchanted Woods- many lesson starters and plenary activities (28 pages) - Developing and describing enchanted story settings - Writing postcards from the settings - Story planning (magic objects, characters, settings and plots) - Writing a structured beginning, middle and end of story. - Writing a blurb for the books. - Writing a diary entry from the enchanted woods. - Writing a blurb for their own enchanted stories. It also contains a 'Instructional Writing' IWB resource to help children design their own enchanted creature trap, make their trap and write instructions to use their trap. I have included a few writing templates and success criteria strips that I used during the lessons also. This resource will definitely set you off to a great start in an Enchanted Stories type of topic, KS1 or lower KS2. Enjoy!

2 fun games that can be edited to suit the phonics sound or word type that you are currently teaching. 1st game has footballs with different words on that the children can flick (interactively) into the goals. 2nd game has 3 cups per page with different words on. The children must read the word on the cup to try and find where the toy bear is hiding. Can also be changed to suit your current sound.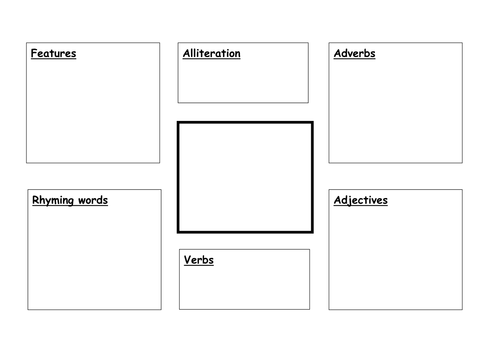 A notebook resource to encourage children to think of different vocabulary to use in a poem. Includes; nouns, adjectives, verbs and adverbs. This was used to plan our autumn poems and alot of the planning was done on whiteboards and through discussion. Includes diamond poem template sheet.

The gingerbread man lesson was to get the children to alter the types of verbs they use in their writing and encourage them to use more exciting verbs. This was a very fun lesson that I used for an observation and is well differentiated with fun activities. Includes; smart board lesson starter inc game, modelling sheet, text sheet to be printed on A3 for children to highlight the verbs, 4 x differentiated activities for Year 2 class, speech bubbles sheet for LA/SEN and instructions for TA to work alongside HA group. The presentation also includes an activity I did later that week to use bossy verbs to write school rules posters.