17Uploads
2k+Views
1k+Downloads Colourful Semantics cards to use with the story 'Handa's Surprise'.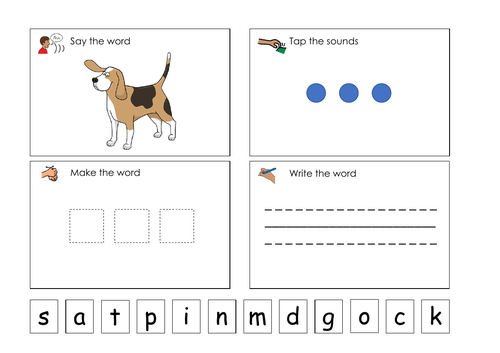 A pack of 7 scaffolded sheets for writing CVC words. These are suitable for children who can write some letters but need support to segment and write a whole word. A unit of 3 intervention lessons for emergent writers in Key Stage 1, based on the story of Handa's Surprise. These lessons introduce the basic concepts from 'colourful semantics' to support the construction of simple sentences. They also contain exercises for practising the physical, phonological and spoken language skills to support writing. Lesson activities and objectives are based on guidance from the EYFS and Year 1 National Curriculum.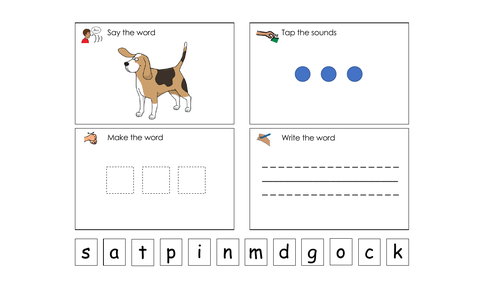 Free Sample CVC Word Writing Sheet A scaffolded sheet for children to write the word 'dog'. This is a sample of the main resource pack which has 7 activity sheets here: https://www.tes.com/teaching-resource/resource-12579500 These are suitable for children who can write some letters but need support to segment and write a whole word.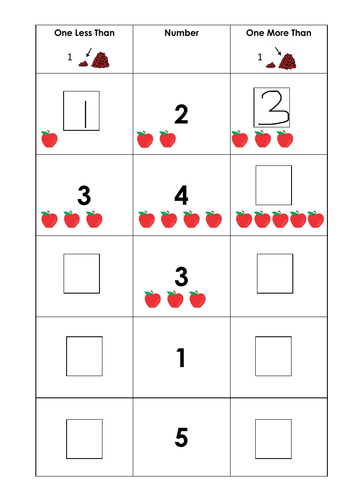 Task sheet for finding one more and one less than numbers within 10. There are three versions included with different levels of difficulty. Features: Pictorial representations (apples) Pictures of concrete representations (cubes, bead strings, numicon) Communication symbols Numerals Colourful Semantics cards for 'Anansi and the Tree with a Face', a traditional West African tale. You can listen to the story here: https://www.youtube.com/watch?v=4Qw5cf_VGD4 Pack of 18 illustrated task sheets to practise counting and recognising numbers of objects within 10. These can be used as differentiated lesson activities, starter activities, morning jobs or in-tray tasks. Especially suitable for young learners and those with SEND to help develop independence.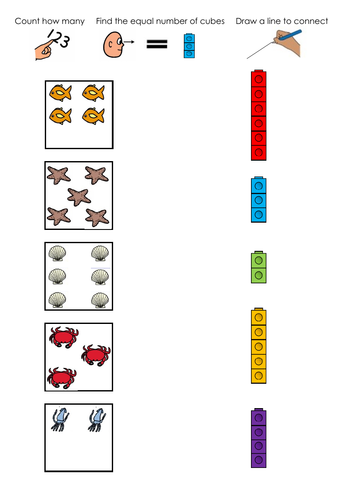 Free Sample of pictorial maths tasks for counting within 10. Suitable for Year 1 or learners with SEND to encourage independence and practise counting skills. The full pack (18 pages) can be purchased here: https://www.tes.com/teaching-resource/-12578501 A useful guide for how to use Tchaikovsky's Nutcracker Suite to teach music in Key Stage 1 (ages 4-7). Includes a simple explanation of terminology, a guide to questioning and a list of activities which are designed to meet the National Curriculum teaching objectives for music. Also included are ideas for creative outcomes that will capture children's imagination. Youtube can be used to find performances of The Nutcracker and related pieces by a range of different orchestras and ballet companies for comparison. The Fantasia version can also be found on Youtube.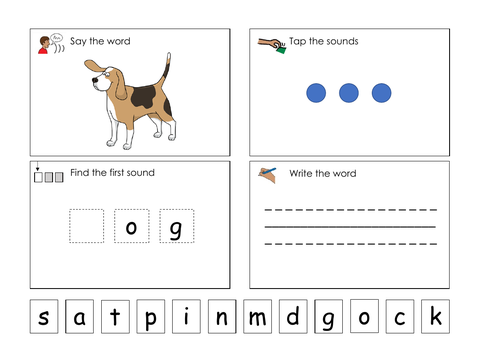 A pack of 7 scaffolded sheets for identifying and writing initial sounds of CVC words. These are suitable for emergent writers who have begun to link letters to sounds, to encourage them to start writing initial sounds to represent words. For children who can identify begining, middle and end sounds in words, there is a version where they need to find all three letters: https://www.tes.com/teaching-resource/resource-12579500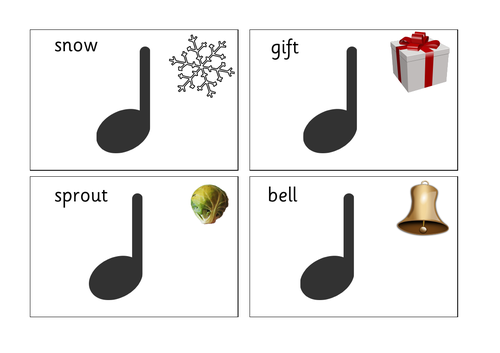 12 festive rhythm cards with picture cues, musical notation and words to help recognise simple rhythms and begin to read and understand musical notation using crotchets and quavers. These cards can be used in a group activity to practise reading and clapping rhythms. Links to the KS1 National Curriculum for music. Resource pack for 'Christopher Pumpkin' by Sue Hendra and Paul Linnett. Includes: colourful semantics word cards simplified version of the story pumpkin themed story mountain A wall of positive behaviour tagets for use with Reception-aged children experiencing behavioural/ emotional difficulties. I have illustrated each target using Picture Communication Symbols to support children's understanding of the targets. Instructions for use: The wall of targets poster and a daily tracker sheet should be stuck up somewhere accessible to the child where they can use it to view and record their progress. Each day, support the child to choose 1-2 targets from the wall. Record these in the tracker sheet and select a coloured felt tip for each target. Every time the child meets their chosen target that day, help them to make a dot on the daily tracker with the felt tip. When the child has achieved a certain number of dots for a target, they can either colour in or stick a coloured brick over that target on the wall. A fun lesson teaching children to analyse how authors (in this case, screenwriters) create suspense to engage their audience. You will need to be able to access a clip of the opening sequence of E.T. - available from many video streaming websites. Everything else is included: Powerpoint presentation Storyboard sheet for note-taking while watching clip Script of the opening scene for pupils to annotate Worksheet with space for pupils to write their analysis of each scene underneath For higher prior attaining pupils, they can just write their own analysis paragraphs straight into books or on lined paper. The worksheets have a date at the top - please change this to whichever date you wish.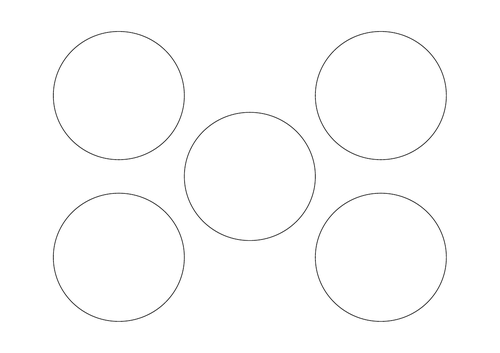 Hungarian Number Frames: 5 and 10. These are more intuitive for young children to use than normal ten-frames.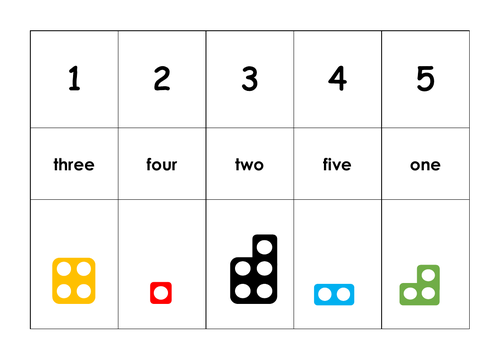 A set of cards to match words, numicon and numerals to 20. They are mixed up already on the sheet so that children can cut the cards up themselves if needed.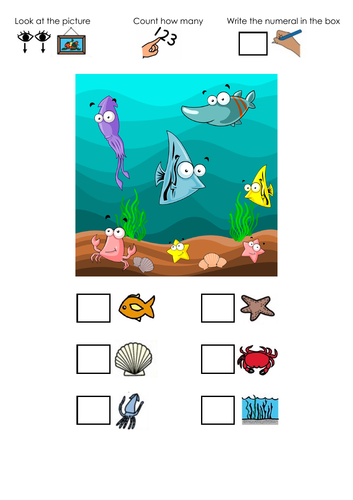 FREE Sample illustrated task sheet to practise counting and recognising numbers within 10. Especially suitable for young learners and those with SEND to help develop independence. The full activity pack (18 pages) can be purchased here: https://www.tes.com/teaching-resource/-12578501