6Uploads
1k+Views
308Downloads A set of 11 pictures to stimulate children's imaginations, with lines underneath for them to write. Perfect for a morning task or 'do now' at the start of a lesson. Could be introduced to children with some key questions, e.g. 'What can you see?', 'Who do you think he/she is?', 'Where did it/they come from?', 'Where will it go next?' etc. A wall of positive behaviour tagets for use with Reception-aged children experiencing behavioural/ emotional difficulties. I have illustrated each target using Picture Communication Symbols to support children's understanding of the targets. Instructions for use: The wall of targets poster and a daily tracker sheet should be stuck up somewhere accessible to the child where they can use it to view and record their progress. Each day, support the child to choose 1-2 targets from the wall. Record these in the tracker sheet and select a coloured felt tip for each target. Every time the child meets their chosen target that day, help them to make a dot on the daily tracker with the felt tip. When the child has achieved a certain number of dots for a target, they can either colour in or stick a coloured brick over that target on the wall.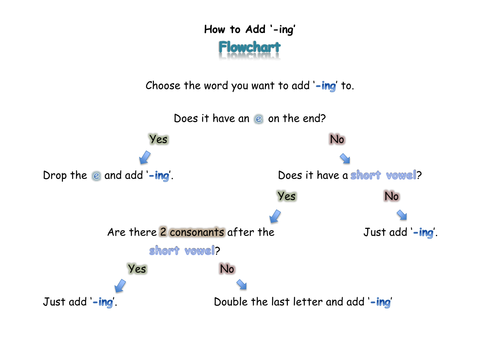 A flowchart for students to use to decide what they need to do when adding '-ing' to a word. After practising with this flowchart, they should eventually internalise the process and apply it automatically when adding '-ing' to any word.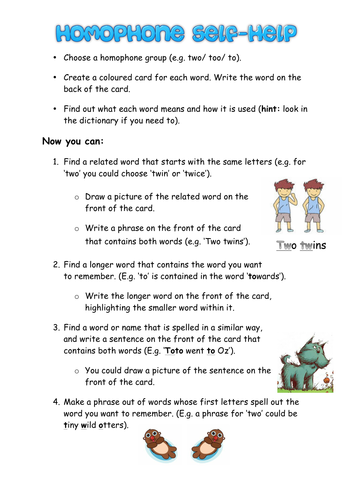 A guide for students to help themselves to remember the differences between common homophones. Includes a range of memory techniques and a fun test at the end. A fun lesson teaching children to analyse how authors (in this case, screenwriters) create suspense to engage their audience. You will need to be able to access a clip of the opening sequence of E.T. - available from many video streaming websites. Everything else is included: Powerpoint presentation Storyboard sheet for note-taking while watching clip Script of the opening scene for pupils to annotate Worksheet with space for pupils to write their analysis of each scene underneath For higher prior attaining pupils, they can just write their own analysis paragraphs straight into books or on lined paper. The worksheets have a date at the top - please change this to whichever date you wish.