Big Bird's shop
A medley of resources that has helped me over the years.
11Uploads
2k+Views
1k+Downloads
A medley of resources that has helped me over the years.

Designed for KS3 HA students: Power points, supporting worksheets and a homework choice board. Covers: -types of sentences - tension and suspense - Freytag's story writing pyramid -links with folklore and 'Tir Na Nog' -Propp's theory -emotive language - the last lesson challenges pupils to design their own lesson

Initially designed for very low ability Year 7's ( Nurture groups). Would also be suitable for KS2. Power points for each lesson. Work book for students to write into. Homework choice board- students pick one activity to complete for each homework.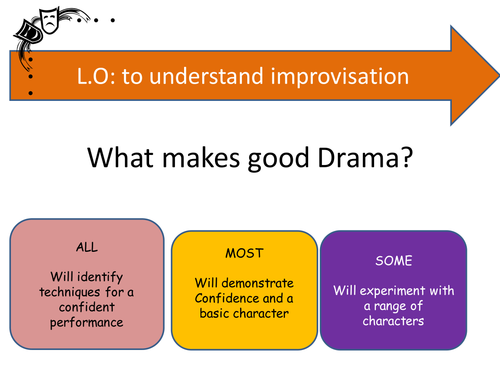 A gentle introduction to improvisation. Lessons are in PPT format : Objectives include lessons that : Will identify techniques for a confident performance Will experiment with a range of characters Within the objective are inbuilt success criteria. LESSON TITLES: 1. Telephone 2. Everyday 3. Spontaneous 4. Characters A good basic set of four lessons to get a non -specialist in particular started.

POWER POINTS FOR EACH LESSON. HOMEWORK CHOICE BOARD. PUPIL WRITE- IN BOOKLET TO ACCOMPANY POWERPOINTS- Booklet gets progressively more difficult as scaffolding removed. DESIGNED FOR KEY STAGE 3 LOW ABILITY GROUPS.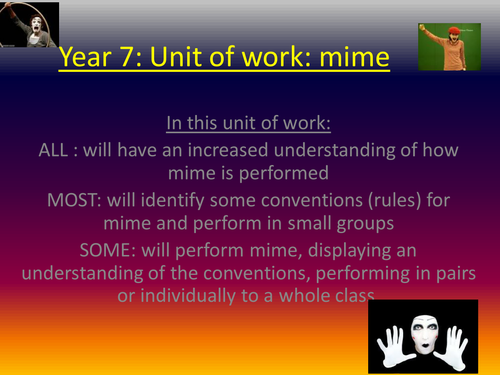 Devised for a low ability Year 7/8 class. Contains a simple circus based scheme of work to get pupils exploring movement and three basic mime conventions. The culmination of this unit is to present a mime circus which is fantastic fun.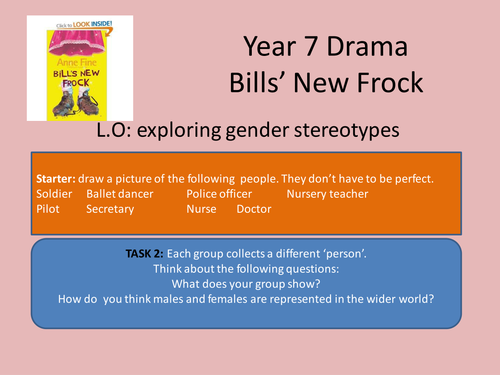 A very short unit based on 'Bill's new frock' the play. Suitable for primary or LA KS3. Differentiated success criteria includes an extra box for weaker students. All PPT lessons included: L.O: exploring gender stereotypes L.O: creating a monologue L.O: using voice and facial expressions L.O: using dramatic techniques to explore a script

- Complete unit of work for low ability year 7's/nurture groups. - Pupil's are set homework to have a picture taken with Stanley and then write postcards as if they were Stanley. -Can be extended by sending pictures of Stanley to members of the local community. Blank workbook in PPT format included so that pictures can be embedded to make a final workbook for students to write into. -Power point lessons included.

DRAMA KS3 RESOURCE; COVERS LANGUAGE IAMBIC PENTAMETER PHYSICAL THEATRE PLUS A FANTASTIC LESSON ON FAMOUS DEATH LINES.

Key stage 4 unit of work. Covers plot in detail and touches on themes in extracts. This is based on the York notes for GCSE student workbook . It can be used along side this book or as a stand alone. This takes you through the novella, stave by stave and page links are to the scholastic edition of A Christmas Carol.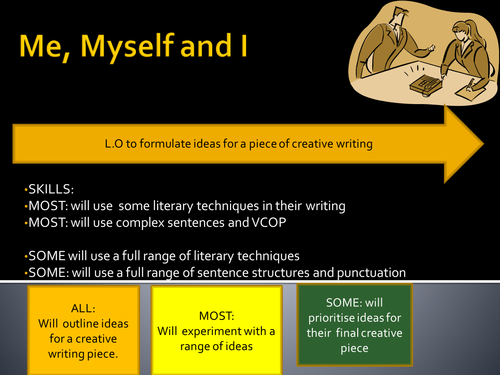 A power point to get students thinking about possible ideas for this brief. Includes film clips and guided thinking.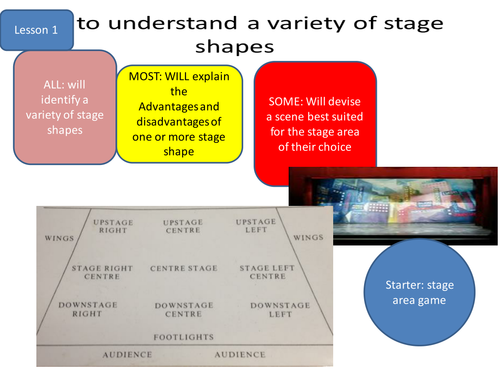 Two introductory lessons on the different styles of theatre stage. Good basic introduction. Students loved going away and making their own stage for homework.