Big Bird's shop
A medley of resources that has helped me over the years.
32Uploads
7k+Views
5k+Downloads
A medley of resources that has helped me over the years.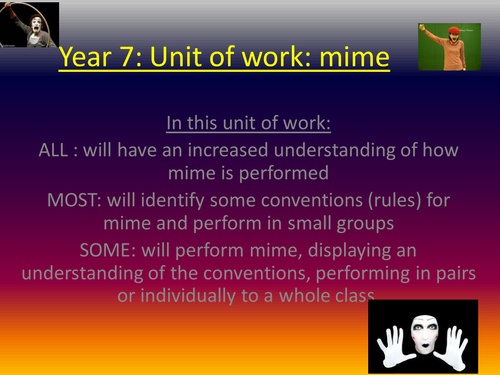 Devised for a low ability Year 7/8 class. Contains a simple circus based scheme of work to get pupils exploring movement and three basic mime conventions. The culmination of this unit is to present a mime circus which is fantastic fun.

30 thunks on Macbeth to get your pupils thinking about the characters as soon as they enter the room. Minimal marking and planning for an engaging starter which can be done verbally or on whiteboards.

Designed for KS3 HA students: Power points, supporting worksheets and a homework choice board. Covers: -types of sentences - tension and suspense - Freytag's story writing pyramid -links with folklore and 'Tir Na Nog' -Propp's theory -emotive language - the last lesson challenges pupils to design their own lesson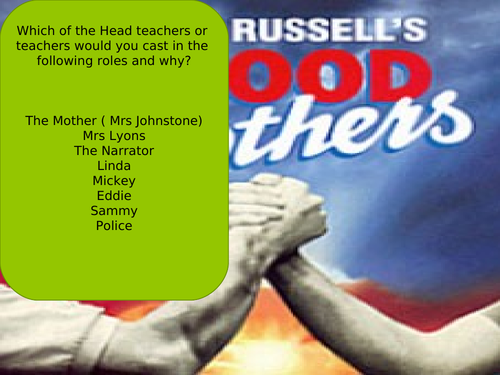 Low ability lesson on character. colour code worksheets on characters a nice easy lesson. Contains role on the wall Video colour coding sheets. ( Linked to gcse bitesize character video which now seems to be removed from the site) Simple essay prompt.

DRAMA KS3 RESOURCE; COVERS LANGUAGE IAMBIC PENTAMETER PHYSICAL THEATRE PLUS A FANTASTIC LESSON ON FAMOUS DEATH LINES.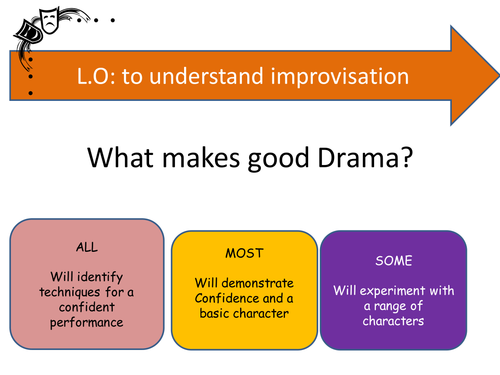 A gentle introduction to improvisation. Lessons are in PPT format : Objectives include lessons that : Will identify techniques for a confident performance Will experiment with a range of characters Within the objective are inbuilt success criteria. LESSON TITLES: 1. Telephone 2. Everyday 3. Spontaneous 4. Characters A good basic set of four lessons to get a non -specialist in particular started.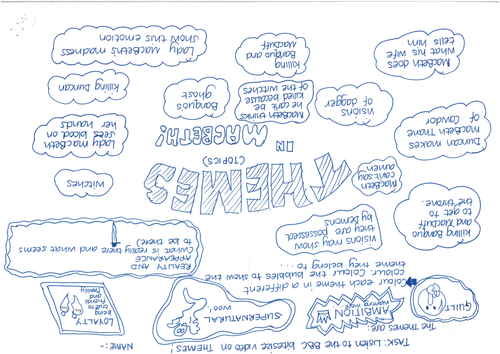 This is a resource to introduce classes to Themes in Macbeth. The pupils love it. there is a handdrawn version and a printed version. Firstly, watch the GCSE video: https://www.bbc.co.uk/bitesize/guides/zpms82p/video Pupils need to colour code every theme in a different colour. As they watch the video, colour code each bubble to match each theme. I ususally play the video through twice.

Initially designed for very low ability Year 7's ( Nurture groups). Would also be suitable for KS2. Power points for each lesson. Work book for students to write into. Homework choice board- students pick one activity to complete for each homework.

I have put notes for each poem in the order of SMILE: Structure Mood Imagery Language Empathy/Links The idea is that the pupils add their own quotations in the blank boxes. You may disagree with some of the categories but feel free to amend. This can be used when first teaching or as a revision tool.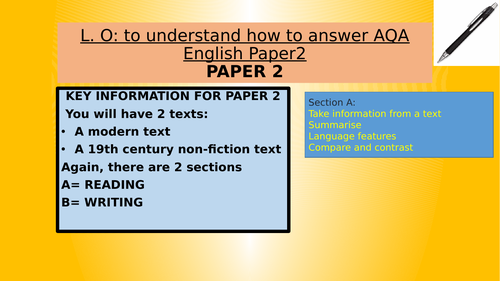 A SIMPLE POWERPOINT detailing requirements for AQA language paper 2

Unit of work for low ability year 7's/nurture groups. ( Although has been reviewed as incomplete.) - Pupil's are set homework to have a picture taken with Stanley and then write postcards as if they were Stanley. -Can be extended by sending pictures of Stanley to members of the local community. Blank workbook in PPT format included so that pictures can be embedded to make a final workbook for students to write into. -Power point lessons included.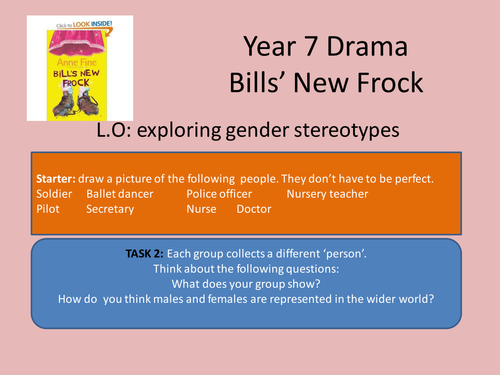 A very short unit based on 'Bill's new frock' the play. Suitable for primary or LA KS3. Differentiated success criteria includes an extra box for weaker students. All PPT lessons included: L.O: exploring gender stereotypes L.O: creating a monologue L.O: using voice and facial expressions L.O: using dramatic techniques to explore a script

POWER POINTS FOR EACH LESSON. HOMEWORK CHOICE BOARD. PUPIL WRITE- IN BOOKLET TO ACCOMPANY POWERPOINTS- Booklet gets progressively more difficult as scaffolding removed. DESIGNED FOR KEY STAGE 3 LOW ABILITY GROUPS.

This is a resource made to accompany the York notes series. This can be used also as a stand alone scheme of work. There is a large power point which has supporting worksheets which you can either print or use images straight from the powerpoint. Page references are from the Scholastic edition of the test. I put this together on an old laptop so you may find some of the fonts haven't translated over well. If it looks like Hieroglyphics, simply highlight and change to comic sans. Apologies for that! Contains slides on: the Preface Atmosphere Justice The past Scrooge's unhappy childhood Fezziwig's party Scrooge's changing character the Ghosts Context social class Ignorance and Want Money Tiny Tim Scrooges transformation The Narrator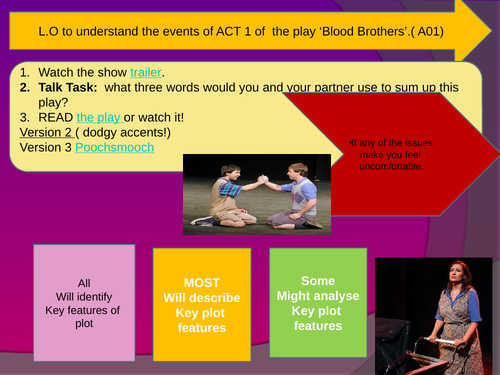 Low ability GCSE lesson on plot . Contains links to GCSE bitesize videos . I have made worksheets to accompany plot videos which students order.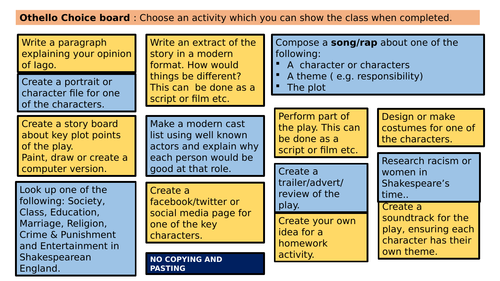 A very simple comic strip for KS3 with key plot points so that pupils can draw in their own versions of the characters. Also included a choice board which can be set for cover work or homework- students pick a task from the 'board'.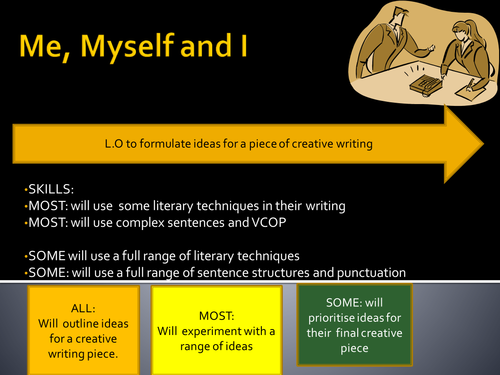 A power point to get students thinking about possible ideas for this brief. Includes film clips and guided thinking.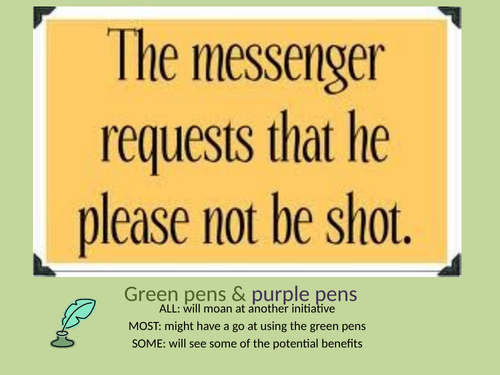 Something I rustled up for an inset- different ways to peer and teacher mark with examples.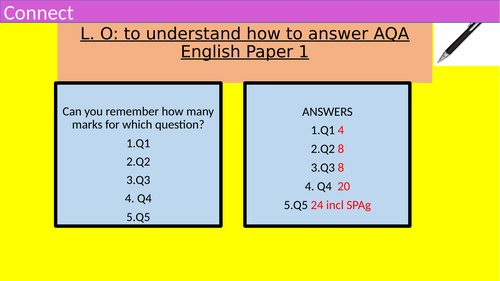 A powerpoint covering in basic terms the requirements for AQA GCSE language paper 1.