MissPrimary's Shop
Year 2 lessons, worksheets, medium term plans, resources and ActivInspire flipcharts.
65Uploads
30k+Views
10k+Downloads
Year 2 lessons, worksheets, medium term plans, resources and ActivInspire flipcharts.

2 weeks of planning and activities for writing a letter based on the book, 'The Day the Crayons Quit'. This planning includes an ActivInspire Flipchart and a less interactive PowerPoint version of the resource. It includes two SPAG lessons on sentence types and contractions, modelled examples and checklist for pupils to self-assess against. Inspired by the book, pupils will write as an object from the classroom (gluestick, ruler, pencil sharpener etc.) and explain the problems they have and asking if the class can help fix those problems! Includes a day for cold write and a day for 'celebration writing' or final edit written up neatly.

Unit of Work for Where the Wild Things - lesson by lesson for 4 weeks includes modelled examples, worksheets, ideas for differentiation and support. Suitable for Year 2 class - Talk for Writing approach with the innovation of creating own kind of wild thing for final re-write of the story. Includes ActivInspire flipchart and powerpoint versions of the presentations.

A whole term's worth of lessons which refer to the national curriculum's year 2 objectives for history, geography, art and D+T. This bundle includes resources such as ActivInspire flipcharts, worksheets and success criteria.

18 pages of SPAG starter activities for Year 2 ability children. Including correcting sentences, adding missing conjunctions/adverbs, expanded noun phrases, plural and singular and verb tenses.

Morning activities or SPAG starter activities. The ActivInspire flipchart has 12 activities for year 3 and year 4 pupils to complete. There is an additional worksheet with 5 activities that can be printed and stuck into workbooks. SPAG activities include homophones, prepositions, fronted adverbials, clauses, spellings and tenses.

ActivInspire Flipchart for a year 3/4 class inspired by the River Poem by Valerie Bloom. Includes features of poetry, personification, rhyme and rhythm. There are also website links to support sensory activities - finding powerful verbs and adjectives to inspire their own stanzas. The flipchart contains examples of my classes final pieces of poetry for inspiration.

10 starter activities on the ActivInspire interactive whiteboard using place value, missing number problems, fractions and scales. There are great conversation starters and ways to get the class switched on for the day!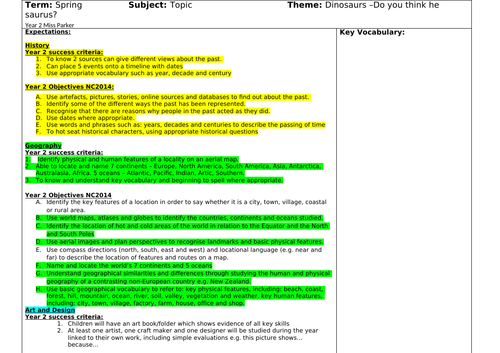 Year 2 medium term plan for dinosaurs. Refers to national curriculum objectives for history, geography, design and technology.

Medium Term plans that link to the national curriculum objectives for the entire year. Year 2 units of work for all Science units.

This PowerPoint has been used for home learning and in schools for year 5 and 6 to support their understanding of the Black Lives Matter movement which has recently seen an increase in activity due to the death of George Floyd, a black man murdered by white police in Minneapolis, USA. In the notes section of the powerpoint, there are plenty of links to articles and videos suitable for children to help them understand systemic racism and how they can help by learning and growing to become allies to people of colour.

Science medium term plan with 7 lessons linked to the curriculum objectives for Everyday Materials. Includes worksheets with success criteria!

This week of lesson plans comes with examples of 'what a good one looks like.' It comes with ideas on how to support the class with teacher and teaching assistant and clear success criteria for the lessons.

This ActivInspire Flipchart contains features of poetry, website links, video links and modelled examples for your class to create their own verse (or verses) inspired by the poem, In Flanders Field. Suitable for Year 3 - 4 pupils. Explains onomatepoeia, syllabic structure and is an interactive flipchart with lots of hidden (click here!) bits of information and guidance to support their learning.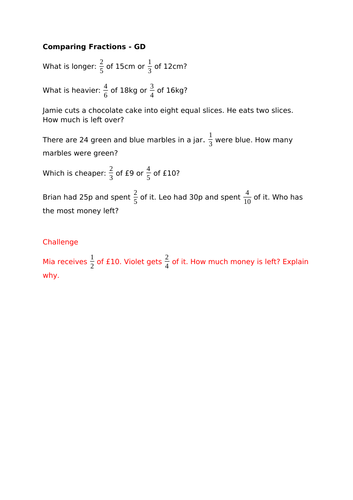 Worksheets with word problems for children to work of the fractions of amounts. Greater depth - compare fractions of amounts in a two part word problem. Includes challenges.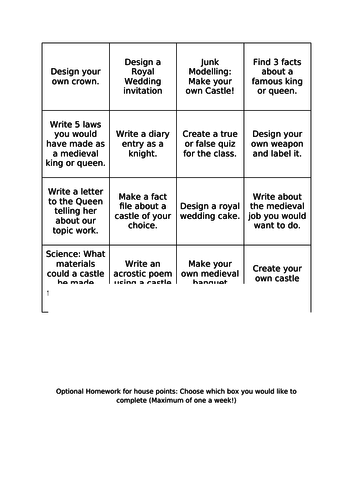 16 options for homework relevant to the Castles topic. Suitable for KS1 or lower KS2. Includes english, science, history, art and design.

Year 2 phonics lesson for letters and sounds phase 6. Finding the correct suffix spellings and writing amazing sentences using them. It comes with flipchart and resource with lesson plan.

For Chapter 15 of Charlie and the Chocolate Factory. Lesson Plan and planning tool to support Year 4 pupils write a setting description about their own room in the factory. Includes ActivInspire Flipchart with modelled examples (for plans and show, not tell descriptive language).

ActivInspire Flipcharts and Medium term plan which links to national curriculum objectives for Year 2 Plants unit.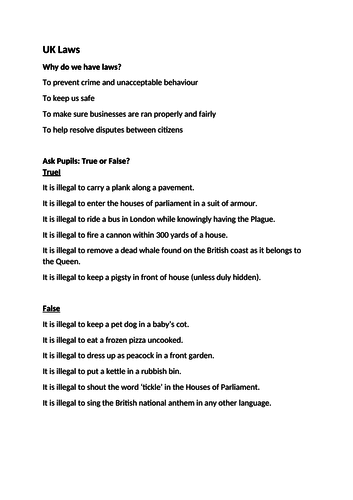 Lesson about what Democracy means, Learn the names of the political parties in the UK. Find out which random laws are true or false! Show your class my modelled example of a new political party which the laws I'd put into place. Then show them the success criteria to make their own political party which can be voted on at the end of the lesson. Who is ready to be Prime Minister?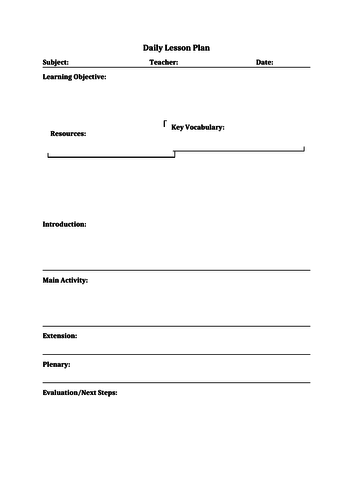 If you need to create a daily lesson plan for an observation or interview - this template will help you set out the structure, key vocab and purpose of the lesson.