Languages Resources's Shop
13Uploads
51k+Views
36k+Downloads
This resource contains 10 worksheets on the AS German topic of Die digitale Welt Activities include: Grammar practice Translation practice into German Translation practice into English Reading practice Vocab and grammar tests Oral exam facts and preparation sheets If you found this useful, please leave a review More A- Level resources: AS Familie im Wandel A2 Der Besuch der alten Dame
This ressource contains six complete powerpoint based lessons with more than 130 customizable slides introducing the topic of "Meine Ferien" Tasks include: Vocab Building Grammar Practice Translation Tasks Speaking Practice Interactive Games Reading Comprehension Photo card Practice Essay Practice
This resource contains 10 worksheets on the AS topic of Familie im Wandel Activities include: Grammar practice - present / perfect Translation practice into German Translation practice into English Vocab and grammar tests Oral exam facts and preparation sheets If you found the resource useful, please leave a review More A-level resources: AS Die Digitale Welt A2 Der Besuch der alten Dame
This bundle includes the following AS Revision resources: Doie digitale Welt Familie im Wandel Jugendkultur
This resource contains guidance on how to tackle the 90 word task, aimed at FOUNDATION students. 8 Tasks 4 Model answers Topics covered Relationships with my family Marriage and partnership Social media Mobile technology Music, cinema and TV Food and eating out Sport Festivals in Germany If you find the resource useful, please leave a review.
These resource contains 20 worksheets on the topic of school. Vocab practice Reading practice Listening practice Translation Puzles Please leave a review
This resource contains ten translation practice worksheets on the topic of Current and Future Employment (Theme 3). Translation tasks mirror AQA GCSE Foundation and Higher translation tasks and give students the chance to practice key vocabulary and structures needed in their exam. Topics include My studies Life at school and college Education post-16 Jobs, career choices and ambitions Great for exam practice in class, independent revision or as homework. Please leave a review
This resource contains 10 worksheets on the AS German topic of Die digitale Welt Activities include: Grammar practice Translation practice into German Translation practice into English Reading practice Vocab and grammar tests Oral exam facts and preparation sheets If you found this useful, please leave a review
This resource includes a four page booklet practicing the usage of possessive pronouns in the nominative, accusative and dative case. The topic used is family.
A powerpoint to introduce and practise using some reflexive verbs on the topic of daily routine
This resource contains 30 worksheets enabling students to practice and revise the Perfekt. Tasks include Speaking activities Games Reading comprehension Grammar practice Translation practice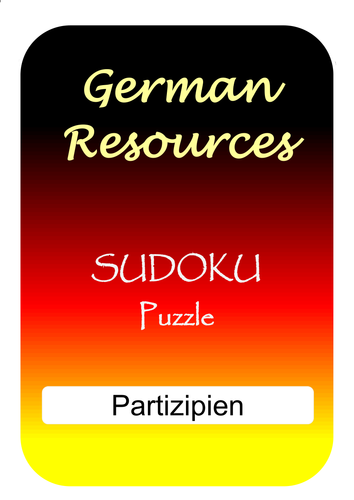 A set of four Sudoku Puzzles to practice meaning and spelling of common past participles, which use haben as their auxiliary. The set includes an easy and a difficult version each of a six by six and a nine by nine Sudoku Puzzle as well as answer sheets for both. Words used: gespielt gemacht gegessen getrunken gelesen ferngesehen gearbeitet gehört gekauft Your students will love these sudoku puzzles. Great as a starter or a homework activity.
This resource contains 4 practice papers for the GCSE German written Exam If you found the resource useful, please leave a review!