A Linguist's Delight
Materials for a variety of lessons in English, Spanish, Italian and French.
35Uploads
584Views
96Downloads
Materials for a variety of lessons in English, Spanish, Italian and French.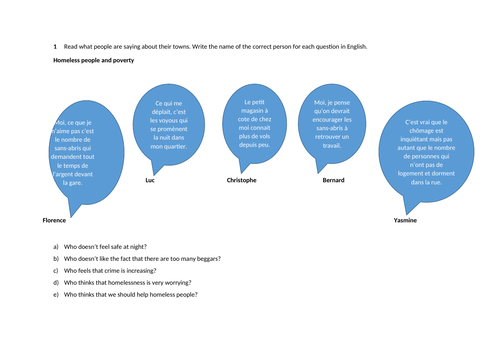 A booklet of GCSE exam-style reading questions suitable for AQA French exam practice.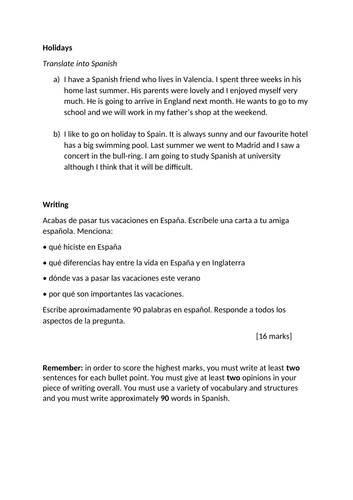 AQA GCSE Spanish exam questions. Topic: holidays. Includes two translation exercises and one writing exam style question.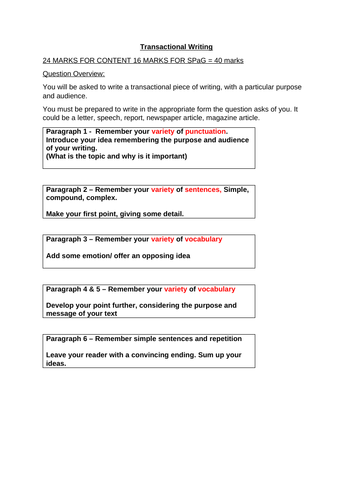 Includes a transactional writing guide that clearly shows students how to lay out their writing. Also reviews language devices/persuasive techniques that could be used and their effects. In addition, there is another activity sheet with practice transactional writing exercises for students. Suitable for AQA and Edexcel specifications.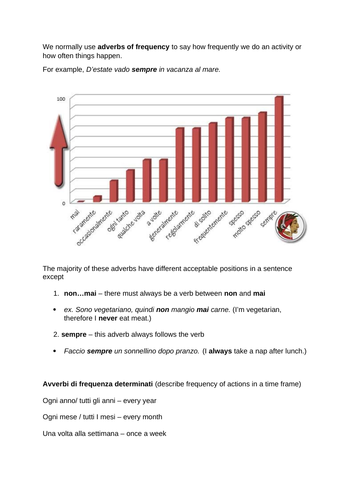 A thorough worksheet that explains how to use Italian adverbs of frequency. Includes a diagram with explanations, translation, writing and speaking activities.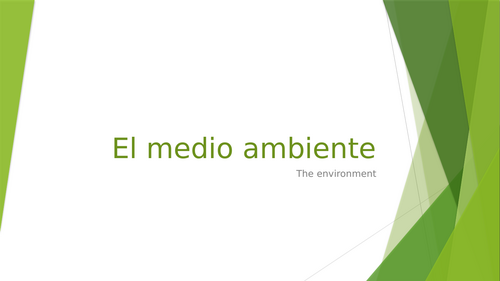 Material for AQA Spanish KS4. Topic: the environment. Grammar: the subjunctive. Includes a PPT to present useful phrases and vocabulary related to the environment and environmental issues. Also includes an environment worksheet with reading texts and vocabulary review. In addition, there is a handout that explains the present subjunctive form/use and allows students to practice forming the subjunctive in Spanish.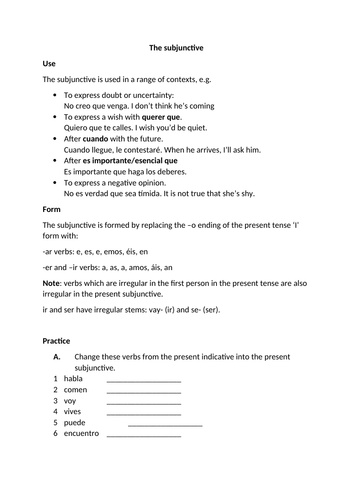 Lesson material for GCSE Spanish topic: Social issues. Includes a PPT to introduce new vocabulary, with worked examples and speaking practice. Also includes a worksheet with reading exercises on the topic and an additional worksheet for practice of the subjunctive.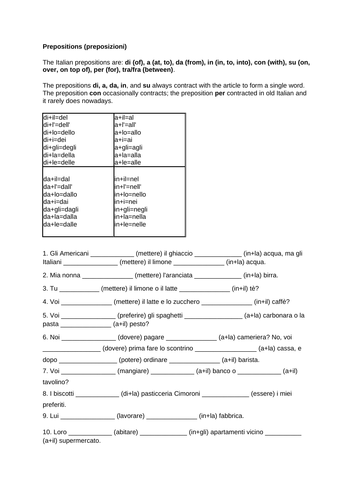 A worksheet that explains how to form Italian prepositions when they are followed by the article. Also includes some practice exercises for students.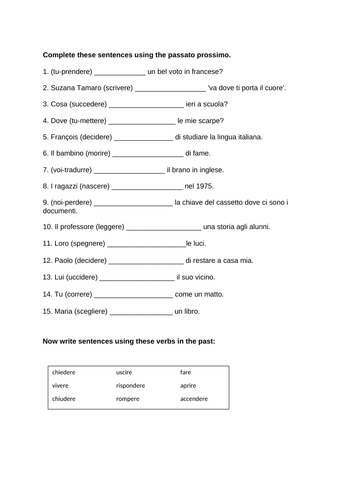 An Italian worksheet for students to practise forming the passato prossimo with irregular verbs.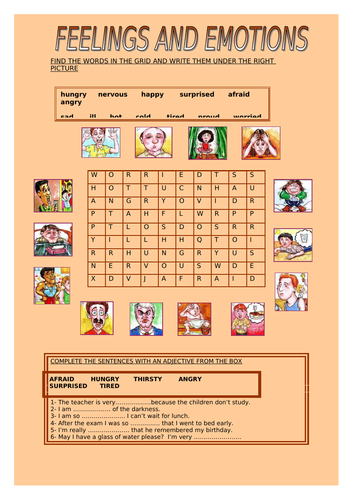 Two worksheets to teach adjectives used to describe feelings and emotions. Primarily for EAL lessons but could also be used with primary English students. Includes a word search grid, gap fill, choose the correct adjective and a short speaking activity.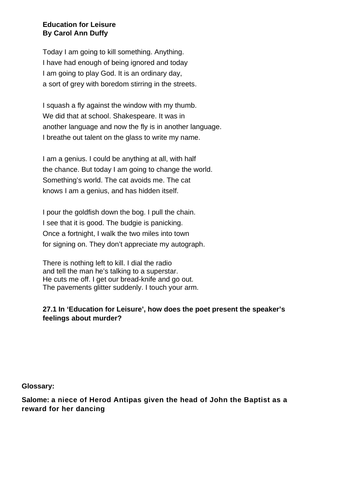 Includes two poems that would be included in the unseen poetry section of the AQA GCSE exam. Also includes a question about the first poem and another question that asks students to compare the similarities/differences between the poems.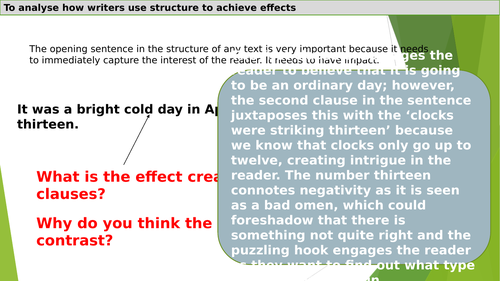 Includes an animated PPT that focuses on the structure of a text and includes detailed questions for analysis. Also includes a practice exam question and accompanying text from 1984.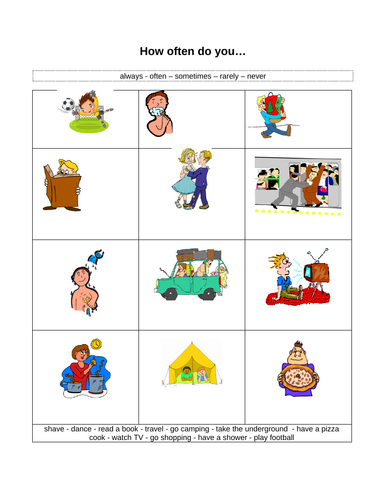 Two worksheets for EAL students to practice using adverbs of frequency. Includes a writing exercise in which students re-write the sentences using adverbs, a re-ordering exercise, answering questions and a writing exercise. Also includes an additional worksheet with pictures to practice speaking using adverbs of frequency and verbs, and word cards with adverbs for speaking activities or games.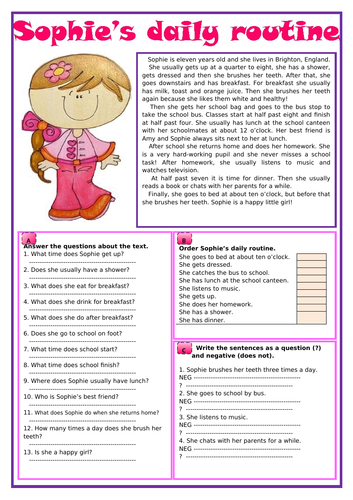 A selection of resources about daily routine suitable for young learners. Includes a reading text and comprehension questions, a matching exercise, pictures that can be used to play Pictionary and picture dominoes.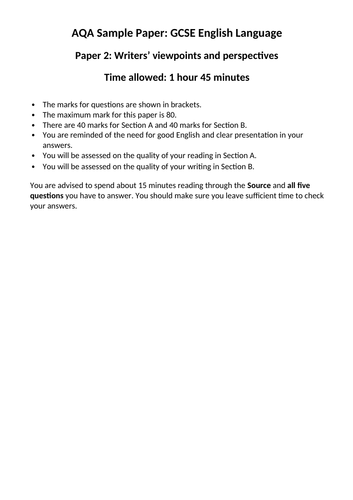 Practice material for English language AQA paper 2. Includes two practice papers and two mark schemes. Each paper has two reading texts and practice questions 1-5. Also includes a mark scheme for the teacher.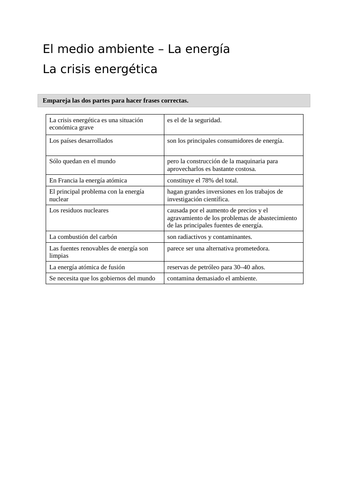 Three useful worksheets about the environment for Spanish Alevel. Featuring: a reading text about global warming with new phrases and a translation exercise phrase matching exercise to talk about the energy crisis. a gap fill exercise, translation and an essay topic questions about pollution, match the phrases, translate 2 letters and writing practice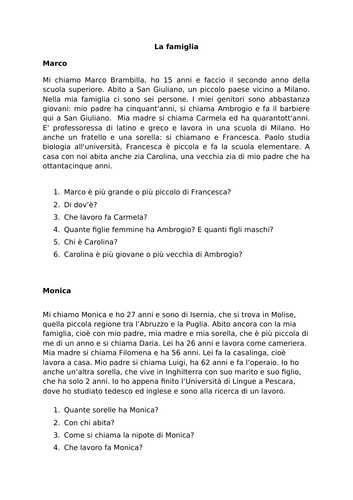 Two worksheets for students to learn and practice Italian family members. includes a reading with family vocab and phrases. A writing exercise in line with GCSE questions (including future plans). Also includes a reading comprehension with questions, a Who Am I activity and an additional writing activity.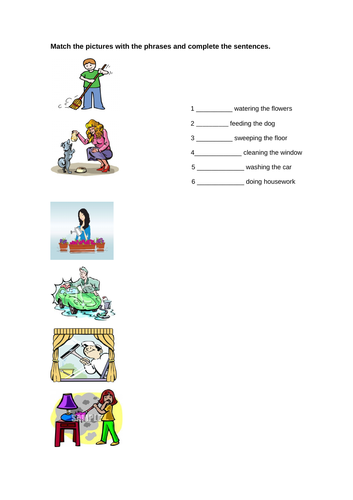 An EAL worksheet with verbs/pictures related to action verbs. Includes gap fill and positive/negative/interrogative sentence formation practice.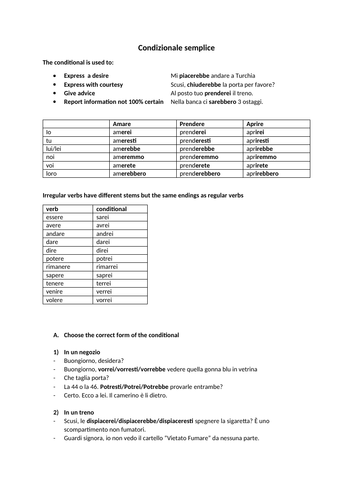 A useful handout that clearly explains how to form the present conditional in Italian. Also includes a set of practice exercises.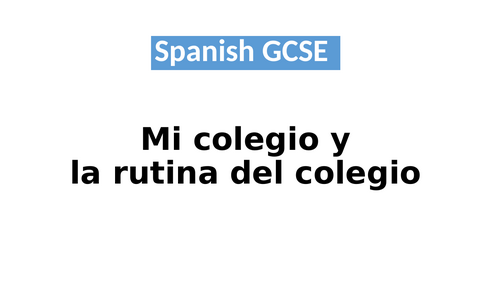 A Spanish GCSE PPT to present useful phrases to describe school and school routine. Also includes writing and speaking exercises. Accompanied by a worksheet with reading material related to school descriptions/routine and comprehension exercises.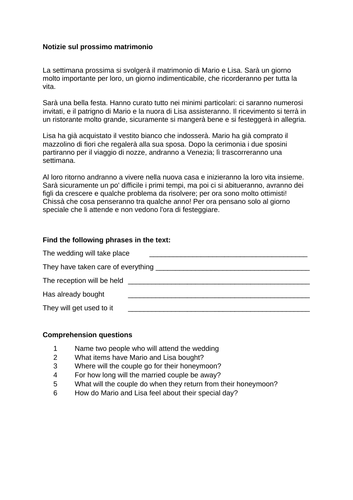 An Italian reading text about an upcoming wedding. Links to Theme one AQA Italian GCSE - Topic 2: Marriage and partnership. After searching for the new phrases in the text and answering the comprehension questions, the text could be used for a noticing activity. E.g. students have to underline the past/present/future tense used in the text. (The future tense features heavily in the text).