A Linguist's Delight
Materials for a variety of lessons in English, Spanish, Italian and French.
87Uploads
7k+Views
2k+Downloads
Materials for a variety of lessons in English, Spanish, Italian and French.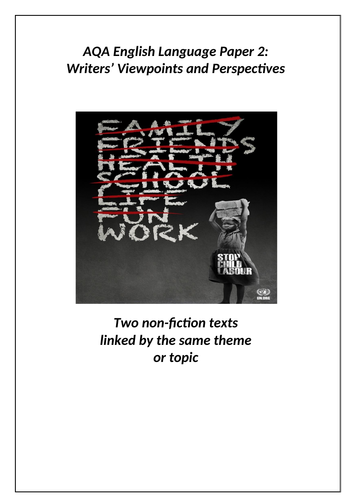 Includes 2 texts and questions 1-5 for AQA English language paper 2 Also includes a PPT with feedback and sample answers for questions 1-4.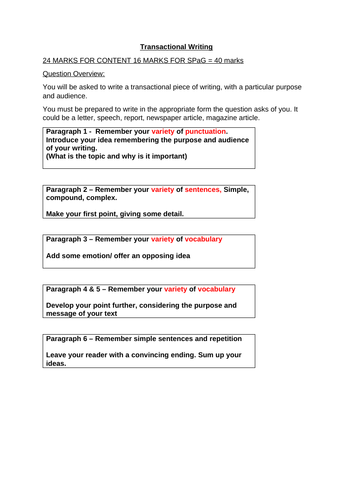 Includes a transactional writing guide that clearly shows students how to lay out their writing. Also reviews language devices/persuasive techniques that could be used and their effects. In addition, there is another activity sheet with practice transactional writing exercises for students. Suitable for AQA and Edexcel specifications.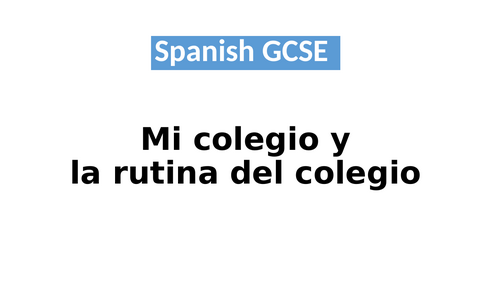 A Spanish GCSE PPT to present useful phrases to describe school and school routine. Also includes writing and speaking exercises. Accompanied by a worksheet with reading material related to school descriptions/routine and comprehension exercises.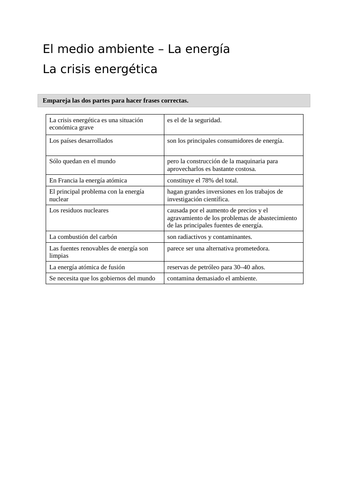 Three useful worksheets about the environment for Spanish Alevel. Featuring: a reading text about global warming with new phrases and a translation exercise phrase matching exercise to talk about the energy crisis. a gap fill exercise, translation and an essay topic questions about pollution, match the phrases, translate 2 letters and writing practice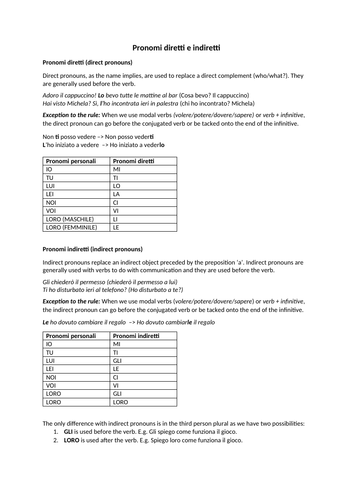 A useful grammar handout that explains the use of direct/indirect pronouns in Italian. Also includes a page of practice exercises.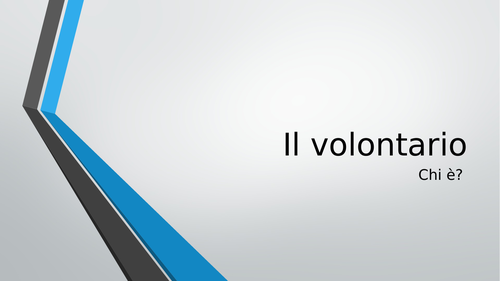 Material for Italian GCSE Theme 2 Voluntary work. Includes a PPT with pictures, speaking and writing activities. Also includes a worksheet with new vocabulary, reading exercises and a translation exercise.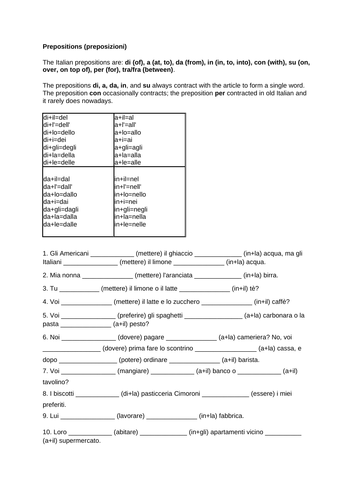 A worksheet that explains how to form Italian prepositions when they are followed by the article. Also includes some practice exercises for students.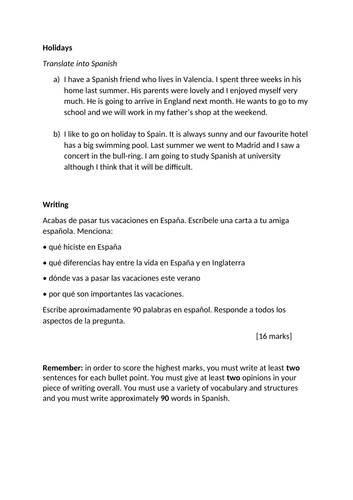 AQA GCSE Spanish exam questions. Topic: holidays. Includes two translation exercises and one writing exam style question.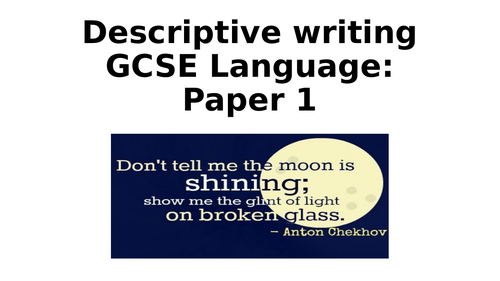 Resources to help students with English GCSE descriptive writing for paper 1 AQA. Includes a PPT with tips on how to structure writing, paragraphs and language use. Also includes an example piece of writing from Dr Jekyl & Mr Hyde.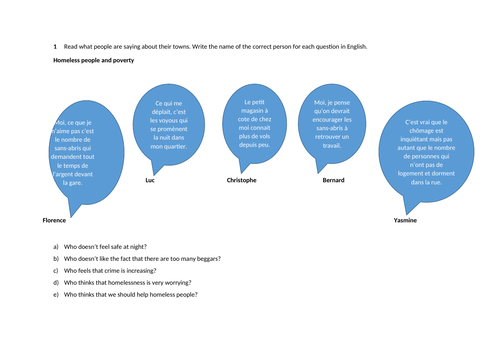 A booklet of GCSE exam-style reading questions suitable for AQA French exam practice.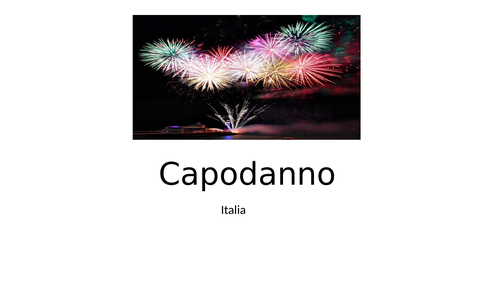 Lesson material for Italian GCSE (also suitable for online teaching). Includes a PPT to pre-teach vocabulary about New Year in Italy, a reading text (also as Word document) about traditions at New Year & comprehension questions, a translation exercise and speaking questions including a GCSE style picture card.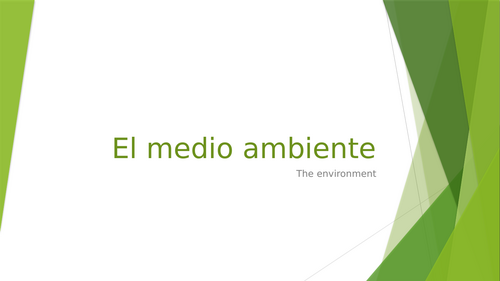 Material for AQA Spanish KS4. Topic: the environment. Grammar: the subjunctive. Includes a PPT to present useful phrases and vocabulary related to the environment and environmental issues. Also includes an environment worksheet with reading texts and vocabulary review. In addition, there is a handout that explains the present subjunctive form/use and allows students to practice forming the subjunctive in Spanish.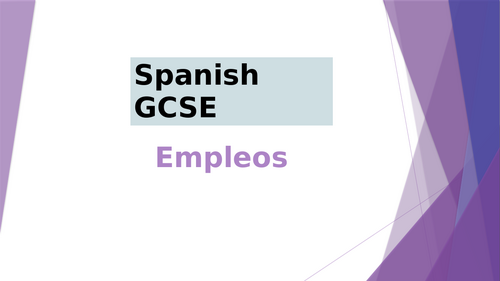 Resources for Spanish AQA GCSE lesson about jobs. Includes a PPT with picture/vocab matching, explanation of the use of 'ser' and review of trabajar. Also includes a reading worksheet with questions.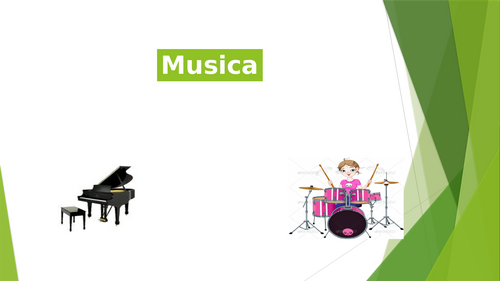 Italian GCSE material for AQA Theme 1 topic music. Includes a PPT with vocabulary/ verbs and a photo card with speaking questions. Also includes a worksheet with reading material and comprehension questions as well as a writing activity.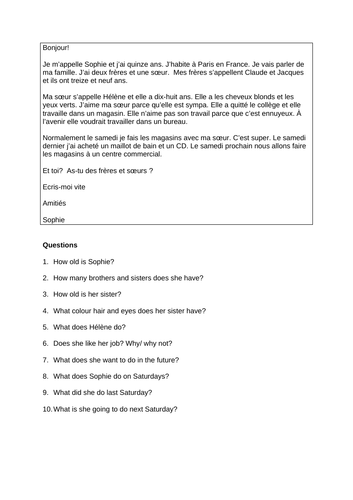 A French GCSE text about the topic family. Includes reading comprehension questions and a phrase search exercise.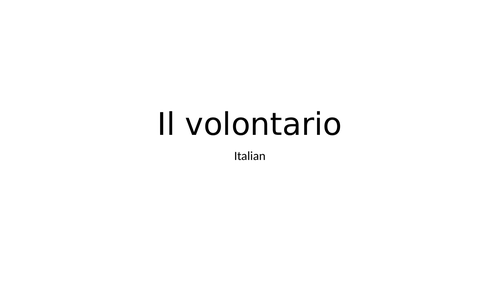 A PPT based on voluntary work. Includes vocabulary, conversation questions, listening a current news article and a writing activity.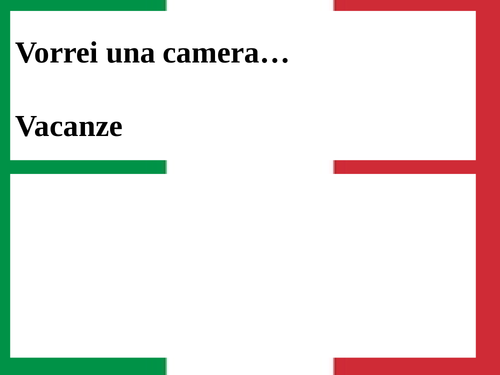 A PPT for Italian GCSE on the topic hotels and holidays. Includes vocab for booking a hotel room, reading texts (hotel reviews) & questions, reading dialogue, listening exercises, role-play practice (booking a hotel room), describing problems in a hotel, a translation exercise about holidays and questions for speaking practice about holidays. Also includes a GCSE style writing practice about holidays.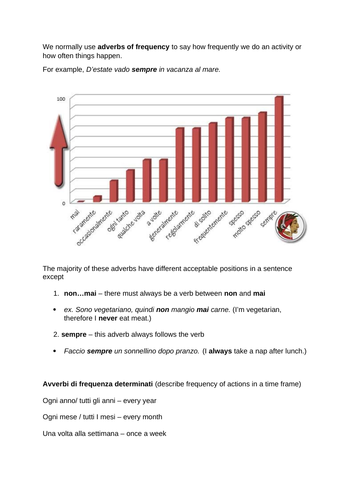 A thorough worksheet that explains how to use Italian adverbs of frequency. Includes a diagram with explanations, translation, writing and speaking activities.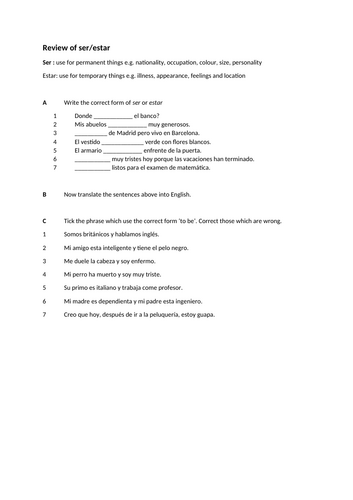 Includes a PPT that introduces relationship vocabulary and how to use ser/estar appropriately. In addition, there is a worksheet for vocabulary review and a reading/comprehension exercise. I have also included a worksheet for students to review the correct use of ser/estar with exercises.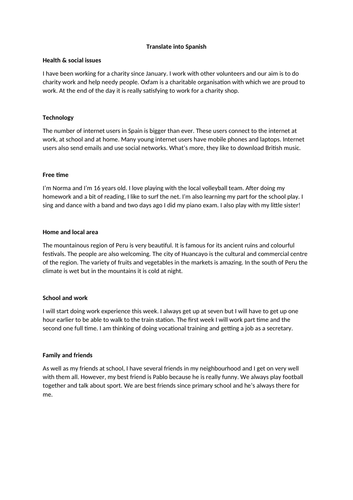 Two useful translation worksheets for GCSE Spanish exam practice (English/Spanish and Spanish/English). Each passage links to topics from the AQA Spanish specification. Including: holidays, the environment, health & social issues, technology, free time, home & local area, school & work and family & friends.