Marina Cortés' Shop
GCSE Spanish resources that work
33Uploads
52k+Views
25k+Downloads
GCSE Spanish resources that work

These feedback sheets are really useful to me when marking my GCSE classes' written work.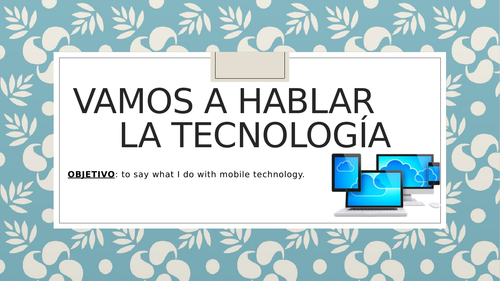 GCSE Spanish General conversation, Role play and Photo Card practice (one hour lesson each). Start off with the General Conversation to optimise learning in this series of lessons. If you and your classes are enjoying these resources, please leave a comment. Any feedback is welcomed. For more activities visit www.123gcse.com and click on 'Spanish Resources'. Credits: General conversation lesson song: Casi Creativo 'Tú dependes de mí' Photo card Foundation: AQA Specimen paper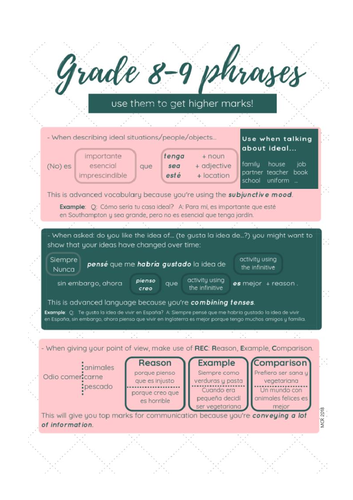 Some ideas on Wow! sentences students may include in their work in a pretty poster.

11 Projects about history, geography, culture, politics and linguistics in the Hispanic world. Ideal for year 11 students who wish to continue their studies to A Level. Students complete the projects independently and in English. They are given the opportunity to explore so many aspects. Happy to hear how it went!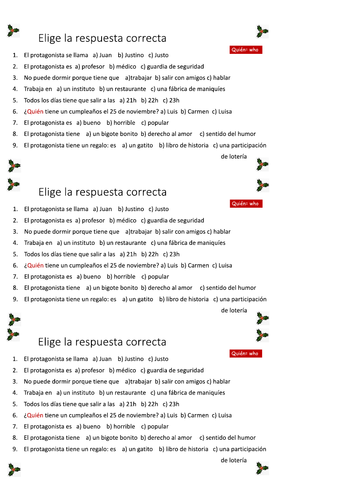 A one hour lesson on a Spanish custom: El Gordo de la Navidad (National Christmas Lottery Draw). Ideal for year 9 or year 10 Spanish. Includes: Information about this special day in target language. A very famous commercial (link) to work on: vocabulary and modal verbs. Show several times to maximise comprehension. Comprehension questionnaire in Spanish with answers. Speaking activity (groups or pairs). Happy ending of lesson (Feliz Navidad by José Feliciano, link). Enjoy :)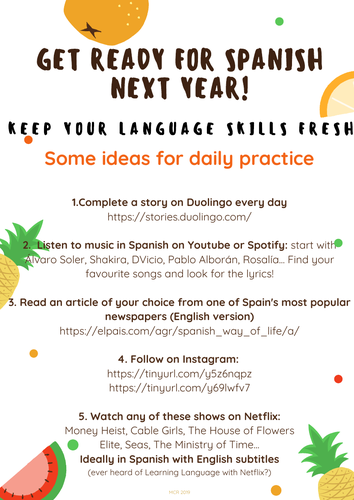 Lovely hand-out that I am planning to give year 11 who will carry on with their Spanish for A Level. The aim is to keep them engaged and practising reading, listening and learning about mainly Spanish culture (I am truly sorry I did not include much Latin American culture, I am planning on developing that during the course in year 12). All activities are free of charge apart from number 5, and can easily be completed on a daily basis on their phones.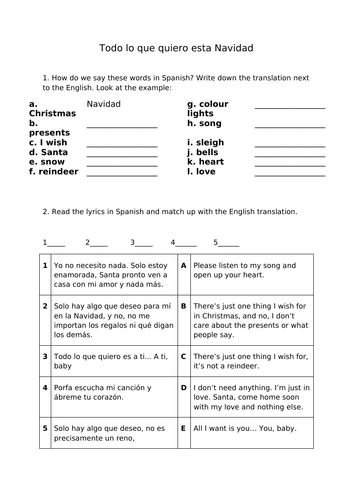 Fun lesson for groups who love singing. The aim is to learn basic vocabulary on Christmas decorations in Spanish, but also have fun when singing the lyrics of this version of Mariah Carey's super famous 'All I Want for Christmas Is You' in Spanish. It includes a Power Point presentation and worksheet. ¡Feliz Navidad!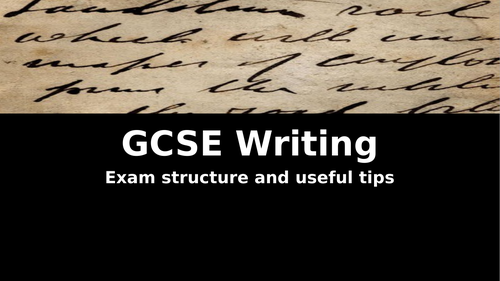 BEFORE EXAMS AQA GCSE Spanish writing workshop which emphasises on the 90 word question, building up on basic vocab and structures. It is thought to be done in pairs and the timings are very restricted to make candidates stay on their toes and think of the quickest best possible answers. 1 hour lesson advised. It encourages candidates to create a checklist before starting their writing and remind themselves what to include. Credits: the two 90 words tasks that feature here are taken from Kerboodle.com .

This is a creative activity that I am planning to do with my French and Spanish classes across KS3 and KS4 as a whole school event. It should not take longer than 30 minutes during a regular lesson. Pupils choose some sentences from the slide in TL (following numbers 1-5), then copy them out with the appropriate connectives, with a friend in mind. Then they can decorate the cards. Teacher is to collect the cards and keep them until the morning of 14th of February, when pupils will receive cards during tutor time.

Lesson for an able year 10 class at the beginning of year 10 or revision of the topic for a Foundation Year 11 class. It includes a reading which helps modelling writing. Please feel free to use/adapt and let me know if your classes enjoyed it!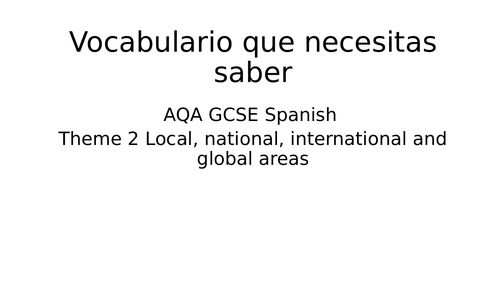 Revision for AQA GCSE Spanish 9-1 Theme 2 including: Vocabulary revision Preparation for Listening and Translation Grammar review opportunities Exam style listening activities with answers Translation activities (into English only) Audio tracks available on request by email (see ppt notes). Your feedback is much appreciated.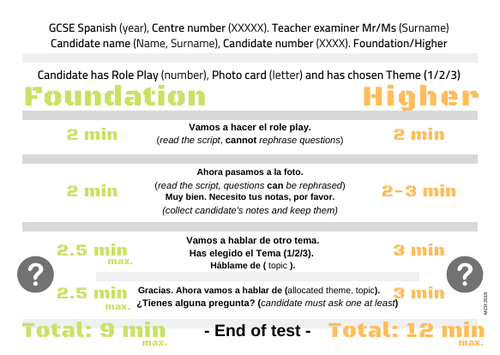 A very useful sheet to have in front of you if you are to carry out GCSE Speaking exams with your class! The script serves both Foundation and Higher, with teacher's script and notes about timing and what to do (collect in notes, whether it is ok or not to rephrase questions, etc.). I hope you find it useful (I could certainly not get my exams going without this!). Any feedback is, as always, super welcome :)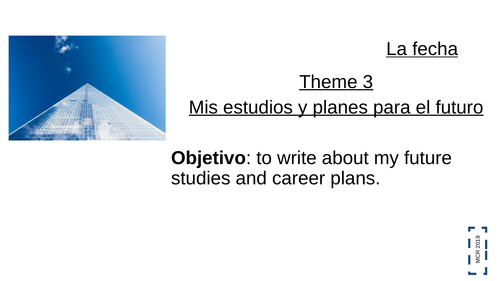 Lesson for an able year 11 class. It could take one or two lessons. Please feel free to use/adapt. The idea is that F Ss complete The 90 words task and the H candidates de 150 words. You may tell them about what to include (BURST, AVOCADO, and any other acronyms that work for your class). Please let me know if that was useful for you and your class :)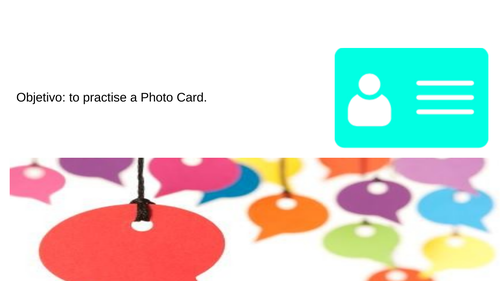 One hour lesson based on the topic of Family and relationships. Explicit practice on how to complete question 1 (¿Qué hay en la foto? ) and practice questions, one Foundation photo card and one Higher. Mark scheme and reflection time after the activities.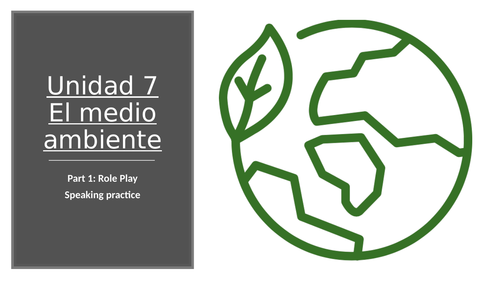 An hour lesson on role play for Foundation and Higher tier on the environment. For instructions, follow the notes section in each slide. Any feedback will be welcome!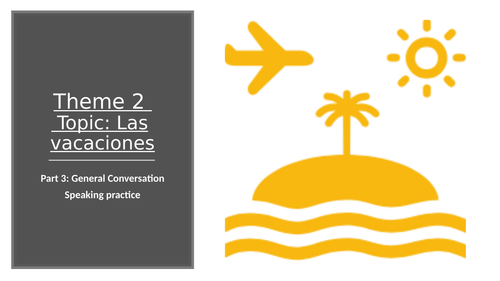 A Speaking GCSE Spanish resource to practise General Conversation about holidays. It can be delivered in two or one lesson, depending on group ability. Please feel free to use and/or adapt for your classes. I would be most grateful if you could let me know how it went with your class!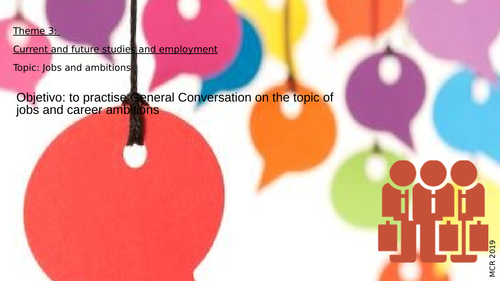 A series of Speaking lessons on the topic 'Jobs and career ambitions', including General Conversation, Role Play and Photo Card. These lessons are thought of as one hour lesson each, but may take longer depending on different classes. Feel free to use/adapt and let me know how it went with your classes with a review! Gracias :)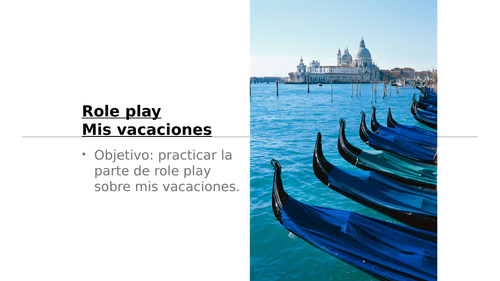 An hour lesson on Spanish Speaking role play for Theme 2, unit Holidays. Includes one Foundation and two Higher role plays and build-up material to prepare answers for each of them.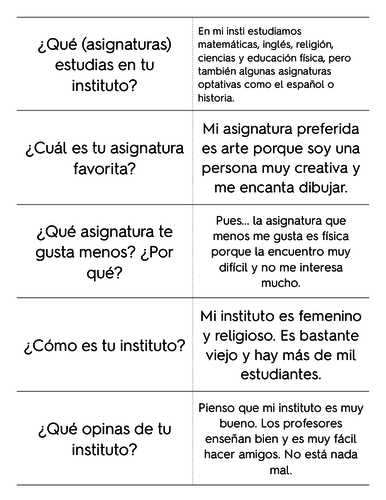 GCSE Spanish General conversation, Role play and Photo Card practice (one hour lesson each). Start off with the General Conversation to optimise learning in this series of lessons. Please be aware you will need the pdf file for the General Conversation lesson. Then go on with Role Play and Photo Card. If you and your classes are enjoying these resources, please leave a comment. Any feedback would be much appreciated. For more activities visit www.123gcse.com and click on 'Spanish Resources'. Credits: Photos: Unsplashed

Jenga Translation game for year 9 or Foundation GCSE class. It can be adapted into Reading/Writing as well! Let me know how it worked for your classes. Gracias :)