Miles Nottage Music
I am a musician and teacher at Stowe School in Buckinghamshire, England
12Uploads
6k+Views
3k+Downloads
I am a musician and teacher at Stowe School in Buckinghamshire, England

An informative PowerPoint detailing the key points about the MIDI standard giving some brief historical context then some detail about MIDI messages, connections, General MIDI and quantisation. A short quiz and mark scheme are also included.

A bundle of THREE worksheets and clear mark schemes in the style of Edexcel's AS- level Music Tech exam questions. There are two 10-mark questions and a special focus question on Hip Hop (20 marks). The two shorter questions are based on Avici's 'Wake Me Up' and 'Stupid Girl' by Garbage. Both of these blend guitar work with electronic dance music elements and so there is a stylistic theme between them. The longer Hip Hop question is based on LL Cool J's 'Mama Said Knock You Out' providing students with a fine example of early 90s East Coast rap. Please let me know how you find these (and my other resources) by writing a review. Cover image is 'Rap' by Antonio Rull.

This is a 10-mark GCSE style question for the Edexcel set work, 'Release' by Afro Celt Sound System. It can either be used as part of a paper or as a lesson activity/test or homework.

This resource consists of TWO dictation questions taken from the EDEXCEL GCSE 9-1 Music set work, Pathetique by Beethoven. The questions have detailed mark schemes attached as well as the audio extracts performed on a solo keyboard instrument with a metronome as is the case with the exam questions. These can be used as off-the-peg mock exam questions or as practice in class. Photo credit: Beethoven by Eric E Castro

A printable crossword and answer sheet to help students revise the key words and concepts for the Edexcel GCSE Music set work 'Star Wars: Main Title/Rebel Blockade Runner'. The work can easily be differentiated by the teacher filling in chosen squares before copying. An excellent class activity or an enjoyable homework.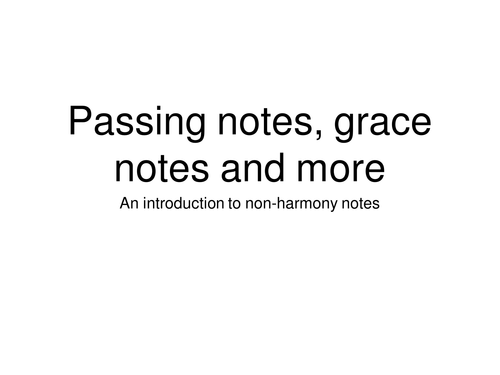 A resource that helps students understand passing notes, auxiliary notes, échapée notes, appoggiaturas, acciaccaturas and anticipations. It consists of a presentation which also guides students through a simple task (manuscript paper or Sibelius required) which allows for straightforward differentiation. There is also a listening test and accompanying worksheet as well as a clear and detailed mark scheme. This resource is essentially a short stand-alone unit that can be delivered over an hour or so that should leave students feeling very comfortable with the material covered. It targets Year 12 (1st year of 6th form) but can also be delivered to a GCSE set or music theory workshop. The files are self-explanatory but please keep 'audioForPresentation.mp3' in the same folder as 'presentation.pptx' to be able to play it from the PowerPoint.

A simple dictation exercise in notating a line of melody by ear. This is intended for years 9 and 10 and offers an excellent introduction to this aspect of the new GCSE specification. The clips include a metronome and each plays a 2-bar phrase three times (there are four phrases each very slightly more demanding than the preceding clip). A detailed mark scheme is provided along with the worksheet and individual audio clips. Cover photo by Brandon Giesbrecht: "Music"

This is for EDEXCEL GCSE Music 9-1. This resource consists of a PowerPoint with embedded sound clips and samples from the score to help students simultaneously see and hear the key features of the introduction to the 1st movement. There is also an exam style question (sound clip included!) and a crystal clear mark scheme. Please keep the sound clips in the same folder as the PowerPoint so they play correctly when clicked from the presentation. I would be grateful for any constructive feedback or requests. The cover image is by Grace Herbert

Sheet music with large, named note-heads for Bach's highly approachable but beautiful Prelude No.1 in C major from the 'Well-Tempered Clavier- Book 1' which is listed by Edexcel as being level 5 for GCSE Music (more difficult) but many teachers agree that the piece can be mastered by learners at around grade 3 standard. The sheet music is accompanied by a tutorial video attached to the resource to support piano students who prefer this technique.

This presentation is aimed at Music Technology students who would benefit from a broad overview of the development of recording technologies from the 19th century onward. Reliable, legal, YouTube links provide excellent examples of the topics discussed and a practical research task, as well as embedded questions, provide opportunities for differentiated assessment.

An approachable dictation exercise based on three well known Christmas carols. Perfect as a seasonal activity for GCSE music students or a fun starter for A-level candidates. Dictation is a required skill in GCSE music and so plenty of practice is crucial. Differentiation can be achieved by the teacher scaffolding in a few additional notes as they see fit for their students.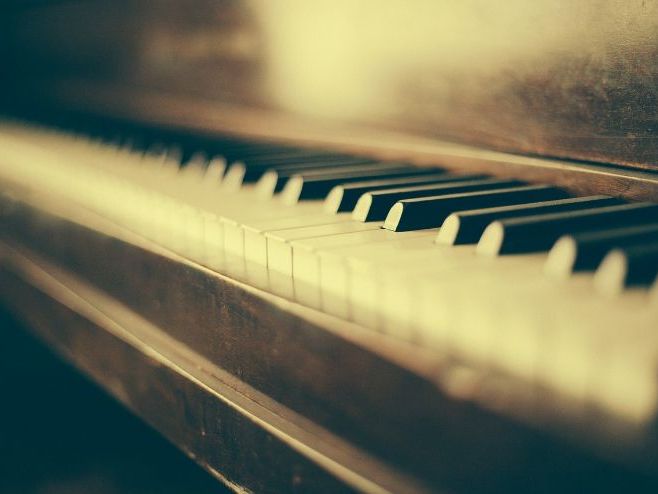 A listening test aimed at GCSE level students practicing their unfamiliar listening and appraising skills. A solo piano piece so very approachable and relates to many areas of study across examination boards. Audio file, question sheet and mark scheme provided as well as reliable links for YouTube (included on resource page), Spotify, and iTunes/Apple Music. link