4Uploads
128Views
13Downloads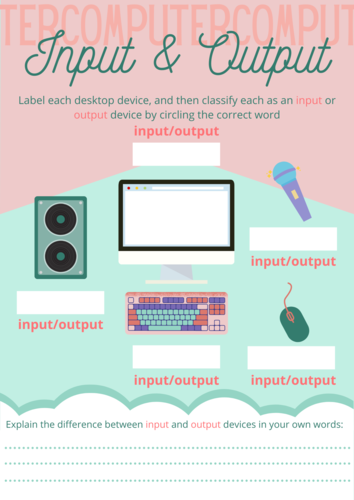 Identify and then classify common input and output devices and then define the difference between them in your own words.
A game that helps build recognition skills by sorting hardware and software into the appropriate groups on the mat provided. Includes two sets of cards and a place mat to sort them on to. The "hardware" and "software" cards can be used with the images, without the mat, as a memory and match game. This game can be played by 1 - 4 people. Make the game more exciting by allowing a "free-for-all". The winner is the one who lays down the most cards on the mat, or the one with the most correctly paired cards at the end of the memory game. This activity develops recognition and recall skills. It is alternative needs and tired, FriYAY brain friendly.
Two bright a colourful Digital Technologies themed CMS banners to give your online classroom a more personal touch. Free to any digital home…enjoy!
An instructional example which illustrates the basic elements of creating visual hierarchy. Covers the application of; colour, alignment, contrast, relevant images, repetition of elements and order of information.