Miss Scates Music Shop
Music Resources for KS3, KS4 and KS5
37Uploads
5k+Views
3k+Downloads
Music Resources for KS3, KS4 and KS5

Booklets for AQA GCSE Music Area of Study 3: Traditional Music Topics: The Blues African Fusion Caribbean Fusion (Reggae) Contemporary Latin Contemporary Folk Music Includes: Information Composition activities Performance pieces Practice exam questions Wider listening checklist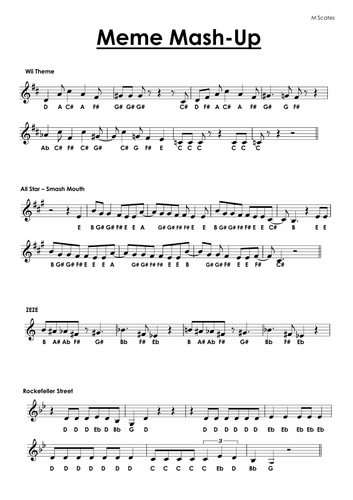 Music Included: Wii Theme All Star - Smash Mouth ZEZE - Kodak Black Rockefellar Street Love Me - Justin Bieber Tokyo Drift - Teriyaki Boiz Changes - XXXTentacion Minecraft Theme Ali A Intro

Instructions with how to record Despacito into Logic step by step. Includes instrument guidence, chords, bassline, drums and vocal.

GCSE music key words powerpoint for all words associated with metre / time signatures. Appropriate for any exam board.

One-off lesson on Holst's The Planets, with research tasks and matching worksheet.

One-off lesson/cover/homelearning on the 1950s. Lesson covers the culture, Chuck Berry, Elvis and Bill Haley, listening questions and info on The Day The Music Died (Buddy Holly, Richie Valens, Big Bopper). There is also an Elvis comprehension.

A powerpoint on each of the musical elements. There are musical examples and definitions of key words.

A one-off lesson into Mussorgsky's Pictures at an Exhibition. Great with a programme music unit. Can also be used as home learning or cover. Students complete listening questions about Bydlo, then analyse three other pieces from the suite, then choose an image and compose their own piece based on the musical elements.

This resource can be used with no equipment, especially useful for homelearning or in a non-specialist classroom. There are a few lessons covering African Instruments and key words.

A lesson on Danse Macabre that can be used as homelearning or cover. Students learn about Danse Macabre and apply knowledge of the musical elements to a spooky composing task. There are two choices available - Corpse Bride or Nightmare Before Christmas.

Ideal for homelearning, cover or teaching in the classroom. Designed with no equipment in mind, so can be adapted to specialist or non-specialist classrooms. Each powerpoint has accompanying activities. Bundle includes: Carnival of the Animals - Saint-Saens Danse Macabre - Saint-Saens Peter and the Wolf - Prokofiev Pictures at an Exhibition - Mussorgsky The Planets - Holst