8Uploads
2k+Views
1k+Downloads
12 weeks worth of simple SPaG mats that originally focus on Y2 spellings and expectations but then lead onto Y3 spellings and expectations. Hopefully these will be helpful for some revision and practice work after lock down and school closures.
Fantastic Mr Fox PPT with 45 words on different slides with their definition and word class. Most noun slides also have a matching picture so children can really envisage what's being talked about.
Inspired by Vocabulary Ninja's picture processors I took some pictures from the Literacy Shed, Pobble 365 and Once Upon A Picture to make my own. They are first aimed at focussing on what nouns, verbs and adjectives are before becoming more developed by also including adverbs, conjunctions and time adverbials.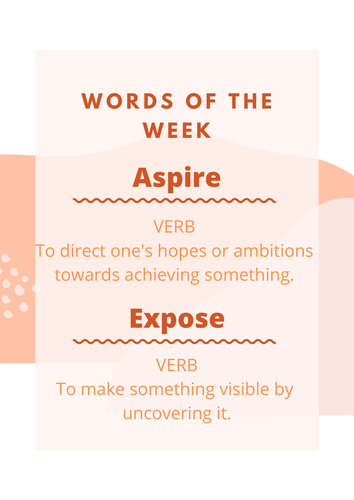 39 posters of 2 words each with the word class and definition. Specific Year 5 words from a Tier 2 list of vocabulary for children to learn.
I made this writing cheat sheet to help my class independently recognise what they need to add or change to their writing in order for them to truly say they've finished. The punctuation and conjunction sections are in line with the Y3 curriculum and then the 'said synonyms' and the 'amazing adjectives' are there to push vocabulary as that is something I'm very passionate about doing in the classroom.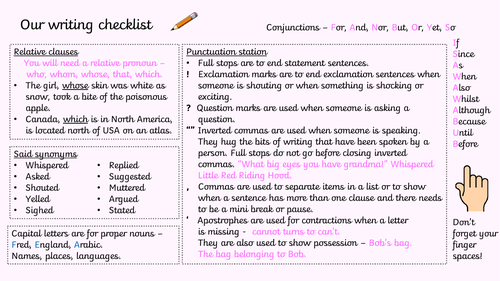 A double sided document to help Year 5 children with their editing and writing. I find these have improved writing standards for all children in my class in recent years as they have closely followed what is expected of them at that year group and below.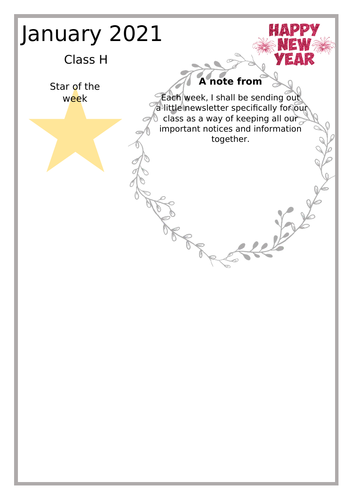 A weekly newsletter I'm sending out to parents with spellings / birthdays / notices / homework / announcements on it to keep parents informed. On my personal copy, I like to use the Twinkl Cursive Unlooped font but it doesn't upload correctly on here with that font so it's defaulted to comic sans instead.