MordernHistorian's Shop
I am a secondary teacher with experience with the Canadian, American, Irish and IB curriculums.
5Uploads
30Views
2Downloads
I am a secondary teacher with experience with the Canadian, American, Irish and IB curriculums.

This lesson includes two powerpoints, a student note sheet to follow the powerpoint lesson with activities included as the teacher goes through the powerpoint. Assessment is included for students to create their own propaganda poster using techniques learned through lesson . The lesson analyses the ways in which propaganda was used in World War One, by a variety of different nations, to influence its people in different ways. The main powerpoint goes through what propaganda is, how it works and the different techniques used to convince the audience. The student handout follows along with the powerpoint. Having the students come up with their own definition of "propaganda" at the start of the lesson. The handout follows the powerpoint through key information in the powerpoint and pauses for students to complete activities . This document includes an activity where the students watch a video on what propaganda is and answer questions associated with it. Activity two has students analyse a variety of different sources to answer questions on propaganda based on their learning. The second powerpoint has 21 different primary source propaganda pieces for the students to choose from to analyse. The final document provided is a formative assessment where students are asked to used the information they have gained to create their own propaganda posters.

This timeline can be used for any students studying Northern Ireland political developments from 1960-65. I have used it when teaching the Leaving Cert in Ireland as well as when teaching the IB curriculum. The timeline is to be used in after the Terence O'Neill years have been taught to students. Students will use the timeline in order to solidify their learning and understanding by taking key events and individuals during the time and not only determining if these events/people promoted Catholic or Protestant interests but also providing an explanation and evidence to support their arguments. Key figures and events are listed for students as well as a complete explanation of what is expected of them for this assignment. Students typically benefit from this exercize as they are able to visually understand the events taking place overtime and how these are leading to the coming civil rights movement. Students also benefit from this activity as they are forced to use their analytical skills to determine where to place the event/person as well as how to support their reasoning with evidence.

This unit was created for the IB curriculum and as such is incredibly detailed. The main powerpoint presentation provided includes more than 80 slides to be used by teachers to lead students in their understanding of the origins of the Great War. Beyond the powerpoint, there are a variety of games, activities, a simulation, research assignments and group work included to help enhance student learning. A secondary Powerpoint focuses on historiography on the origins of WWI including accounts of leading historians on the topic such as Stoessinger, Barnes and Fischer. This resources includes with it: A Powerpoint focusing on causes of WWI (teacher support) - MAIN - Bosnian Crisis, 1908, Moroccan Crisis 1905, 1911 - Historiography of internal causes of WWI - July Crisis - Blame/Responsibility for WWI by nation (including detailed historiography) Why study WWI activity An alliances Simulation An imperialism Game A research project Short Term Causes of WWI (First and Second Moroccan Crisis, The Bosnian Crisis, The Balkan Wars) A Jigsaw on the July Crisis and reading (Group Work) A Powerpoint covering different historiography of the causes of WWI (teacher support) A chart for students to outline the strengths and weaknesses of each perspective (student assignment) Who's to Blame Debate Events Activity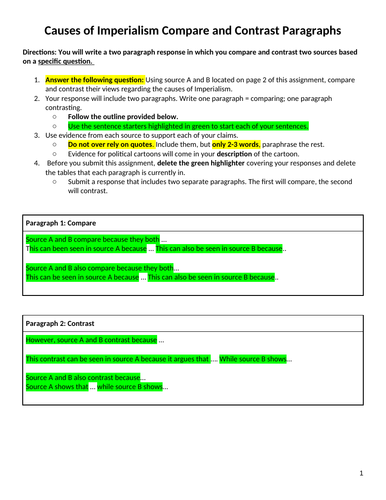 Students will write a two paragraph response in which they compare and contrast two sources provided in order to analyse the different perspectives regarding the causes of imperialism. Students build on historical skills by analysing and breaking down messages of sources. Students are provided with detailed instructions, an organizer and sentence starters to help them learn to effectively compare and contrast using sources.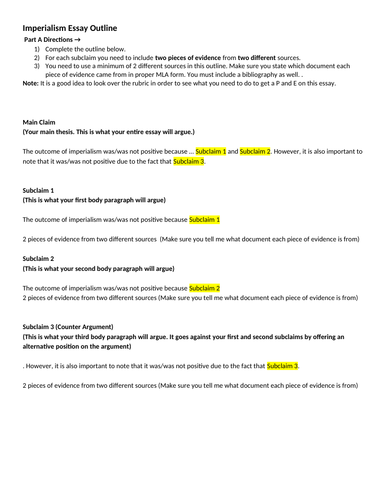 I use this essay outline for students in grade 10 for IB prep. It is very basic, but helps students to start to understand how to effectively write a "Two what extent" essay. Included as well is a Standards Based Grading rubric. I created the rubric when working in an SBG school Feel free to use or discard as suits.