13Uploads
5k+Views
2k+Downloads
The power point is a great way to get students to think about how to describe emotions and create their own poetry using metaphors, similes, emotive language etc. Works really well for paired or group work as well as individual work.
This power point is designed as a first teaching resource. Each slide has one stanza fully annotated along with differentiated questions. (Orange for lower ability, green for mid ability and blue for higher ability.) The first slide has a table for you to insert names of the students and what colour they ae working on. (Depending on your class you may not need three levels of questioning – or you may want to use a mix of all three – it depends on the nature and ability of your class. For my top set I asks them to only do green and blue – for my bottom set only orange and green. For my intervention group only orange.) The questions are based on analysing the poem as though it is an 'unseen' poem to best aid an initial detailed understanding of the techniques and tone of the poem. There is a starter which asks pairs to explore the connotation of the word 'remains' and a plenary that asks students to draw one image and think of one word that summarises the poem. At the end is an exemplar based on a first stanza question which uses P.E.E.D.Z.L. (Obviously adjust this slide if you use a different format for analytical writing.) The final slide asks a more holistic question based on the 'power and conflict' theme. This power point is designed to last two lessons and usually I get the class to peer assess – using the unseen marking criteria – their response.
Suitable for Year 7 or weak Year 8 students. A brilliantly, funny short story by Paul Jennings (not in the pack as still in copyright - available in the compilation of short stories 'Unreal') A great read for all students but especially for boys and reluctant readers - a great twist in the tale 7 page story. A 40 slide lesson by lesson power point (6 to 8 lessons depending on the speed and ability of the class) is accompanied by 3 graphic organizers and a marking criteria/rubric. The scheme focuses on building two specific reading skills - locating and selecting information and infer/deduce - reading between the lines. Students write P.E.E. (point, evidence, explanation) paragraphs and focus on improving their drafts. The word wall helps them build and develop vocabulary and the exemplars help them to recognize the standard they are aiming for. The graphic organizers help students to explore and formulate their ideas on characters and themes and the story structure organizer helps students recognize the structure of a story and identify exposition, climax, resolution etc. Also includes comma starters on the power point to help improve punctuation accuracy.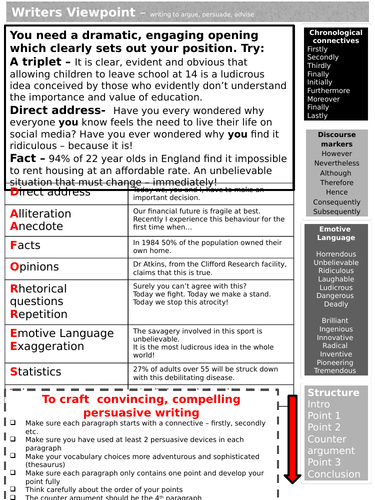 An A4 Help Sheet to support weaker KS4 students when writing Paper 2 Question 5 texts. Works as a quick reference sheet and includes connective, discourse markers and emotive language examples. Plus a reminder of DAFOREST with examples.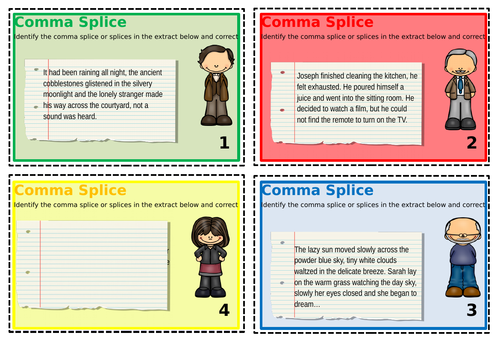 A set of 8 task cards that focus on comma splices. Each card has a short extract and students have to identify and correct the comma splice. The task cards can be used as a starter or plenary or as an independent extension task.The cards can be laminated for repeated use. There is also a Help Card to encourage independent reflection. The Help Card allows you to ask students to reflect on their comma splice mistakes in their writing and correct them when doing red pen/ correction time.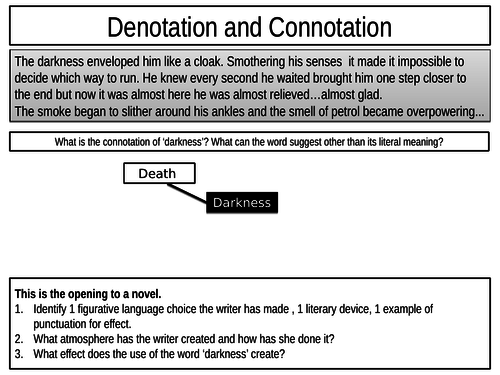 Ideal for practicing world level analysis for KS3 or weaker KS4 classes. Short original paragraph that then explains how to go about exploring the connotations of individual words and then gives an exemplar. Students then look at a marked response and try to work out why a 'tick' has been awarded before completing their own P.E.E.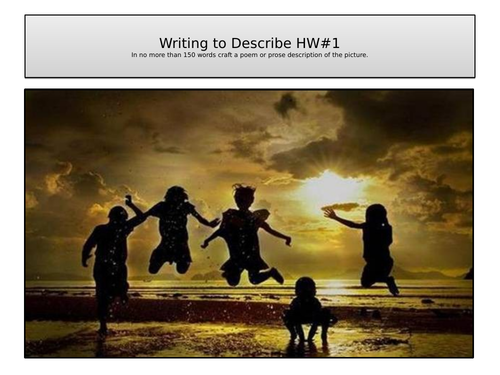 A set of images with writing prompts. Each homework can be printed and then hand written or completed on a PC. Handy to upload on SMHW etc as it covers multiple weeks. Make great classroom displays - quick and easy to mark.
A set of 27 creative writing prompt cards that have 3 levels of differentiation. Higher ability students write 100 words describing the image on the card and must include at least named literary techniques e.g. personification, metaphor, semantic field. Middle ability students have to select appropriate vocabulary to describe the image e.g. adjectives, verbs, paint colours. Lower ability students are given 3 words for each image which they have to look up in a dictionary and then use in a sentence. They are ideal as starters or extension tasks. There are 9 A8 cards on each A4 sheet which are designed to be laminated for repeated use. I store mine in a card index box and students select the card they wish to work on - the cards are numbered so the students simply write the number of the card in their book. Because they are differentiated they are suitable for all KS3 and KS4 classes. (Paint colours - I have a full range of paint palette cards in the classroom so students can select appropriate colours to describe - so instead of black they will have various shades to choose from - e.g. licorice black.)
The resource includes a Help Sheet that helps students identify the different word classes and then 5 worksheets to support their writing of descriptive sentences and then descriptive paragraphs using heavily scaffolded word banks and images. This was made for my weak KS3 students and has also been used with developing E2L students. It is a great first teach for primary learning and also as a revision tool at KS3 for those students who need to revise their understanding of word classes and how to use them creatively.
A fabulous set of posters which includes 12 children's authors. (Anne Fine, Tommie dePaulo, E. B. White, Peter Reynolds, Shel Silverstein, Lewis Carroll, Leo Lionni, Laura Numeroff, Julia Donaldson, C.S. Lewis, J.K. Rowling, Barbara Park.) Each poster includes: a magical forest watercolour background, a large wooden signpost with well know novel titles, a small wooden signpost with the authors name and one of their book titles on, a quote by the author. There is also a black and white version of each of the posters with the quote removed so your learners can colour the posters themselves and add their own quote, extract, review. These posters will brighten up any classroom, library or reading corner and would make great handouts for learners to colour and add to a fact pack on an author.
Charles Dickens - context. Can be used to introduce any Dickens novel or as a stand alone history unit. 6 to 8 lessons with all the research material included (although access to the internet or library will broaden students resources and reading.) Students spend 2 to 3 lessons researching and writing about Dickens and then 3 to 5 lessons researching and writing about child labour during the Industrial Revolution. Zip File includes: 47 slide power point (which includes a mastermind quiz - with answers) 6 research handouts, a task sheet and links to a series of 3 mini documentaries.
These task cards are writing stimuli they do not include any teaching resources. They are designed to challenge your stronger writers. They can be used as starters, home works or challenge cards for when classroom tasks are completed. The file includes 4 writing to describe cards and 4 writing to narrate. There is a power point to display in class and word document task cards (4 per A4 sheet) that can be laminated for everyday classroom use. Each card, which has an unusual image, asks students to write using a specific set of linguistic devices: juxtaposition, olfactory imagery, pathetic fallacy etc. in order to challenge them to really think about crafting their writing - not just writing the first thing that comes into their heads.
This resource is designed to help build the comparative and summary skills for Paper 2. The source texts are short and packed with content in order to make devices easy to spot but also to make the texts relatively quick to analyse. One set are fictional descriptions of a storm the other non-fiction descriptions of Blackpool. (Neither contain a 19th century text as the resource is an introduction to the skills and not meant as a representation of the actual exam texts.) There is also a self assessment sheet with the marking criteria and a place to reflect on WWW and EBI and set targets. The resource is great for homework as it is easy to upload to homework sites but also great as a whole class resource as the sources and the questions are all on one A4 sheet. There is a full set of Q1, Q2, Q3 and Q4 questions for each set of sources and an extension Q5 question linked to the themes (there is no mark scheme for Q5 on this resource.)