Ms Muheim's MFL Shop
Secondary French and Spanish Teacher and Private French Tutor. msmuheimmfl.com
10Uploads
6k+Views
6k+Downloads
Secondary French and Spanish Teacher and Private French Tutor. msmuheimmfl.com
Bring the francophone world into your classroom with this Passport PPT. Students can have their own copy of this document to fill in and keep track of the francophone countries that you visit in lesson or that they visit as home learning. If you enjoy this resource, please consider supporting me by buying me a coffee ! https://www.buymeacoffee.com/msmuheimmfl **About this resource ** On each slide, there is a francophone country, territory or region (67 total) with some information about it (the continent, population, capital, and languages spoken). There are text boxes where students can type in the date and time they "visited" the country and where they visited. When students "visit" a country, they can also copy and paste a stamp of your choice onto the slide to show they've already been there. I've included some examples, but you are welcome to adapt them to suit your students! There is also a travel journal on each slide where students can write about what they learned, what they found interesting, and if they would like to visit this place. All questions are entirely adaptable and you can choose which countries to include by simply deleting slides. However, the country information is not adaptable, as I made those images on a different platform. Please let me know if you see any errors, and I will update the document with the proper corrections. Thank you, and I hope you enjoy this resource!
Including French vocabulary on hobbies relating to TV, Film, Music, Reading, and the Internet, this KS3 resource allows students to interact with authentic resources in French with links to various videos, music, books and websites. This resource also uses vocabulary from both Studio 2 Unit 1 and Allez 2 Unit 2. In order to access the resource, students click Slide Show on the PPT and can click on any of the icons to link them to a resource. This resource can also be uploaded to Google Slides, where students will need to click Present to access the resource. In order to adapt the resource - On PPT: Click on the shape to edit the text. To edit the link, right click on the shape or icon, scroll down to Hyperlink and choose Edit Hyperlink. You can then insert your own link to a resource. On Slides: Click on the shape to edit the text. To edit the link, right click on the shape or icon, scroll down and choose link. From there, you can insert your own link to a resource. If you like my resources, please consider buying me a coffee! :) https://www.buymeacoffee.com/msmuheimmfl
This is an interactive PowerPoint revision game of 'football' aimed at Y7 French students. Students can choose which member of the Équipe de France to play as (each position is a different difficulty level) and for every answer they get correct, they move further down the field. Once you get the last task correct, you score a goal and win the game! Students will need to use their comprehension to remember what each task says about the player. They'll need to remember what they've learned in order to complete the last task and score the goal. The game is differentiated as each position on the field is a different difficulty level. This means there are ten different games each student can play. You should only play as one player at a time, even though two players are on a slide. The game includes vocabulary for names, birthdays, age, nationality, where one lives, friends, food, family and region. (Vocabulary is reflective of the Allez 1 textbook) The resource can be edited to adapt to the language level of your students and it also can be uploaded to Google Slides - all aspects of the game will still function on Google Slides. EDIT: There is now a final translation task that students can send to the teacher in order to receive a certificate (PDF Certificate also included). If you do not want the final translation task, delete the last 11 slides.
A list of different ways for students to express dislike in French, expanding their vocabulary and allowing them to be more specific and create more interesting sentences. I've included two documents in both pdf and doc formats - one with 35 different options and a top 20. Please let me know if there are any mistakes or ambiguities in translations so that I can edit the document. If you like my resources, please consider buying me a coffee! :) https://www.buymeacoffee.com/msmuheimmfl
A great online virtual resource for MFL students studying any language across all levels. This adaptable resources gives students access to podcasts, music, cartoons, books, language learning resources, news and even Virtual Reality of monuments in target-language speaking countries. My current department teaches French, German and Spanish so the library is adapted to those languages. You can edit the resource to better fit your classes and your department. How to use the resource: You must first make a copy of the resource to your Google Drive, or download it as a Powerpoint. Once you have made this copy, you can adapt the library to your classes by adding links and images for whatever resources you choose. Students can access the resources on the Google Slide by clicking Present, then clicking on any item that has a link attached. If your students use a device, they must have the Google Slides app downloaded in order to do this. The first slide is instructions, the middle slide is the library, and the last slide breaks down the difficulty level of each resource. Hope you have fun in the virtual library! https://docs.google.com/presentation/d/1ljZ-iA_C0_JI8lH8U3uYDeSqGPI_VfLUxH66ddAS3oQ/edit?usp=sharing If you like my resources, please consider buying me a coffee! :) https://www.buymeacoffee.com/msmuheimmfl
To discourage students from using Google Translate in MFL, use this template for written work. The questions I've included are relatively basic questions in French on the topics of Free Time using past tense and present tense. Students have a bank of useful phrases in the left column. In the right column, they have the question and space to respond. In order to complete the written task, they need to write their response using at least 5 (adapt to your own class and their ability) of the phrases in the left column. When they have used one, they must highlight the phrase they used. This will get them to recognise the language they are confident using in their writing and show you how they are using that language. Hopefully this will also prevent them from only going to Google Translate, but even if they do, they would have to make sure they've used the key language on the document. I've also included 3 possible document templates - one with vocab bank and questions in the same table, one with the vocab bank and questions colour-coded to different tenses, and one that they can print out if they're mainly doing book work. Any advice or critiques welcomed! And if you like my resources, please feel free to support me and buy me a coffee https://www.buymeacoffee.com/msmuheimmfl
We all love a travel magazine ! So I've created a workbook in the style of a magazine "Le voyageur" for KS3 (Year 7) students to learn and practice vocabulary to express where they usually go on holiday. This would make a great cover resource, homework, or could accompany a lesson on holidays using the present tenses. (As it's very colourful, it's ideal for a blended learning environment where students can have the pdf or PPT open on their device rather than printed.) If you like my resources, please feel free to support me by buying me a coffee! Thank you :) https://www.buymeacoffee.com/msmuheimmfl The contents of this resource include: A cultural element : focus on Brussels, Belgium Sentence Builders : describing a holiday and giving opinions and reasons Vocabulary exercises : Activities to practise the vocabulary in the Sentence Builders Reading exercises : (1) A text about Théo's holidays to Brussels with his family & comprehension questions (challenge text included as well) ; (2) A text about Manon's holidays to Brussels & questions that compare her and Théo's holidays. Game / Quiz : "What is your dream destination?" Quiz. Students must read and answer the multiple choice questions to determine their dream holiday location. Independent writing exercise : Students will use the vocabulary they have practised and other recycled language in order to write a paragraph about where they usually go on holiday. The final slide has the corrections for every exercise. You can include this for them to self-correct or i've attached a pdf that is simply the corrections. I hope you find it useful! And if there are any corrections that need to be made, please let me know and I will make the corrections to the document and send you a corrected copy.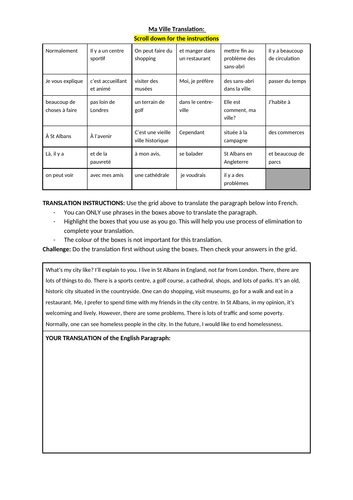 In order to avoid the use of Google Translate by students, I've put together a grid translation. Students must use the phrases in the grid to translate the sentences/paragraph. They can use process of elimination to help them if they get stuck instead of using a translation app. This translation is on the French GCSE topic of ville/région. I've also included a copy of the document with possible extension tasks that could be used following the translation. You should be able to adapt this resource as you like and for other topics as well. If you like my resources, please consider buying me a coffee! :) https://www.buymeacoffee.com/msmuheimmfl
A KS3 resource to help students understand why French is spoken in many countries in Africa, with a discussion of what colonialism is, the history of the French Colonial Empire and the Scramble for Africa. The PowerPoint also includes a slide with some questions at the End. This is not meant to be a full lesson. I'm using this for distance learning to supplement vocabulary learning. **this resource has been edited to change the term "slave" to enslaved people, after being made aware that the term slave separates a person's identity from their circumstance and reduces identity to a non-human noun. By saying enslaved or enslaved person/people, we recognise that these people were human first and commodities second. If you like my resources, please consider buying me a coffee! :) https://www.buymeacoffee.com/msmuheimmfl
A list of other ways to express likes in French to make students' language more interesting and specific! Some of these are also idiomatic phrases. I've included two documents in both pdf and doc formats - one with 35 different options and a top 20. Please let me know if there are any mistakes or ambiguities in translations so that I can edit the document. If you like my resources, please consider buying me a coffee! :) https://www.buymeacoffee.com/msmuheimmfl