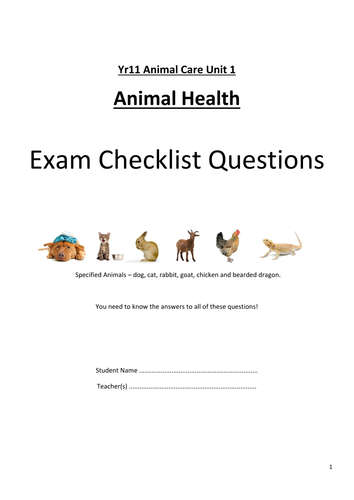 BTEC Animal Care Level 1 / 2 Unit 1 exam unit Booklet- a list of all / loads of questions based on the learning aims and specification using the Specified Animals – dog, cat, rabbit, goat, chicken and bearded dragon. Your students need to know the answers to all of these questions! I am using them to produce memory maps, revision poster and cue cards - question on one side answer on the other.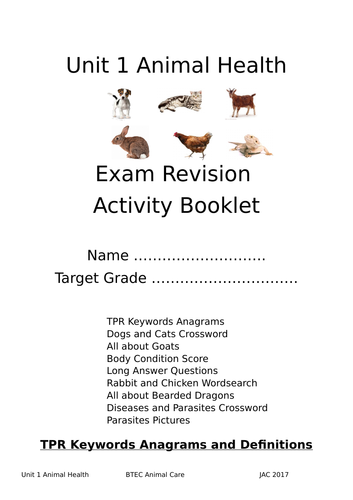 Unit 1 - BTEC Animal Care level 1/2 - A 12 page booklet with different activities (see list below) to overview the Unit 1 Exam. It focuses on the specified animals and also hard keywords, diseases etc. The activities are as follows: 1) TPR Keywords Anagrams 2) Dogs and Cats Crossword 3) All about Goats 4) Body Condition Score 5) 4 Long Answer Questions 6) Rabbit and Chicken Wordsearch 7) All about Bearded Dragons 8) Diseases and Parasites Crossword 9) Parasites Pictures We are doing a Saturday revision session before the exam in which I will be using this booklet. It could also be used in class as starters or as a homework booklet. If there are errors in crosswords especially please let me know, it is difficult to edit!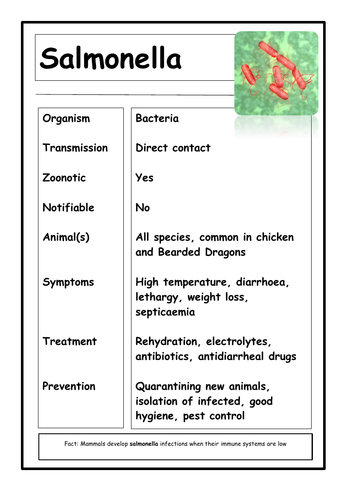 Unit 1 Animal Health - BTEC level 1/2 Animal Care - Animal Diseases 'top trump style' cards. I have used these to revise and learn the different diseases of the 6 specified animals. Each card includes the following: B,V or F; transmission, zoonotic / notifiable, animal(s) affected, symptoms and signs, treatments, preventions and then in the box at the bottom an interesting fact (not necessarily syllabus content related). There is also a photograph of either the microscopic disease or animal signs. MY students have found them helpful to train each other to identify which diseases are zoonotic or notifiable, they have grouped them too, noted similarities and differences between diseases etc. I hope your student find them helpful too. Any errors are my own but I would welcome feedback on errors or additions you might think will be helpful in the future.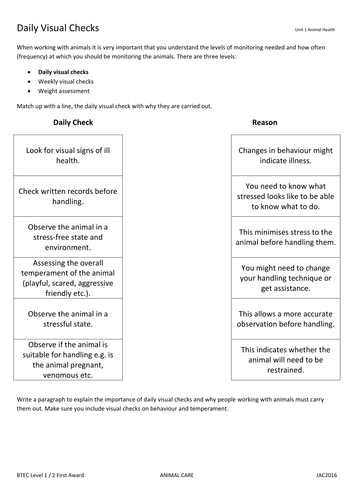 Animal Care Level1/Level 2 Unit 1 Animal Health Learning Aim A, Worksheet for lesson 1 daily visual checks. Match-up style activity with extension. Posture and Movement Checks for some of the specified commonly kept pets.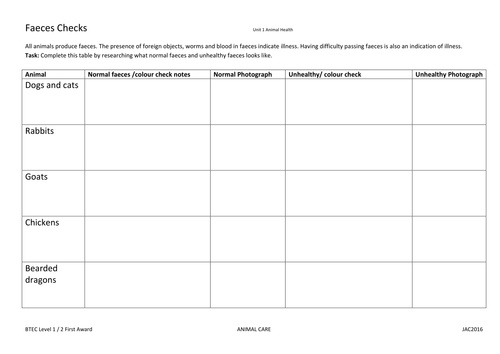 Animal Care Level1/Level 2 Unit 1 Animal Health, Worksheet for lesson 6 on healthy vs unhealthy faeces in specified common pets. Included are photographs of healthy and unhealthy faeces. A3 enlargement may be advisable.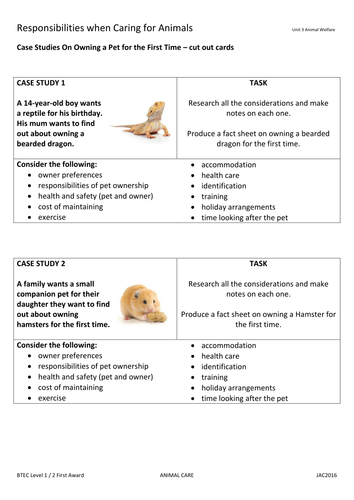 BTEC Level 1 / Level 2 Animal Care Unit 3 Welfare - lesson 12 on owning a pet for the first time. Six scenario cards which allows the students to focus on a specific situation: 1) A 14-year-old boy wants a reptile for his birthday... 2) A family wants a small companion pet for their daughter... 3) A family with two young children want to own a dog for the first time... 4) A family wants to start owning chickens for egg production... 5) A family with two young children want to get a rabbit... 6) A young adult is interested in owning a corn snake... Each card has a fact sheet task and things to consider when carrying out the task including space, cost and time. I recommend using leaflets from pet stores to use as examples.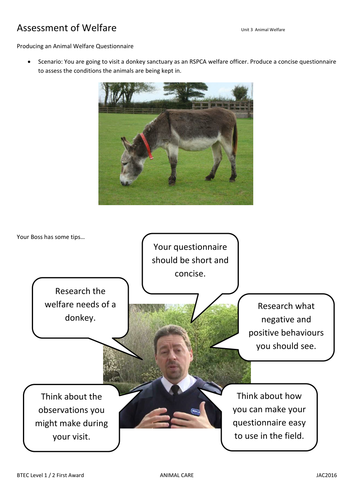 BTEC Level 1 / Level 2 Animal Care Unit 3 Welfare - Lesson 8 on Producing an Animal Welfare Questionnaire using the following scenario: "You are going to visit a donkey sanctuary as an RSPCA welfare officer." Produce a concise questionnaire to assess the conditions the animals are being kept in. Sheet 1 introduces the activity and prompts the students. Sheet 2 is a match up with the 3 categories a) Background Information; b) Five principles of good animal welfare; c) Behaviours, with examples of what they should include. I have taken these from the Learning Guide. There are links to the Donkey Sanctuary for information and also I recommend having a look at the RSPCA short Youtube clips on the roles of an animal welfare officer.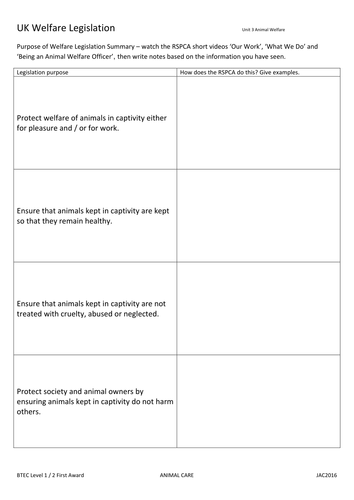 BTEC level 1 / level 2 Animal Care Unit 3 Welfare - Lessons 9 and 10 covering role of RSPCA in animal welfare and the different animal welfare legislation in the UK. Sheet 1 - Role of RSPCA Sheet 2 - Research fill in sheet with questions on the 5 legislations (welfare act, transport order, scientific procedures, dangerous dogs act and codes of practice) Sheet 3 - Students apply knowledge from sheet 2 to scenarios. Sheet 4 - teacher notes for Sheet 3 Further activity - RSPCA campaign "Do you give a monkey's?" gives a fascinating insight to non-human primates as pets and why the RCSPCA want to ban them. The leaflet can be downloaded from the RSPCA.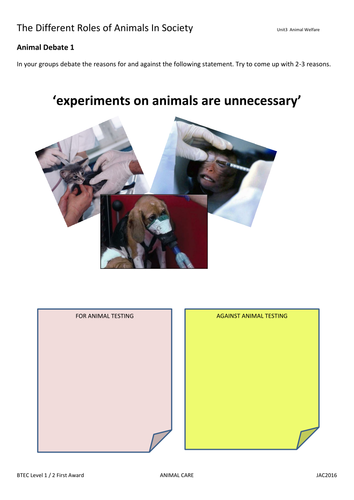 BTEC Level 1/ Level 2 Animal Care Unit 3 Welfare - lesson 3 with four debate sheets for students to come up with for and against arguments, this allows them to come up with a balanced argument. It could be used for a whole class debate with one side being for and the other against. Post-its could be used to write down their thoughts on the board and collate the for and against onto the sheet to summarise. The 4 debates are: 1) experiments on animals are unnecessary 2) circuses should not use animals in performances 3) animals have a vital role in war zones 4) zoos etc. have a vital role in conservation and education.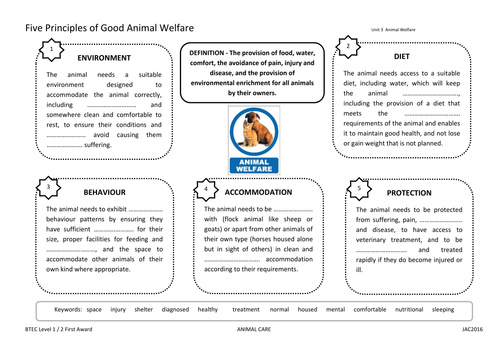 BTEC Level 1 / Level 2 Animal Care Unit 3 Welfare - lesson 7 on the 5 principles of good animal welfare. There are two sheet to consider using 1) fill in the gaps sheet with keywords at the bottom - this is either a SEN or revision summary sheet or 2) titled blank boxes to write in their own versions of the principles with keywords at the bottom that they have to use at least once (as a challenge).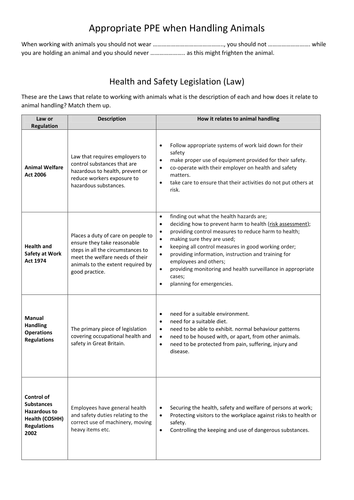 BTEC Animal Care Level 1 / 2 Unit 2 Legislation Match Up - using the 4 main laws and regulations - COSSH, Animal Welfare Act, Manual Handling, Health and Safety at Work with a description and how it relates to the animal industry. Suitable for more higher level students, as very wordy.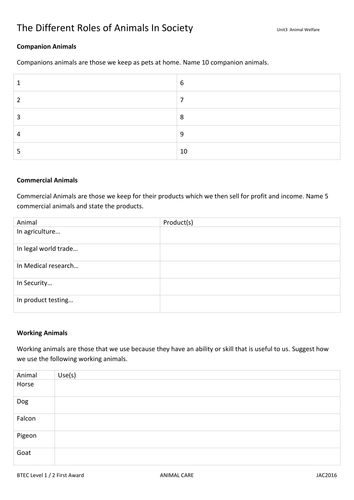 BTEC Level 1/ Level 2 Animal Care Unit 3 Welfare - lesson 1 and 2 overviewing the many different roles in society, focuses on student discussion on animals in each category. Sheets 1 and 2 have fill in tables for Companion, Commercial, Working, Field Sports, Media/Leisure/Education, Symbol Animals. Sheet 3 is a summary sheet match up which could be used for SEN and lower ability too. Sheet 2 has an extension on Dangerous Dog Legislation with web link which could be related to Pit Bull as a fashion accessory. Sheet 3 has a HW /Research /Extension /Challenge to find more animal pictures for each category.
BTEC Level 1 / Level 2 Animal Care Unit 3 Welfare lesson 13 and 14 Sheet 1 - What should home owners consider when choosing an animal? The student chooses an animal and answers the questions by discussion and research. Sheet 2 - Case study of owning a pet shop.... TASK 1 Customers ask for your advice when buying these animals. Produce a checklist leaflet that you give to you customers when they buy one of these animals. TASK 2 Produce a fact sheet relating it to the welfare considerations so that your employees know how to look after one of the animals in the shop correctly.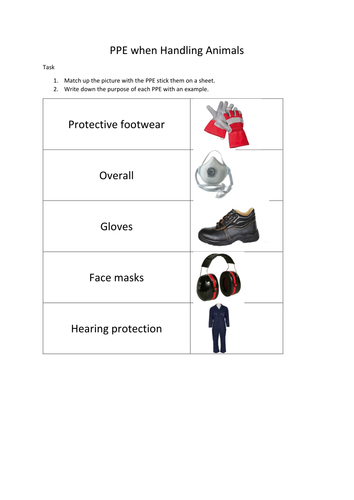 BTEC Animal Care level 1/2 Unit 2 sheets - 1) PPE easy match up sheet which I used as a starter, the students can then give at least 3 examples of when you would wear the PPE. 2) RIDDOR sheet has questions plus teacher sheet with answers, this could be given to the students as a reading comprehension exercise.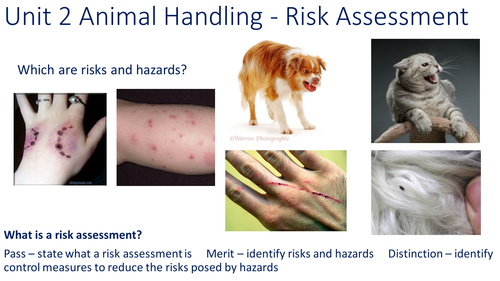 BTEC Animal Care Level 1 /2 Unit 2 Animal Handling - includes title, learning questions, success criteria (P/M/D). Each sheet follows the learning aims and SOW for topics A1 to A4. It is a useful resource as most sheets have pictures to stimulate discussion and note taking, some slides could be used as worksheets too, for example matching up reasons for handling with pictures or no handling examples. It can be used for all abilities.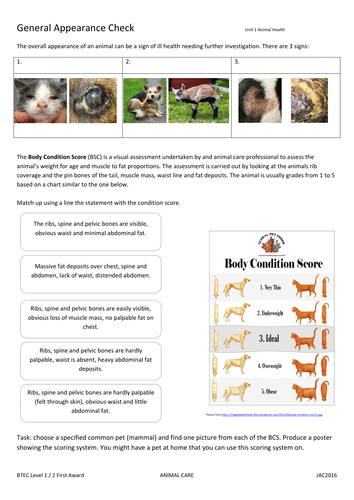 Animal Care Level1/Level 2 Unit 1 Animal Health, Worksheet for lesson 8 general Appearance check including photographs of ill health 3 signs, plus a match up of the BCS. Research activity to find pictures of pet in each score category. Consolidates practical activity to score an animal like a dog or cat.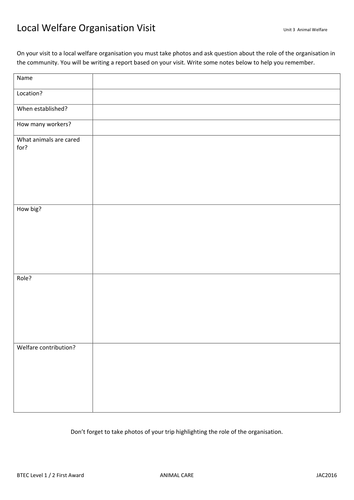 BTEC Level 1 / Level 2 Animal Care Unit 3 Welfare - Lesson 5 a questionnaire style double sided sheet to steer students to ask and make observations on their visit. This includes roles and objectives, the local contribution and funding. We take our students to a local Owl/ Seal or Donkey Sanctuary if we can to at least two of them so that they can make a comparison. It is important that photos are taken as this lesson leads into an assignment.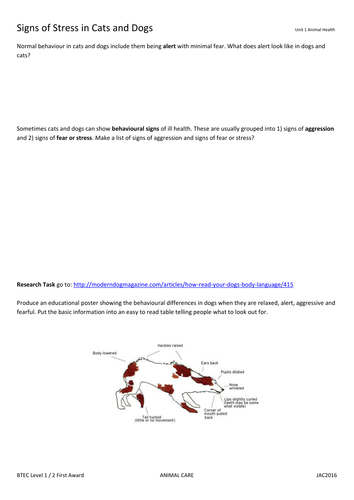 Animal Care Level1/Level 2 Unit 1 Animal Health, Worksheet for lesson 2 on Cats and Dogs behaviour and temperament, plus worksheet and research on signs of stress. Both sheets are to consolidate class work discussion.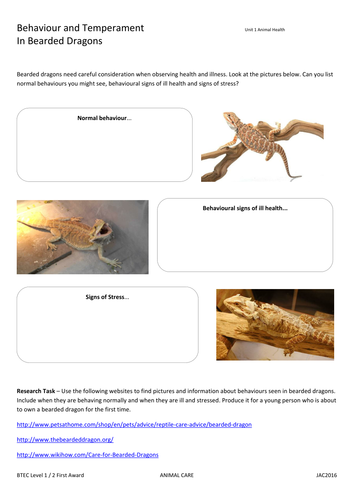 Animal Care Level1/Level 2 Unit 1 Animal Health, Worksheet for lesson 4 on Chickens and Bearded dragons normal vs behaviour and stress/ illness. They are consolidation worksheets from class discussions. Includes chicken behaviour match-up and 4 signs of stress. Includes web addresses for information on bearded dragons with research task.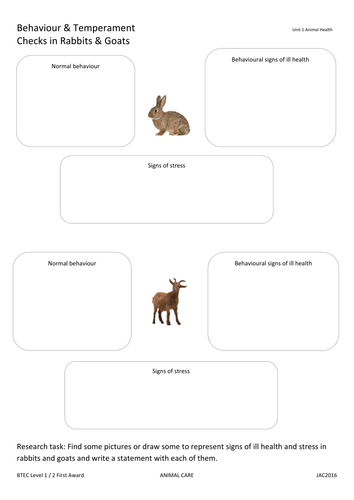 Animal Care Level1/Level 2 Unit 1 Animal Health, Worksheet for lesson 3 behaviour and temperament in Rabbits and Goats worksheet to consolidate class discussion with a research task to find pictures on rabbits and goats showing signs of stress and ill health.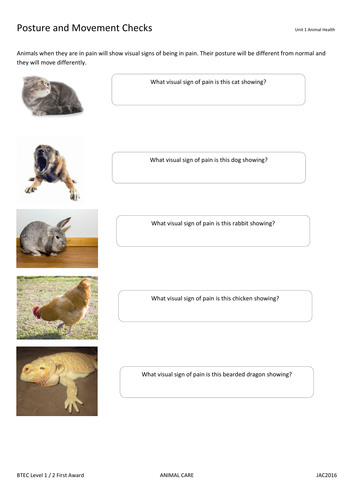 Unit 1 Posture and Movement examples using the animals used in the exam. Animals when they are in pain will show visual signs of being in pain. Their posture will be different from normal and they will move differently.