88Uploads
2k+Views
826Downloads
Geography Teacher!
A lesson that looks at globalisation of clothing within geography and how fashion links in. Pupils will look at the story of a t-shirt production through videos before commenting on the link to geography and globalisation. Positives and negatives are considered before pupils consider the impact of new production and consumer behaviour.
A lesson looking at a range of Wonders of the World. Main 7 are included but natural and historical ones are added too. Video is included as well as information sheets for each Wonder. Pupils can work on their own or as a group to come up and rank the best 4 - give reasons why and compare! Homework before is to give each pupil a wonder of the world and find out for themselves what makes if a wonder.
A lesson looking at the impact of Manchester United and England footballer Marcus Rashford and his campaign to provide free school meals across the UK.
A lesson looking at microclimate and the factors that affect it. Investigation around local area/school to look at how microclimate varies.
A lesson looking at how global the Olympics are. Wordsearch included (plenary) and activity to get pupils thinking of the links between geography and the olympics.
A lesson looking at what a biome is, the location of biomes around the world and information regarding each biome. Pupils can do a range of activities: posters, fact-files or presentations. Lots of activities which involve: guess the biome, picture round and a word search!
A KS3 lesson looking at globalisation of Mcdonalds! Pupils look at what links there are geographically before moving on to glocalisation - the idea of a brand being suited to local needs. Pupils could look at mcdonalds examples around the world e.g. India, Spain etc and then have ideas to promote globalisation through games and activities.
A lesson looking at conflict - mainly for lower-ability year 8 pupils but can be adapted. Song from Kanye West about Blood diamonds and lots of other videos.
A lesson looking at marine biomes - with the example of the Great barrier Reef. Pupils can look at marine animals and their adaptations - mainly for Year 7 but can work for any KS3 classes. Pupils look at facts about the Great Barrier Reef and the main threats from tourism and the environment.
A double lesson looking at:1) The history of Africa and colonialism as well as 2) Misconceptions surrounding Africa. The history of Africa - looking at a map and activities that can be done online. The main part looks at countries that were taken over by the British, French etc. Pupils could plot on a map? Info sheets included. The second part (another lesson) looks at misconceptions surrounding Africa e.g. people speak African - or Africans are poor. There are views expressed by a range of players (people) by which pupils can categorise and rank and write their own!
A lesson that looks at how sport is globalised. The lesson starts with a guess the logo before looking at the 4 different types of globalisation. David Beckham features before looking at which sports are viewed as being the most popular in different countries. Pupils can discuss and label reasons. After, pupils are to look at individual sports e.g. tennis, football and comment on their level of globalisation using the structure and criteria provided e.g. similarities and differences with advertising, clothing etc.
An observed lesson (outstanding) related to the causes, impacts and solutions of Drought. Example case study with fact sheet about drought in South Africa over the last couple of years.
A series of lessons tailored to Geography GCSE Edexcel B Specification. Activities and content all linked to the specification with DME practice included for Years 10/11
A KS3 lesson looking at population in China. The lesson looks at the one-child, two-child and promotion of the three-child policy in 2021.
A lesson looking at globalisation and sweatshops. Pupils will define a sweatshop, understand what it feels like to be in a sweatshop and look at the conditions. Documentary on sweatshop collapse is available and pupils can look at solutions to create a better quality of life.
KS3 lesson looking at the causes, impacts and awareness of a tornado. Videos included. Pictures included and a range of different viewpoints explored e.g. climate scientist, resident etc.
Lesson 8 looks at methods to conserve the taiga biome. 3 are considered - national parks, wilderness areas and selective forestry. Pupils then consider reasons to conserve or exploit the taiga biome
A lesson looking at what flooding is, the causes, a range of impacts and how flooding can be reduced and even prevented. Activities for pupils to engage in and have fun!
A lesson looking at the difference between sparse vs dense population (mainly for lower ability year 8 pupils)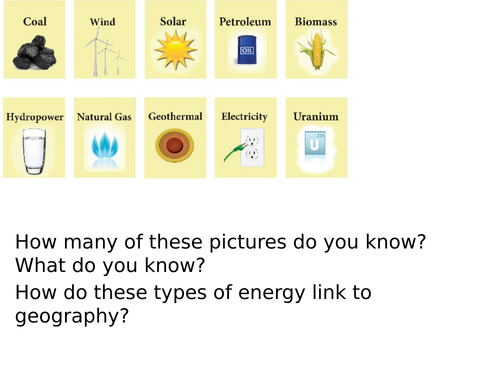 Introduction for students to get thinking about what a resource is and what resources they use in their daily lives