6Uploads
329Views
95Downloads Includes: Starter to identify relevant quotes Exam-style extract and guidance on how to approach the question Scaffolding to write a short response Exemplar answers (level 2 and 3) to help with self-assessment By the end of this lesson students will have identified the important information for each ghost (appearance/behaviour/key language/Scrooge's responses) and analysed in detail the symbolism of each. Included: 1 x cut and stick activity 10+ questions to scaffold students into that all-important close language analysis Enjoy! Students can match the chapter title to a detailed, bullet point summary of each chapter. A handy activity to begin a revision lesson. This activity uses film to introduce students to methods such as shift in focus, pace and tension. Includes a writing scaffold for analysing the film clip. A text adapted from the website of the British Library, together with 10 comprehension questions that ask students to engage with the relationship between Macbeth's acting company, James I and the historical sources of Macbeth.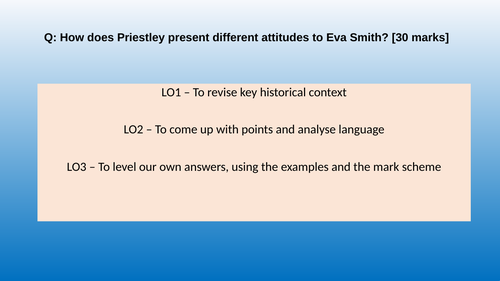 This revision lesson looks at key context, provides an essay planning scaffold and allows students to self-assess a practise paragraph.