17Uploads
3k+Views
195Downloads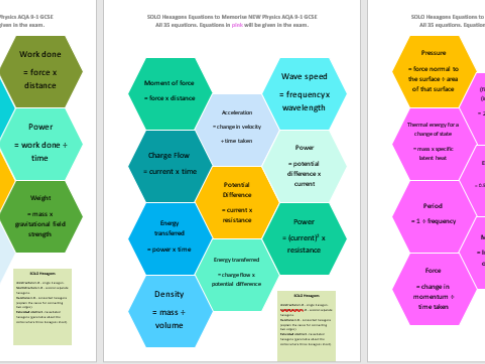 *Teach PHYSICS equations and key words creatively: * BUNDLE OF TWO AQA PHYSICS GCSE EQUATION RESOURCES AND SOLO TAXONOMY KEY WORDS : **1. SOLO TAXONOMY HEXAHONS WITH ALL THE EQUATIONS FOR THE NEW AQA PHYSICS GCSE. ** SUITABLE FOR TRIPLE CLASS AND FOR COMBINED PHYSICS. CLEARLY MARKED ARE THE PINK HEXAGONS WITH THE EQUATIONS GIVEN IN THE EXAM. THE REST OF THE COLORFUL HEXAGONS HAVE EQUATIONS THAT STUDENTS ARE EXPECTED TO LEARN. Can be used in variety of ways! Flashcards, classroom display, writing prompt, find the connection, quiz tub for quick question round, make equation keyring (print, laminate, and loop a **keyring **through all of them), and more… or…You can use them in conjunction with my AQA GCSE PHYSICS SOLO Taxonomy key words hexagons! My activity idea: I have put all of my hexagons (laminated and cut out) into a tub and use it with my year 11s as starter activity! (They need to pick between 1 and 3 , the more the harder the challenge, and write everything they know about the words and equations they have picked in 5 minutes, then in pairs or small groups they look for connections between their hexagons and compare ideas! Sometimes I ask them to write an exam questions using some of the hexagons!) ** 3. This NEW AQA GCSE PHYSICS ENERGY topic EQUATIONS resource can be used as an insert/ bookmark in students books. All the EQUATIONS come with the TRIANGLES and UNITS . ** The front of the bookmark has the equation to learn and the back the equations that will be given in the exam. **Activity : ** Additionally, there is a blank triangles version so that students could complete the triangles themselves and then assemble and optionally laminate the bookmarks.
Great power point for form time / registration, or as part of a school assembly on being open minded.
Lovely resource and activity for students to keep! Energy topic equations for the NEW AQA PHYSICS . Includes triangles, equations, all units and equation to learn(front), and equations given in the exam ( on the back). Additionally, I included a page where triangles are left empty. This could be an optional activity where students fill in the triangles themselves and then assemble the as bookmark.
Just perfect for pre- exam revision, and half price too! Lasting resources for your students and your clasroom!
This 5 page booklet has elements of comprehension, fill in the gap, colour coding and colouring in, space for independent research and opportunity to improve manual dexterity. First pages are partially done for the students and contain the most fundamental facts about atomic structure. Use of colour-coding should aid the learning of very low r ability and SEN students. Once completed the booklet can be cut out and stapled/ glued along the black spine on the left hand side. Last page is a blank tempate that can be used to 'add your own research'. Here students could be provided with learning materials or access to the internet, and research furter facts about atoms. Activity lends itself to peer review ( pergaps 2 stars and a wish). Enjoy Phantastic Physics
NEW GCSE 2018 AQA Physics Combined Trilogy Interactive Quiz Game on Energy Electricity Forces Waves. Just download and play! Includes 25 interactive differentiated questions, answers and explanations. Questions vary in difficulty and include: short and long answer, Venn diagram, missing vowels,recall, analysis, calculations, units, spot the mistake, and more. Perfect to enrich year 11 exam revision, and it can be used as whole class, group and individual activity. It's all about the competition! You could assign extra points for completing a line of 5 too! Have some Fun… Fully editable, easily adapted to your needs and without intrusive logos. Individual slides could be used as a starter/plenary, AfL, mini test, or as creative homework (students could design and present their own quiz questions and answers!). Enjoy! -PhantasticPhysics
Solo Taxonomy Hexagons. Brilliant Resource for your classroom, revision of key terms, writing prompt, display, quiz prompt, and many more! HALF PRICE with this bundle.
Visual Timer to incorporate in your activities, lessons and classroom management. Just choose the time, and add instruction or a picture! Enjoy!
Great for display, questioning, quiz, afl, revision and many more. enjoy -PhantasticPhysics
Visual Timer Clock for your activities, presentations and classroom management. Just choose the time, and add your instructions or pictures. Enjoy! PhantasticPhysics
Great for display, questioning, quiz, afl, revision and many more. enjoy -PhantasticPhysics
SOLO Taxonomy Hexagons Key Words Waves Physics KS4 Not only for Solo Taxonomy Enthusiasts! Can be used as a display, prompt for activities, questioning, afl, revision for students and many more! Enjoy! -PhantasticPhysics
Not only for SOLO taxonomy enthusiasts! Suitable for an activity, display, revision material, plenary or afl task. Enjoy PhantasticPhysics
Great for display, questioning, quiz, afl, revision and many more. enjoy -PhantasticPhysics
Great for display, questioning, quiz, afl, revision and many more. enjoy -PhantasticPhysics
Great for display, questioning, quiz, afl, revision and many more. enjoy -PhantasticPhysics
**NEW 2018 AQA GCSE PHYSICS **ALL EQUATIONS SOLO HEXAGONS All the equations in colorful** SOLO TAXONOMY** hexagons. Pink hexagons show equations that will be given in the exam. Great resource to make into flashcards, include in revision activities, quiz etc. Stretch and challenge: ask students to group them into categories and justify, to find connections between neighbouring hexagons or pair them up with the AQA GCSE topic key words solo hexagons. You can find these in my shop! In my class I have them printed and individually laminated and put on keyrings! Students loved making these ( looks great and fits in their pencil cases and pockets!) . You can also scale them up and put them up as a classroom display (I'm planning to pin them to my ceiling!). This should brighten up any classroom and laminating really makes the colors stand out! Enjoy! -PhantasticPhysics