Science Resources
Just a science teacher sharing!
153Uploads
22k+Views
14k+Downloads
Just a science teacher sharing!
Fantastic lesson where students collect different information provided around the room to formulate their own opinion on whether the moon landings were real or fake. Fantastic opportunity to debate with students. Gets everyone involved - can be adapted to suit all ages and abilities.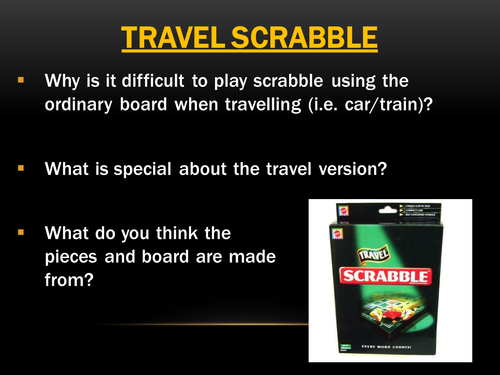 Please find attached the resources and lessons for a year 8 SOW for magnets and electromagnets. Please find the lesson order below: Lesson 1: Introducing Magnets Lesson 2: Magnetic Fields Lesson 3 & 4: Making Magnets Lesson 5 & 6: Electromagnets There is also a who wants to be a millionaire revision game for the end of the topic.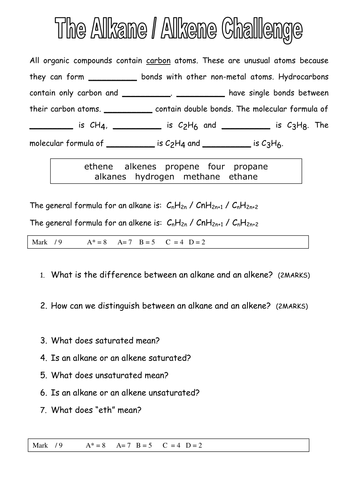 Please find attached the lesson worksheets, resources and lesson presentation with extra help sheets to help teach Alkanes and Alkenes.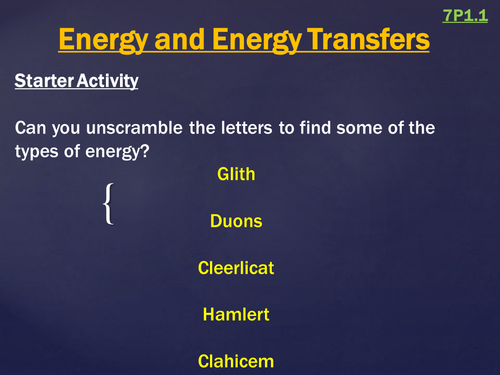 Please find attached a SOW for Year 7 Energy. There are 6 lessons with all resources in the following order: Lesson 1: Energy and Energy Transfers Lesson 2: Energy in Foods Lesson 3: Energy from Fuels Lesson 4: Fossil Fuels Lesson 5: Renewable Energy Lesson 6: Wind Turbines
Please find attached all of the worksheets, homeworks, presentations and videos for this topic. Lesson order as follows: Lesson one: Introduction to microbes Lesson two: Useful microbes Lesson three: Spreading of microbes Lesson four: Fighting microbes Lesson five: Preventing disease There are a lot of other resources included to help teach the topic.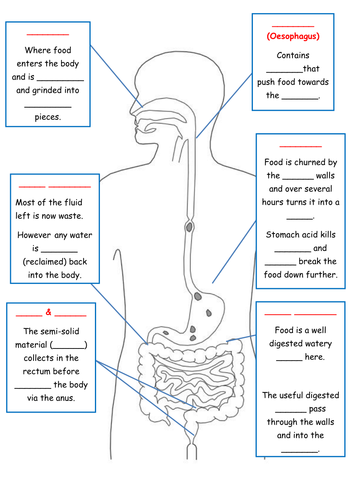 Please find attached the presentation, homework and practical activity 'From gums to bums' to highlight each organ that makes up the digestive system. There is a collective memory task that allows students to label up their digestive system from A3 sheets with all of the information. This is differentiated for the SEN pupils or lower ability students that may be in your class. There is also an interactive quiz with the answers too. Everything you need to introduce the digestive system! Enjoy!
Please find attached some crime scene forensic activities for a crime scene lesson or a themed science club.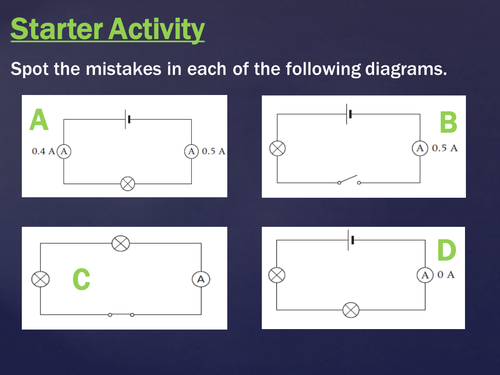 Please find attached a year 7 SOW for electrical circuits. The lessons are in the following order: Lesson 1: Electric Circuits Lesson 2: Electric Current Lesson 3: Electrical Conductors and Insulators Lesson 4: Batteries and Cells Lesson 5: Electrical Circuit Models Lesson 6: Lightning - Static Game Other resources - Designing a steady hand game.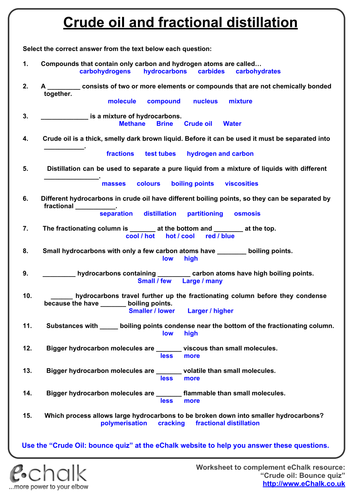 Please find attached the blank worsheets with a fractional distillation column for students to collectively fill in. There is other echalk activities and the activity tasks on the powerpoint for the lesson itself.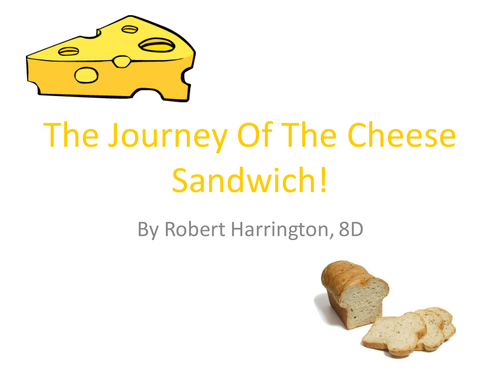 Find the unit of work for Digestion with practicals. Lessons, resources and practical work sheets. Very easily adaptable: Order of Lessons: Lesson One: A balanced Diet Lesson two: Food Tests Lesson three: Organic Foods Lesson Four: Digestive System Lesson Five: Enzymes Lesson Six: Chewing it over (Catalyst Experiment) Lesson 7: Absorption Lesson 8: Assessment - Journey of a Cheese Sandwich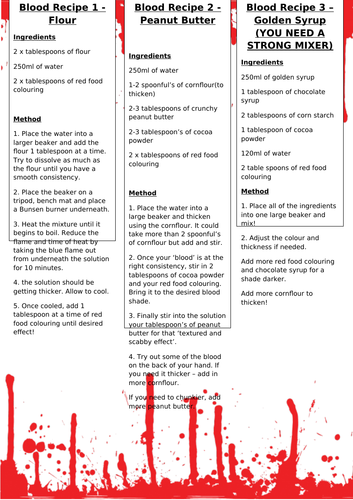 This was for science club, however it could be used for any activity where you are making fake blood. They are 3 simple methods and recipies. I could never find a place for a few simple and easy methods. Tried and tested. Enjoy!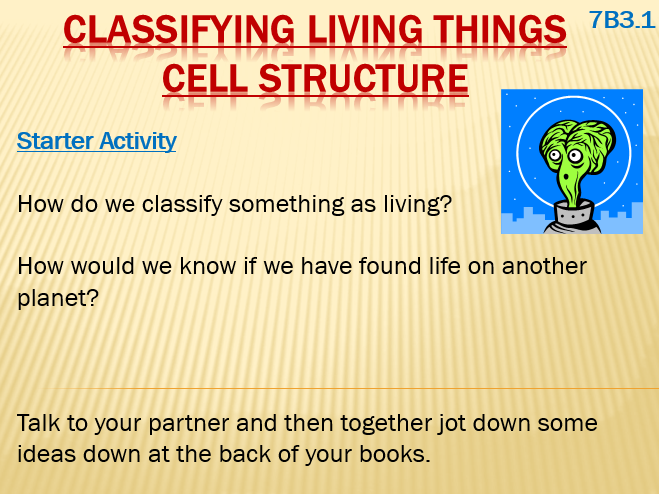 This includes 6 Lessons and resources: Lesson One - Cell Structure Lesson Two - Kingdoms Lesson Three - Invertebrates Lesson Four - Classification Keys Lesson Five - Species Lesson Six - Variation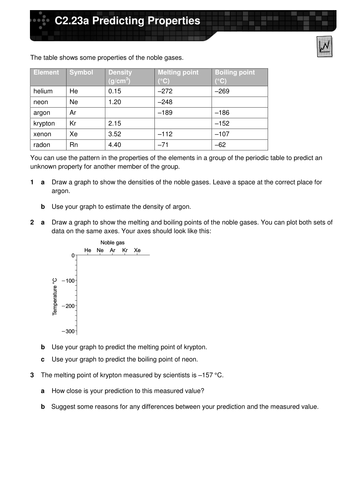 A nice computer room lesson or laptop lesson for students to create a poster on the noble gases. There are worksheets for students to complete for homework. Breaks the lessons up.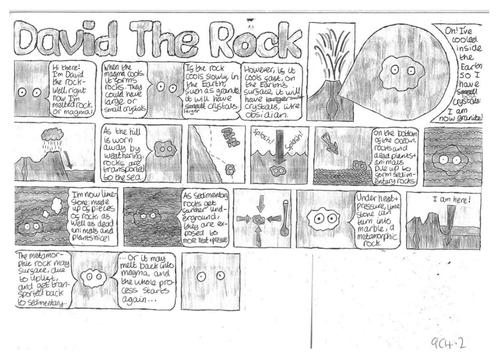 Please find the rock cycle for GCSE level. Attached is the lesson presentation, plenary and starters with answers and interactive blockbusters game.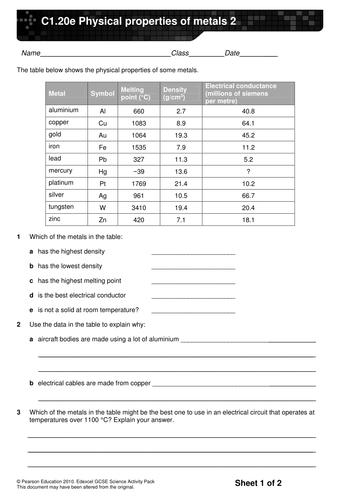 Please find attached the resources, activities and lesson presentation to help teach metals and an introduction to allows. There is also a homework sheet attached.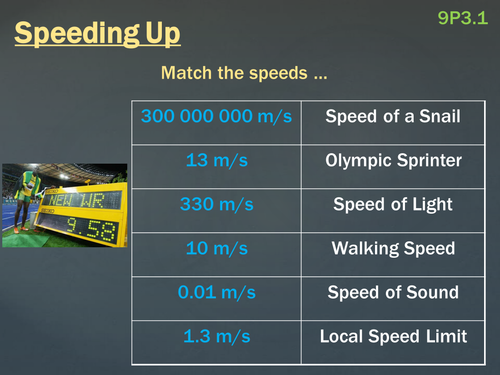 Please find attached a year 9 speed topic with resources and lesson presentations. They can be easily adapted to suit any group. Lesson order: Lesson 1: Speeding up Lesson 2 & 3: Helicopter Investigation Lesson 4: Balanced and Unbalanced Forces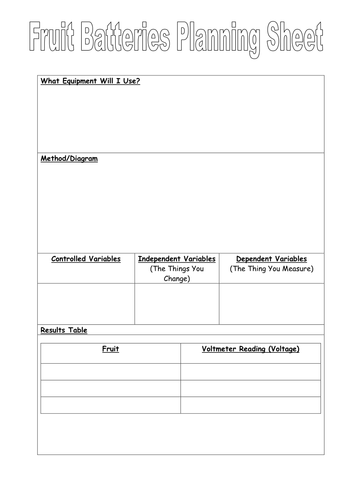 This would be a good science club resource or transition activity. It would also be a good activity for a start of an energy topic.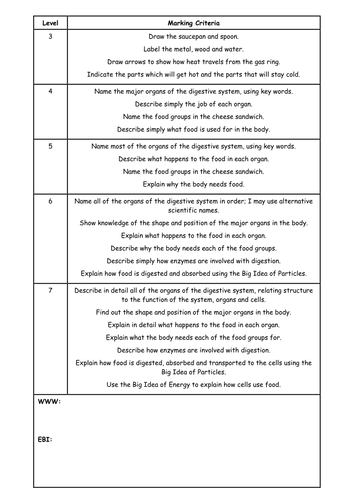 Please find attached the year 8 SOW for Thermal Energy The lessons and activities are in the following order: Lesson 1: Thermal Energy and Temperature Lesson 2: Thermal Expansion of Metals Lesson 3: Thermal Expansion of Liquids and Gases Lesson 4: Thermal Conductors and Insulators There are extra resources and a badger assessment included too.
Please find a small introduction topic with resources and lessons for year 9 energy and electricity. The lesson order is as follows: Lesson 1: Energy Transfer Diagrams Lesson 2: Electrical Resistance Lesson 3 & 4: Resistance Investigation.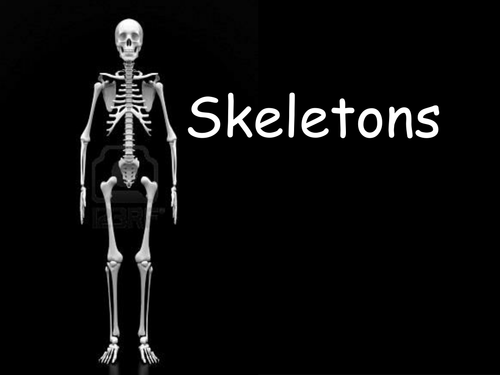 Please find attached a powerpoint presentation and 2 different skeleton templates for a skeleton based making lesson. I pitched this to my low ability Y7. I gave the simpler model to my weak ability group and connected all of the parts using split pins. The other skeleton gave to my higher ability. They got on well and created some large skeletons. To further them, I printed some generic information sheets and got them to label up on the back the names of the different parts.