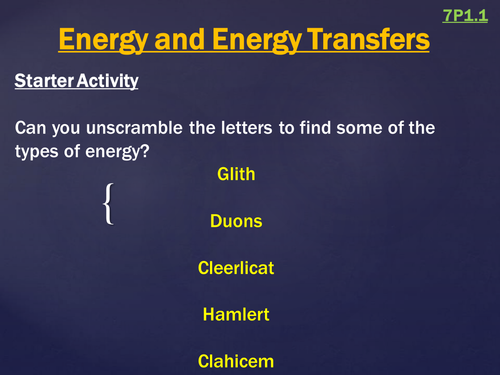 Please find attached a SOW for Year 7 Energy. There are 6 lessons with all resources in the following order: Lesson 1: Energy and Energy Transfers Lesson 2: Energy in Foods Lesson 3: Energy from Fuels Lesson 4: Fossil Fuels Lesson 5: Renewable Energy Lesson 6: Wind Turbines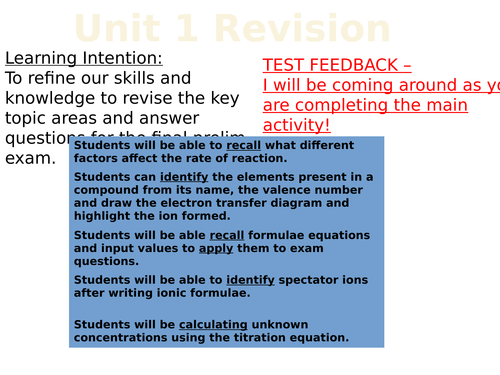 Please find attached all of the revision materials for this revision lesson. There are 4 topic folders: 1. Rates of Reactions with the worksheets Changes to the rate of reaction and Reaction rate notes. 2. Ionic Equations. Ionic bonding worksheet (not made by me) and writing ionic equations. 3. Moles. Activity 3 mole activity and calculations Help Sheet Worked Examples 4. Acids and Bases Spectator Ions and Titration calculations Spectator Ions Help Sheet CRIB Sheet for the titration calculations (not mine) Along with Lesson Plan, plenary exam Qs, starter prompt questions and timers with the PowerPoint.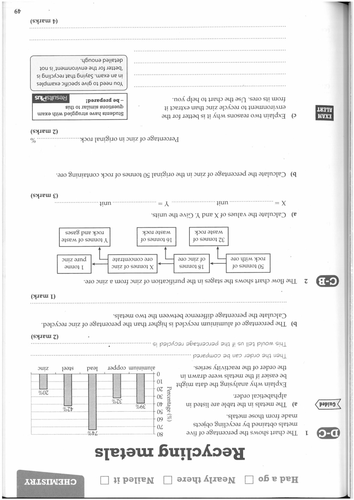 A GCSE lesson aimed at higher students on the recycling of metals. There is activities on the lesson presentation and a homework sheet that could easily be used within the lesson.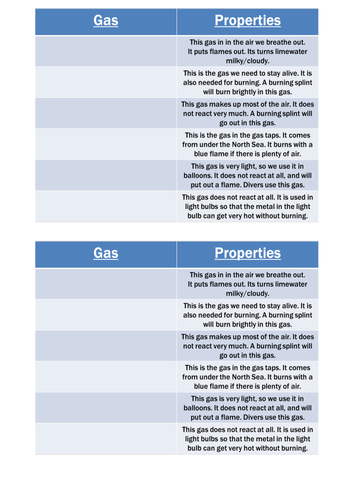 Please find attached the resources for the naming and testing for the different gases that we come across in science. Really good introduction to gases. Can be used as a start to a topic or as part of a transition/introduction to science.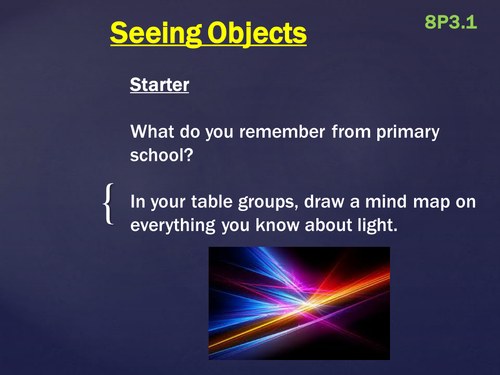 Please find attached the SOW with lessons and resources for the topic light. Please find the order of lessons below: Lesson 1: Seeing things Lesson 2: Law of Reflection Lesson 3: Refraction of light Lesson 4: The visible spectrum Lesson 5: Colour Mixing There are some extra resources also added.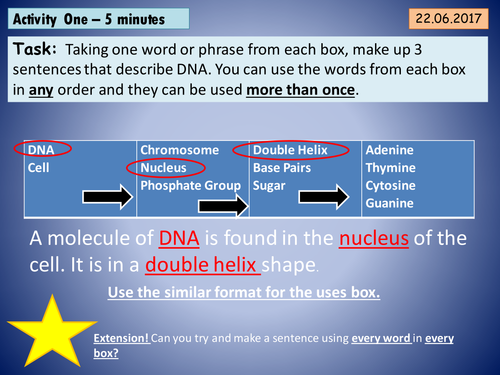 Please find attached the lesson I had for my final year observation with achieved outstanding in teaching and learning and pupil progress. Attached are the instructions for the extraction of Kiwi/Banana DNA for the kids, all tasks and DNA booklet and mark schemes for the exam questions, starter, mini plenary and plenary.

Please find attached a DNA task booklet with theory sections behind DNA extraction. Please find information sheets for students to complete this section that could easily be posted around the room. Please also find attached the mark schemes for the exam questions. DNA booklet includes summary questions, theory, exam questions, word search and summary poster task.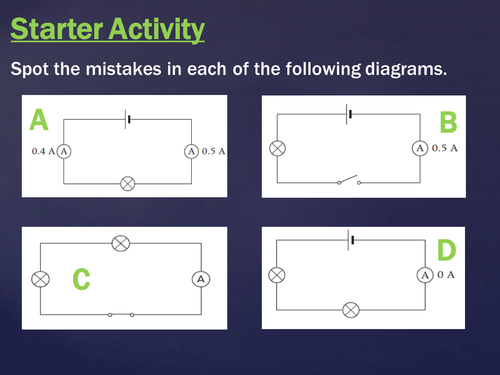 Please find attached a year 7 SOW for electrical circuits. The lessons are in the following order: Lesson 1: Electric Circuits Lesson 2: Electric Current Lesson 3: Electrical Conductors and Insulators Lesson 4: Batteries and Cells Lesson 5: Electrical Circuit Models Lesson 6: Lightning - Static Game Other resources - Designing a steady hand game.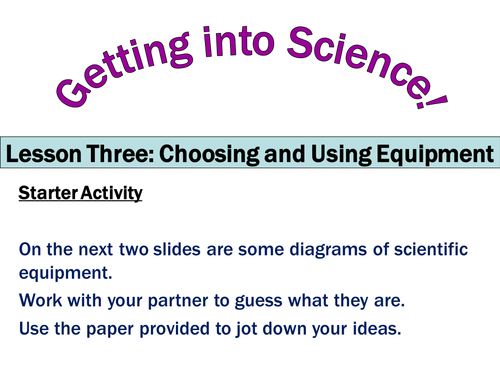 Please find attached an introductory lesson in Science for drawing apparatus. Students will come across different pieces of equipment within the lab and have to draw it. A nice introduction for any age and also really adapatable.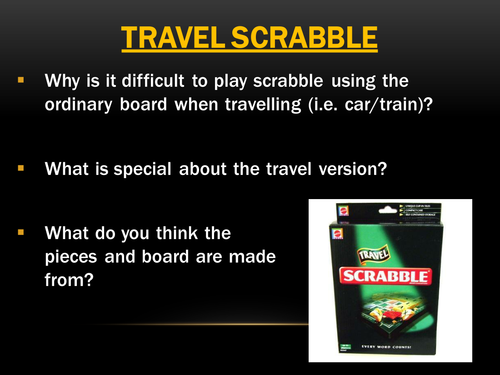 Please find attached the resources and lessons for a year 8 SOW for magnets and electromagnets. Please find the lesson order below: Lesson 1: Introducing Magnets Lesson 2: Magnetic Fields Lesson 3 & 4: Making Magnets Lesson 5 & 6: Electromagnets There is also a who wants to be a millionaire revision game for the end of the topic.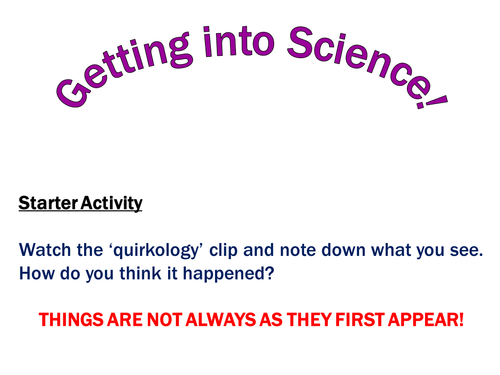 Please find attached some introduction to science resources. They include the powerpoint presentation and lessons to be shown in this lessons. Ideal for a first week for year 7 or as a science transition day. The lesson order is as follows: Lesson 1: Introduction and Safety Lesson 2: Making Measurements Lesson 3: The Bunsen Burner Lesson 4: Making predictions Lesson 5 and 6: Making Predictions, Identifying Variables & Plotting Graphs Really adaptable and easy resources. Really great demonstration of how science works.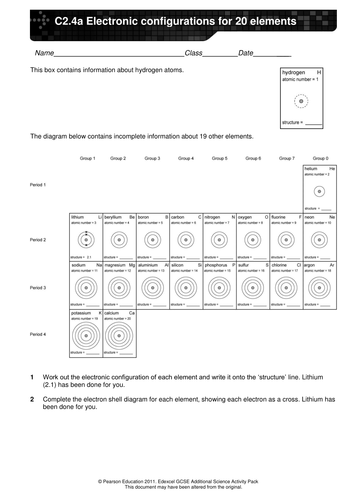 Please find attached the worksheets, powerpoint presentation and other lesson resources to help with the teaching of the structure of the atom. 2 x Videos! Students will complete the electron configuration of the first 20 elements!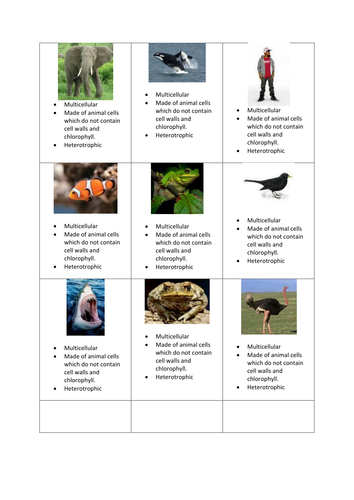 Please find attached the lesson for the 5 kingdoms classification as part of variation and inheritance. There is a lesson powerpoint presentation with activities and a card sort starter/plenary.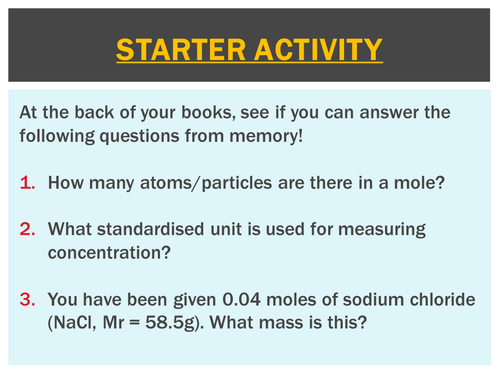 A lesson linked with the mole introduction. More in depth on analysis of moles in everyday life and conversions and calculations associated with them. Lesson sheets and presentations attached.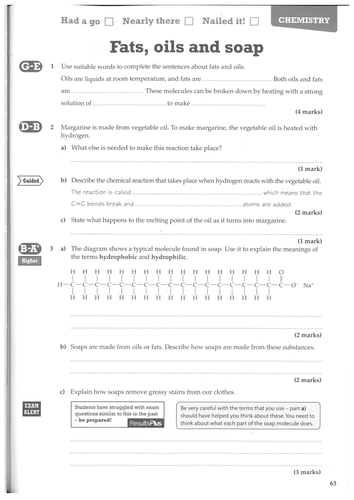 Please find attached the practical sheet and lesson and activities for teaching soaps and fats. Great practical where students create their own soap and some exam questions for good measure!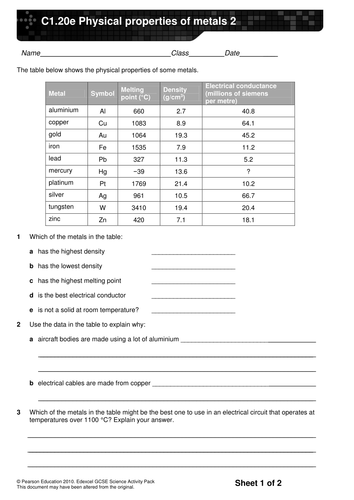 Please find attached the resources, activities and lesson presentation to help teach metals and an introduction to allows. There is also a homework sheet attached.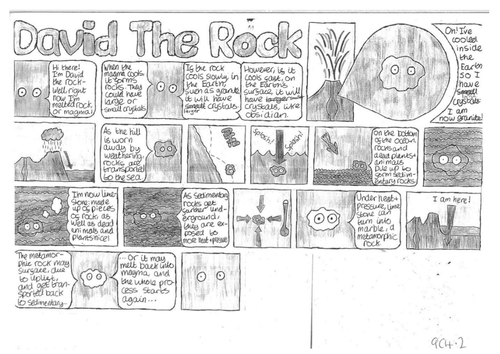 Please find the rock cycle for GCSE level. Attached is the lesson presentation, plenary and starters with answers and interactive blockbusters game.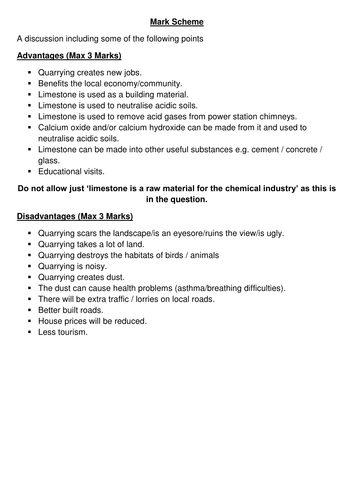 Please find attached lots of different resources that can aid in the teaching with Limestone quarrying. Attached are numerous different activities that can be used as plenaries and starters and main lessons, along with the diamond 9 structure for students to complete. Great AfL lesson.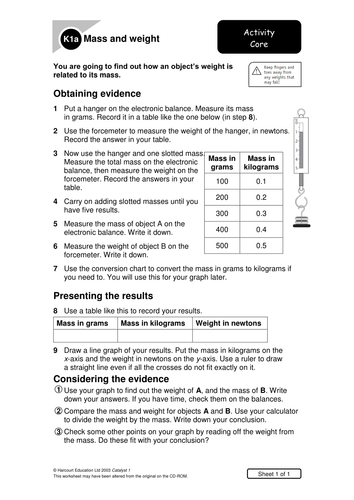 Please find attached the SOW for Year 7 Forces. The lesson order is as follows: Lesson 1 & 2: Forces Investigation Lesson 3: Weight as a force Lesson 4: Upthrust Lesson 5: Drag Lesson 6: Balanced and Unbalanced Force Diagrams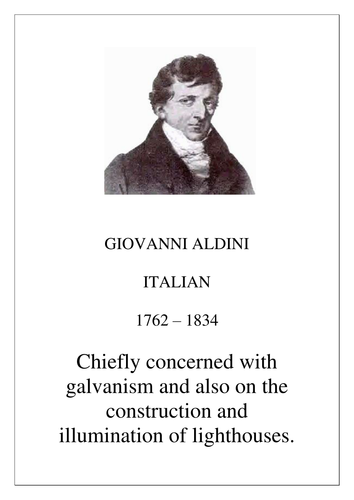 This is a nice introduction to the famous scientists that students will meet over their science career. It's a nice introduction where students have the fact file on their scientist and create a poster on this. Please find all resources and guidance lesson powerpoint.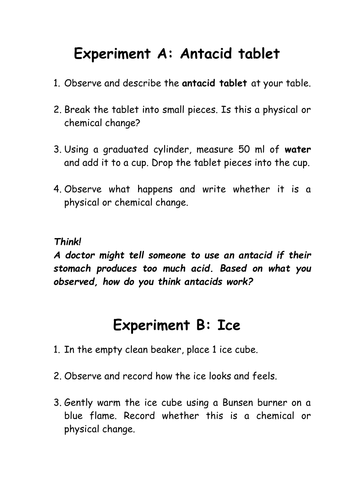 Please find attached the lesson presentation and activities for an introduction to chemical reactions. This could be used as a nice introduction i.e. a primary visit day, or a nice start to the topic.