Business and Law
Business resources for 14-18 and Post16 Law.
129Uploads
18k+Views
8k+Downloads
Business resources for 14-18 and Post16 Law.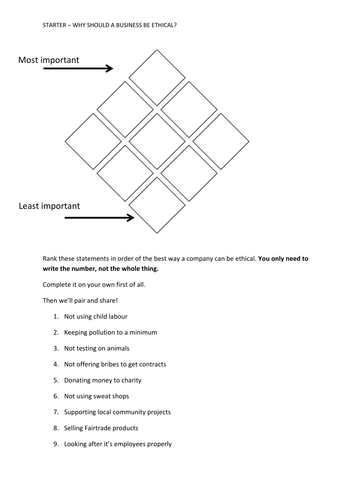 This was used as an observation lesson which received outstanding :) Includes Diamond 9 starter with peer assessment, content, main task is differentiated but names need to be changed all resources are attached. Peer assessment learning walk sheet included. Differentiated plenary.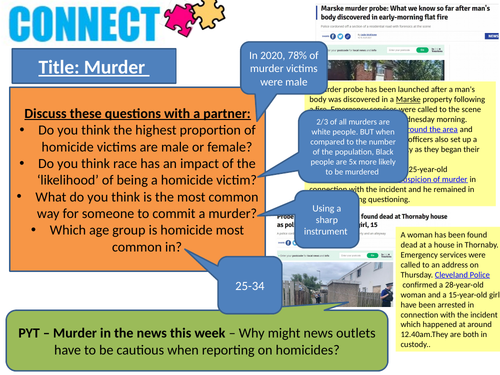 activities including interesting statistics upto date as of June 2021, actus reus, mens rea and tasks. Plenaries and targets included.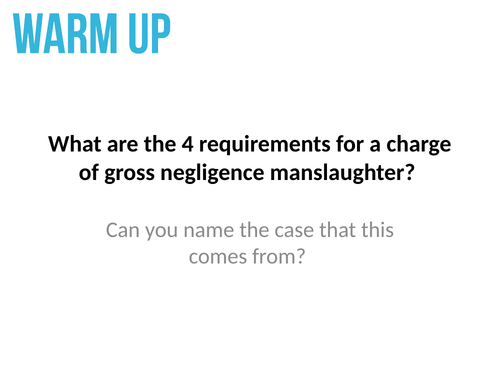 All content, starters, activities etc covers 3 lessons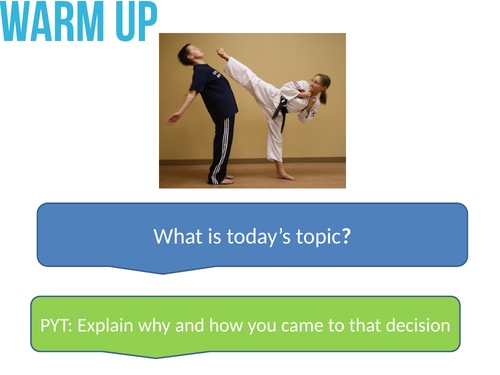 Includes starters, challenges, activities and problem questions to assess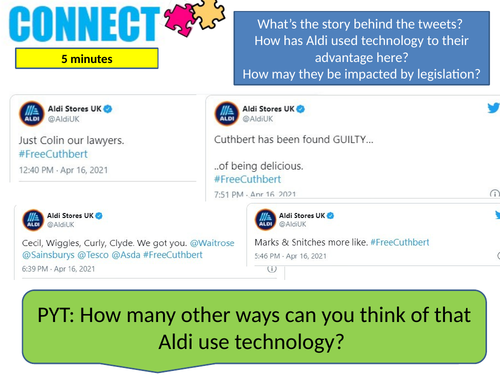 Full resource on how and why a business should use social media with clear examples and tasks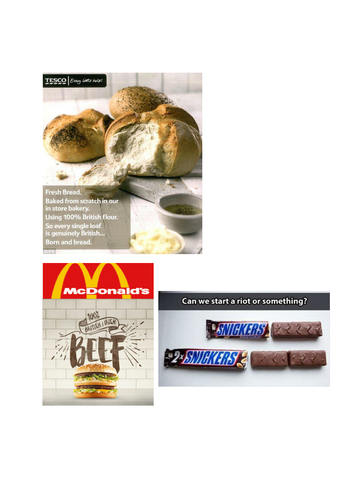 Covers Trade Description Act and Sales of Good Act. Cooperative learning task, individual task differentiated. All extension activities attached.This was used as an observation lesson.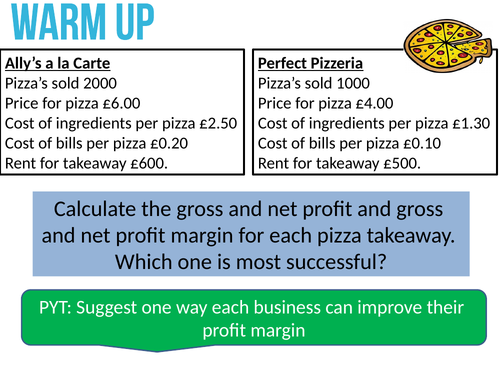 Includes start on gross/net profit, explanation of concept, small review task to check learning and a demonstrate task of 3 levels. Push your thinking tasks etc also included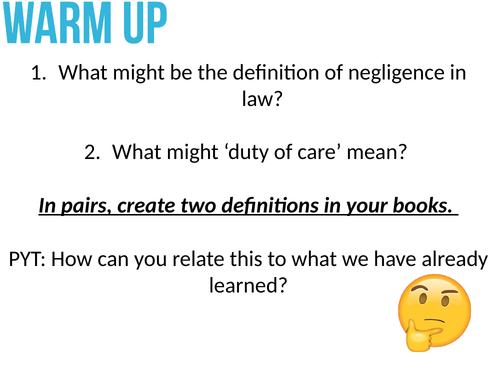 Content: What is negligence - duty of care - breach of duty and causation. Includes key cases such as Caparo 1980. Includes: Activities and challenges throughout, reviews and assessments Can easily cover up to 5 lessons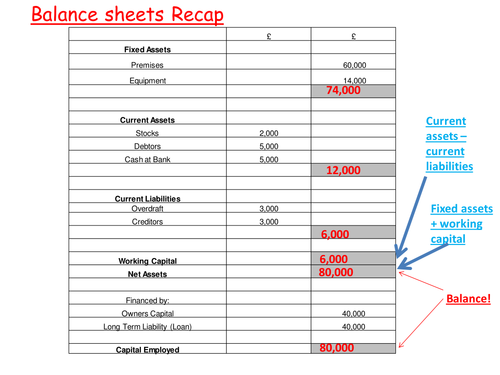 Liquidity and Profitability Ratios covered with examples. Who class sheet is provided which accompanies lesson for students to follow and fill in formulas, definitions etc.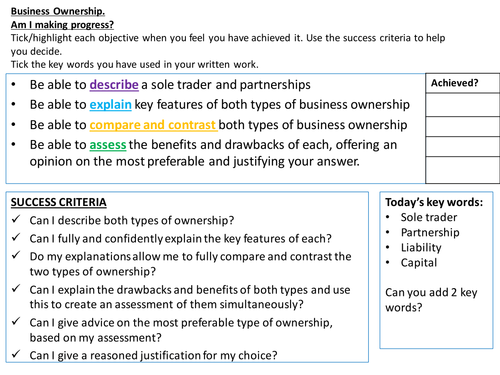 2 lessons on sole traders and partnerships - can be used for GCSE or A-Level. Includes group work, individual work, peer assessment, starters, plenaries and differentiated activities.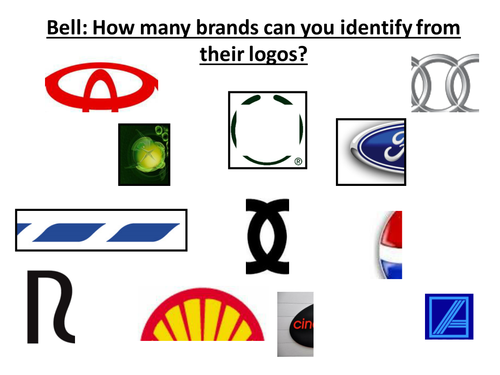 Contains full lesson (bell, starter, objectives, group task, individual task and plenary) with all resources. Lesson went down well!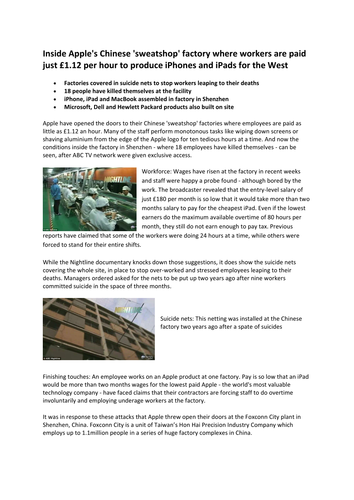 Lesson one is based on new content but requires students to work independently before going through it as a group. Lesson two is based around a group activity looking at applying content to real businesses. Lesson three is a consolidation lesson with a differentiated main task. Each lesson has starts/plenaries. There are individual differentiated written tasks too.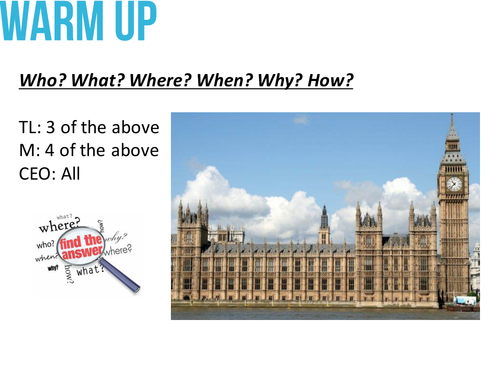 full lesson differentiated task and all content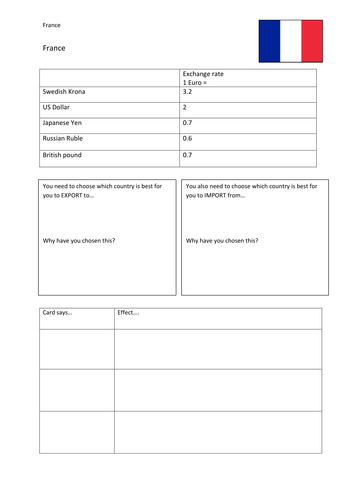 Full 2 lessons on exchange rates: what they are, how to calculate them, their impact on a business. Mini activities, main activity with cards and worksheet, consolidation 10 mark question.