ReachOut Schools Resources
ReachOut Schools offers free, online, wellbeing resources for staff, students and parents.
19Uploads
73k+Views
60k+Downloads
ReachOut Schools offers free, online, wellbeing resources for staff, students and parents.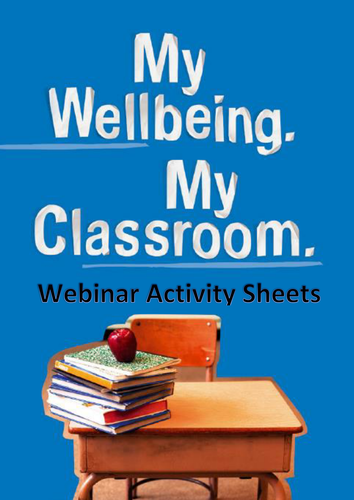 My Wellbeing. My Classrom is the first of the Wellbeing@School resource series and explores positive psychology through Martin Seligman's P E R M A wellbeing Framework through a webinar and a supporting resource guide for teachers and students.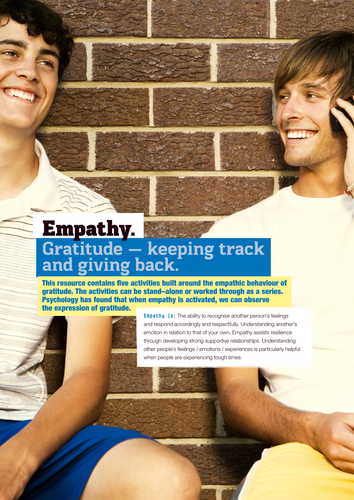 This package is part of the Wellbeing@School series and contains a webinar on empathy and a resource with five activities built around the empathic behaviour of Gratitude (Gratitude-Keeping track and giving back). The activities can be stand–alone or worked through as a series of lessons. Psychology has found that when empathy is activated, we can observe the expression of gratitude.

This resource is part of the Wellbeing@School resource series and has been designed to explore 7 key resiliency elements through classroom activities and ideas. Updated for 2018, the teaching resource and the various activities are aligned to the Australian Curriculum's General Capabilities and the new NSW PDHPE Curriculum's skills components. Check out ReachOut Schools for more easy to use resources that will help to you cultivate student wellbeing in your classroom.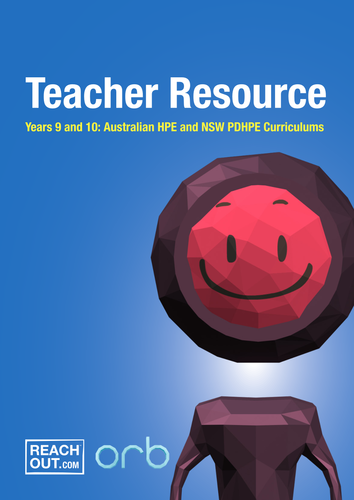 ReachOut Orb is an innovative and engaging 'serious' game designed for use in Year 9 and 10 classrooms – mapped to the Australian HPE and NSW PDHPE Curriculums and General Capabilities – to improve students' understanding of key factors and skills that contribute to improved mental fitness and wellbeing. Download the game at ReachOut.com/Orb The teacher resource will help you plan lessons to reinforce the wellbeing messages of ReachOut Orb through the following four modules: 1. Mental fitness and personal strengths 2. Positivity mindset 3. Relationship 4. Resilience Sign up to the ReachOut Schools community at ReachOut.com/schools to extend the reach and impact of your school's wellbeing and mental health programs via comprehensive, unique, free online resources for staff, students and parents.

Our new Bullying Action Pack will help you tackle bullying in your classroom, develop respectful relationships across your school, and give parents tools to support their teenagers. The pack covers a range of content including: - does your school or classroom have a bullying problem - understanding bullying behaviours - exploring respect in the classroom - how to stand up to bullying behaviour. This free, comprehensive resource works hard in and out of the classroom with: - teaching activities mapped to the Australian Curriculum - information sheets to share with parents -resources to print and share with students.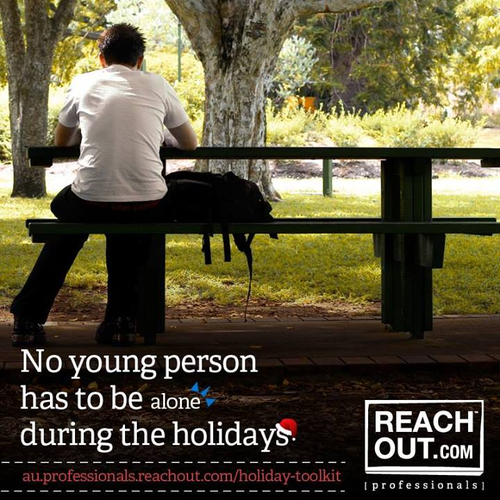 Print this or share on social media about things to do over the break, advice, tips and tools regarding mental health and wellbeing.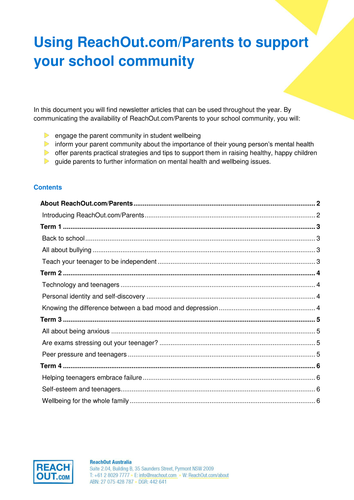 ReachOut Parents provides information, tools and resources to help parents and carers support the 12–18 year-olds in their family environment. There are a range of ways that you can utilise ReachOut Parents in your school. Find out how by downloading the ReachOut Parents package for schools let your school community know that ReachOut Parents is now available. Sign up to the ReachOut Schools community at ReachOut.com/schools to extend the reach and impact of your school's wellbeing and mental health programs via comprehensive, unique, free online resources for staff, students and parents.

This is a 40 minute lesson activity to explore the concept of 'Me-time&' and the benefits of taking time for yourself. Connections with Positive Psychology are made and explored through Tracking Three Good Things. This resource is also useful for teachers in learning to take some &';ME-Time' during busy times of the year.

Emotional awareness and self regulation is an essential skill in building resilience. It is the ability to identify emotional experiences and to control emotional responses to external events. These activities provide students with activities to practice these skills.

Short activities that explore resilience. These activities are part of our whole resource, Building Resiliency in Young People

Looking for content to share with your school community about student mental health and wellbeing? Here you will find information to use in your regular newsletters including direct links to ReachOut.com.

This resource includes 6 lesson plans and online professional learning or teachers for teaching a growth mindset to learn about embracing failure, improve resilience, achievement and motivation in school.

This resource explores empathy and gives students activities to practice developing their empathy skills.

This lesson outline and student activities explore connectedness. Connectedness and reaching out is about placing importance in help-seeking behaviours through connections with other people as well as having a range of friendship circles that reflect different areas of social need.

We all have impulses to do things and say things – these are not always in our best interest, nor helpful to others. To be resilient doesn't mean to stop these impulses, but it does require you to stop acting on every impulse that does not serve you well. This lesson plan involves learning about strategies to control impulses.

This lesson plan covers one of the 7 Key Elements of Resilience, Optimism. Activities can be stand alone of used as a 50 min lesson. Links to ReachOut.com also feature.

It's back to school. New school, new friends, new classes and teachers can be a lot to take in over the first few weeks. To get back in to the swing, we are highlighting the top tips and tools from ReachOut.com to begin the year well!

This package of twenty-minute video-based activities can show students how reaching out for support can change their experience of everyday issues. View the full resource on ReachOut Schools. About this resource: Four 20-minute lessons with videos Young people's real stories encourage help-seeking Includes worksheets and discussions The short lessons incorporate discussion activities based on Visible Thinking methodology as well as practical worksheets, and they're an ideal way to create meaningful discussions in homeroom and wellbeing lessons. The teaching resource is curriculum-mapped for students in Years 9–10, and appropriate for use with students in Years 11–12. Each short film is mapped to one of four domains in students' lives: friendships, life online, the future and school life. Covering topics from school and careers, to dealing with toxic friendships and how to talk to someone you trust, the video stories are embedded in ReachOut.com so that young people can immediately connect with self-help information. Created alongside young people, these videos are part of ReachOut's 'Reach out before you freak out' series of short films, which delve into their worlds to show them that things can be better, and that they have the power to help themselves. Young people love stories: they want to feel connected to their peers, and find hope in sharing their successes. The videos place young people at the centre, telling their own stories of self-help and seeking help early to encourage others to do the same.

New year. New commitments. At this time of year people are looking ahead and making resolutions to do more and be better. But it's easy for New Years resolutions to be forgotten when real life starts up again. Print + share this Resolutions Kit with the top 17 ReachOut.com tools for staying on track.