Rebecky136's Shop
Design and Technology, Textiles, Product Design, Food and Nutrition resources. Main target group - KS3 and KS4.
51Uploads
30k+Views
25k+Downloads
Design and Technology, Textiles, Product Design, Food and Nutrition resources. Main target group - KS3 and KS4.
A collection of 5 learning mat/knowledge organisers for the new AQA GCSE D&T specification. Full unit of NEw and Emerging Technologies is covered- topics include Industry and Enterprise, People and Culture and Sustainability, Production techniques and systems and Informing Design Decisions.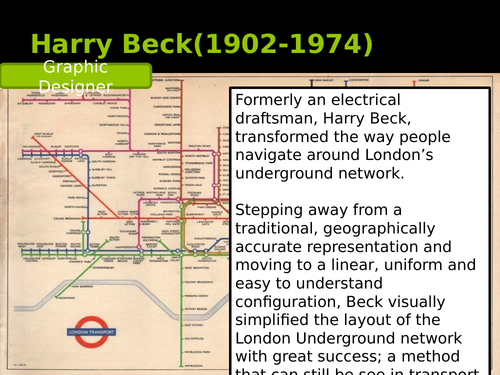 A range of designer profiles linked to the 9-1 AQA GCSE D&T specification. Includes 9 different designers. Includes a short profile and an image sheet per designer. These could be printed for a display, laminated and used as factsheets with students, or used to introduce the students to the designers. Linked to the 'Work of Others' unit within the AQA specification.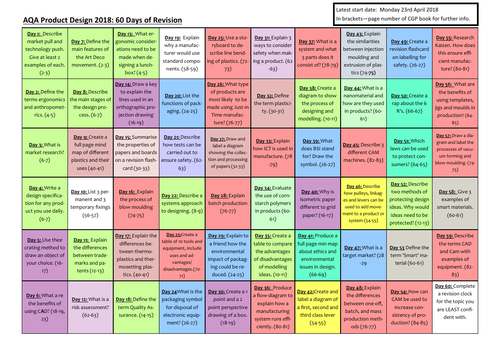 A one page revision resource for drip-feed revision. 60 Days of revision tasks and questions for GCSE Product Design legacy course. Linked to the CGP Revision guide - page numbers provided per revision box for linked revision page and further information and questions. For the full 60 days prior to 2018 exam date- revision using this should begin on 23rd April. Ideal for drip-feed of revision questions, independent revision tasks, or guided revision homework. Written for a group focusing on plastics but a lot of general specification questions are included. PDF and editable publisher file provided.
A full collection of risk assessment documents for a Textiles based classroom. Includes a wide range of equipment used with Textiles and Art and Design activities. All risk assessments include CLEAPPS reference numbers where applicable and have been used for several successful school health and safety inspections.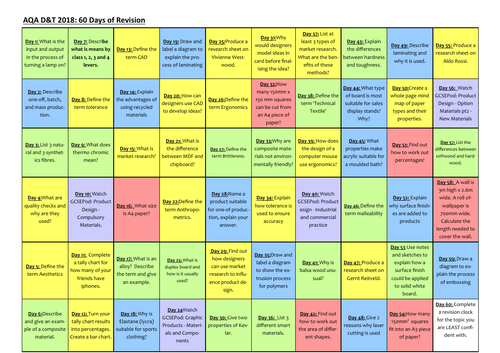 A one page revision mat/document that can be used as drip-feed revision for the new 9-1 GCSE D&T course. Based on AQA specification for a mock/forecast exam at the end of Year 10 which will use the free PGOnline sample paper. Can be used as general revision/recap questions, long-term homework or to guide independent revision for end of year exams. (Does have a few tasks where access to GCSEPod is required - have included a publisher file which is editable so that other questions or tasks can be added if preferred).
An document that covers the assessment criteria for the NEA section of the AQA GCSE D&T course, this has been broken down into 'grade categories' across the criteria and has been taken from the specification document. Criteria is combined between grades 1-2, 3-4, 5-6, 7-9 and is ideal for tracking a practice NEA project. This is NOT a formatted tracker - it i grade boundary language. This was used as a highlighted sheet with students to feedback where work sat within possible grade boundaries.
Production planning worksheet - can be used as a guide /template /writing frame for students planning a practical piece of textiles work. Year 9 Textiles Year 10 Textiles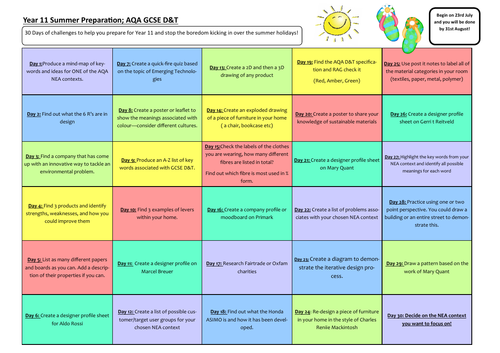 A one page format including a range of tasks for students to complete over the summer to keep the subject knowledge from Year 10 fresh, extend and consolidate understanding and begin to consider some starting points for the NEA contexts. Set over a 30 days challenge style- one task a day! Has been written based on AQA content but could be used with other exam boards - have included both a PDF and a Publisher file so that own questions or tasks can be added in.
14 Topic booklets included in powerpoint format. Past exam paper questions 2014-2017 divided by topics, markscheme not included but exam year is indicated in the notes of each slide. AQA Product Design. Coudl be used as exam question practice such as printed revision booklets, or used as a powerpoint within lessons as starters/plenaries.
Design task based around pancake day and the development of product for specific purposes.
A powerpoint that can be printed and used as a student booklet to revise the main key words and key terms in GCSE Product Design (AQA) . Organised in alphabetical order with space for students to add their own key terms and definitions on each page. Uses terms suitable for students working with papers, timbers or polymers, based on AQA specification and approved books. Could also be used for new 9-1 GCSE D&T.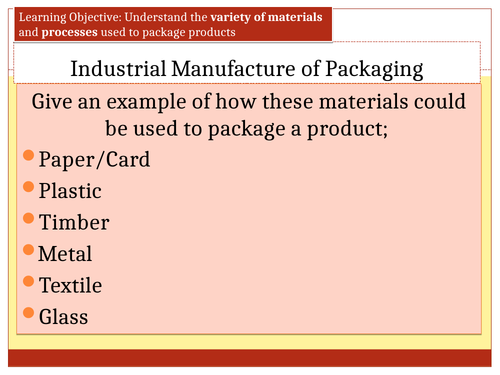 A powerpoint lesson for GCSE AQA Product Design to teach the materials and processes for packaging materials. Includes information, student tasks and past exam based questions linked to the topic. Ideal for revision!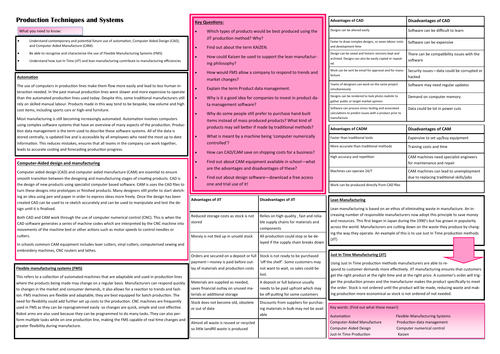 Learning Mat/Knowledge organiser style A4/A3 sheet. Covers the AQA GCSE Design and Technology course, New and Emerging Technologies unit, Production techniques and systems topics. Includes key information, key words, and key questions. Ideal for an introductory lesson, a recap/review session, independent homework sheet or as a general revision tool.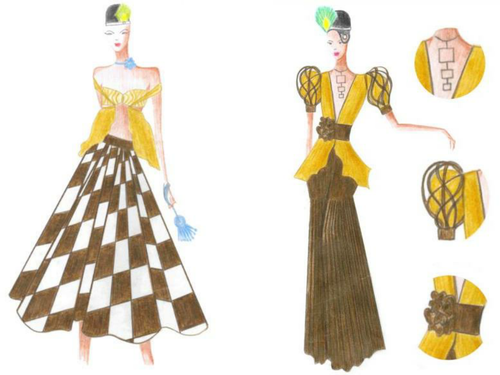 Female Templates to use for introduction to fashion drawing. Powerpoint to accompany with examples of fashion drawings. I use for year 9 Lady GaGa project as an introduction to designing fashion items using figures - students use smaller templates to draw on to and then larger templates are printed on A3 and used to trace and adapt the figure for final designing.
An introduction or revision lesson based on the functions of and purpose of packaging for the AQA GCSE Product Design course. Covers the six functions of packaging and an overview of the information required on packaging including a logo identification plenary. Would suggest to use the addition of physical examples of packaging for the student activity to identify features of packaging/how packaging conforms to the six functions.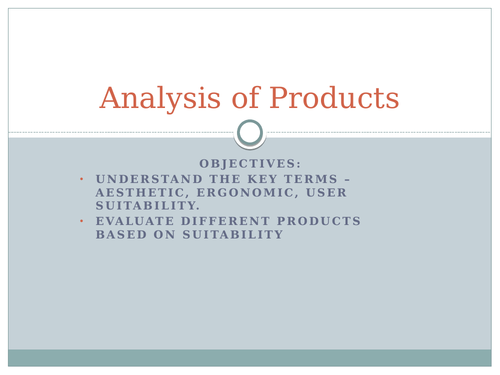 A lesson suitable for the new specification GCSE AQA D&T. Linked to exam board practice sample exam papers and sample questions. Lesson is based around analysis or evaluation of a range of different products against specific features (Aesthetics, Ergonomics, User suitability). Group/paired task (with worksheet provided at the end of the powerpoint). Individual exam-style question task and self assess task.
Excel document with formatting to track and predict overall grades for Level 1/2 BTEC Award in Construction and the Built Environment. Must use drop-down option to enter the grade for each unit for the formula to work - e.g. L1P, P, M, D. Works out overall grade based on requirements for core and compulsory unit grades/point scores.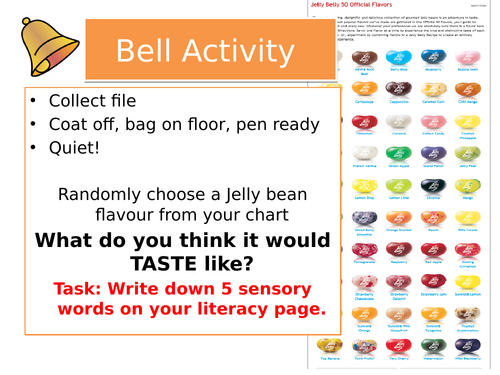 A detailed powerpoint to introduce the different types of sensory testing and evaluation in Food Technology. Covers hedonic, paired comparison and scoring tests using jelly bean taste tests. 3 worksheets to accompany the lesson - differentiated for low, mid and high ability. Most suited to KS3, could be used with upper-KS2.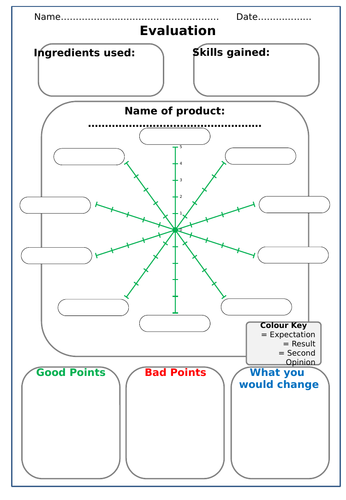 A sensory analysis based evaluation sheet for the review of practical food lessons/activities. Ideal for KS3 reflection tasks, can be used for any food product.
A collection of risk assessments including CLEAPPS references for Dye methods used within D&T Textiles.