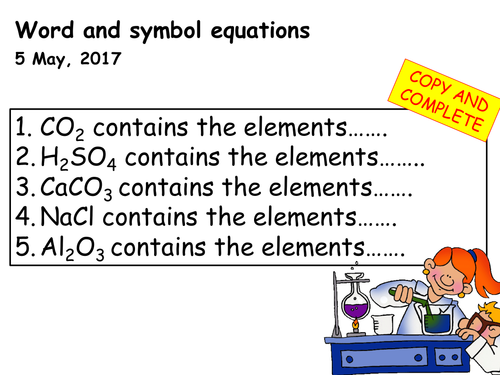 Word and symbol equations lesson aimed at high ability KS3 students and KS4 students. Use and adapt as you wish!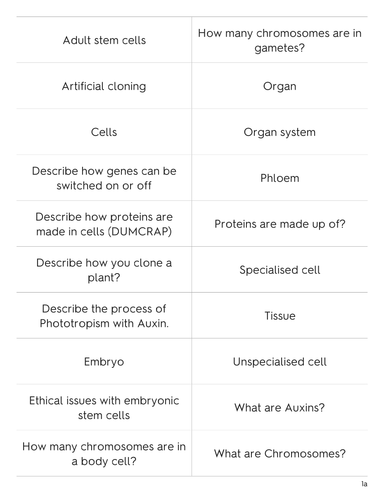 Print off double sided so question and answer are behind each other. Great for individual / group revision.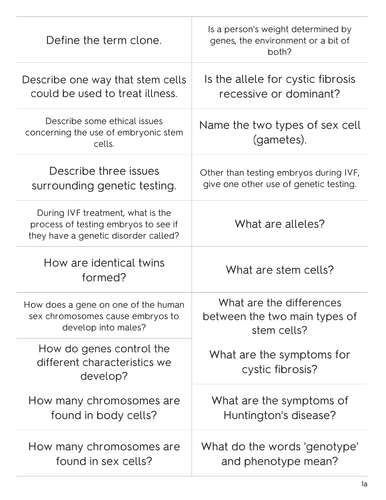 B1 B2 and B3 Revision question cards with answers on the back. Print as double sided pages so students can independently revise or in pairs.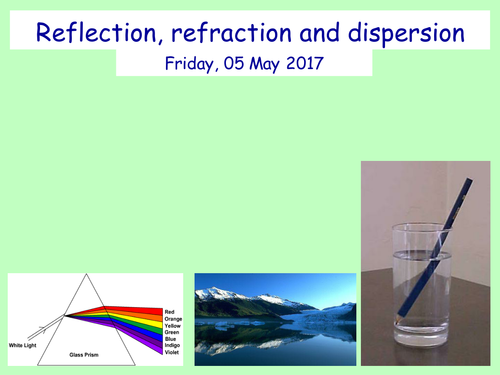 Reflection, Refraction, Dispersion (Full lesson) Includes PPT with corresponding worksheets, including an exam question! Use and adapt as you wish!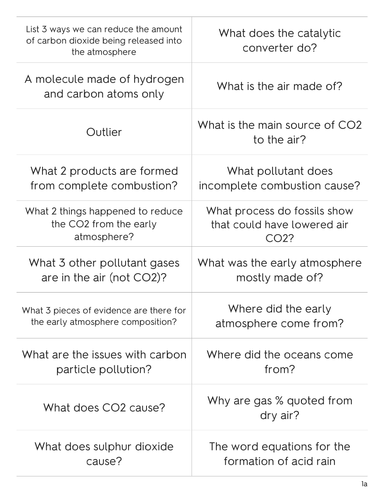 Revision cards, double sided with answers on the back. Print double sided. Students use these independently or in small groups to assess each others ability to recall knowledge.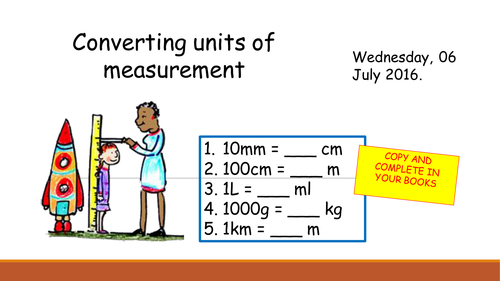 PPT and Word Document for Converting Units of Measure lesson. I use this with my Year 7 class and find it very useful. Looks at basic units of measurement and the relevant conversions. g - kg, ml - L, cm - m - km.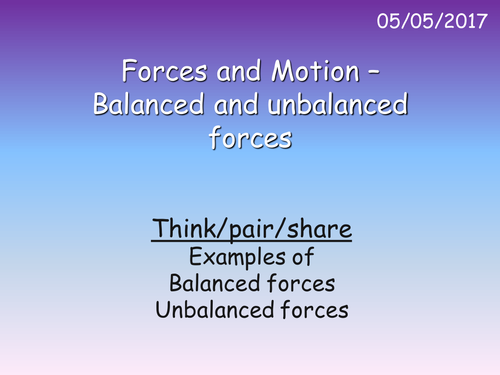 PPT and worksheet going through balanced and unbalanced forces. Aimed at KS3 or low ability KS4 students. Adapt as you wish.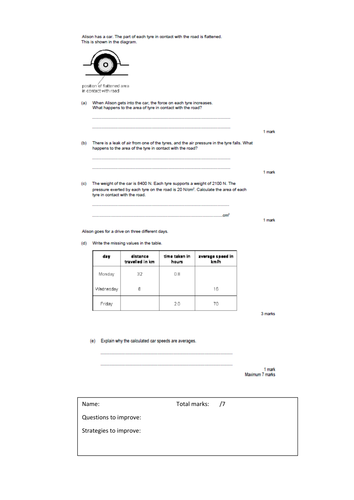 PPT and exam questions on Pressure. Aimed at high ability KS3 students or KS4 students. Adapt as you wish.
Full SOW on rocks, the rock cycle and reactivity. Includes the SOW which outlines each lesson. 12 lessons with PPT's and resources. 2 differentiated End of topic tests and Revision. Lesson 1 - Structure of the Earth Lesson 2 - Weathering Lesson 3 - Sedimentary rocks Lesson 4 - Metamorphic and igneous rocks Lesson 5 - Rock cycle Lesson 6 - The Earths atmosphere Lesson 7 - The Carbon cycle Lesson 8 - Climate change Lesson 9 - The reactivity series Lesson 10 - Extracting metals Lesson 11 - The pH scale Lesson 12 - Acids and metals Enjoy!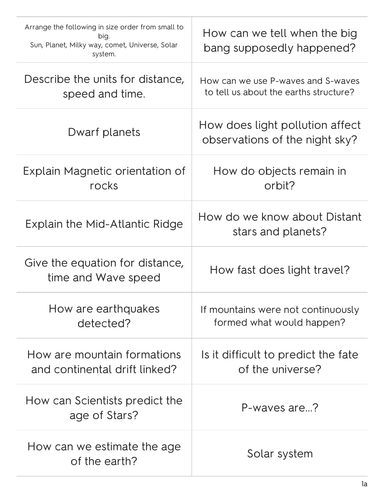 Question and answer turnover cards for P1, P2 and P3 topics.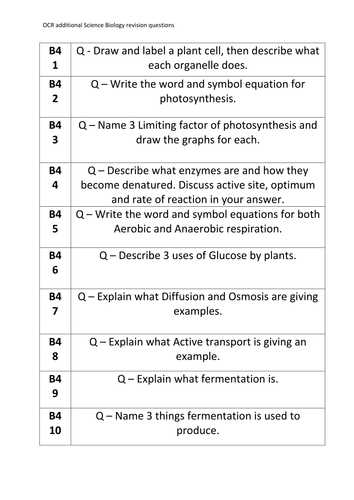 OCR Additional Science Biology (B4, B5, B6) Revision questions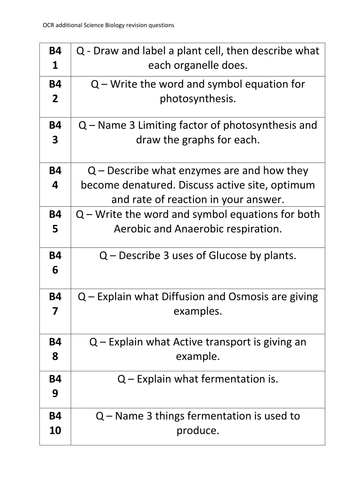 OCR 21st Century Science Chemistry (C4, C5, C6) Revision questions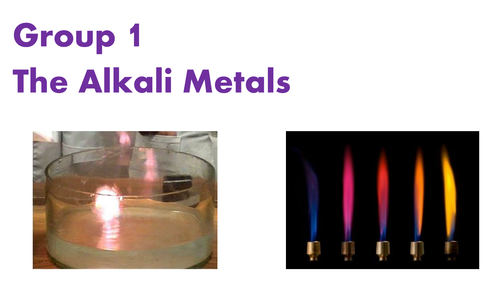 Contains basic information of each element in group 1 and 7 including: - Elemental symbol - Atomic mass - Atomic number - Group 1 equations for the reactions with oxygen and water Last pages summarise the general properties of the group 1 and 7 elements as you move down the group.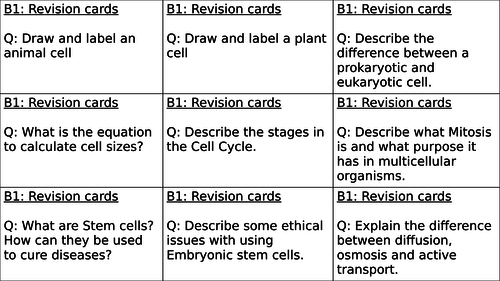 Revision cards. Print double sided and students can answer the questions on the back. Paper 1 Biology Revision AQA combined Science.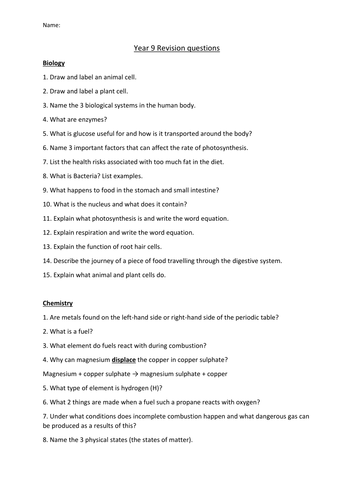 Worksheet with a variety of questions across all 3 Sciences. Differentiated questions increasing in difficulty for each Science. Ideal for end of year revision for KS3 classes but more suited for Year 9 students. 15 questions for each separate Science.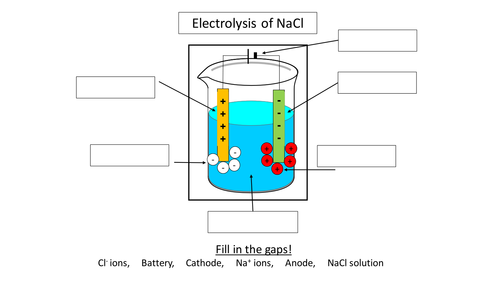 A printable electrolysis diagram where students have to fill in the unlabeled gaps using the keywords. Includes a slide with questions on to assess students understanding of electrolysis.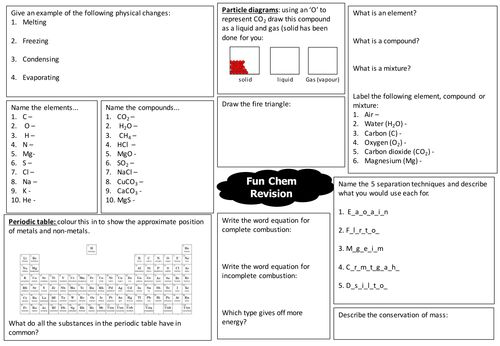 I have made this for my Year 7 Chemistry topic. Use and adapt as you wish.