English at Secondary
Engaging English. Secondary level.
133Uploads
23k+Views
8k+Downloads
Engaging English. Secondary level.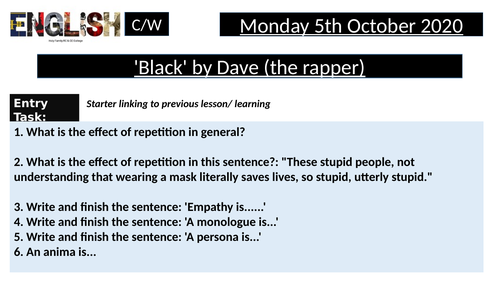 Analysing the lyrics of 'Black' by Dave the rapper - Protest poetry, Black Lives Matter. Contains differentiated resource of identified methods and not identified. Explores WHAT/HOW/WHY and context. At least 3 lessons (hours) worth. A follow up lesson by Stormzy which compares to this Dave lesson is also available.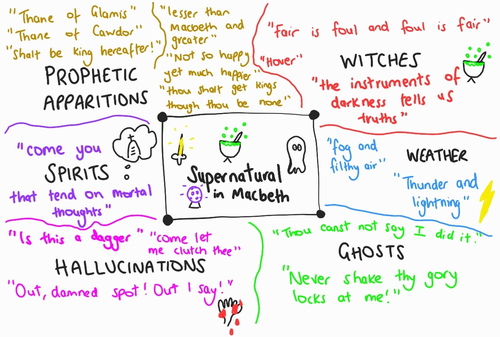 Revision lesson (about 3 lessons minimum) covering main supernatural events in Macbeth - mindmaps, videos, links, varied recall tasks.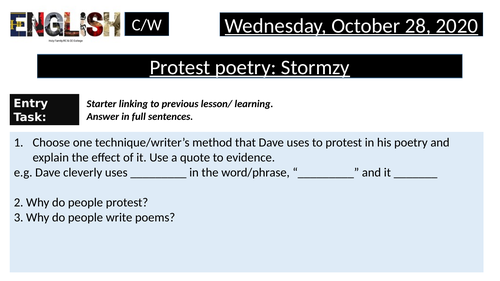 Stormzy- Protest Poetry, Brit Awards rap, Grenfell, Black Lives Matter Analysing his adlib verse at The Brit Awards - context about BLM and Grenfell. At least 3 hours of lessons and links to Dave the rapper lesson also available to compare. Uses WHAT/HOW/WHY and clear context understanding of Grenfell and BLM.

Retrieval and recall activity grid for practical idea to close the gaps. (9 instant ideas for recall and retrieval and links to the slides. Can copy and paste the slides to the start of your lessons and fill in the gaps. Good for use with KOs (knowledge organisers).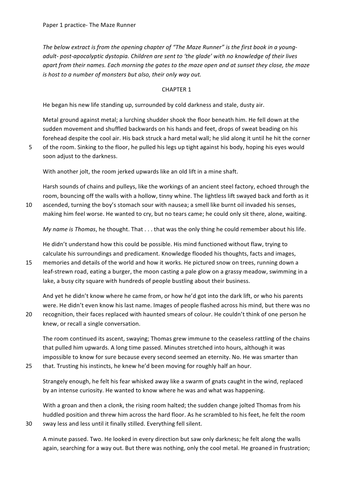 Introduction to dystopia for KS3 using Maze Runner, with extract and video links. Focus on using a flashback and its effectiveness. Focus on using extract to inspire your own writing.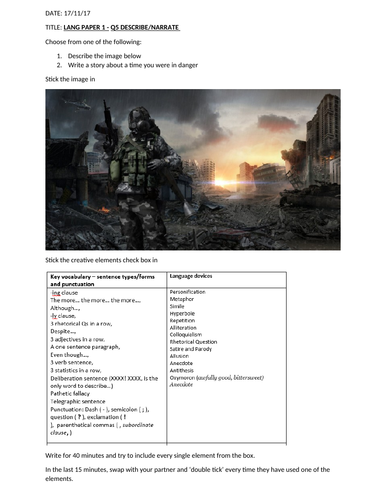 AQA Language Paper 1 Question 5 / Creative Writing lesson with peer assess and self assess prompt. Image with box of linguistic devices and structural devices. Peer assess prompt. Whole lesson/ homework or activity.

Clear explanation of EFFECT of language device (AO2 focus on AQA GCSE Analysis)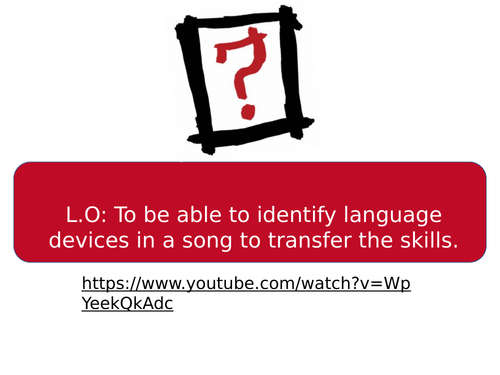 Using Black Eyes Peas "Where is the Love?" to analyse poetry/lyrics/language - full lesson (1-2 lessons) and model answer.

Analysing 'THIS IS THE PLACE' and 'Up 'ere' by Tony Walsh to understand context in Literature (Manchester)& Poetry.

Language Paper 1 - Hartops - Walk Through with AQA models and class models. Feedback from AQA and top tips to approach questions 1-4 with clear meta-cognitive ideas. A great q3 structure print out too!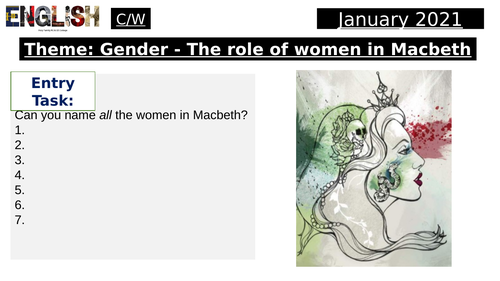 Exploring all female characters with summaries, mind maps, links to further reading and videos.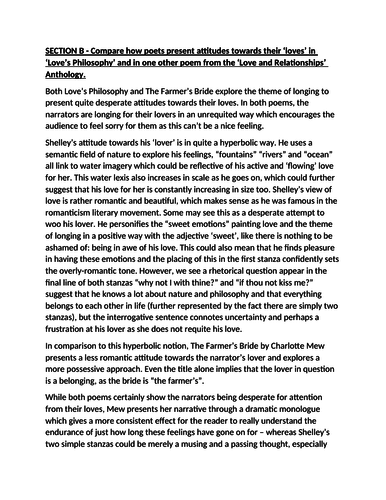 AQA Poetry Section B Model Answer - Level 7: Comparing Love's Philosophy to The Farmer's Bride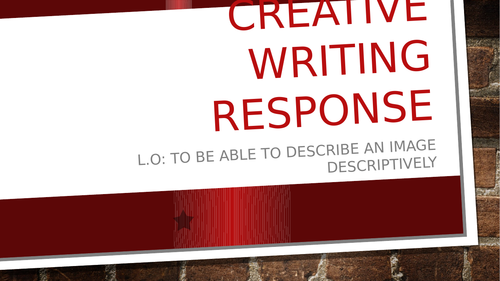 1-2 lessons on introduction to creative writing for language paper 1 q5. Using the senses and ambitious vocab. Video links and activities included.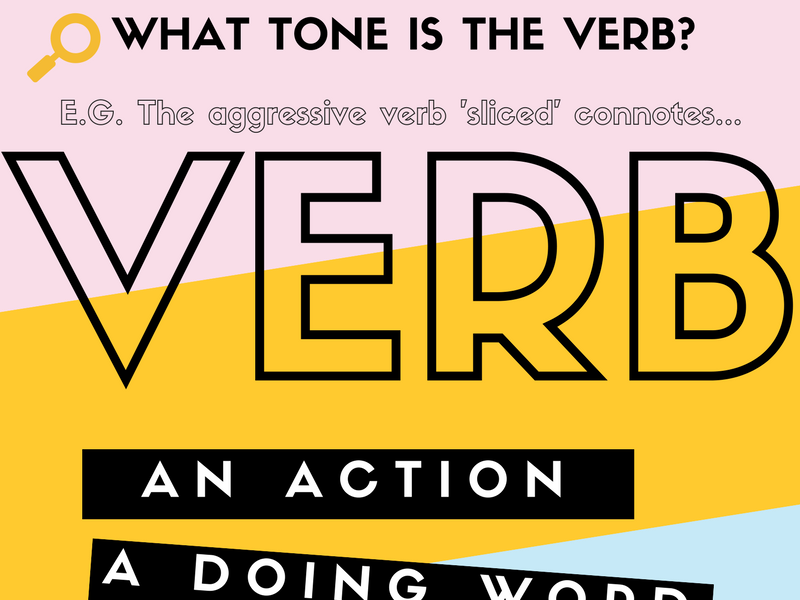 Engaging word class type images for display - Verb, noun, adjective and adverb. Easy marks missed for lack of subject terminology because pupils aren't confident with word types? Stick these at the front of the room!

Analysing Stormzy's 'Blinded by Your Grace' lyrics to understand semantic fields, using the terms 'lexis' and 'lexicon' and allusion.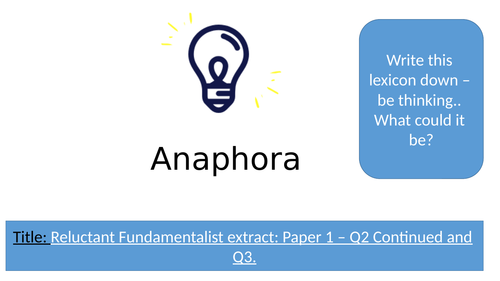 Anaphora, Hypophora and Epiphora definition and tasks with music examples. High ability subject terminology.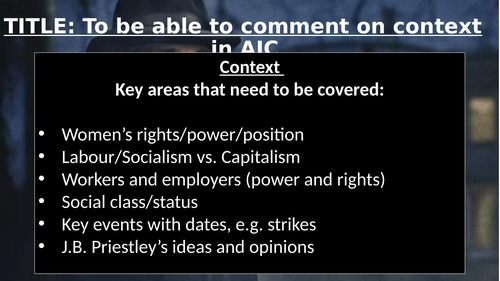 Ouspensky/Dunne/Neitzche theories Higher order thinking and links to Priestley's intention! Women's rights/power/position Labour/Socialism vs. Capitalism Workers and employers (power and rights) Social class/status Key events with dates, e.g. strikes J.B. Priestley's ideas and opinions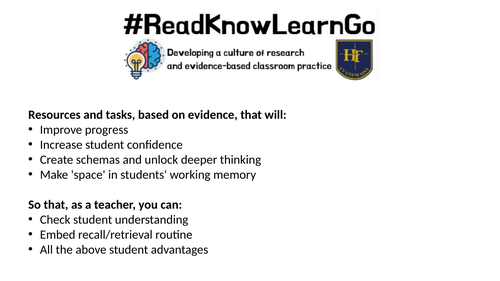 FIVE + Recall, retrieval tasks, starters and plenaries for all subjects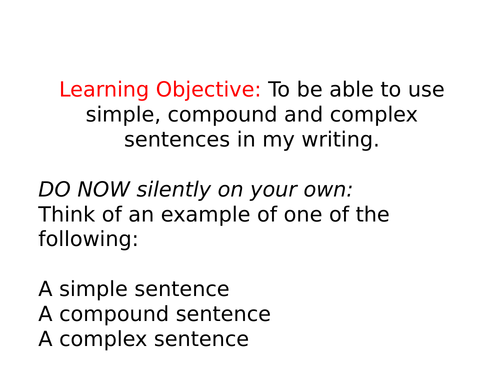 Secondary lower-to-middle ability: sentence types (simple, compound, complex) and subordinate clauses.