RBR's Shop
Engaging English. Secondary level.
79Uploads
2k+Views
724Downloads
Engaging English. Secondary level.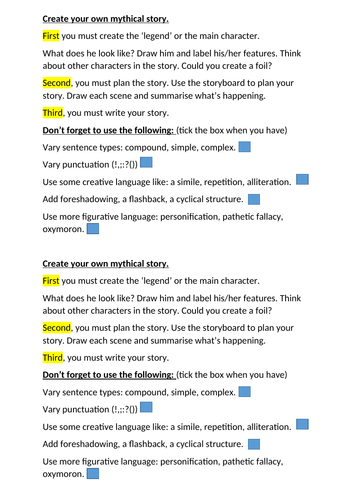 Myths and Legends - Create your own mythical story. Mini project. Differentiated High and Low Ability - 2 separate sheets and resource included.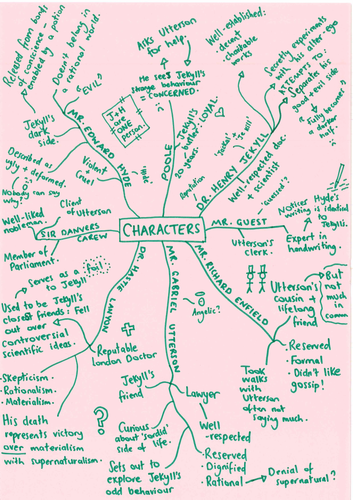 Jekyll and Hyde Revision or introduction - Characters mindmap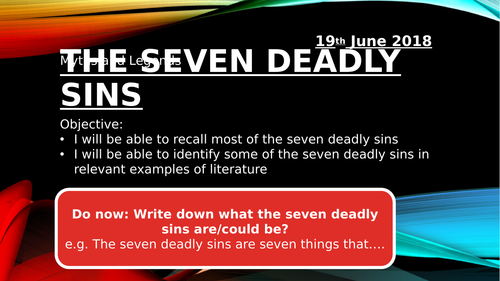 Seven Deadly Sins introduction - Good Context for Jekyll and Hyde, Macbeth, An Inspector Calls - AQA English GCSE. Includes videos, songs and drama activities.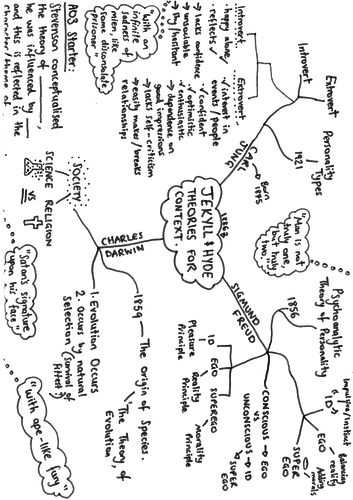 Context of Jekyll and Hyde mind map - Theorists: Freud, Darwin, Jung. Excellent visual aid for revision or an intro.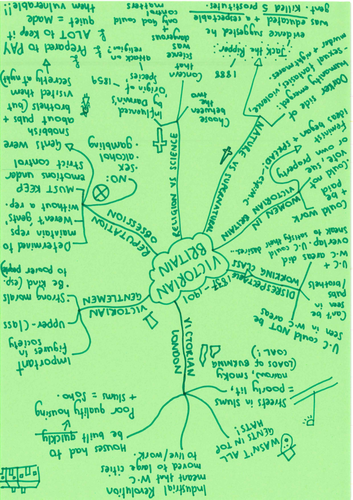 Victorian Britain mind map - Jekyll and Hyde Revision: Context. A great visual aid.
Will easily last a week (5 lessons, if not more!) Very engaging and interesting Powerpoint to cover the full context of Jekyll and Hyde - Victorian Britain, Freud, Jung, Darwin and Stevenson. 35 slides including videos, quizzes, creating mindmaps, tasks and a song.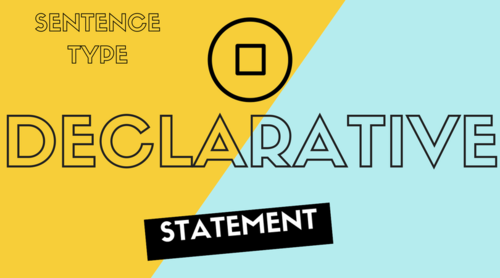 Engaging sentence type images for display - interrogative, imperative, declarative and exclamatory.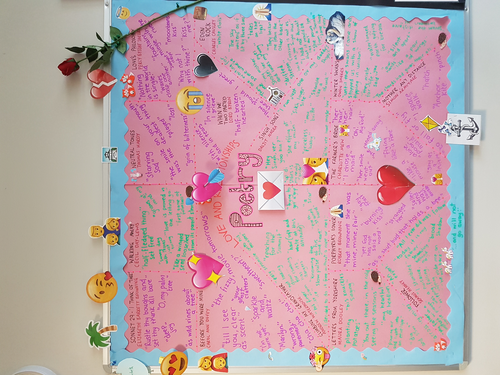 GCSE English Literature Display Quote ideas - Macbeth, Jekyll, An Inspector Calls and Love Poetry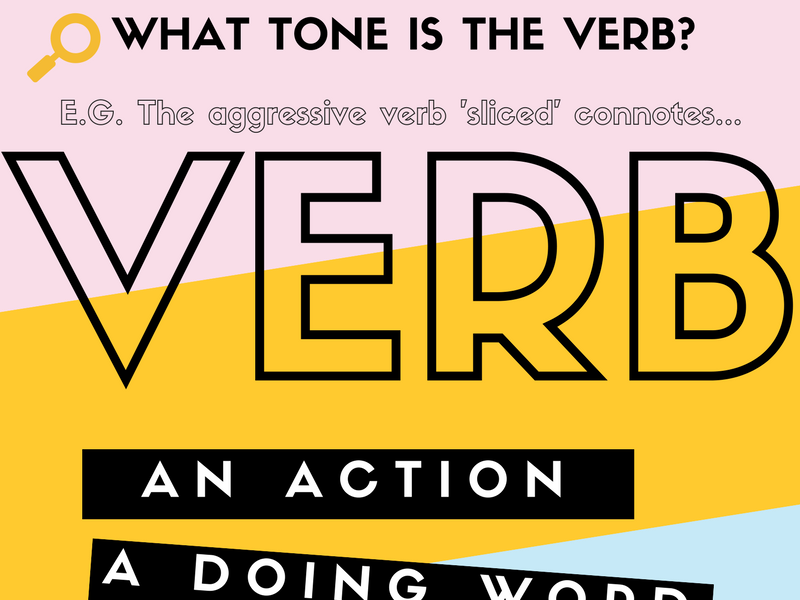 Engaging word class type images for display - Verb, noun, adjective and adverb. Easy marks missed for lack of subject terminology because pupils aren't confident with word types? Stick these at the front of the room!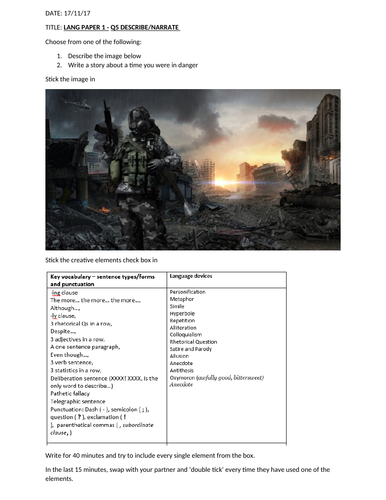 AQA Language Paper 1 Question 5 / Creative Writing lesson with peer assess and self assess prompt. Image with box of linguistic devices and structural devices. Peer assess prompt. Whole lesson/ homework or activity.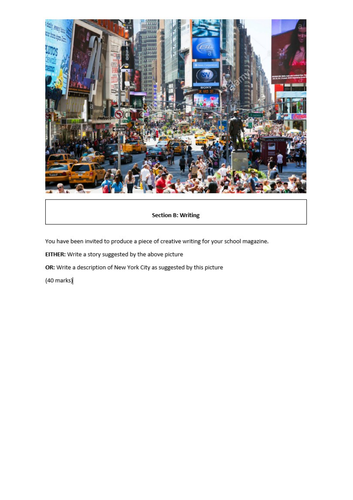 GCSE Creative Writing Describe or Narrate Question Example - NYC Scene. No model answer - just the practice question.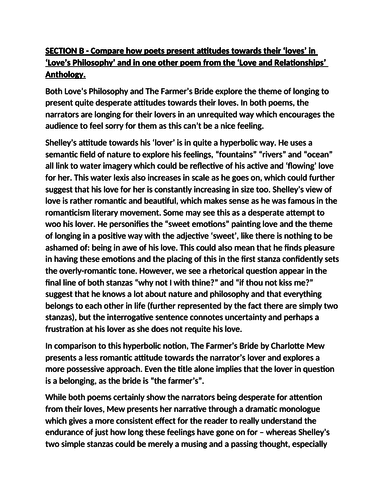 AQA Poetry Section B Model Answer - Level 7: Comparing Love's Philosophy to The Farmer's Bride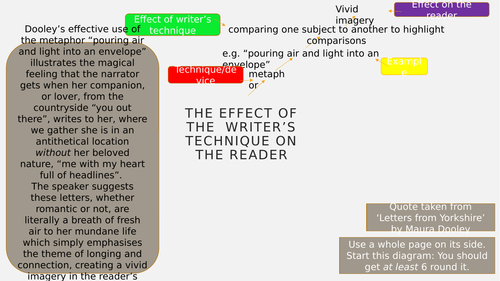 Clear explanation of writer's effect on the reader. Detailed PEE. Analysing poetry and/or literature. Clear step-by-step process of how to go from a quote>to subject terminology> to effect> to reader. Using poetry AQA anthology Love and Relationships as an example.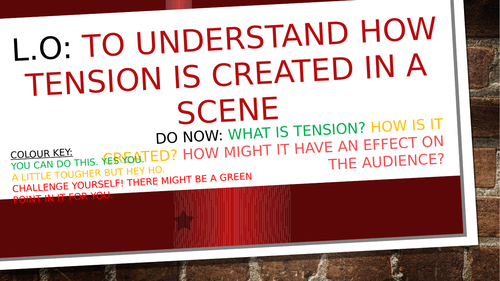 l.o: To understand how tension is created in a scene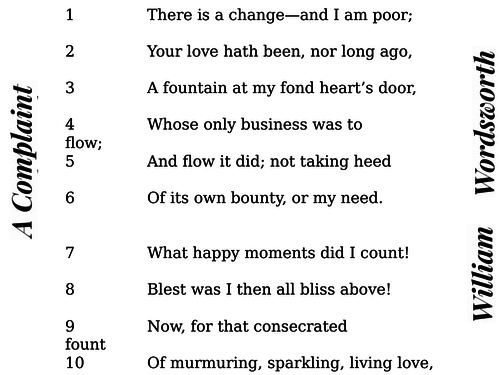 A Complaint - William Wordsworth: Mega lesson! Poetry GCSE. With model answer too!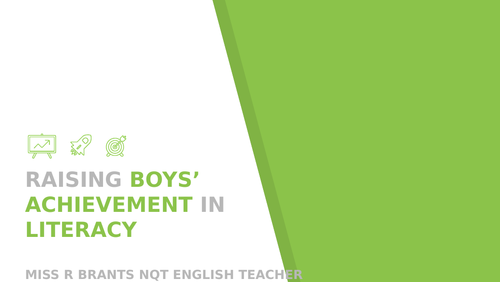 Raising boys achievement in literacy. Ideas, techniques and quick wins. Clear and concise presentation with action research and thorough pedagogy. Presented to Head Teacher and ex-ofsted.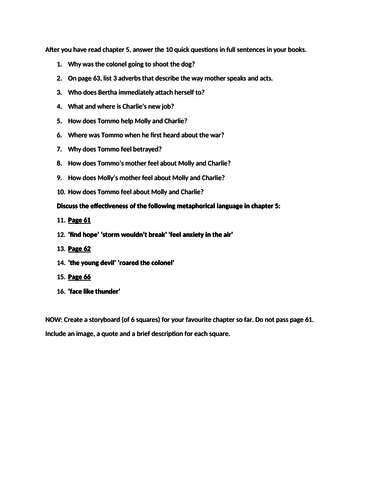 Private Peaceful End of Chapter 5 questions and tasks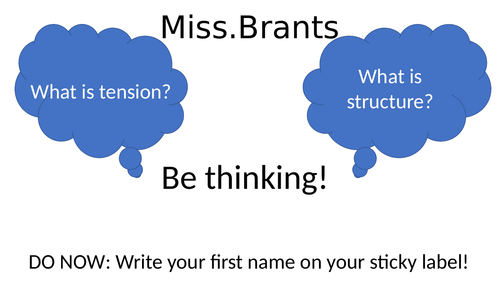 Structure Lesson on An Inspector Calls - Delivered for an interview and got the job.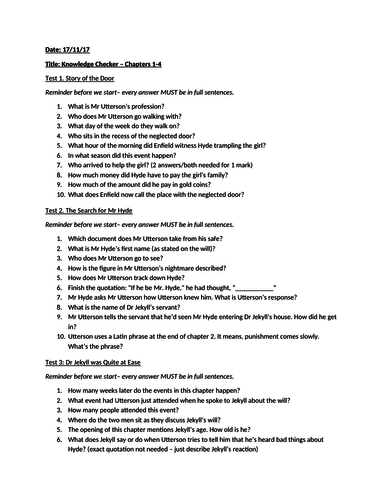 Jekyll and Hyde knowledge checker quiz - Chapters 1-4. Full lesson/ homework/revision. Thorough questions for chapters 1-4.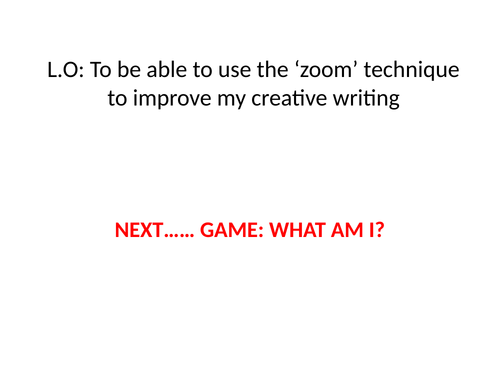 L.O: To be able to use the 'zoom' technique to improve my creative writing