Samia88's Shop
Teacher of Science in a Secondary School for nearly 7 years now. Love Science and love making lessons.
110Uploads
98k+Views
61k+Downloads
Teacher of Science in a Secondary School for nearly 7 years now. Love Science and love making lessons.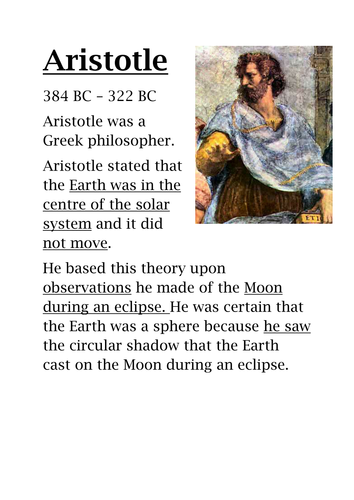 Changing ideas about the solar system THE SOLAR SYSTEM People Who Shaped Our Ideas Evidence and Theories lesson Understanding the purpose of different theories and their effect on Science. L/O – To identify and describe early ideas about the solar system. Describe how early scientists made their observations of the solar system. Describe scientists theories and models of the solar system. Explain how theories have developed over the years. EXTENSION - Suggest why people were for/ against the theories as time developed. (religious/ technology).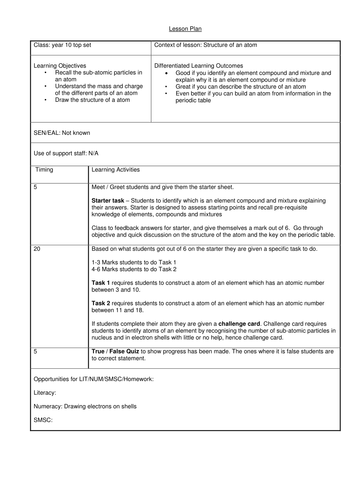 Your students need a red, blue and green pencil crayon for their key Starter to assess starting points Differentiated task challenge card True / false quiz as plenary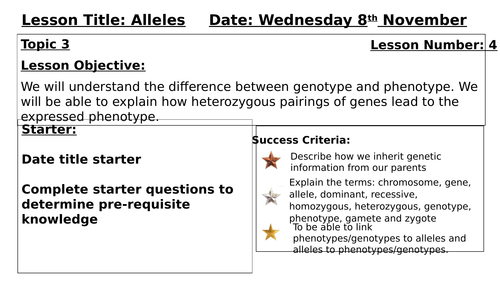 New Edexcel 9-1 GCSE Course CB3 Genetics In video, watch the first disease - Haemophilia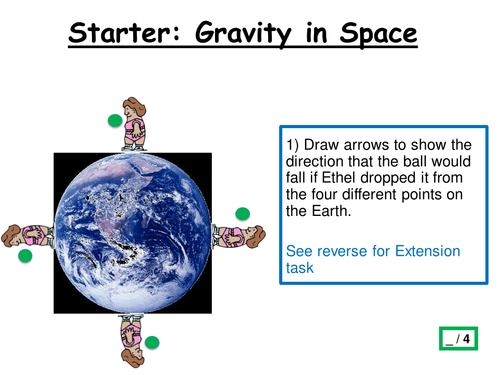 Includes presentation, worksheet, challenge card and assessments. Lesson Objective: To learn about gravity. Lesson Outcome: To be able to describe gravity and have an understanding of gravitational field strengths. To successfully answer exam questions on Gravity in space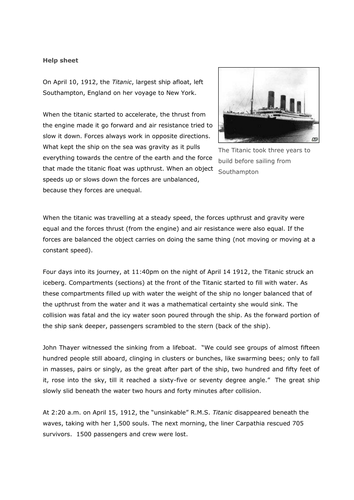 Make sure you play the Titanic soundtrack in the background of your lesson. 20 minutes in the music starts to get a little dramatic so forward it Titanic soundtrack youTube URL: https://www.youtube.com/watch?v=aAA9tShl58A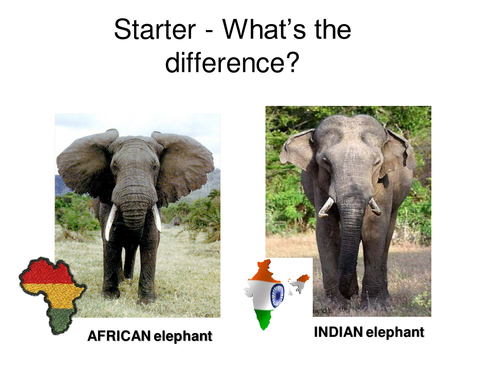 Get the students to design their own elephants ear and do the experiment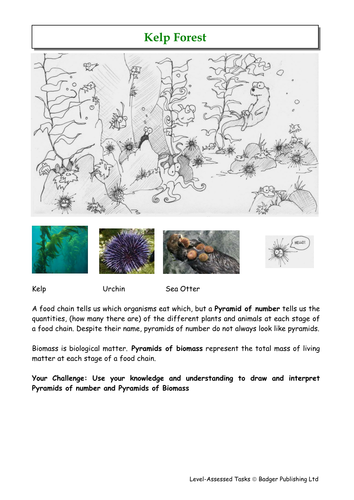 Brilliant link to the Kelp Forest. Two differentiated worksheets available. Context of lesson: Pyramids of Number and Biomass Learning Objectives(s) To learn the flow of energy through food chains, food webs and pyramids of Numbers and biomass Learning Outcomes Successfully draw Pyramids of Number and Biomass Successfully answer exam questions on Pyramids of Number and Biomass Success Criteria Sketch pyramids of numbers Sketch pyramids of Biomass Interpret Pyramids of Number and Biomass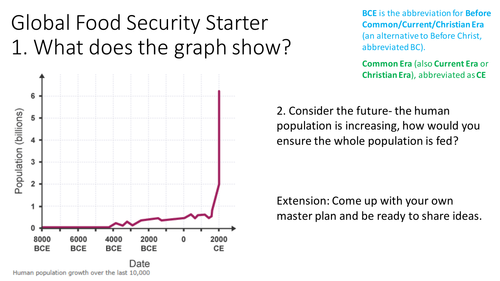 • This lesson explores the effects of changes in human population size on global food security, methods of increasing food production and the impact of growing biofuels. Students should be able to explain methods by which food security is maintained and the debate between fuel and food crops. Meet / Greet students and give them the starter sheet questions Settling Starter task – It has been identified in the Year 11 PPE's that Year 11 students lose easy marks because they cannot describe the trend in a graph, therefore to help build on their existing skills the starter requires students to explain what the graph shows. Students should be using scientific keywords for e.g. increases by using both data on the X and Y axis. Starter is designed to assess starting points and recall pre-requisite knowledge of global food security. Extension available to stretch and challenge more able students. Class to feedback answers for starter. Set the context of the lesson and ask students what they think the outcomes of the lesson are. Go through objectives and outcomes Teach – Set the context further by getting students to think about what global food security is and what factors affect how countries can be considered as a risk area for Global Food Security. This is done through effective questioning. Students to complete scenario questions (on their a3 sheet) on the 2 ways where food production can be increased and one way food production can be hindered. Students complete these questions by reading and highlighting key information in their global food security booklet, then applying their knowledge and understanding to the questions. Challenge card available to stretch and challenge more able pupils. Challenge task requires more able students to apply what they have learnt to a country that shows an extreme risk area for global food security. Students to answer exam based question on global food security – extension questions available.