Le magasin de Madame Vogel
High quality lessons created by a Native Speaker. All lessons are created on notebook for SMARTBOARD.
17Uploads
2k+Views
647Downloads
High quality lessons created by a Native Speaker. All lessons are created on notebook for SMARTBOARD.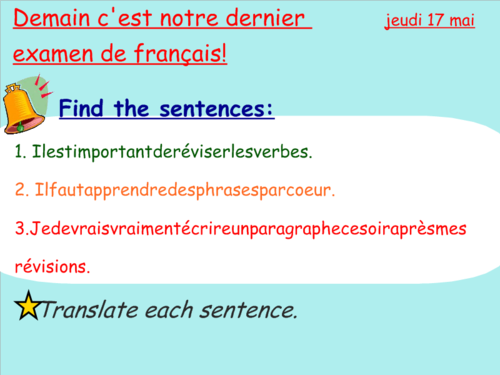 A great lesson for your students to revise before the big day! Targeted mainly at foundation students.
The perfect lesson for GCSE Warm up. Carefully selected key words and sentences for revision of basic but key vocabulary. Include listening and reading activities. Will leave your students feeling confident and ready to tackle the exams.
Complete lesson based on the trailer of the movie ENTRE LES MURS. Perfect for y10/y11 topic of schools.
Perfect quality lesson for y7s on the topic of city focusing of the post office in France. Include differentiated activities (RAG) and extension. Vocabulary Homework (quizlet link) Listening task Translation Reading Skills
An introduction to the near future. Well structured lesson. Differentiated (Green-Amber-Red activities + extension tasks) and learning ladder available fro vocabulary help.
I have just created a writing exam for my y11 in the style of the new AQA exams. You will find both a foundation and higher paper. I hope it will save you time and help your students develop their writing skills.
Here is a quality lesson on notebook. You will be able to show your students how to create a simple yet high grade paragraph by using few trips and learning a simple paragraph by heart. This lesson includes example on how to restructure the same paragraph so it can be reused for different topics. You will get the notebook lesson and a revision booklet to print for revision. Enjoy!
Lesson to design to improve students vocabulary on the topic of sickness, allow students to express opinion and built longer sentences. Lesson objectives: -Décrire une maladie - S'excuser de son absence - Analyser un texte This lesson is highly differentiated. Green, Amber, Red tasks + Extension tasks.
Complete quality lesson of the Poem by Paul Verlaine, mon reve familier. Recommended for y9. Great introduction to authentic material and French poetry.
A complete lesson for revision before the exams. Perfect for extended day! Include: Revision of essential vocab, time, numbers, negatives, false friends, exam tips, listening practice, reading practice, games… It will keep your students focused and busy for a couple of hours. Enjoy!
Perfect Christmas lesson for y7s and y8s. Include traditional food vocabulary, cultural facts, translation, reading skills, crossword, song listening skill (Noel blanc) and Homework. Enjoy!
A complete lesson on the present tense. Perfect stand alone grammar revision lesson for y7s or y8s. Differentiated (RAG) as always, with extensions. Also include: -ER verbs and FAIRE focus Mini test Reading skills Speaking skills Homework Enjoy!
Here a lovely cultural lesson for your y10s or y11s on a musical. Include vocabulary, listening skills (links to youtube video included), reading skills and more. All me lessons are differentiated and offer support for SEN/PP.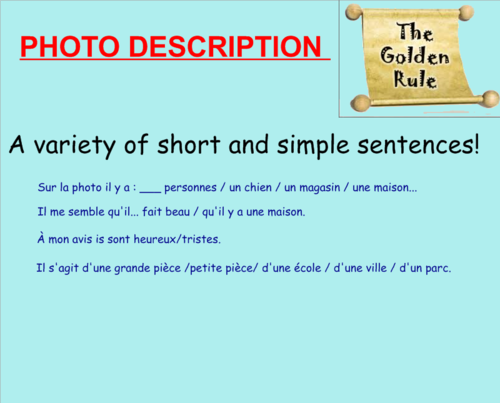 A great warm up lesson for the morning before the big day. Targeted at Foundation students but good also for higher students confidence boots. AQA specific.
A lesson that will help your students improve their writing skills! PERFECT FOR THE NEW GCSE!
A very well structured lesson on the topic of food chain in FRENCH. Full lesson on notebook. A great cross curricular lesson for MFL teachers who want to stand out. Enjoy!