132Uploads
11k+Views
3k+Downloads

Birth to Five Matters document split into ranges for each Early Learning Goal. Useful when tracking progress.

Key Stage 2 History Knowledge Organiser for 'Leisure and Entertainment'. Includes: Key Vocabulary Timeline Saved in powerpoint so full editable.

Documents to assess RE across all year groups (years 1 - 6) for each half term to determine emerging, expected and exceeding with descriptors. Long term plan included with overarching questions for each half term (including Understanding Christianity). Whole class assessment sheet for each year group to complete each half term for each child to determine overall ARE (emerging, expected, exceeding). Also includes pupil and staff questionnaire to determine strengths and weaknesses of RE across the school.

Knowledge Organsiers fro Traditional Tales based on EYFS Framework 2021. Includes knowledge organsiers for: -The Three Little Pigs -The Three Billy Goats Gruff -Goldilocks and the Three Bears

*Posters including photos and adjectives of the different places in 'We're Going On a Bear Hunt'. Activity for pupils to complete to think of their own adjectives.

KS1 Geography Knowledge Organiser for 'Our Local Area'. Fully editable to add photos of own locations around your school.

Phase 2 phonics videos on YouTube for pupils to practise blending and segmenting skills. Please follow link below for all videos. https://www.youtube.com/playlist?list=PLaTBv7pySuWgdpvMxNrVBFIcFIf-rOBpt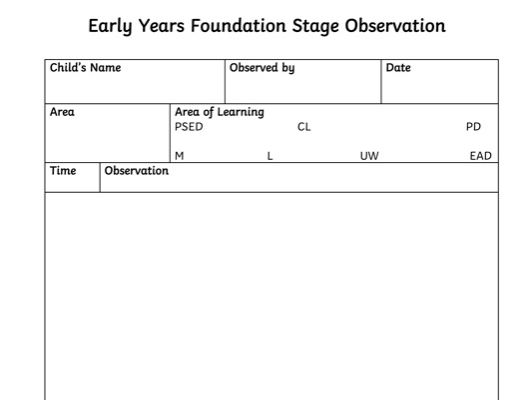 EYFS Assessment Bundle including: Observation template including Characteristics of Effective Learning recording EYFS Evidence sheet to add dates of evidence (colour coded for child initiated, adult led and long observation) EYFS Planning in the Moment template (includes an example filled in to share with your team)

A wellbeing questionnaire for KS2 pupils to encourage discussion around worries. Information can be analysed and used to inform wellbeing practices in school.

A series of phase 3 words that can be blended, Children to say if they are real words or alien words. Up to the 'oo' sound following Letters and Sounds programme.

Year 3 RE Knowledge Organiser - Sikhism and Equality

Medium term plan for Nursery and Reception based on the theme, 'Life Cycles' Links to all areas of learning. Based on EYFS Framework 2021. Fully editable.

Phonics training for staff. Includes: Correct terminology Vocabulary Blending Segmenting Encoding Decoding Enunciation Accents and dialect Grapheme variations Scenarios Interventions

Powerpoint for staff training on early childhood brain development.

Year 1 History knowledge organiser for The Great Fire of London. Includes: key vocab key facts timeline

Includes Medium Term Planning and Knowledge Organisers for Traditional Tales for Nursery and Reception.