4Uploads
8k+Views
3k+Downloads
This is the Somerset Levels (2014) extreme weather event flood case study taught as part of AQA 9-1 GCSE Geography - Paper 1 - Section A. Includes a student worksheet and answer sheet which compliments the BBC documentary - 'Somerset After the Flood' in 2015 (link provided). Covers the causes, effects and responses to the flood event.
A worksheet to support the 2013 BBC "Don't Panic" documentary which helps students to develop a modern day view of the issues surrounding global population, using the work of Hans Rosling. The documentary is 1 hour long and suitable for KS3, GCSE and A-Level. You can access the video directly from the Gap-Minder website: https://www.gapminder.org/videos/dont-panic-the-facts-about-population/
A whole lesson to help to assess the students prior knowledge of OS maps and help them to practice using four and six figure grid references. I teach this to the year 7's but could be easily transfered to other ages.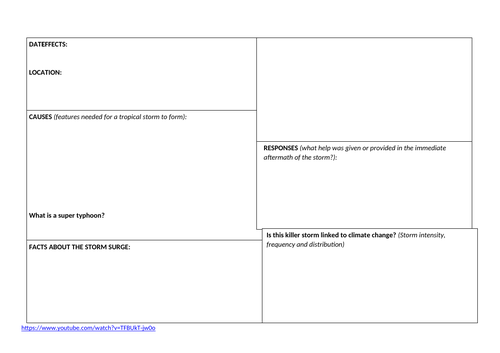 A worksheet designed to accompany the NOVA 'Killer Typhoon' documentary which is about the strongest cyclone to hit land in recorded history - Typhoon Haiyan, Philippines, November 2013. Focuses on what made the typhoon so destructive, the effects, responses and how can we prepare for the next monster storm. Video link: https://www.youtube.com/watch?v=TFBUkT-jw0o