SocialScienceFAR's Shop
Sociology and Psychology Teacher
27Uploads
2k+Views
410Downloads
Sociology and Psychology Teacher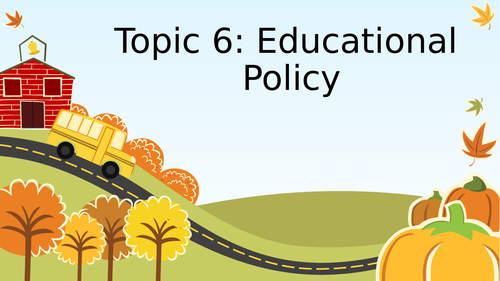 A Level AQA sociology Educational Policy. Power Point covering the entire topic.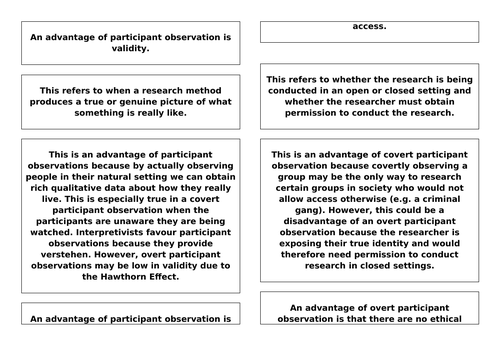 Card sort exemplar Participant Observation essay broken down into each section of a PEELE paragraph. Students sort the essay into the correct answer as ordered on the worksheet. Comprehensive revision guide based around the AQA Sociology specification. Covering the entire Education module: (1) Class differences in achievement (internal and external) (2) Ethnic differences in achievement (3) gender differences in achievemnet (4) the role of education (5) educational policy. Contains keyterm student activities for revision. Ready to print and distribute to students!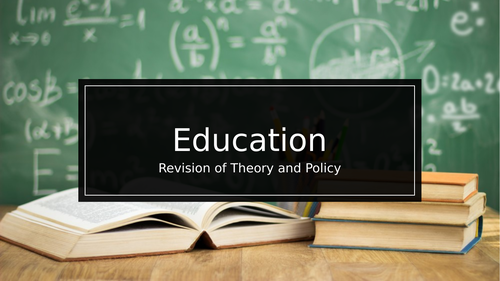 A Level Role of Education and Educational Policy Revision. PPT for revision lesson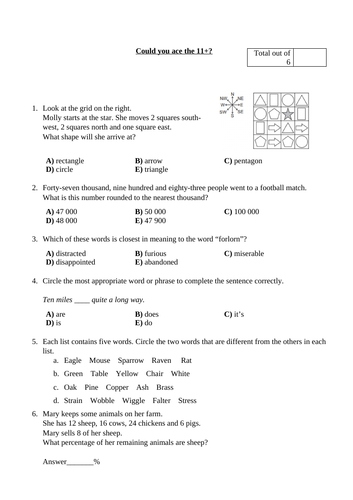 Lesson on Educational Policy for GCSE students containing activity worksheets and PowerPoint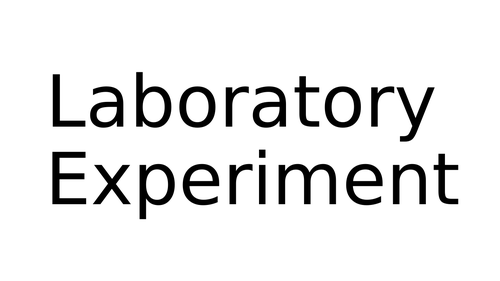 A Level Research Methods Revision Lesson contains Card Sort and PowerPoint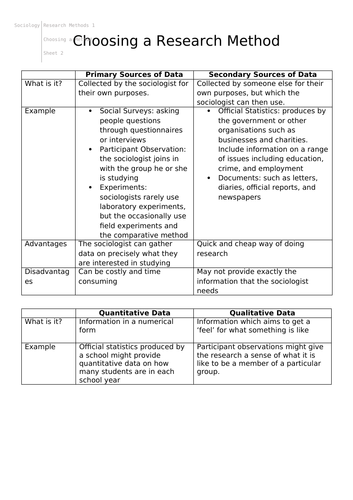 Notes on Qualitative, Quantitative, Primary and Secondary sources of data.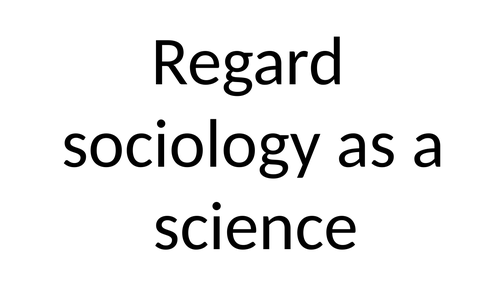 Key information about Positivism and Interpretivism for students to sort.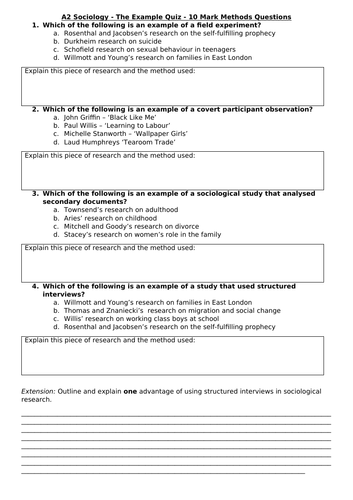 Two different activities for students about examples of sociological research from the other modules on the AQA specific that they can use in their research methods answers.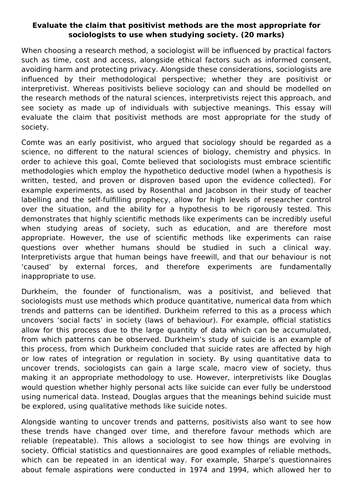 An Exemplar essay to give to students answering the question: Evaluate the claim that positivist methods are the most appropriate for sociologists to use when studying society. (20 marks)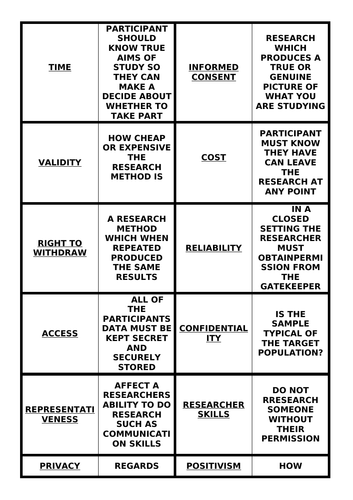 Key terms card sort based around the PET points in sociological research. Students match the definition to the key term.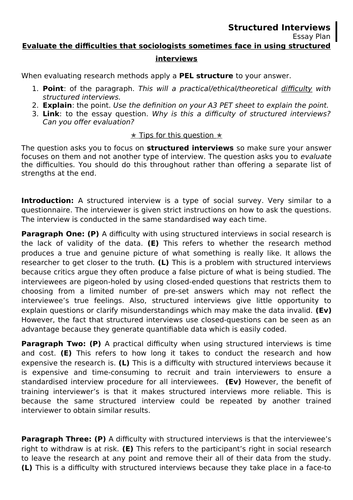 Structured interviews essay following a PELE structure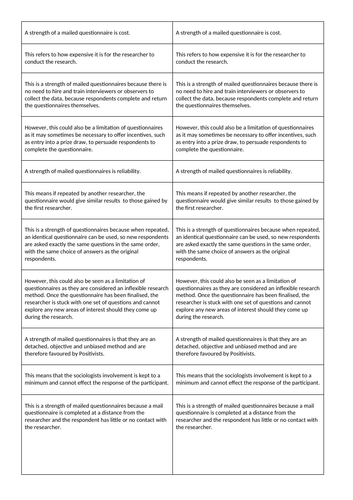 Card sort containing each part of an exemplar essay on questionnaires broken up into each section of the PEELE paragraph. Students sort each section into the correct order. Answer is the order of the worksheet that must be cut up and given to students.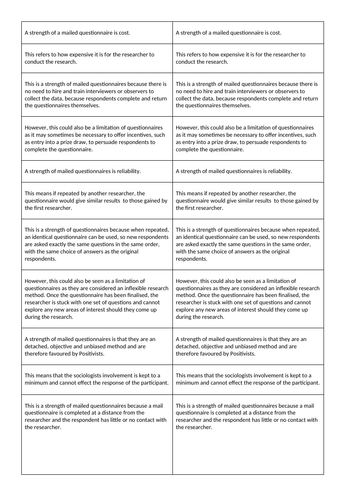 Card sort activity to make an exemplar answer based around the PEELE strucutre.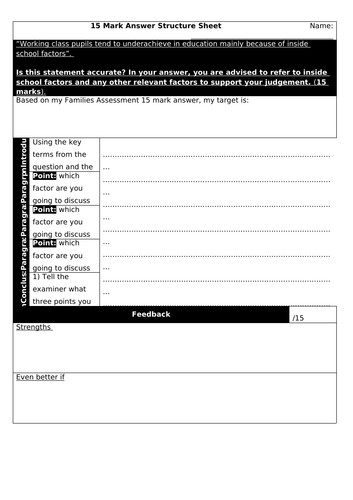 Whole topic resources including Powerpoint, Activities and Assessment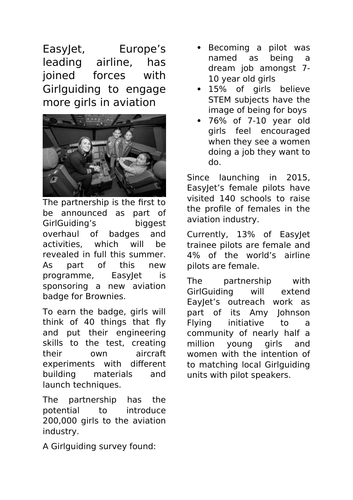 Whole topic on Ethnic differences in achievment for GCSE students including activities and PowerPoint.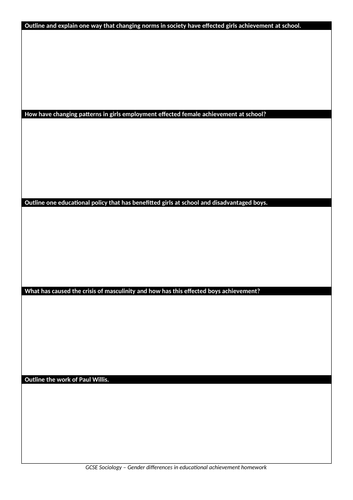 Marketplace activity with AFL homework on gender differences in achievment for GCSE students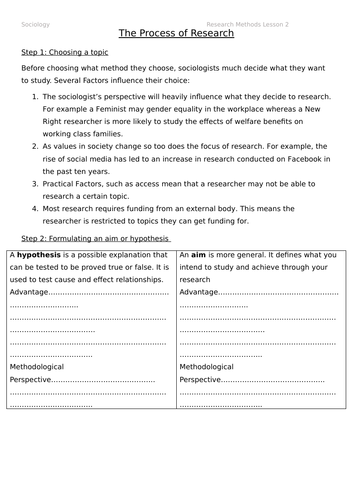 Class notes on the process of sociological research and activity for students to design their own study.