TeachCreative's Shop
Art, Photography and Graphics teacher with 20 years experience. I'd like to share some of my favourite resources.
19Uploads
5k+Views
10k+Downloads
Art, Photography and Graphics teacher with 20 years experience. I'd like to share some of my favourite resources.

This project gives Year 10 or 11 students structured choices for an independent project for the Graphic Communication course (although it could also be used for the Art & Design course). Included in this project are: Options for 3 different projects (including editorial illustration and movie advertising). GCSE project checklist covering all four AQA assessment objectives. A step-by-step teacher example project showing how ideas can be developed and refined towards a final design. Colour-coded examples of artists and designers suitable for each project.

Students will design a Tim Burton-style project based on themselves before introducing other Gothic elements to create a scene. They will use the video link to see how Burton was inspired by German Expressionism and should try to include this in their own designs. Step-by-step teacher examples are also included for some tasks, as well as a link to a Pinterest board full of helpful imagery. Project should take 5-6 hours.

A full project (lasting at least 15 hours) looking at different aspects of street art, students will: analyse examples of street artists' work. design their own tag. learn how to make a stencil discover and investigate the work of a variety of contemporary street artists (PowerPoint with examples of artists' work supplied) . develop a GCSE-style project covering each of the four assessment objectives. - The structure of this more independent phase is structured and has clear instructions and reminders for students to follow.

Perfect for on-line learning, this lesson looks at the repeated celebrity images Andy Warhol made in the 60s and 70s. Students will use a photo of themselves or a mass-produced product (e.g. a can of Coke) and download a free app to experiment with effects and colour combinations to achieve a vibrant Warhol-style image. The PowerPoint takes you step-by-step through the process using teacher examples. The free app is available on both Apple and Android devices.

An structured approach to learning a variety of techniques including ink, watercolour, Sellotape printing, woodcuts/lino cuts. Each technique is covered separately (using artists' work as reference) before combining media together for a larger, extended piece. This project normally takes 12-15 hours to complete but can be extended. Images, video links, and teacher examples are included. For each slide, the notes section underneath explains each task including discussion points. This is one of my favourite projects to do as it allows students freedom to expreriment while maintaining a controlled environment.

A series of 5 design briefs perfect for either Art & Design or Graphic Communication students. Each brief takes around 3 hours and focuses on the work of a different contemporary artist or design studio. There is a PowerPoint which can be adapted and shared with students, as well as links to videos explaining the first 4 briefs, discussing the artists and showing teacher examples. These can be used in isolation as cover work or mock exams, or can be done as a series as part of the GCSE portfolio section.

An introduction to Pop Art where students design their own advert for a brand/product of their choice. The project is broken down into lessons and a step-by-step teacher example using collage is provided (although Photoshop, Illustrator and Procreate can also be used if possible). This project offers students freedom to make decisions for themselves, develop a range of ideas before moving to a final design.

This project introduces Cubism, shows its influences and how the movement developed, and looks at differences between Analytical and Synthetic Cubism. There are opportunities to analyse the features of Cubist work by looking at specific examples by Picasso and Robert Delauny. Students will develop sketches based on sections/viewpoints of musical instruments (supplied in the ppt) leading to a larger painting. Helpful tips and student examples are also included. Finally students will follow a step-by-step process to create a cardboard Cubist sculpture based on elements of their painting (photos of stages of the teacher example included).

A series of 5 design briefs (plus introduction tasks), each based on the typography work of a different artist or designer. Students should take around 3 hours to complete each brief (equal to week of GCSE time plus homework). These can be used in isolation for cover work or exam practice, or as part of the GCSE portfolio of work. Each brief follows the structure of research, develop and refine which helps solidify the GCSE assessment objectives for the students. Video links are supplied offering introductions, explanations, and teacher examples to help.

A list of useful artists and designers for both GCSE Art & Design and Graphic Communication. Each slide has examples by the artist as well as their name. These are useful for students looking to research artists as part of more independent projects.

An introduction to branding and brand awareness using well-known logos, students need to adapt the logo to say their own name. Student examples are included. Task should take 2 lessons.

A varied introduction to different approaches to revision which can be used with KS3 or KS4. This would be ideal for pastoral leaders when introducing revision to classes or year groups, or can be used by individual subject teachers. Using the PowerPoint, staff lead students in discussions of which methods suit them best, organising work spaces, time management and dealing with exam stress.

Ideal for online learning, this this 2 - 3 lesson design task looks at the work of HORT design studio who regularly collaborate with Nike. All the design work is done in PowerPoint using pre-made png images with no background. A teacher example, links to relevant web pages, and an example of high quality written analysis is included.

Perfect for on-line learning, this 3-lesson project uses a free app (for both IOS and Android) to design a collaged editorial image which could feature alongside an article on a news topic or current event. Students will take and edit photos on their phones before uploading to the app where they can experiment with compositions. Step-by-step guide showing different stages of the project including teacher examples.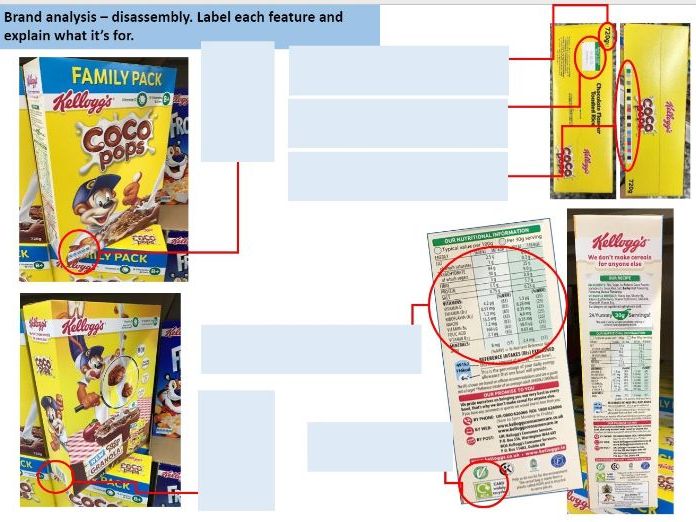 This project looks at branding, target audiences and packaging to design a new cereal brand using Adobe Illustrator. During this project, students will: Look at how existing cereal brands market themselves at children. Analyse standard information you will find on cereal box packaging. Learn the basics of how to use Adobe Illustrator to design a logo and mascot character for the cereal and add them to a box net (video links and resources supplied). A basic understanding of Illustrator by the teacher is helpful but the video tutorials offer step-by-step guidance. Teacher examples and a student example are supplied.

One-off observational drawing lesson perfect as a baseline test or cover lesson. Students are to draw a scrunched up sweet/crisp packet, trying to ensure the images follow the creases and folds. The teacher example with hints and reminders can be displayed on the board. Photos of different scrunched packets are also included, as well as a ppt of photos of Claes Oldenburg's which could be used to extend the project into a large papier mache or textiles piece.

Students will learn about branding, marketing to a chosen target audience, and ways adverts can sometimes mislead the public. This is an ideal project to learn the basics of Photoshop by completing mini tasks before designing a series of adverts for Jack Wills. All files for the Photoshop introduction tasks are included. Teachers should have a basic understanding of layers and selections.

Suitable for Year 9 and GCSE students, this is a 5-week project where students look at the work of contemporary designers and develop their own creative playing cards using traditional and/or digital methods. Perfect as a bridging project between KS3 and KS4. The project is broken down into easy-to-follow stages including researching appropriate designer, developing initial ideas and refining them towards a final outcome - a series of 4 playing cards with a consistent visual identity.

An easy-to-follow visual overview for Graphics,Art and Design or any creative subject. Useful for teachers, students and Ofsted to see how the curriculum is structured. Allows students to develop their skills, learn about the work of other designers and become independent creatives. The PowerPoint version can be adapted to fit your school.