Teach Us Geography!
Top quality inspiring ideas and resources for teaching geography at secondary school. https://teachusgeography.blogspot.com/
7Uploads
3k+Views
299Downloads
Top quality inspiring ideas and resources for teaching geography at secondary school. https://teachusgeography.blogspot.com/

Interdisciplinary (IDL) geography resource on volcanoes for BGE, National 4/5 or GCSE Restless Earth making use of a Holywood disaster movie to enthuse students whilst they learn about volcanoes. Learn about the human impact of a volcanic disaster as well as understanding the signs of an impending eruption such as sulphur gas, earthquakes and dead wildlife. The main activity is a piece of extended writing inspired by the movie. This promotes geographical learning, but use can also be made of this as an IDL activity with Science and English. The acitivity can also be used as part of literacy across the curriculum. Lesson plan, writing frame, Curriculum for Excellence outcomes, teachers notes and self-evaluation all included. Work booklet can be used as a guide to assist jotter work so only one class set needs printed. This is an enjoyable task and great for boosting uptake at subject choice time!

Intertropical Convergence Zone - ITCZ - 16 slide PowerPoint presentation and student worksheets covering air masses over West Africa for Geography students. Colourful, engaging animations, concise notes and relevant exercises should boost student understanding of Tropical Maritime, Tropical Continental air masses, their relationship to the ITCZ and seasons over West Africa. The presentation and worksheets can be used as teaching resources or revision tool. It is primarily aimed at Scottish Higher Geography but can also be used for English A Level.

PowerPoint aimed at National 5 and Higher Physical Environments unit for the Scottish Curriculum for Excellence. The presentation summarises the conflicts and potential solutions for forestry, farming, renewable energy and tourism in the Cairngorms National Park.

Geography river features such as waterfalls, v-shaped valleys, meanders and oxbow lakes presented in an engaging, fun, colourful PowerPoint and geography work booklet. Clear animations, descriptions and sketches to make river features and their formation easy to understand. Find out about the formation of v-shaped river valleys, waterfalls, meanders and ox bow lakes step by step. Make colourful sketches with great exemplars. Suitable for National Geography, Higher Geography and GCSE Geography. Detail also on erosional processes, transportation and deposition as well as basic understanding of river basins and watersheds.

Try this Geography weather word search with a difference. To complete this, you must firstly find the answers to the weather instrument questions and then try to seek out these answers in the word search. This can be used as a fun homework activity, or to consolidate class learning or as extension work.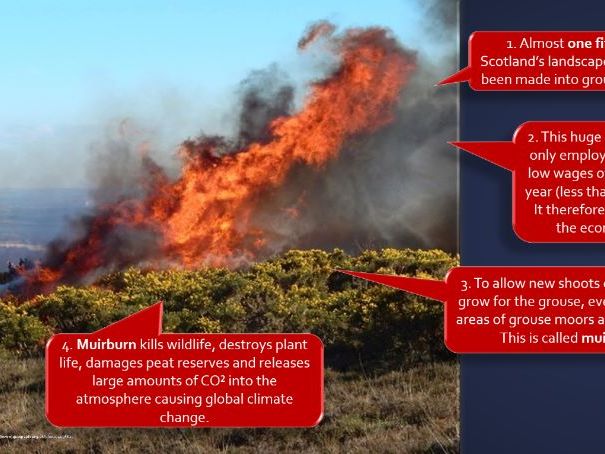 An engaging PowerPoint presentation detailing a very topical rural land use conflict in the Cairngorms National Park - the driven shooting of grouse on grouse moors. The slides detail the viewpoint of the estates managing these moors and the opinion of environmental pressure groups such as "Revive". The content is relevant to GCSE geography courses as well as National and Higher geography courses in Scotland. Links are embedded in the slides to two relevant film clips. Tasks involve asking students to present both sides of the argument, as well as voicing their own opinion on this issue. Too many resources on rural land use conflict cover well worn arguments that students have difficulty engaging with. This topic is very relevant and something students can really get their teeth into. Named examples should help to boost marks when it comes to formal assessments.

Fed up with your students not doing homework? Looking for ideas to promote personalisation and choice in learning? Look no further than this homework task. Allow your students the chance to decide for themselves what kind of homework they want to do. Give them the chance to demonstrate their strengths and preferred learning styles whilst at the same time promoting independent learning.