PowerPoint aimed at National 5 and Higher Physical Environments unit for the Scottish Curriculum for Excellence. The presentation summarises the conflicts and potential solutions for forestry, farming, renewable energy and tourism in the Cairngorms National Park.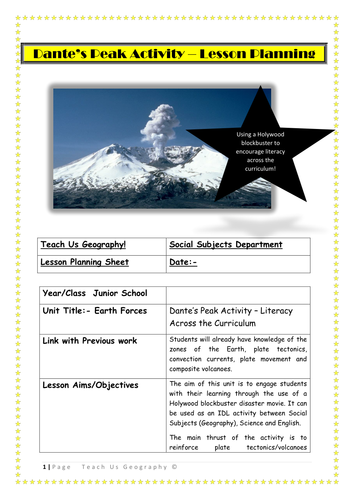 Interdisciplinary geography resource making use of a Holywood disaster movie to enthuse students whilst they learn about volcanoes. The main activity is a piece of extended writing inspired by the movie. Promote geographical learning, but also make use of this as an IDL activity with Science and English. The acitivity can also be used as part of literacy across the curriculum. Lesson plans, writing frame, Curriculum for Excellence outcomes, assessment and self evaluation all included.
Try this Geography weather word search with a difference. To complete this, you must firstly find the answers to the weather instrument questions and then try to seek out these answers in the word search. This can be used as a fun homework activity, or to consolidate class learning or as extension work.
Fed up with your students not doing homework? Looking for ideas to promote personalisation and choice in learning? Look no further than this homework task. Allow your students the chance to decide for themselves what kind of homework they want to do. Give them the chance to demonstrate their strengths and preferred learning styles whilst at the same time promoting independent learning.