*AfL Quiz on The Immune System. (These are fully editable and can be cut and pasted into your own PowerPoint presentations --11 Q's and A's). * Preventing Microbes Entering The Body - Worksheet. (Plus answers on PPT) *White Blood Cells (Phagocytes and Lymphocytes) - Worksheet. (Plus answers on PPT) *Vaccinations Storyboard - Worksheet. (Plus answers on PPT) The PPT's are editable in case there is anything you would like to change, or simple to have them displayed - something I find useful to have up whilst explaining a task. This task is good for enabling students to answer 6 mark questions on this topic. The sheets are simple, clear and laid out well in the aim of allowing retention of the content. (The previews by TES don't always display the ppt format or colour of the files as they are, check the cover sheet for true format)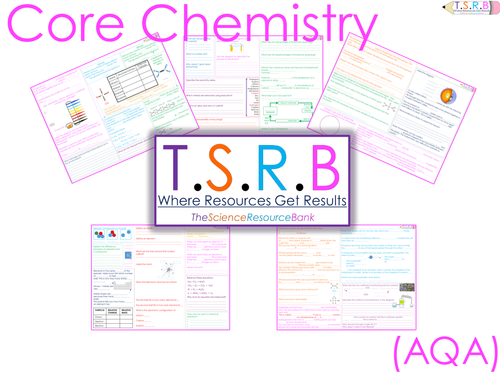 5 x Revision Mats to cover the whole C1 (AQA). Take the stress out of exam preparation; these are the perfect revision activity for students of all abilities. Whether its the end of a topic, mock or GCSE exams, this resource will test the key points that students need for this section of the curriculum. They can be used in lesson or sent home for students to complete. Use with the other revision mats in the series to allow students to create their own revision guides. This can be done throughout the year or as a booklet before the exams. They work well for students to conduct their own gap analysis too. Students love doing them, they're bright enough to be interesting and contain all the central concepts that students need to obtain a great GCSE result. They particularly love them as an A3 mat. This includes the diagrams I've drawn so you can use them in your own lessons/PowerPoints.
This includes: *Booklet to print at A5 size for students to work through as part of the induction program. -Lab Hazards/Rules -Hazard Symbols -Hazard Meanings -Safe in Science Certificate -Naming Lab Equipment -Drawing Lab Equipment -Measuring Using Lab Equipment -Using a Bunsen Burner -Bunsen Checklist -Bunsen Burner Certificate -Experiment Write-up - Heating different volumes of water. (includes all prompts/sub headings and a pre made table and graph area) -Glossary/Definitions -Science Passport Certificate *Certificates (to take home x3). *Hazards Card Sort (ideal for laminating and keeping) *Equipment Card Sort (ideal for laminating and keeping) *Variables Card Sort (ideal for laminating and keeping) *Lab Equipment Labels for Your Lab.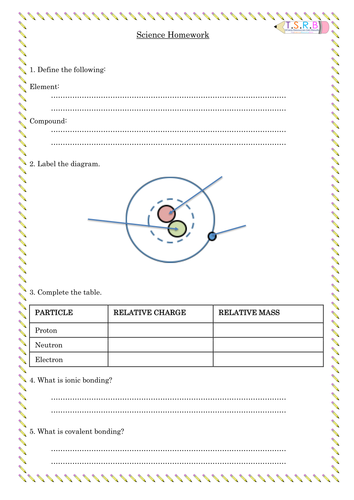 An editable homework task for C1 which covers atoms and balancing equations.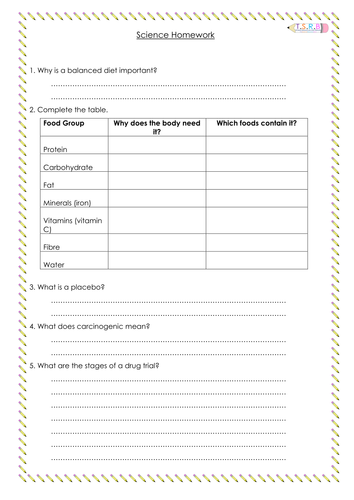 A homework to cover the Diet and Drugs section of B1. This tests the key points of the subject that are examined.