Toppcatt's Shop
AQA New Spec GCSE English through the use of film clips.
27Uploads
3k+Views
1k+Downloads
AQA New Spec GCSE English through the use of film clips.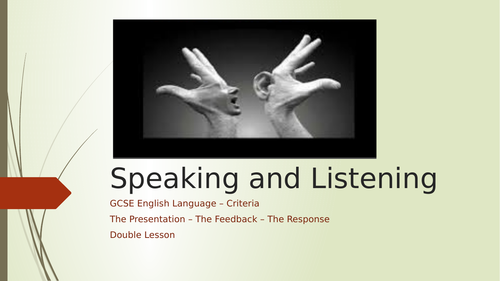 This double lesson uses 3 video clips as part of the lesson. It is an introductory lesson or to be used as a review for speaking and listening for the new AQA 8700 exam, which can be applied to Ks 3, 4, 16+ and adult learners. The final part of the lesson is for students to continue and do some research on their presentations. Various activities and worksheets included.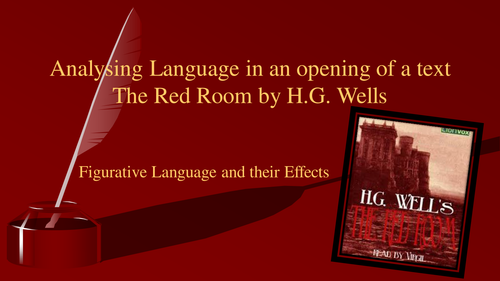 This resource is a complete 4 part lesson ie ppt must be viewed through slide show for eliciting as well as a narrated video I have compiled can be used as a starter, (5min). Reviewing and eliciting knowledge on figurative language; literary devices and effects with various worksheets one of which is the opening of the story with boxes and arrows listing A-W for students to work in pairs or three's together to discuss and fill the chart with the device applied, the effects the techniques have through language in the text and the effect on tone and mood or atmosphere. Students can complete at home and bring back to the classroom as a flipped classroom to discuss, share and compare their ideas ie peer to peer assessment for improvement, followed by another lesson to write-up a summary of all the collected information into proper grammatical sentences using a word bank followed again by peer to peer assessment for improvement and finally handing in the final improved summaries a thesaurus can also be used. Can be adapted to various age groups.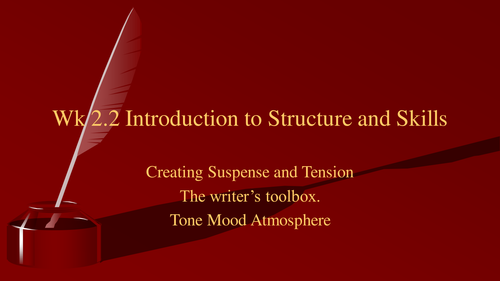 How writers use elements of surprise - great example shown through Alfred Hitchcocks 'The Birds'. Hooking the audience, how suspence is created and how the mood is changed. The differences between tone mood and atmosphere through examples, explanations and a short film clip. Final activity looking at an extract from Jaws and how tension was created and applied.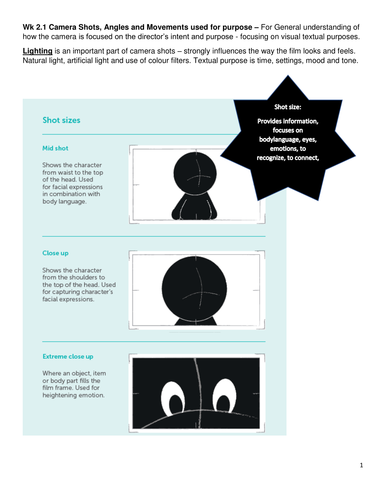 Complete lesson or can be stretched to two lessons. PPt should be viewed in slide show format for the animations. It is compiled in this method for eliciting purposes. I found this a very interesting method of teaching through film, showing stu the visual text and how the various camera shots angles and movements are important in setting a scene and showing tension and suspense. Stu see the visual imagery and how foreshadowing is used at the start and the importance of that. Students have various examples of foreshadowing which writer's apply - subtle and direct examples, activities, finally stu write an opening using imagery and foreshadow to create tension and suspense from a starter.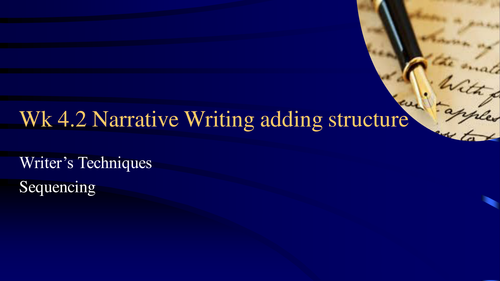 Creative writing, sequencing techniques. How language and structures are applied and writing from a film clip, 'Dirty Pretty Things' - may not be suitable for younger students.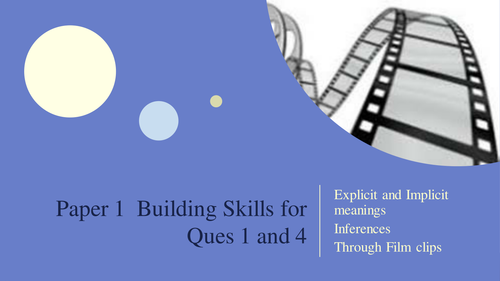 Whole lesson using two film clips for extracting explicit and implicit information and to make inferences. Finally extracting the information from an extract called 'The Necklace' by Guy de Maupassant 1884. Needs to be viewed in slide show for eliciting and animations.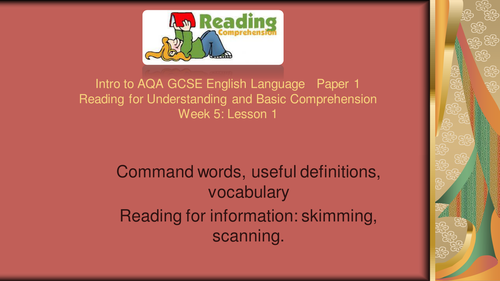 General information on exam questions and identifying and comprehending the command words. Retrieving information from a text for comprehension.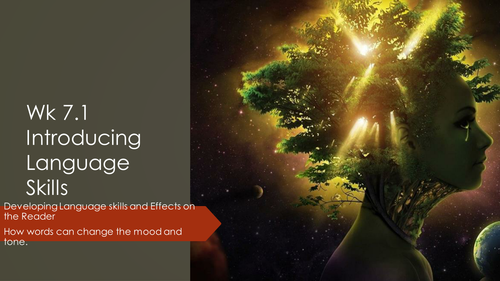 I have once again introduced students to a film 'Shawshank' where I wanted to show them how a directors develops visual text. Following by various activities where the need to transpose the scene into a written text and use visual pictures in text. Secondly they then have to change the ending of the scene to change the mood. Finally there is peer feedback. Developing language skills and effects on the reader. How a writer's words can change the mood - imagery. Again must be seen through slide show. This lesson is for stu to understand how mood is changed and how important visual language is. I found that through using a fillm and writing stu will get a greater understanding of language and mood when answering Paper 1 Ao2 Ques 2.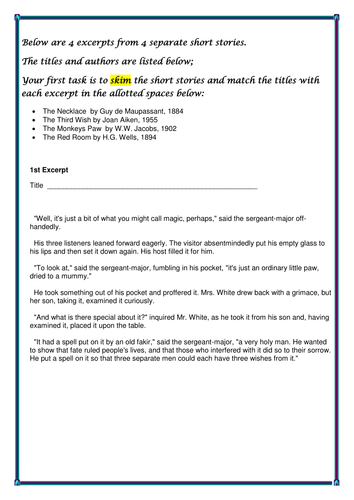 Two consecutive lessons on ppt, please use in the animated slide show for eliciting; The first is a variety of tasks and activities using skimming and scanning techniques. Skimming for the gist, retrieving specific information from 4 different texts ie pronoun phrases, adjectives, adverbs, listing in a prepared chart and words that students do not understand. The second lesson analyses how the writer achieves an effect on the reader through these words and phrases and considers how they affect the author's tone in the story. Students in their groups prepare a short presentation. Homework is included and all student resources are also included ie 4 excerpts of texts; The Monkey's Paw, The Red Room, The Third Wish and The Necklace, chart for listing vocabulary and a list of tone words and their meanings.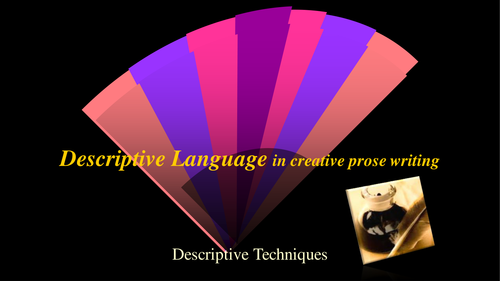 This lesson is a complete 1 1/2 hrs. It contains ppt presentation to be viewed in slide show, resources for refresher activities and a complete detailed lp. The idea is for students not only to become more creative in their writing but also look outside of the box ie by looking at different angles in an image to visualize how what we first assumed is quite different from a closer - up angle . It was a fun lesson and students enjoyed very much. Can be adapted to any secondary group or 16+.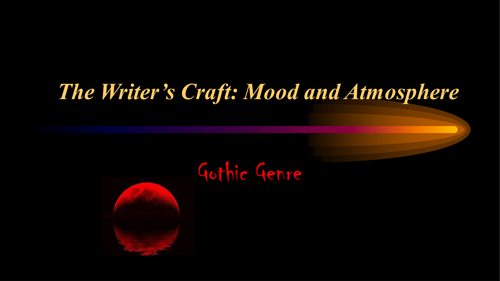 Complete 1 hr lesson with all resources. Features in Gothic texts, use of lanuguage ie word choice and figurative language devices to achieve mood and atmosphere. Student skim and scan an intro to The Red Room by H G Wells to locate creative word choice and a variety of literary devices used to enhance the mood and atmosphere. Activity is for students to work collaboratively discuss, debate, provide peer to peer reviews and write an original climax in continuation of the excerpt: The Red Room. All instructions provided.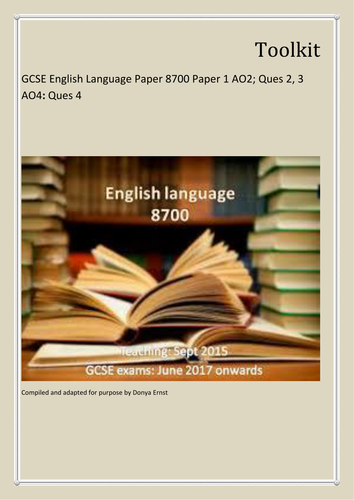 I have compiled and adapted 2 separate and complete toolkits for GCSE students to be used both in and out of the classroom. One toolkit is for the reading paper; AO2; Ques 2,3 and AO4, consists of 36 pages. The second toolkit is specifically for Writing AO5 and AO6, consists of 39 pages. Both contain all the background information needed for all the questions in Paper 1 except for AO1, in extreme detail; structure, language - what that entails , the AQA criteria, examples, tasks, definitions, how to answer the questions appropriately as well as 7 exerpts from texts or short stories, command words, literary definitions, word banks; descriptive and action words, as well as 7 picture prompts. This paper is extremely useful for students to constantly use to look back onto during lessons as well as revision, as a reference and for practice. Great for increasing student recal. The paper is also useful for teachers who will have all the necessary information and examples all in one place. Excellent for student resits. Can be uploaded to your favourite platforms. Please look out for further toolkits for AQA 8700 Paper 2. Toolkits are in word format and contents page needs slight readjustment as more information has been added.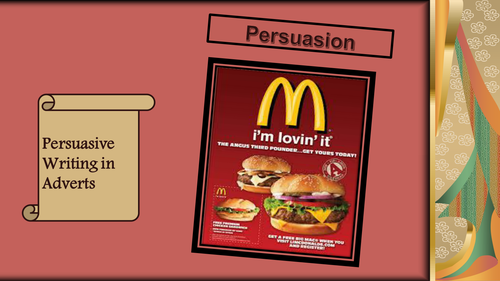 This is an entire equipped lesson, including ppt ( which should be used in animated slide show whilst eliciting), lp included, differentiated instructions, toolkit and tasks; 60minute lesson.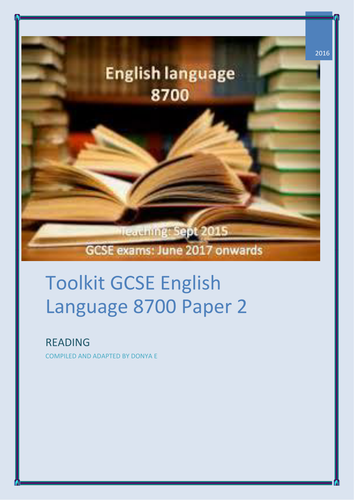 This is the 3rd toolkit I have compiled and adapted for students to use both in and out of the classroom. Total pages are 30 similar content as I have used in Paper 1 Reading and Writing. Including relevant definitions, tips, examples relevant words and phrase banks, all information is included in context to the second reading paper. In order for students to develop their use of vocabulary for appropriate situations and always have one place to look back to either use as a reference, guide and for revision. The more students look back to the same place they will increase their recall skills through what you might call subliminal repetition... Further relevant content has been added. Now in word format.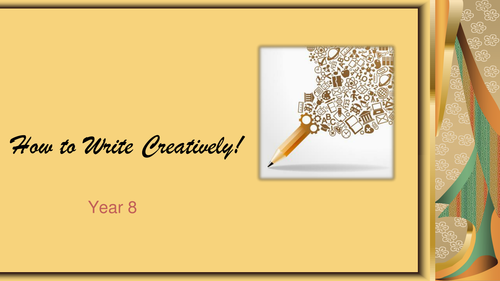 Complete lesson on ppt, please use in animated slide show version for optimum results. The lesson is collaborative with various tasks. Work sheet for matching language devices and definitions.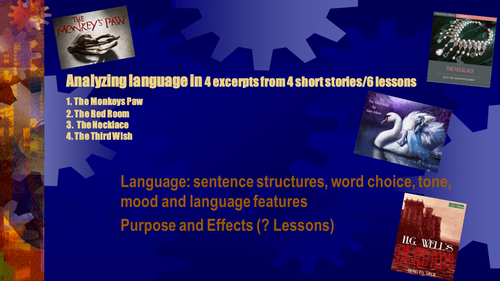 Analysing language; word choice, sentence structure, punctuation, tone and mood in 4excerpts; The Monkeys Paw, The Red Room, The Necklace and The Third Wish. I have completed the lesson for Monkeys Paw and have narrated a short video for students to listen to. The other excerpts which are included just need to replicated for the lesson. I have included a student guide for reference, tone and mood word banks, a worksheet in chart form where students are to complete it for homework and bring back in the classroom for further discussions and peer to peer feedback for improvement.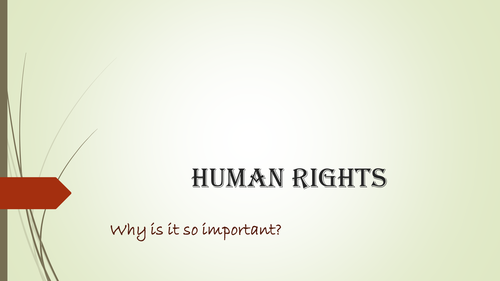 This is a complete 2 x 1hr 1/2 lessons with all the resources you will need to use in and out of class with an inclusive ppt, use in the animated slides, (2 ppt slides including millionaire quiz ). It also includes a utube video I have compiled from Oxfam on Syrian refugees + a Human Rights toolkit I have compiled as well as human rights flash cards and various resources.
This is a complete two part lesson, 2hrs, including the lesson plan for both lessons. It contains a ppt (needs to be shown in the animated slide show version for eliciting whilst teaching) and a variety of tasks, resources and homework sheets.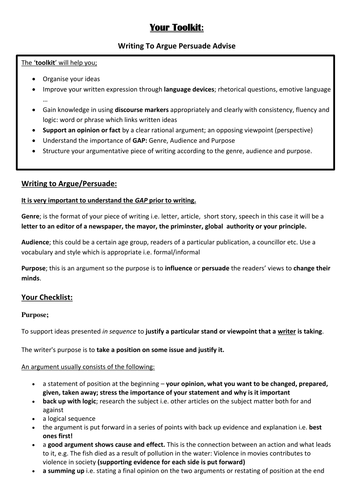 Toolkit is 13 pages and contains everything a student needs to look back on whilst writing to argue. Includes; tips, examples, definitions, word banks, tasks in letter form and answer key as well as mind maps. Also contains a peer review which worked great with students where they read two or three other excerpts and provide positive feedback for improvement. Great for a variety of age groups.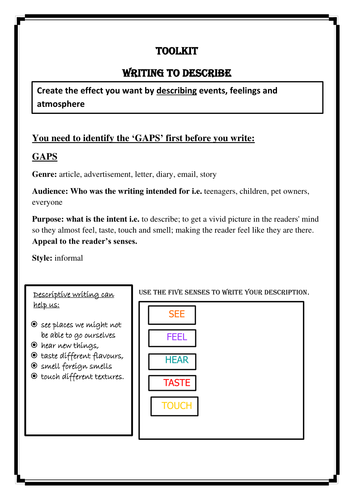 Toolkit is 14 pages and contains everything a student needs to look back on whilst writing descriptively. Includes; tips, examples, definitions, many word banks and sensory vocabulary. Also contains a peer review which worked great with students where they read two or three other excerpts and provide positive feedback for improvement. Great for a variety of age groups.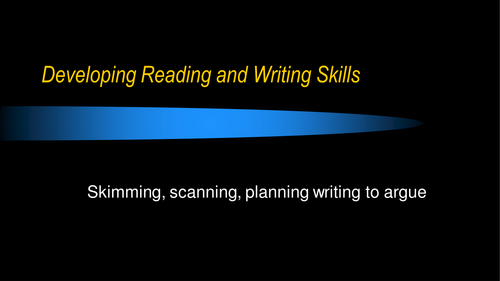 This is a complete 2 x 1hr 1/2 lessons with all the resources you will need to use in and out of class with an inclusive ppt, use in the animated slides version for effects . It contains a toolkit with resources of how to write and analyse an argumentative letter task, if students do not bring in an article on refugees then one is included for skimming and scanning exercise. It is a complete two lesson guide with activities and resources.