Zyra's Shop
I pledge to keep all resources 100% free but ask that you PLEASE leave a review!
15Uploads
992Views
946Downloads
I pledge to keep all resources 100% free but ask that you PLEASE leave a review!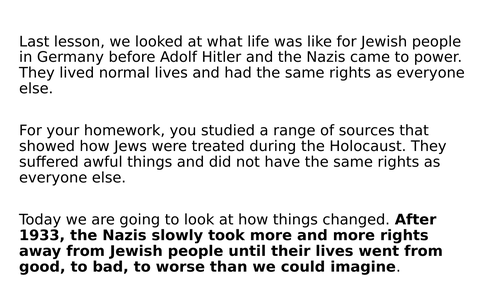 Powerpoint contains information on the Nuremberg Laws, comprehension questions and a higher-order graph activity. Lesson was initially delivered online as part of a Holocaust module. Students each had a copy of the PowerPoint, which they completed their work on to and submitted at the end.
TO FIX FORMATTING ISSUES PLEASE CHANGE FONT TO COMIC SANS SIZE 11 Lesson objective is to weigh up how revolutionary the age of revolutions really was. Created for a mixed ability year 8 class. Handout: provides a very brief overview of changes during the Scientific Revolution, English Civil War, Cromwell's England, Restoration and Glorious Revolution. Glossary: accompaniment to the handout, which gives definition for all the words in bold. Checklist: to be completed after reading the handout and before giving students the scaffolding. Intended to help them summarize the revolutionary and not revolutionary aspects of each topic the handout covers. Scaffolds: one for each topic, I tend to put students in groups of 4 and give one scaffold to each member of the group. To be given to students at the same time as the mark scheme. Mark scheme: to be given to students so they know what to include in their writing, and can peer assess one another. Powerpoint: contains a quick image starter which ensures everyone knows the meaning of the word revolutionary, and a version of the checklist which can be completed as a whole class.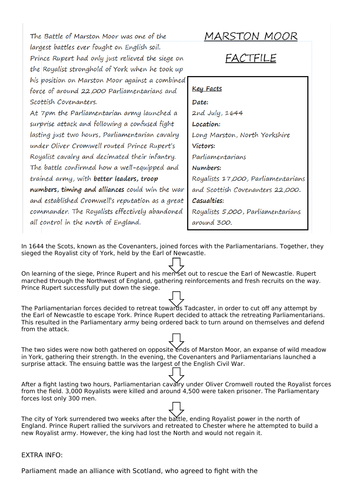 Information worksheet detailing events of Battle of Marston Moor. Powerpoint with Marston Moor exam question. Sources for Marston Moor exam question. Information worksheet detailing events of Battle of Naseby.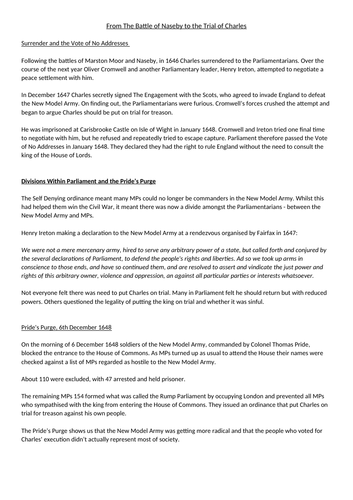 Information handout detailing the Royalist surrender, the Vote of No Addresses and the Pride's Purge. Storyboard activity to be completed after reading handout.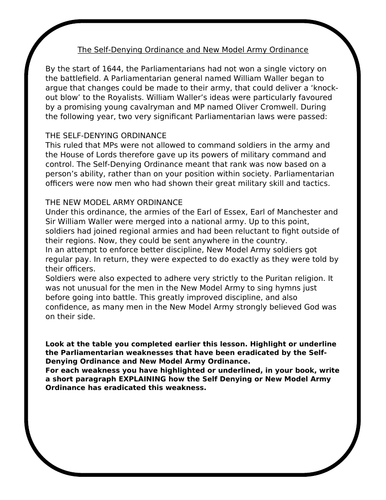 Information handout outlining first three major battles of the English Civil War (Edgehill, Adwalton Moor and Roundway Down) and corresponding table that weighs up Royalist strengths and Parliamentarian weaknesses. Information handout and activity detailing the resultant Parliamentarian passing of the Self Denying Ordinance and formation of the New Model Army.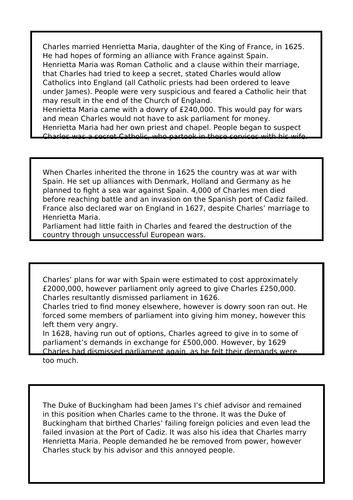 Worksheet recapping the relationship / tensions between James and Parliament during his reign. Sources and table detailing the relationship / tensions between Charles I and Parliament at the beginning / middle of his reign 1625-1637.
Handout with glossary, providing some context and a brief overview of the first three crusades. Glossary definitions in the powerpoint. Why did people go on crusade? grid. Students should colour code "religious" and "non religious" reasons and then conclude whether the Crusades were really holy wars. Initially created for a lower ability year 7 class.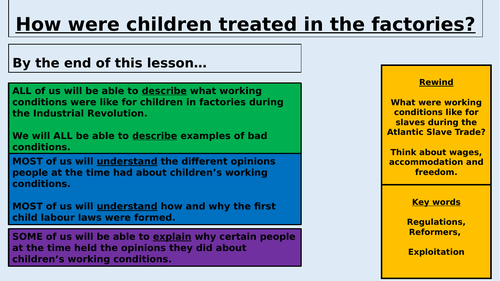 **To fix formatting issues please change font on worksheets to Comic Sans size 12. ** Full lesson covering children's working conditions between 1750 - 1900, various contemporary opinions on child labour (Charles Dickens, Andrew Ure, Karl Marx, Friedrich Engels and John Wesley) and the introduction of child labour laws. Created for a middle ability year eight. Lesson contains a PowerPoint and two worksheets.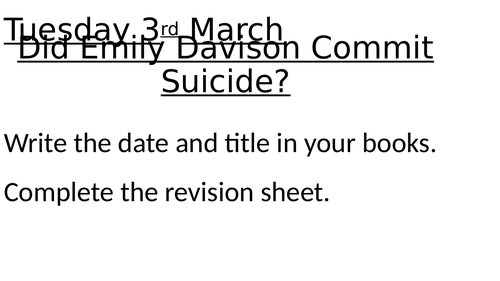 **PLEASE CHANGE FONT ON GAPS SHEET TO BASKERVILLE OLD FACE SIZE 16 AND ON TABLE TO BAHNSCRIFT LIGHT SIZE 12 TO FIX FORMATTING ISSUES. ** Fill in the gaps starter worksheets, covering the Suffragettes, Suffragists and role of women in WW1 (Women's Land Army, munitions factories, etc). Powerpoint containing video detailing events of Emily Davison's death and witness statements. Table of evidence, to be completed in conjunction with viewing of powerpoint. Initially created for a middle ability year 8 class.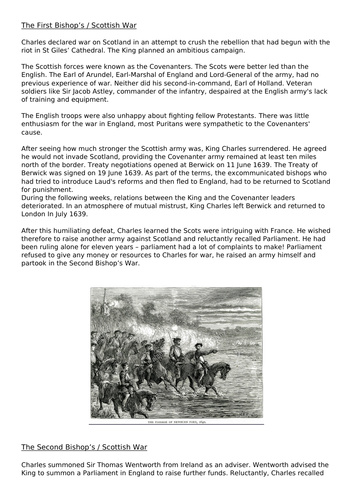 Fill in the gaps worksheets detailing the outbreak of the Bishop's / Scottish Wars, the Short Parliament, the Long Parliament and the Grand Remonstrance. Detailed information handout with comprehension questions on the First and Second Bishop's / Scottish Wars.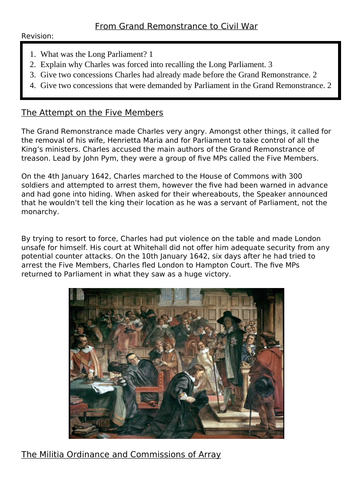 Information handout with questions, detailing events from the Grand Remonstrance to the declaration and outbreak of Civil War. Covers the Attempt on the Five Members, the Militia Ordinance and Commissions of Array and the 19 propositions. Uploaded as a full lesson, however really more of a cover lesson. Initially made for a high ability year 8 class.
Information handout about the Manchurian Crisis 1931-33. PowerPoint containing Legaue of Nations starter activity, an activity to be done using the handout and some exam questions. Worksheet designed to scaffold the exam questions. Originally produced for a KS4 year 10 iGCSE class.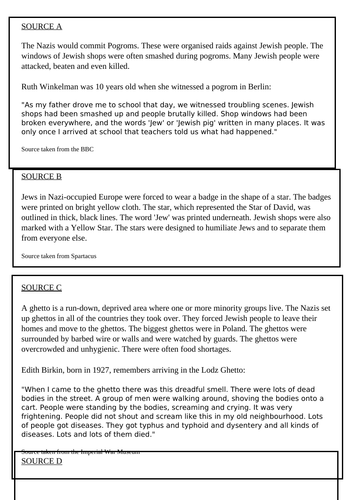 Powerpoint containing enquiry question, starter activity and video. (After pupils have completed the starter activity themselves, I like to do a group version using the handprint on slide 3. To tie nicely into the next activities and better pupils understanding of how genocide relates to identity, make sure the group handprint contains: the things we wear, the things we like to watch and read, the people we love, where we come from / our history, what we look like, where we go, where we live.) Question sheet to be completed whist watching video. (I typically only show 4mins of the video.) Sources on treatment of German Jews during Holocaust and table.
Handout provides information on the border dispute between Finland and Sweden over the Aaland Islands. If studying the dispute as part of a League of Nations module, the attached: How did the League achieve its aims when solving the Aaland Islands dispute? table may also be useful. Intended for KS4. Resources initially created for a year 10 Cambridge iGCSE class.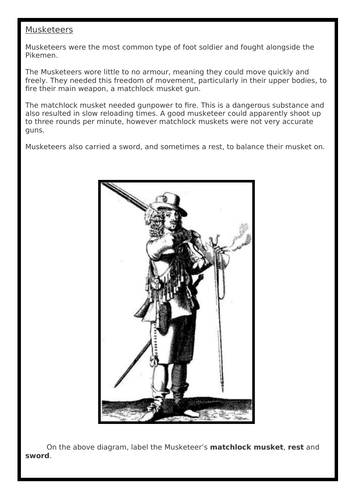 This activity is designed to take 30 mins and gives a general overview of the three main types of soldier in English 17th century warfare. Students complete the worksheets (in order: musketeer, pikemen and cavalry) and require the table for one of the questions. The following lesson goes into more detail with regards to soldiers in the Civil War specifically, covering the Royalist cavalry leaders, and the creation of the New Model Army.