28Uploads
14k+Views
9k+Downloads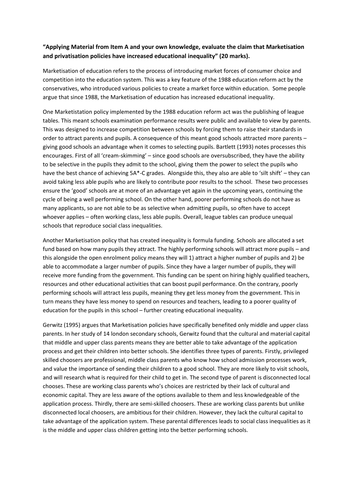 A sample essay I wrote, answering the question: "Applying Material from Item A and your own knowledge, evaluate the claim that Marketisation and privatisation policies have increased educational inequality" (20 marks). To be honest, it's probably a bit lengthy to realistically write as a 20 marker, but has a lot of detail in there. Could even be a sample 30 marker to be honest! This is a pack of lessons that contains all the lessons needed to cover the crime control, prevention and punishment topic. It contains 7 fully planned lessons as well as an 'over view' powerpoint which may be useful for revision. Included is a 10 page workbooklet which follows the PPT's. Any relevant activities are also included. If you feel like something is missing, please do not hesitate to contact me. This bundle covers the family diversity topic, and includes all the powerpoints I have made to deliver the sessions, and the workbook which contains extensive notes and activities that correspond with the powerpoint. It also includes a sample divorce essay.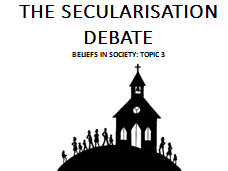 This bundle includes 7 lessons on the secularisation debate covering: - four explanations of secularisation - postmodernism explanations - davie's believing without belonging, hervieu-leger's spiritual shopping, and Lyon's 'Religion Online'. - Religious Market Theory and Existential Security Theory. The pack also includes resources: - Various activities that are in the lesson ppt's - Two workbooks that correspond with the PPT's. - A secularisation sample essay. This pack contains three lessons on social class differences in crime and deviance, covering explanations of why working class offend, and explanations of white collar/corporate crime. It also includes a sample essay for social class differences, as well as a structured essay plan strip. This pack contains 15 fully planned lessons on learning aim A of unit 2 - working in health and social care, which is a unit in pearson's level 3 BTEC health and social care. It contains the following topics: Roles in Health/Social Care Health/Social Care Settings Following Policies and Procedures, healing and supporting recovery, enabling rehabilitation, personal care, care assessment and planning. Empowerment Ensuring Safety Anti-Discrimination Effective Communication Dealing with Conflict Accountability Multi-disciplinary teams Monitoring A revision resource I gave my pupils on crime prevention strategies. Has all three crime prevention strategies detailed, along with evaluative points. Pupils found this really useful. This is a very condensed summary of the families and households topic, it is 9 pages long. I have created it mainly for lower ability pupils to really break down the topic and what is 100% essential, in small memorable chunks. However my higher ability have found it extremely useful as a starting point and a guide for revision. I printed it at a small A5 booklet, and the pupils liked it. It summarises the main ideas of the 6 topics in families and households. Attached are 6 fully planned lessons covering the role / perspectives of the education system. Attached is also a workbook I gave pupils which correspond with the powerpoints. This is a revision booklet I made to give to my year 13's to aid revision. It is a 13 page booklet that summarises all the key topics within crime and deviance - theories of crime, social groups and crime, globalisation and crime prevention control and punishment. Pupils have found it really useful for a starting point for revision, to summarise the key topics in crime and deviance. I printed it as an A5 booklet, and is a useful accessible revision resource. This is a pack of four, fully planned lessons ready to deliver on ethnic differences in crime. Attached is also a statistics activity resource needed for the first lesson, and a sample essay I wrote on ethnic differences in offending.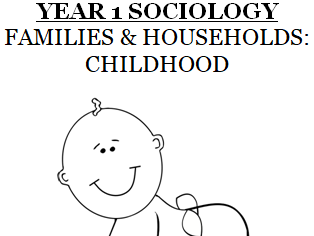 This pack includes 6 lessons, along with the class workbooklet and a sample essay. If you have any issues with resources, or if anything appears to be missing than please do not hesitate to contact me and i'll help you out - abbywilliams2609@outlook.com I have attached all my resources for the crime and deviance topic. They include all my powerpoints, activities, assessment activities, and some sample essays as well. I have attached resources to teach 3 lessons on the debate of religion being a conservative force, or a force for social change. It also has a sample essay plan, and the workbook for the pupils to use along side the lessons.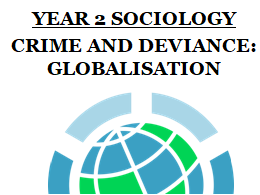 This is a resource pack that contains everything within the globalisation topic of crime and deviance for the AQA spec. The pack involves 15 fully planned lessons that includes Effects of globalisation on crime Green Crime State Crime The Media The pack also comes with a 22 page workbook that follows the powerpoints, as well as activities for the lessons. If you feel like anything is missing that you need for the lessons - please contact me! These are all my lessons on theories of crime - detailed powerpoints, and the workbook I provide pupils with, which has extensive notes and corresponds with the powerpoints. All resources for the lessons are also attached. The resources include two sample essays on marxist theories and realist theories. Lessons are completely ready to use. Included are 6 fully planned, ready to go lessons on gender differences in crime. Attached are resources needed for some of the activities. This download includes 10 fully planned lessons on social class differences in education. Included in the download are - all the activities involved within the lessons (that require a resource). - a sample essay - a 20 page workbook, that corresponds with the powerpoints for pupils to take notes in within lessons. - some sample questions under 'assessment' that I gave to my pupils for their end of topic assessment. If you have any questions or issues, message me! This bundle contains the packs: Perspectives of the family Family Diversity Childhood Roles In The Family Attached are three sample essays for the families and households topic. They are the following questions: "Evaluate sociological explanations in the changes of status in childhood" (20 marks) "Evaluate the reasons for, and the effects of the decline in death rates since 1900" (20) "Evaluate sociological contributions to our understanding of the trends in divorce in the UK since 1970. (20 )