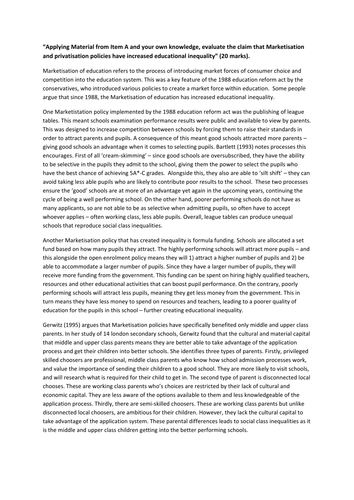 A sample essay I wrote, answering the question: "Applying Material from Item A and your own knowledge, evaluate the claim that Marketisation and privatisation policies have increased educational inequality" (20 marks). To be honest, it's probably a bit lengthy to realistically write as a 20 marker, but has a lot of detail in there. Could even be a sample 30 marker to be honest!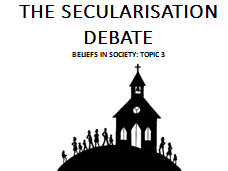 This bundle includes 7 lessons on the secularisation debate covering: - four explanations of secularisation - postmodernism explanations - davie's believing without belonging, hervieu-leger's spiritual shopping, and Lyon's 'Religion Online'. - Religious Market Theory and Existential Security Theory. The pack also includes resources: - Various activities that are in the lesson ppt's - Two workbooks that correspond with the PPT's. - A secularisation sample essay.
Attached are 6 fully planned lessons covering the role / perspectives of the education system. Attached is also a workbook I gave pupils which correspond with the powerpoints.
These are all my lessons on theories of crime - detailed powerpoints, and the workbook I provide pupils with, which has extensive notes and corresponds with the powerpoints. All resources for the lessons are also attached. The resources include two sample essays on marxist theories and realist theories. Lessons are completely ready to use.
This is a pack of four, fully planned lessons ready to deliver on ethnic differences in crime. Attached is also a statistics activity resource needed for the first lesson, and a sample essay I wrote on ethnic differences in offending.
Included are 6 fully planned, ready to go lessons on gender differences in crime. Attached are resources needed for some of the activities.
This is a detailed information sheet containing all the key information needed to know about the marxist theory of crime. My pupils found this resource very useful, after I gave it to them during revision time. Marxist theory of crime is quite a difficult theory of crime to understand, and this worksheet breaks it down for them.
A revision resource I gave my pupils on crime prevention strategies. Has all three crime prevention strategies detailed, along with evaluative points. Pupils found this really useful.
This bundle includes all the power points to deliver perspectives of the family topic within families and households, and includes the workbook which corresponds with the powerpoints, and has extensive notes and activities within it. Attached are resources needed such as a card sort, and carousel activity.
This bundle covers the family diversity topic, and includes all the powerpoints I have made to deliver the sessions, and the workbook which contains extensive notes and activities that correspond with the powerpoint. It also includes a sample divorce essay.