21Uploads
10k+Views
575Downloads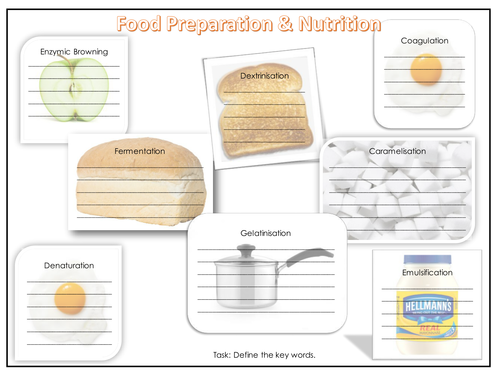 Worksheet to enable students to record definitions of the following Key words: Caramelisation Emulsion Fermentation Dextrinisation coagulation Denaturation Gelatinisation Enzymic browning Perfect for the new Food preparation and nutrition GCSE.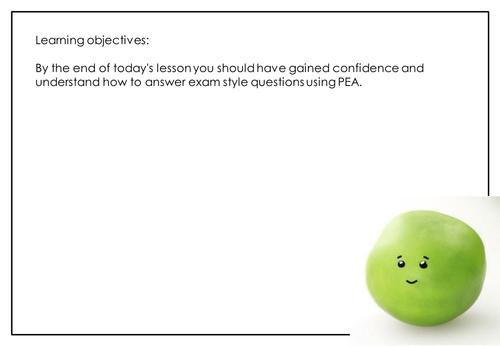 A lesson I have used with a year 10 class introducing the PEA structure when answering long exam questions. 5 tasks which have been set out as group activities but could also be done independently. Explanation on PEA. Helps students to break down long answer exam questions. The exam question and the example of a high level student response I have used in this lesson has been taken from the illuminate digital bundle. Homework sheet included for students to apply what they have learnt in the lesson to answer another exam style question.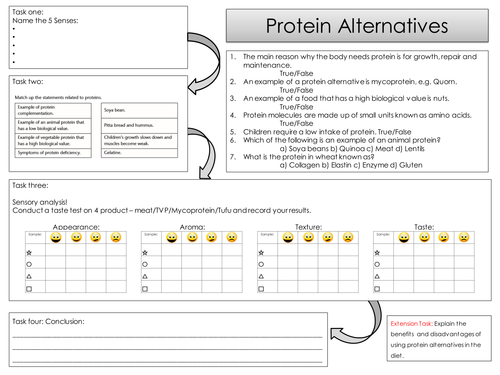 Work sheet used when taste testing a variety of sausages to compare protein alternatives. Students are to conduct a sensory analysis on the 4 following proteins and protein alternatives: pork sausages TVP sausages Tofu Mycoprotein Includes true/false questions, match up activity, starter and extension task.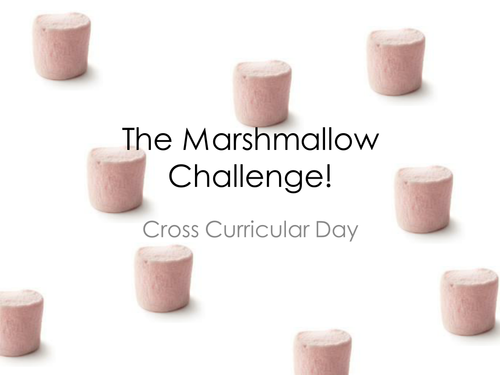 Easy and fun activity suitable for cross curricular days. Can be used across all year groups. Task: Teams of 4 must build the tallest free standing structure in 30 minutes, out of only 20 sticks of spaghetti, a role of masking tape, string and 1 marshmallow. The marshmallow must be on the top of the structure when time is up! PowerPoint includes timers, Rules and Starter Activity.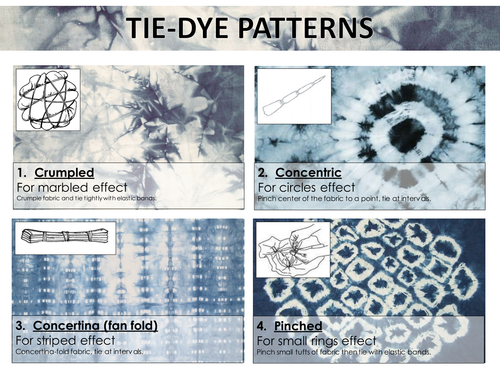 A3 Help sheets including Step-by-Steps/Examples/Method for some of the following decorative techniques used in Textiles: Batik Tie-Dye Heat Transfer Fabric Crayon Block Print Includes an A5 Work booklet - This can be used as individual work sheets after each practical is complete.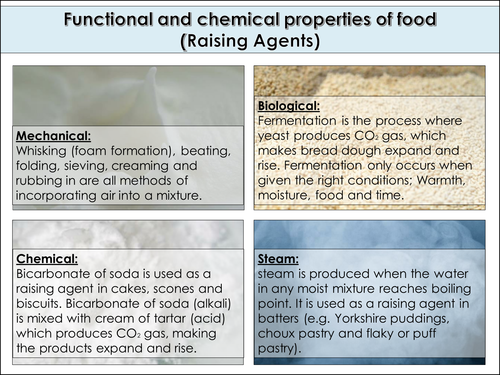 A3 fact sheets. Each sheet gives a definition for the functional and chemical properties of the following: 1. Raising agents 2.Carbohydrates 3.Proteins 4.Fruit and vegetables 5Fats and oils Perfect for use in GCSE food preparation and nutrition lessons with a particular focus to NEA1 Clean clear layout. Ideal for revision or prompts to help students and differentiate lessons. Some definitions and imagery is taken from the illuminate digital bundle.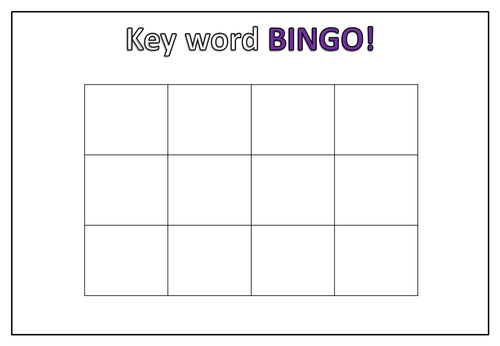 Key word bingo suitable for the new food preparation & nutrition GCSE. Students pick 12 words from the list and write onto their bingo sheet. Teacher reads out the definitions which students must be able to identify on their bingo card. Fun starter activity which helps embed previous learning.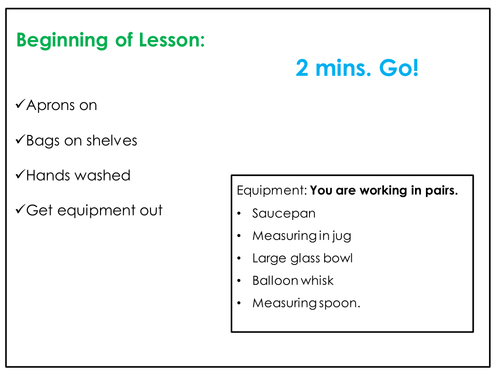 Perfect task for students studying the new GCSE Food preparation and nutrition. PowerPoint includes practical task for students to work in pairs when making eggs benedict and worksheet. Through making eggs benedict students are demonstrating food science: Coagulation, Dextrinisation, denaturation and emulsification. Quick fun activity perfect for recapping or showing a range of skills.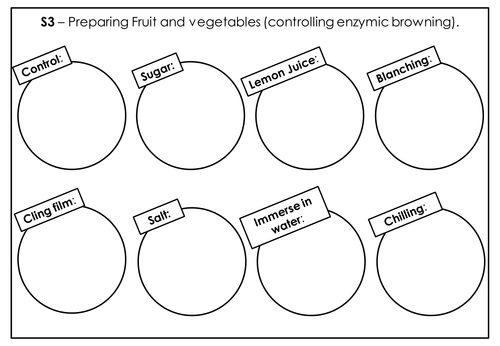 Students to experiment with a range of ways to prevent enzymic browning - laminate worksheet. This lesson was designs for students to experiment with transfer paint to create a variety of samples. These samples were later stitched on and embellished. Students are to paint onto a grid of 6 squares - experimenting with colours/gradient/shapes/patterns etc. They then heat press the samples onto fabric to see what was successful. PPT includes the task/learning objectives and help sheet.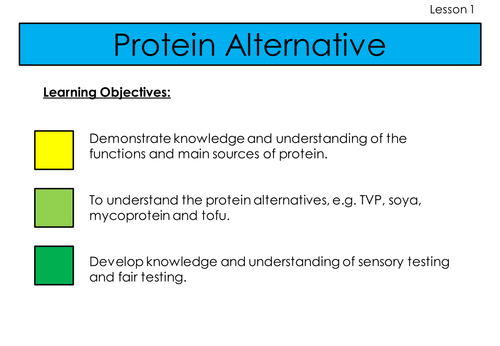 PowerPoint for Protein alternative lesson. Perfect for new Food preparation and nutrition GCSE. Worksheet also available.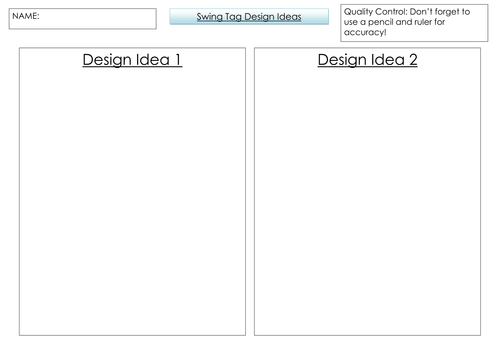 Perfect as a stand alone lesson or to build into a project. Students conduct a product analysis on a given swing tag. They look into what images/information is included. Students then have a quick design challenge to design their own swing tag before using any materials available to create it. I gave each student an envelop of materials which they could cut up/stick/sew together etc. to create their own swing tag, however this could be carried out in a variety of ways.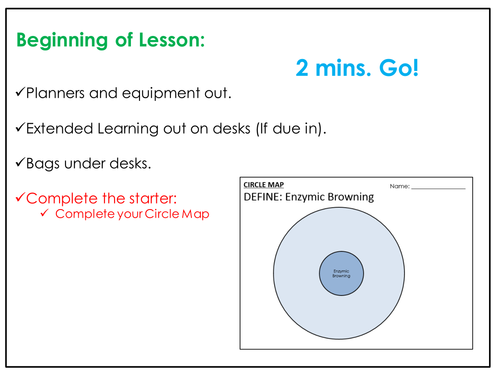 Lesson PPT on enzymic browning of fruit and vegetables. Food science investigation on preventing enzymic browning. Includes worksheets. Perfect for use with the illuminate digital bundle as it refers the illuminate animation - information has been also taken from the book. Perfect for the new Fodd preparation and nutrition course for either years 9 or 10.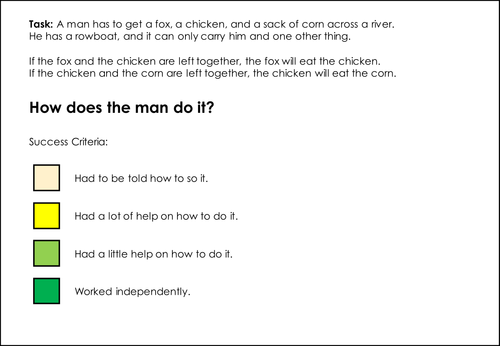 Resource includes a PPT with task/success criteria/ the answer to the puzzle & images to print and laminate for students to work out the puzzle hands on. I have used this with Y11 whilst carrying out their product CA assessment. We then had a discussion about how we could relate the puzzle to the controlled assessment. Task: A man has to get a fox, a chicken, and a sack of corn across a river. He has a rowboat, and it can only carry him and one other thing. If the fox and the chicken are left together, the fox will eat the chicken. If the chicken and the corn are left together, the chicken will eat the corn. How does the man do it?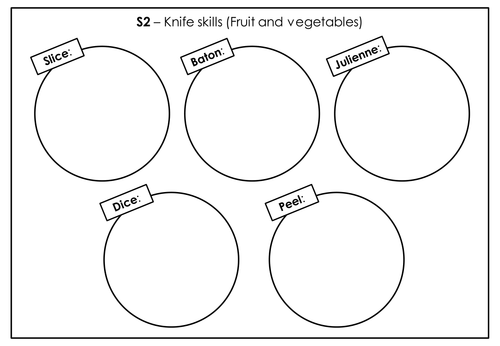 Laminate the sheet for students to demonstrate a variety of knife skills when preparing vegetables.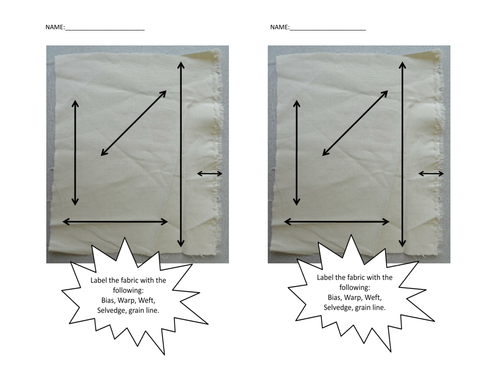 starter task/extension task - label the photograph with the following: Bias, warp, weft, selvedge & grainline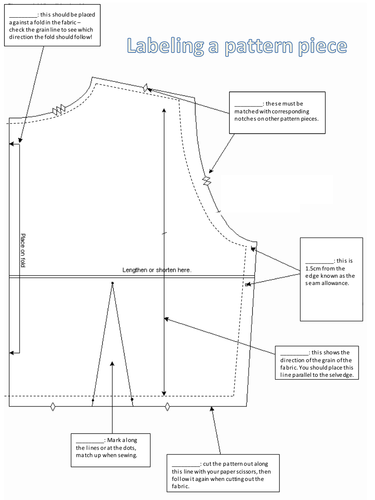 Students identify markings on a pattern piece. Worksheet best printed out on A3 - students then match up the markings or fill in the missing blanks depending on ability.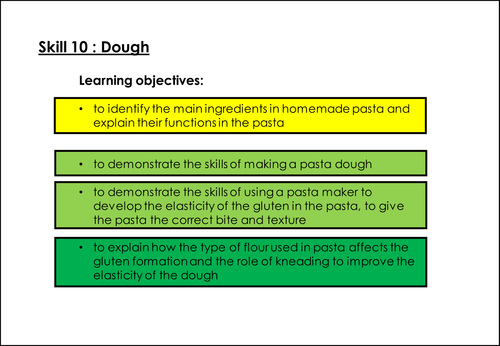 Perfect for preparing students for NEA 2. This lesson gets students to develop their pasta making as well as shaping techniques. It includes worksheets and help sheets perfect to laminate for easy use. Also helps students think about developing skills from basic to more complex. Get this resource free with: NOVEMBERNEWBIE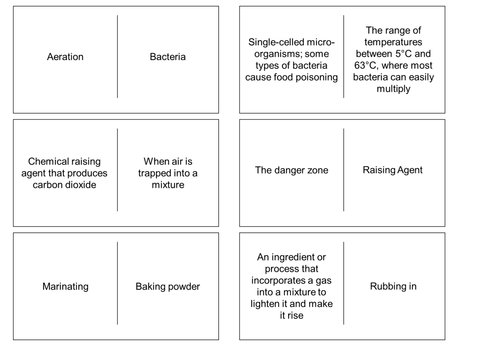 28 dominoes - students are to match up the definition with key words needed for the new food preparation and nutrition GCSE. GCSE Food prep skills sheet: students can visually see what skills they are learning during practical work by recording their recipes.