4Uploads
5k+Views
677Downloads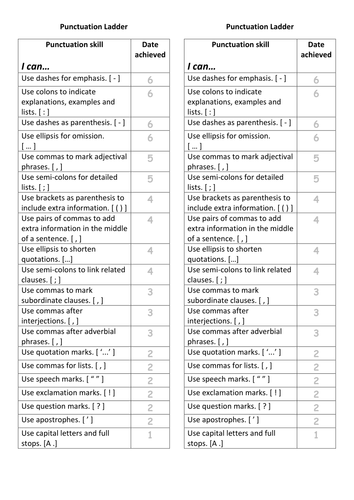 The Punctuation Ladder is an additional resource that can be used in pupils' A4 exercise books. It states 20 different punctuation skills (from the use capital letters and full stops to the use of dashes for emphasis) and shows the grade they would achieve in writing. Skills are graded using 1 to 6, in accordance with the new GCSE grades, and requires the teacher to sign or date the box to show they have met each specific skill. The maximum grade pupils can achieve is Grade 6 with the assumption that pupils will begin to use the full range of punctuation creatively to achieve higher marks. The resource can be used at both KS3 and KS4 level.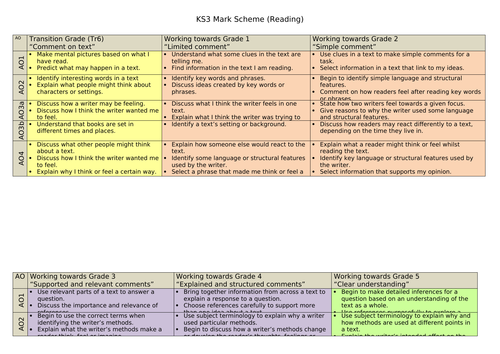 This is a pupil-friendly mark scheme, designed to help pupils transition from levels and understand the new GCSE exam grading system. The criteria is designed for the new AQA English Literature and AQA English Language GCSE which is being taught from 2015 in preparation for the exams in 2017. It covers the new Assessment Objectives in both exams and explains the what is required for each grade. This mark scheme states the current grade system (A* - U) alongside the new grading system (1 - 9) and can be used at both KS3 and KS4. It can be used for both low-ability pupils and the academically more able during peer and self-assessment activities; it encourages challenge and promotes independence in the classroom. This resource contains: One double-sided mark scheme (New GCSE Grades 1 - 8) One differentiated mark scheme ( Including transition steps for pupils below Grade 1) A summary of the new AQA English Assessment Objectives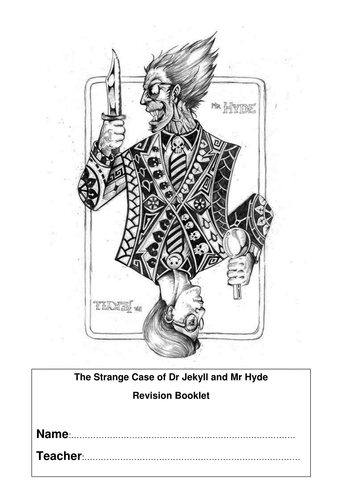 This booklet contains key extracts from the novella, 'The Curious Case of Dr Jekyll and Mr Hyde'. It contains: A short summary of each chapter. Key extracts from the whole text. Space to develop character profiles. Space to explore the themes, motifs and symbols.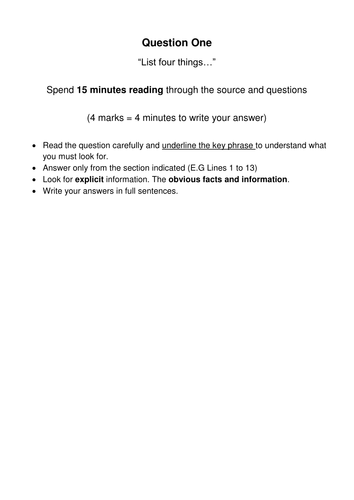 This resource is suitable for the new 2017 AQA English Language exam (Paper 1). It provides pupils with a breakdown of all the questions, the timings, sample responses and guidance of how to answer each question. It also provides a list of the key terminology that pupils need to learn for each question.