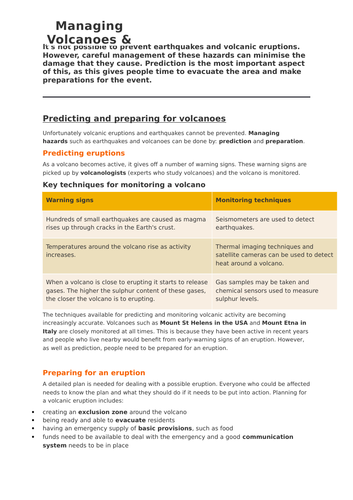 6 fully resourced lessons for the new syllabus. Introduction to Natural Hazards and Tectonic Hazards. Ppt includes video links, animations, knowledge acquisition, activities, practice questions
A single resourced lesson to introduce the concept of Natural Hazards.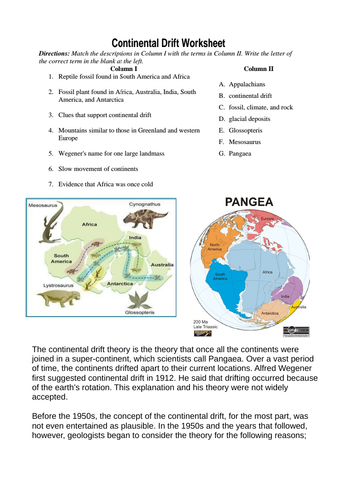 2 resourced lessons to introduce the concept of Plate Tectonics and 4 Plate Boundaries
Ample for an emergency cover, homework, lesson or extension. Questions about continents, finding countries by longitude and latitude, plotting and calculating a journey PLUS a couple of fun activities to motivate students! Requires some sort of atlas, map, or atlas tool to help students name countries.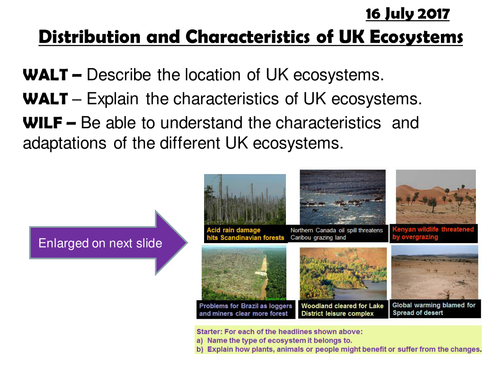 Introduction to the 4 ecosystems of the UK. Students get more familiar with the term "Temperate"; definition and mapping. They then have the opportunity to collate guided research into the 4 sub-ecosystems of the UK (internet required)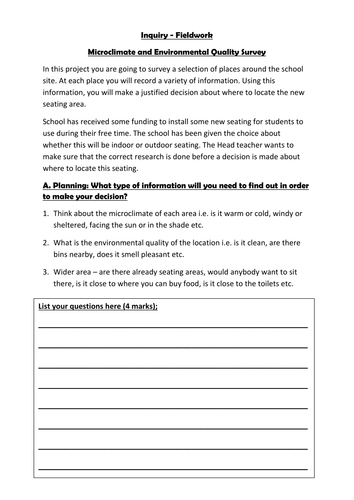 Students have to conduct fieldwork at 3 school locations and make a decision about a new seating area. Opportunities to measure both microclimate factors and also complete an EQI. Can be modified if you do not have anemometers, thermometers or a rain gauge!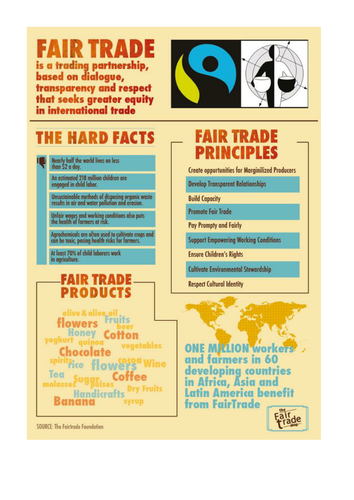 Includes introduction to Fairtrade, Fairtrade bananas (reworked banana split lesson with active learning and an A3 learning mat), Fairtrade coffee. 3 hrs in total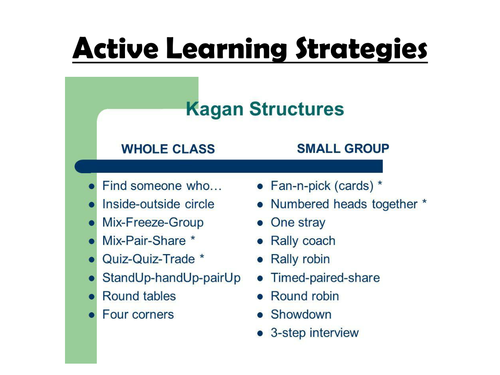 Great whole school CPD to introduce different strategies for Active Learning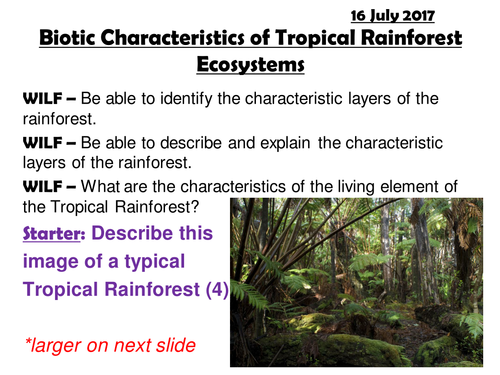 Investigating the different characteristics of the layers of TRF vegetation. Can be run as independent research or done as a carousel activity. Students have a template to fill in re. each characteristic layer.
Various research and fun activities about the 2018 Winter Olympics. 1hour+ - great for end of term or cover lessons. Includes; Research on South Korea; population, flag, different host countries, mascots etc.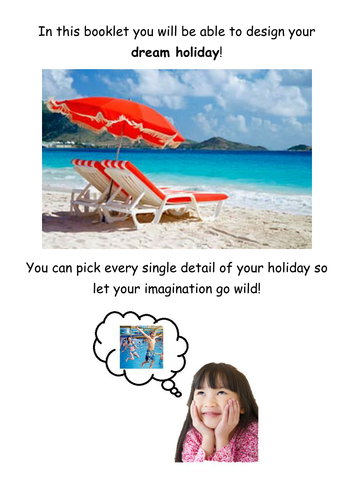 Students get to design their dream holiday destination. They need to research transport, accommodation, activities etc. A nice, easy end of term activity. Also makes a good cover lesson
Various activities about the Japan 2020 Olympics; research activities, mascots, word search, background on ancient Olympics, Paralympics , mascots etc. Would take 1hour+ to complete - great for end of term or for cover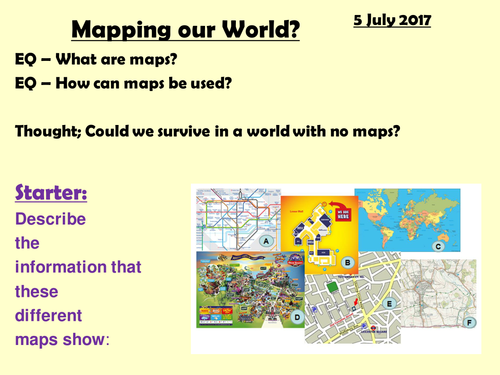 Continents & Oceans, Longitude & Latitude, Grid Referencing (4&6), Scale & Distance, Compass Directions, Contour Lines etc. Assessments are included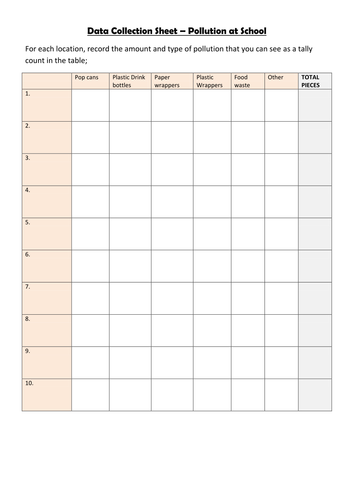 Full unit of 16 lessons, fully resourced. Includes 2 school-based fieldwork opportunities. Useful for KS3. DAMAGED WORLD: ICAN STATEMENTS 1. I can identify different types of pollution at School 2. I can simply describe the process and purpose of recycling 3. I can identify materials to recycle 4. I can construct a message using recycled materials 5. I can define Global Warming and identify contributing factors 6. I can simply describe some effects of Global Warming 7. I can identify a variety of ways of reducing Global Warming 8. I can identify ways in which our school could reduce pollution and Global Warming 9. I can construct a presentation to outline my observations about school's pollution and contribution to Global Warming KEY SKILLS; IDENTIFY, DEFINE, LABEL, CALCULATE, DESCRIBE SIMPLY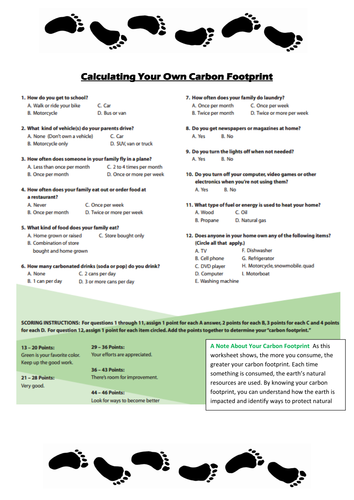 A single lesson, fully resourced. Worksheet to enable students to calculate their own CF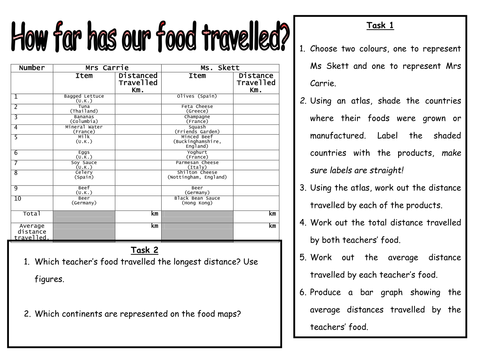 A double lesson where students get to explore food miles and calculate distances. Fully resourced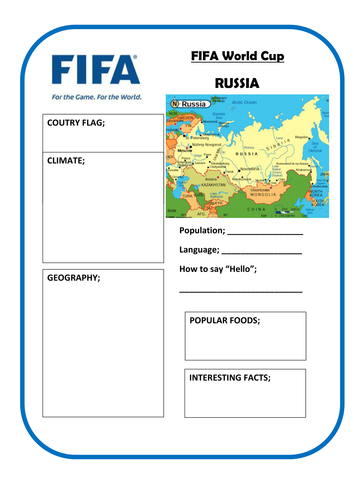 Great for a cover lesson! Single sheet template to research Russia, the host of the 2018 FIFA World Cup
Various activities relating to both the World Cup and the host country. Activities include word searches, country research, past host countries, flag information, mascots etc.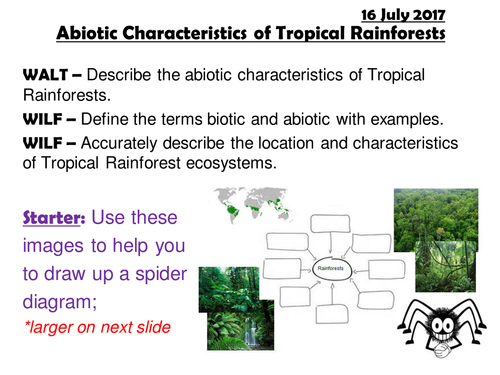 Begins by locating TRF with a global context, and then looks at TRF climate graph. Student independent research worksheet covers TRF soils - questions are very specific and guided (internet required)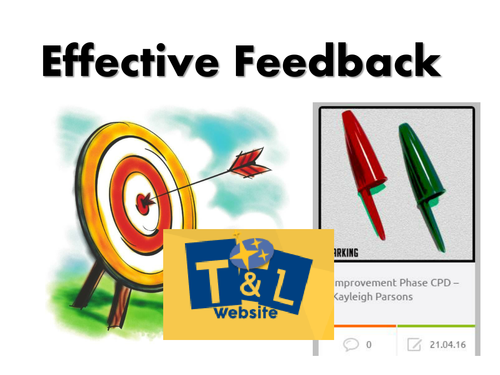 Really good to get teachers thinking about more effective marking strategies. Looks at DDI (Data Driven Instruction) and RAG rating to assist in more effective and meaningful feedback to students. I've had to remove some images of students from the presentation, but am sure you could add your own to personalise this presentation!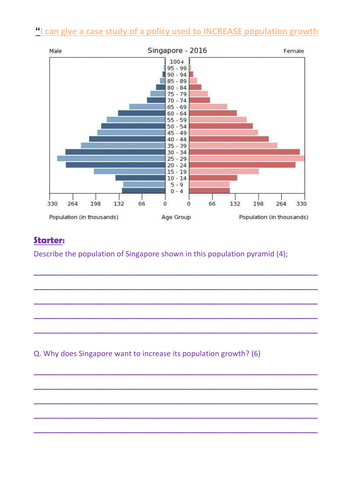 Really engaging lesson on Singapore's pronatalistic policy and their "Mentos Night of Passion" t.v. advert (YouTube link included). Students rated this one of the most interesting things they had learned in GCSE geography!