Amarchie's Shop
AS Media Studies lecturer
12Uploads
3k+Views
2k+Downloads
AS Media Studies lecturer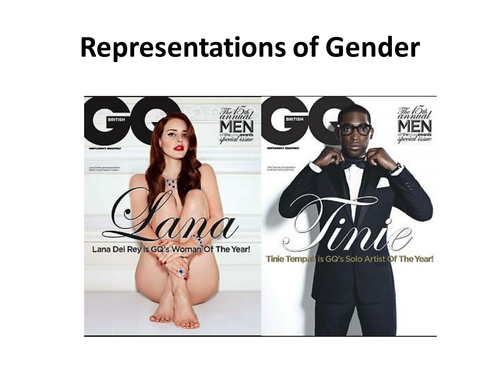 Includes 2/3 AS PowerPoint lessons and case studies. It is based around WJEC spec but can be adapted. Representation of Women Learning objectives are: To explore femininity and how it is represented in the media To understand the stereotypical representations of women in the media To explore the representation of women using case studies from advertising, music and film Looking at traditional ideology Sexual objectification The Male Gaze - Laura Mulvey The Beauty Myth - Naomi Wolf Bodies - Susie Orbach The Madonna/Whore dichotomy False Needs and False Consciousness Magazine/film/music video case studies Modern representation and examples Subversion of the stereotype Convergence Post Modernism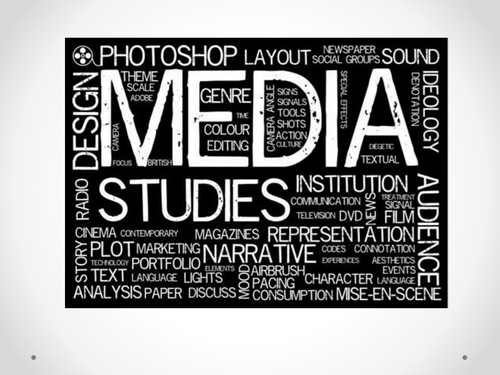 2/3 AS Media Studies lessons on Passive and Active Theories of Media Effect. Objectives: To recap and clarify key terms of theories To further explore, through case studies, the Uses and Gratification Theory Using case studies, to explore and apply the Reception Theory to a media text Passive: Outdated model - hypodermic syringe Inoculation/Desensitisation Models Cultivation Analysis Active: Two Step Flow Audience Appeal Reception Theory Cultural competence Pick and Mix theory Interactive audience Also includes: MS1 Exam question practice Case Studies Uses and Gratifications application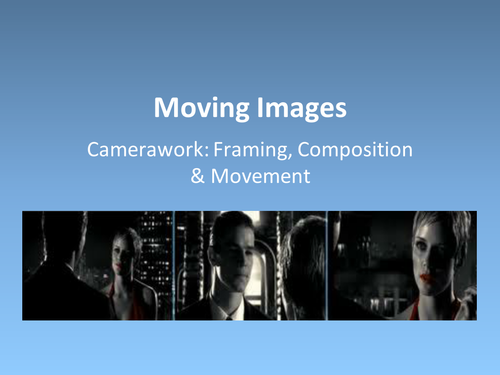 This AS level but could be adapted for GCSE. It features a PowerPoint - with video clips. It also includes a mise en scene quiz & answers and an mise en scene analysis task. Learning Objectives: Introduction to cinematography Understand the concept of 'mise en scene' and to apply the concept to images Introduction to costume, makeup and hair Introduction to lighting and colour Introduction to actors facial expressions and body language Introduction to proxemics Some recapping of camera shots/editing and group research ideas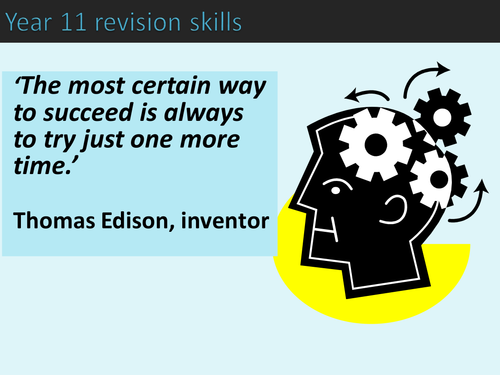 This was developed for a Year 11 GCSE group. It includes a PowerPoint on revision skills with starter activities, a 15 word memory task, revision skills workbook and revision tips. Learning objectives are: To maximise your learning potential by introducing you to: To identify preferred learning style An introduction to a variety of revision techniques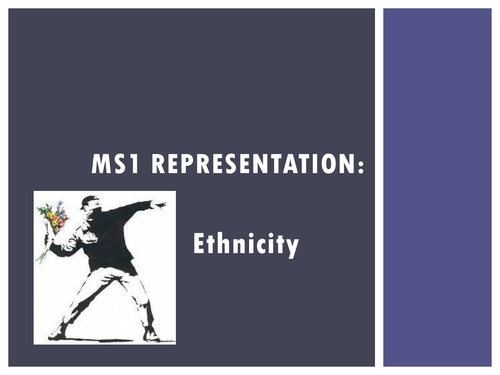 This was an AS level lesson for WJEC syllabus but it could also be used for GCSE and other syllabuses. Learning objective are: 1) Describe the difference between ETHNICITY and RACE 2) Identify issues surrounding the stereotyping of ethnic minority groups in the media 3) Give at least three examples of media texts that offer a dominant and alternative representation of ethnicity in the media 4) Explain what 'tokenism' is and why it is problematic, giving at least two examples Includes case study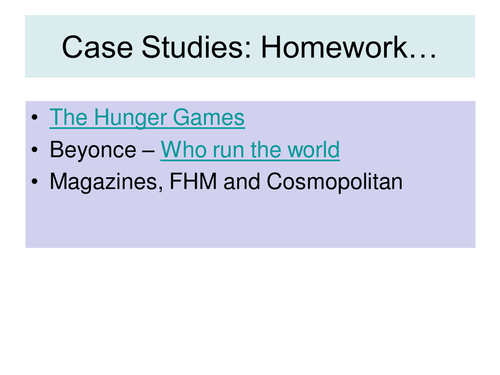 This includes 2/3 AS level lesson of the representation of men in the media . It is designed around WJEC spec but could easily be adapted. This follows on from the Representation of Gender - Women lessons. Learning Objective are: To explore masculinity and how it is represented in the media To understand the stereotypical representations of men in the media To understand how representations change over time. To explore the representation of men in film/TV and advertising – case studies The PowerPoint explores key terms and the issue of representation of men in the media. It also looks at stereotypes that prevail in the media and the concept of masculinity - dating from the 1970s until the present day issues of meterosexuality. The female gaze is also considered with video clip examples. Case studies are included in the lesson. - including representation in TOWIE, film and representation of men in magazines. The lesson also briefly touches in hyper masculinity and violence. It includes revision material and case study ideas. There are also worksheets that link to the lesson.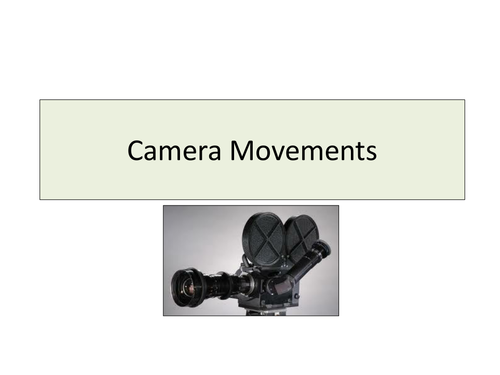 AS PowerPoint lessons on semiotics, audio, camera shots, positioning, framing and editing. It was developed for MS1 WJEC AS level but it could easily be adapted for GCSE and other syllabuses. Resources include: 5 PowerPoints, including semiotics, sound, camera shots, camera movements, camera position and framing, editing Video clips Analysis of Quantum of Solace Worksheets Homework tasks/essay Glossary of Terms Approaches to exam questions Revision crib sheet on semiotics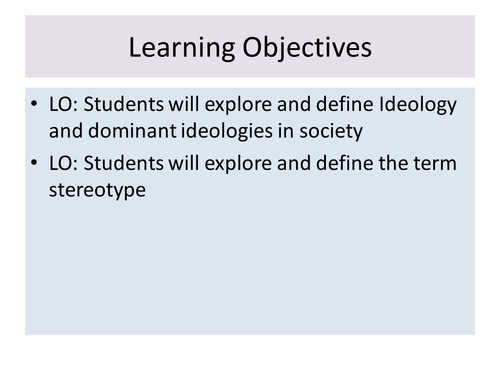 2/3 AS lessons based on WJEC spec but it can be easily adapted. Learning Objectives are: Students will explore and define Ideology and dominant ideologies in society Students will explore and define the term stereotype Students will be introduced to representation Students will explore Mediation theory Includes: Worksheets and hand outs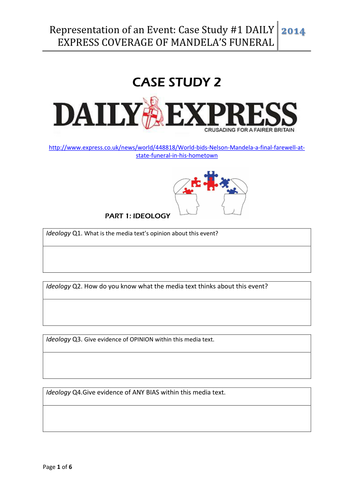 Representation of an Event: Case Study #1 DAILY EXPRESS COVERAGE OF MANDELA'S FUNERAL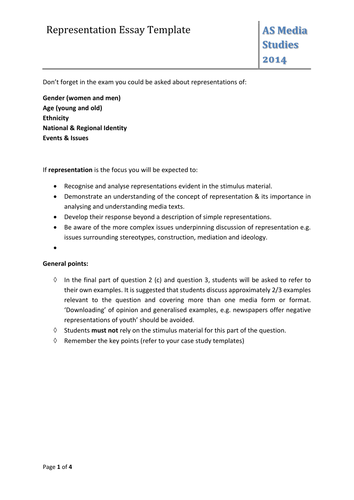 Developed for AS Media Studies - WJEC MS1 spec. Designed to help students complete representation essays - giving them hints and structure for the essay. • Recognise and analyse representations evident in the stimulus material. • Demonstrate an understanding of the concept of representation & its importance in analysing and understanding media texts. • Develop their response beyond a description of simple representations. • Be aware of the more complex issues underpinning discussion of representation e.g. issues surrounding stereotypes, construction, mediation and ideology.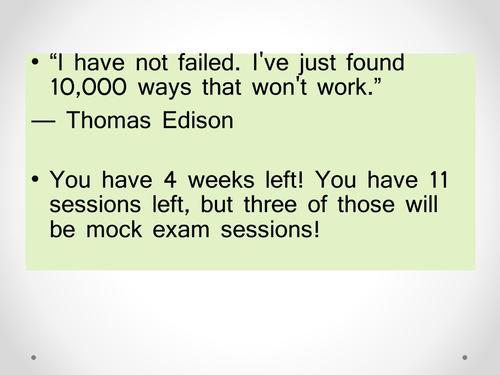 2/3 AS Media Lessons. This was developed for MS1 WJEC spec but could be adapted. Learning Objectives are: By the end of the lesson you will be able to: Explain 2 media representations of youth relating to the representation of youth as delinquent, trouble/fun and alternative positive representations - using Case Study Template Explain 2 media representations of old age, relating to the negative representation of the elderly in the news and positive representation in Print media - Saga Front page, using Case Study Template Complete representation essay template in groups (3/4) and write up essay individually Includes Case studies Theories - Stuart Hall Moral Panics Dominant representations of youth Positive representations of youth Older Age - definition and ideology Homework tasks Essay template