A tricky topic to teach, lots of examples using easy functions and how they are transformed.
Using the new specification, this is the first of a series of tests that will continually test and repeat topics. The first of these tests include: Two Way tables Venn diagrams Scatter diagrams Standard form Averages from a table Pie charts Pythagoras Theorem Bearings Subsequent tests will revisit these topics continually, ensuring repetition of key topics.
A pacey resource taking you through the basics of solving equations up to unknowns on both sides and brackets. Presentation only, page numbers relate to a textbook.
A presentation to encourage students to discuss variables and their connections, recognition of shapes of graphs, and a simple introduction to plotting and lines of best fit.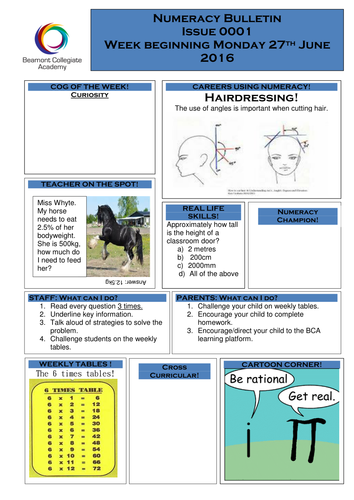 Here is a template that can be used to create a numeracy bulletin. Fully editable with some ideas of section headings.