Anamcaracat's Shop
My resources are designed to educate, empower, and inspire students.
12Uploads
2k+Views
69Downloads
My resources are designed to educate, empower, and inspire students.

Product Description I started using the documentary style film The Secret, which is based on Rhonda Byrne's book, more than ten years ago in the secondary classroom, and I've yet to find a more engaging topic for argument. I've used it with various grades and multiple demographics over the years, and every class has been completely captivated, enchanted from beginning to end. The basic premise of The Secret is that thoughts and feelings are energy and people "attract" situations, people, things, etc. based on the individual "frequency" they emit. If a person has a habit of thinking—and therefore feeling—negatively, this will be reflected in his or her life by attracting negativity. Likewise, if a person has a habit of thinking—and therefore feeling—positively, this too will be reflected in his or her life by attracting positivity. This concept is coined as "the law of attraction." It's an intriguing concept that is certainly worth exploring and debating, but most importantly for your students—it's INTERESTING, which means they genuinely pay attention to the related lessons and exercise critical thinking skills. Whether students decide to argue for or against the LOA is irrelevant. What's important is that they are exposed to a potentially life-changing way of thinking (positive thinking can never hurt), and they simultaneously learn how to structure an argument. It's a win-win for everyone involved. After students watch the film, I have them research counter claims on the internet to read some opposing views. I simply instruct them to Google phrases like: the law of attraction hoax, or the law of attraction delusion. Then, once they have a balanced perspective, I ask them to reflect on their own lives and decide for themselves if they want to argue for or against the LOA based on their experiences, observations, and knowledge. The film is available on Net Flix. If you don't have a Net Flix membership, you can sign up for a free monthly subscription and use it with your class within their 30 day trial period offer. Net Flix will send you a reminder to cancel before 30 days is up. Or, you can find the DVD on Amazon for around five bucks. I've ordered multiple copies over the years because I've lent it out or given it away so many times. The book by Rhonda Byrne is also available (you can usually find copies on Amazon for around four bucks), but the film is incredibly engaging, so I opt for the media version. IN THIS BUNDLE YOU'LL RECEIVE: ~ 10 detailed daily lesson plans + CC Standards for grades 9-12 ~ Suggested film prompt: Documentary style film: The Secret (available on NetFlix) ~ Film summary ~ Film comprehension questions (27) ~ Argumentative essay structure guide ~ Exemplar argumentative essay ~ Argumentative essay rubric

Looking for a positive and engaging Bell Ringer to start every class period? You and your students will LOVE Birdseed! Birdseed is a quick 5-10 minute daily activity that fosters social-emotional intelligence and is endorsed by New York Times best-selling author and positive psychology guru Shawn Achor, by The Colorado Department of Education, and by psychologists, teachers, and students worldwide. *Paperback available on Amazon *the eBook is free for Kindle Select members Inside, you'll find a collection of THE BEST 365 inspirational quotes, (organized by theme for quick reference) along with a novel way to use them on a daily basis in any classroom. This is an activity every teacher in any grade (ideally 4-12) can use to create an environment conducive to authentic learning. Birdseed is more than a collection of extraordinary quotes and journal prompts. It's a tool that guides teachers towards transforming the classroom atmosphere and engaging students in an authentic learning process. The brilliant activity shared in this book addresses the social-emotional domain, which allows for a balanced approach to education and genuinely prepares students for success within and well beyond the classroom. Author and veteran teacher Anam Cara Cat understands the relationship between emotional intelligence and academic achievement and offers an innovative strategy to educate, empower, and inspire today's youth. The daily activity shared in this book offers a wealth of benefits: * Smooth transitions into class * Daily structure *Strengthens socials skills & fosters character development * Orients students' minds for joy and success * Establishes lines of communication between teacher and students * Creates a safe and welcoming environment for students * Strengthens sense of community within the classroom * Promotes critical thinking and self-awareness * Encourages reluctant writers * Ideal for primary, middle, and high school settings More than a decade of teaching has allowed me to recognize the greatest epidemic plaguing today's youth. No, it's not drugs. It's not risky sex. It's not violence… It's sadness. So many of our kids are depressed, hopeless, and lack all sense of purpose. They don't realize (because many adults don't realize) that happiness is a life skill that can be learned, not an inherent trait that is fortuitously embodied by the lucky few. Neuroscientists and psychologists know that the brain can be rewired to operate from an optimistic, healthy, and proactive paradigm. Our kids should know this too. As parents and teachers, we must prioritize teaching Happiness above all else because it's the foundation, and ultimately the springboard, for any definition of success. Inside this book, you'll also find a unit outline for teaching happiness.

60 Pages of Resources: Editable Word Document: Few novels are as engaging--especially to reluctant readers--as The Five People You Meet in Heaven by Mitch Albom. Students find the major themes in this novel relevant in their own lives, and in my 12 years of teaching, I have yet to have a student who hasn't enjoyed and learned from this text. ♥ In this bundle you will receive ♥ : Anticipation guide (5 group discussion prompts) Final Exam/ Comprehensive Comprehension Questions (20 questions) Three essay prompts with three essay structure guides with sentences stems and sample introductions and conclusions 30 DOL (daily oral language) paragraphs + Teacher Key + clause handout Three creative project choices Five "section summary" writing prompts Essay rubric Summary rubric Literary term guide (blank: students must complete after reading novel) + Teacher key Reading comprehension strategies handout Two lesson plans with CC standards grades 9-12 ♥ ♥ ♥ BONUS OFFER ♥ ♥♥ Once this bundle is downloaded, you will be directed to receive your FREE eBook: Birdseed: A Guide to Teaching Emotional Intelligence in the Primary & Secondary Classroom: Daily Activity to Foster Social-Emotional Development & Personal Growth. Birdseed is endorsed by The Colorado Department of Education, by positive psychology guru and best-selling NY Times author Shawn Achor, and by psychologists, teachers, and students worldwide. Inside, you'll find a collection of THE BEST 365 inspirational quotes, (organized by theme for quick reference) along with a novel way to use them on a daily basis in any classroom to foster character development. This is an activity (referred to as "Birdseed") every secondary teacher can use to create an environment conducive to authentic learning (Have a closer peek at Birdseed in my store.). **This bundle is also included in my The 7 Habits of Highly Effective Teens bundle!

BUNDLE CONTENTS: ✔ 302 pages of material ✔ 90 Engaging Paragraph Prompts: 30 Narrative, 30 Opinion, 30 Expository ✔ Each prompt includes a page for brainstorming, a reminder checklist, a page for the rough draft, and a page for a final draft ✔ Two Writer's Notebook color covers (one boy & one girl) + Two black and white covers (one boy one girl) that your students can color and personalize themselves ✔ Page describing the difference between personal narrative, opinion, and expository writing ✔ Oral Peer Review Guide ✔ Written Peer Review Rubric ✔ Self-Editing Checklist ✔ Transition Words and Phrases page ✔ Paragraph of the Week Teacher Rubric ✔"What the Heck is a Clause?" handout that explains dependent vs. independent clauses + practice worksheet and teacher key ✔ "About Your Paragraph" page that describes the parts of a paragraph including introduction, supporting paragraphs, and conclusion, and explains the importance of transitions and the use of figurative language + sample paragraph ✔ Two highlighted Paragraph Structure Guides ✔ Figurative Language Mini Lesson: Includes definitions and examples of simile, metaphor, and personification + Two worksheets: One ten question handout wherein students practice identifying similes, metaphors, and personification and one ten question handout wherein students practice using similes, metaphors, and personification ✔ SIX highlighted Exemplar Paragraphs

TEN WEEKS OF INSPIRATIONAL WRITING PROMPTS Address the social-emotional domain while strengthening your students' writing skills. These paragraph prompts can be used as daily or weekly writing exercises and are ideal for an Advisory, Health, LA, or PSHE class. They also easily lend themselves as essay prompts, depending on your students' needs. In this bundle you will find: 1.TWENTY paragraph prompts (two for each topic) related to: Integrity Kindness Discipline Passion Gratitude Positive Thinking Compassion Perseverance Courage Goal-Oriented Mindset *Each prompt includes a short color-coded structure guide for reference and suggestions to help struggling writers with content and organization (can be edited out for experienced writers). *Highlighted advanced vocabulary (can be edited out for experienced readers/writers) 2. An Editor's Checklist 3. 4-Point Paragraph Rubric 4. One Exemplar Paragraph 5. Related Common Core Standards for Grades 7,8, + 9/10 6. Lesson plan template Delivered in Word format so you can easily edit for your students' needs. 27 PAGES Keywords: Emotional Intelligence, middle school writing prompts, high school writing prompts, Health writing prompts, character education curriculum, EQ, paragraph of the week middle school, paragraph of the week high school, daily paragraph exercise

100 reprintable, original, inspirational quotes can be used for fun as "daily fortunes," journal prompts, exit tickets, or ice breaker activities. Simply print the quotes out on colored paper, cut and fold, and toss them in a basket or jar. As students enter or leave the classroom, have them grab a "fortune" for a daily dose of inspiration. I've done this in my classroom for years, and the kids LOVE them! I always hear them saying, "This is exactly what I needed to hear today!" I share detailed ideas on various ways to use them in the classroom. Even the teachers can't resist sneaking a daily fortune! Enjoy!!!

Web Based Project Based Unit Ideal for Secondary ELA, PSHE, Life Skills,Social-Emotional Learning, Independent Study, & At-Risk Youth NO BOOK NEEDED–WEB QUEST Student-Centered Guided Research/Web Quest Project on the Art & Science of Happiness Engaging 14 Week Secondary Unit + Daily Lesson Plans NO PLANNING FOR THREE MONTHS! NO TEXT BOOK NEEDED–GUIDED WEB QUEST Aligned With ELA Common Core Standards Grades 9-12

Product Description Getting to know the students and making them feel cared for and welcomed is every teacher's goal. This combined coloring and writing activity will be enjoyable for your students while providing you with insight into their minds and hearts. It also serves as an informal writing assessment! In this completely editable Word document you will receive: * Two black and white covers your students can color themselves (one boy and one girl) * Two color covers (one boy one girl) * One welcome page (you can easily edit to add your name and or personal message) * One page with seven questions to prompt thoughtful reflection and share valuable insight (see preview)

Pre-K - Kindergarten-First Grade-Second Grade Your students will love coloring their own ABC cards! You can print these on paper or card stock for a ready-made activity and fun learning resource. * Six black and white cards per page ~ Letters A-Z * Each card displays upper and lower case letter as shown in preview * Each card measures 3 x 3.5 inches * Six gender-neutral art themes/borders: animals, sea life, cosmos, school, sweet treats, sports (shown in preview) * Three extra cards with words: My ABC Cards, which students can paste in word journals * Hand drawn, custom made, copyrighted images * Please note, these are hand drawn images (not computer generated) and have a sketchy feel to them as seen in preview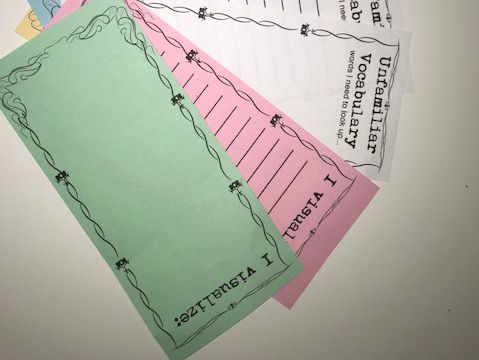 In this 20 page mini-bundle you will receive: * One student handout listing reading comprehension strategies (editable) * Ten printable bookmarks, which can be printed on card stock or paper Seven of the bookmarks have individual comprehension strategies listed at the top including: -Background information -I visualize -I predict -Connections -Inferences -Unfamiliar Vocabulary -Questions Students can write or draw on these bookmarks as they read and focus on this particular strategy. The other bookmarks have all 7 strategies already listed on a single bookmark or say Comprehension Strategies at the top and are blank so students can fill them in themselves. * I print the book marks on card stock or colored paper and direct the students to use them when we are focusing on particular reading comprehension skills. Once they learn to pay close attention to each individual strategy, they are able to integrate all strategies simultaneously while reading. As you'll see, each bookmark has a lined version and a blank version. I print on both sides of the paper (or card stock) to allow students to choose how they want to record information, which accommodates various learning styles. For example, some students will want to write what they are visualizing while others will want to draw it, and so forth.

Deisgned to use with anchor texts: Life Strategies for Teens by Jay McGraw and The Five People You Meet in heaven by Mitch Albom Based on Life Strategies for Teens Eleven Week Unit + ALL LESSON PLANS AND The Five People You Meet in Heaven Ten Week Unit + ALL LESSON PLANS NO PLANNING FOR FOUR MONTHS! Looking for curriculum to support your students' social-emotional growth? You found it! This 17 week—458 Page English Language Arts bundle is a compilation of 300 hours of planning. UNIT 1) Eleven Week Unit for 90 Minute Class Period for Life Strategies for Teens + Daily Lesson Plans UNIT 2) Eight Week Unit for 45 Minute Class Period for The Five People You Meet in Heaven + Daily Lesson Plans Depending on your class period, this curriculum will serve you for an entire quarter or semester and can be used as ELA, Homeroom, Health, or Character Education curriculum. UNIT 1 DESCRIPTION: My students say they like how McGraw "talks turkey." I explain that the book is written by Dr. Phil's college-age son Jay, and this grabs their attention. IN THIS UNIT YOU WILL RECEIVE: —11 weeks of detailed daily lesson plans with Common Core Standards for grades 9-12 on each lesson plan —Comprehension questions for each chapter in Life Strategies for Teens —Pre/Post assessment on concepts in text —60 DOL Paragraphs + teacher/student KEY —"What the Heck is a Clause" handout —Anticipation guide/activity —Two reflective essay structure guides —Exemplar essay —Reflective essay rubric —Exit ticket —Reflection feedback handout —TWENTY paragraph prompts (two for each topic) related to: Integrity Kindness Discipline Passion Gratitude Positive Thinking Compassion Perseverance Courage Goal-Oriented Mindset *Each prompt includes a short color-coded structure guide for reference and suggestions to help struggling writers with content and organization (can be edited out for experienced writers). *Highlighted advanced vocabulary (can be edited out for experienced readers/writers) An Editor's Checklist 4-Point Paragraph Rubric One Exemplar Paragraph Related Common Core Standards for Grades 7,8, + 9/10

Pre-K, Kindergarten, 1st grade, 2nd Grade, Your students will love coloring their own ABC cards! You can print these on paper or card stock for a ready-made activity and fun learning resource. * Six cards per page ~ Letters A-Z * Each card displays upper and lower case letter as shown in preview * Each card measures 3 x 3.5 inches * Six gender-neutral art themes/borders: animals, sea life, cosmos, school, sweet treats, sports (shown in preview) * Three extra cards with words: My ABC Cards, which students can paste in word journals * Hand drawn, custom made, copyrighted images ♥ Per my policy, you receive my peace of mind promise with your purchase: As a professional writer and seasoned teacher, I take pride in my work and go to great lengths to bring you quality material at a fair price. If for any reason you are not 100% happy with your purchase, you can contact me via email, and I will fully refund your purchase. I want you to purchase this product with complete confidence, and I stand behind my work. If you're not happy, I'm not happy.♥ Search terms: Word Wall, ABC Word Cards, Alphabet cards, coloring activities, coloring page, learning letters,