15Uploads
2k+Views
1k+Downloads
Home Study Pack designed for school closure. This is S1/S2 level, it includes some grammar notes and should be easy for pupils to complete on their own without teacher input ! Covered in this booklet : School subjects Opinions Time Facilities Uniform Vocab pages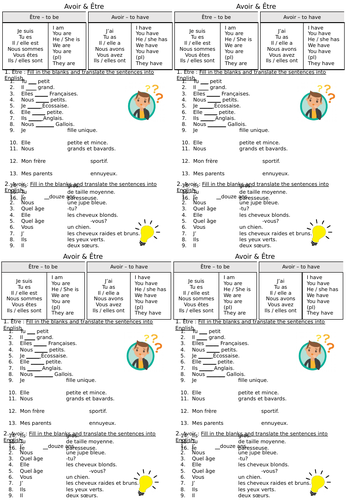 Avoir and Etre mini worksheet for S1, ideal after introducing verbs to play with verb pattern. 4 on one page.
Home Study Pack designed for school closure. This is S1/S2 level, it includes some grammar notes and should be easy for pupils to complete on their own without teacher input ! Covered in this booklet : Food and drinks Opinions Quantities Shops Vocab page
This resources can be added to my booklet on food and drink or used independently as long as vocab has already been introduced :) Covered in this worksheet : quantities ordering food at a restaurant (very basic)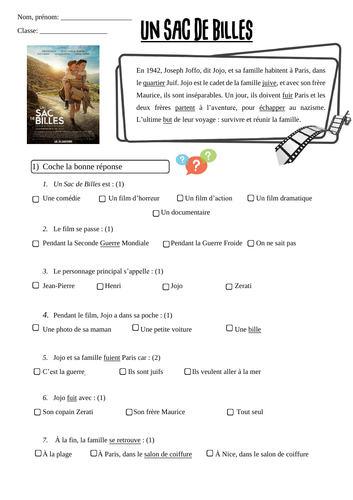 Little questionnaire about the French film "Un sac de billes"! (multiple choice questions)
This is an escape game on the topic of school subjects and opinions. It probably takes about 5-7 minutes to complete, according to level of comfort with the topic :) I was told it works better on chrome than mozilla. If students do it from phone / tablet, they can move the screen around and zoom in/out to see the content better. I believe you can edit your own version as well if you want to change some of the phrasing or language !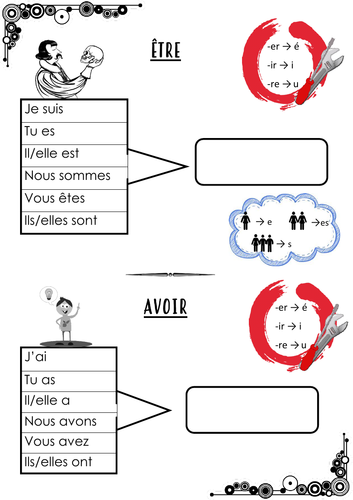 To help build the passé composé. How to use : Put your verb in the empty box, look at the tool box and take what you need (eg : ir verbs, take away the ir and replace with i) and for etre, use the second tool box for gender. Irregular verbs at the back. Laminate and re-use with all your classes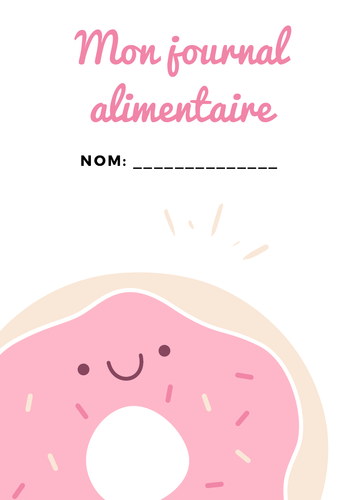 French food diary with vocab, reading exercise, 2 simplified recipes and self evaluation.
Reading for S1 on personality traits, different tasks on 1 page !
Draw your own football kit template + some info / vocab about Italian football. I'm not an expert but inherited someone's personal choice's class and had to improvise. Feel free to use, reuse and adapt !