Political Pam
AQA Government and Politics and AQA RE Teacher.
82Uploads
9k+Views
4k+Downloads
AQA Government and Politics and AQA RE Teacher.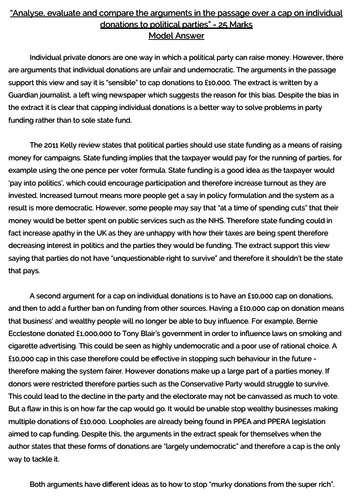 A model answer to the question: Analyse,evaluate and compare the arguments in the passage over a cap on individual donations to political-parties 25-Marks

Two powerpoints/lessons introducing students to the ideas of moral philosophy and normative ethics in particular. A worksheet also included.

A powerpoint presentation containing two lessons worth of material focusing on labelling and pupil identities in relation to ethnicity (Archer and Mirza). Two work sheets to be used alongside are also attached. NO LESSON PLAN ATTACHED.

An introduction lesson to Theme F. Covers issues such as: Wealth, Relative Poverty, Absolute Poverty, do the wealthy have a responsiblity to look after the poor. I do not own the video in the lesson - link in the PPT notes section. We teach Christianity and Hinduism but can be adapted for your chosen religions.

A lesson that looks at the definition of human trafficking and what modern slavery looks like in the UK. I DO NOT OWN THE RIGHTS TO THE VIDEO.

4 Lessons covering: PM, Cabinet, Ministers, Civil Servants, and Responsibility

One PPT (two lessons) and a work sheet on the problem of evil and the responses to it.

A bundle of lessons with worksheets and powerpoint's to support the teaching of AQA government and politics - UK. To be used in conjunction with Hodder Education's Fifth Edition UK book.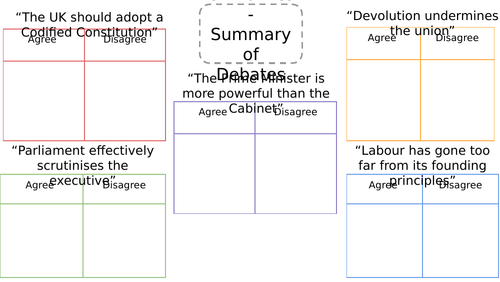 Three A3 debate sheets to help pupils consider balanced arguments for all three papers covering a variety of topics across the papers. For paper 3 our optional Ideologies are: feminism and anarchism - but the document can be easily amended.

A lesson about Social Injustice. It looks at Gandhi and MLK's views on Social Injustice. It also covers different types of discrimination based on protected characteristics. Short answer questions included as well.

Two 25 Mark essays - model answers. The questions are: "The issue for feminists should not be equality, but the recognition of difference." Analyse and evaluate the importance of this statement in reference to key thinkers you have studied- 25 Marks "The personal is political" Analyse and evaluate the importance of this statement in reference to key thinkers you have studied- 25 Marks

6 lessons covering: Conservative, Labour, Liberal Democrats, Role of Parties, Media and parties

Computer room lesson which encounters functions of select committees, an extensive 11 point fact sheet on select committees and 3 examples to use in the research activity.

Lesson explores whether parliament is an effective check on the executive and looks at examples of executive under strain from factors such as minority governments. PPT and worksheet.

Seven lessons linked to the topic of Parliament. Content covered: MPs + Lords Commons structure Lords structure Legislative process Private member bills Scrutiny Select Committees

Two lessons looking at forms of ministerial responsibility.

A complete lesson with differentiated resources for LAP pupils and for fast finishers on The Holy Trinity. The powerpoint isn't too content heavy as I prefer to discuss content with pupils rather than giving them the answers. If you download this please leave a review as I am a trainee who would welcome any feedback!

Three lessons in a powerpoint format covering Situational and Environmental Crime Prevention: including broken window theory and zero tolerance. See attached also work sheets accompanying the lessons and a question for pupils to answer.

NO LESSON PLAN ATTACHED. A Powerpoint presentation with video link included. The lesson ends with pupils discussing or answering in their books what the Hindu perspective of Veganism would be. Worksheet attached is a summary sheet of what Hindus use cows for. You can use this in an activity however you like, but I have used it for pupils to create mind maps from.

A lesson introducing the themes for the topic of political parties.