Political Pam
AQA Government and Politics and AQA RE Teacher.
83Uploads
13k+Views
7k+Downloads
AQA Government and Politics and AQA RE Teacher.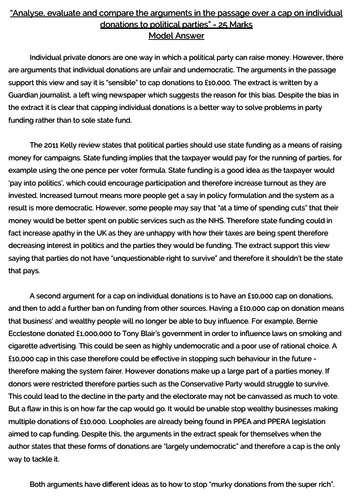 A model answer to the question: Analyse,evaluate and compare the arguments in the passage over a cap on individual donations to political-parties 25-Marks

Seven lessons linked to the topic of Parliament. Content covered: MPs + Lords Commons structure Lords structure Legislative process Private member bills Scrutiny Select Committees

4 Lessons covering: PM, Cabinet, Ministers, Civil Servants, and Responsibility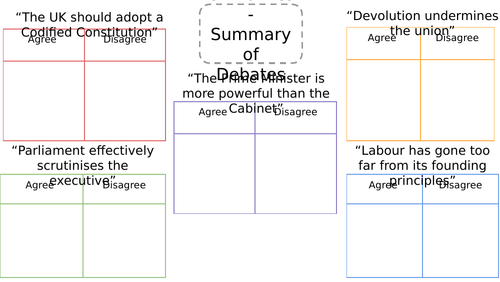 Three A3 debate sheets to help pupils consider balanced arguments for all three papers covering a variety of topics across the papers. For paper 3 our optional Ideologies are: feminism and anarchism - but the document can be easily amended.

Two 25 Mark essays - model answers. The questions are: "The issue for feminists should not be equality, but the recognition of difference." Analyse and evaluate the importance of this statement in reference to key thinkers you have studied- 25 Marks "The personal is political" Analyse and evaluate the importance of this statement in reference to key thinkers you have studied- 25 Marks

Two powerpoints/lessons introducing students to the ideas of moral philosophy and normative ethics in particular. A worksheet also included.

A sheet which has a model 9 mark answer with gaps for students to fill in extra details to complete it. This activity is good for recall and exam technique.

One PPT (two lessons) on the concept of God as eternal or everlasting.

6 lessons covering: Conservative, Labour, Liberal Democrats, Role of Parties, Media and parties

9 Lessons of work on Theme F of AQA GCSE RE. Activities, videos, worksheets and exam questions!

Two lessons worth of work looking at the role of the cabinet and analysing whether the cabinet is submissive to the PM.

A powerpoint presentation containing two lessons worth of material focusing on labelling and pupil identities in relation to ethnicity (Archer and Mirza). Two work sheets to be used alongside are also attached. NO LESSON PLAN ATTACHED.

Paper three revision activity where pupils will consolidate knowledge on key thinkers and their views on: Human Nature, Society, State and Economy. Link to kahoot mentioned: https://play.kahoot.it/#/?quizId=c5459caa-1a19-474b-a017-3f8430153de2

A complete lesson covering the make-up of the executive covering oles of PM and terms such as primus inter pares. Two worksheet activities attached also.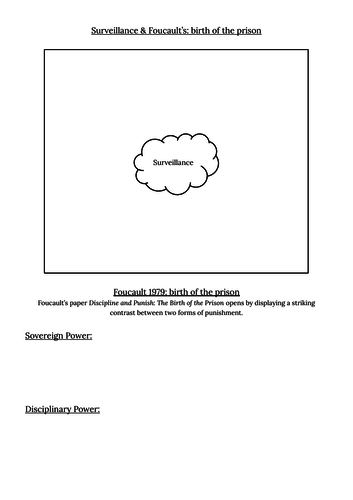 NO LESSON PLAN ATTACHED. Two lessons on the subject of Foucault's birth of the prison, the criticisms and theories since. A work sheet to accompany lesson one.

A lesson about how religion views women and their status. A case study with a video (WHICH I DO NOT OWN THE RIGHTS TO) about Christian Aid week 2019. A look at scripture and some 4 and mark questions.

One lesson and an extended activity (I use this resource for two lessons) discussing the roots of the conservative party and strands of conservatism. Particular focus on David Cameron's conservatism in the extended activity at the end.

A lesson introducing the themes for the topic of political parties.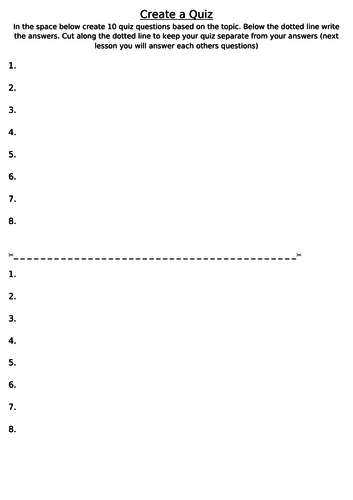 A quick resource for pupils to write their own quizzes and test each other in class. Can be used for all ages. Space for questions and answers.

NO LESSON PLAN ATTACHED. A Powerpoint presentation with video link included. The lesson ends with pupils discussing or answering in their books what the Hindu perspective of Veganism would be. Worksheet attached is a summary sheet of what Hindus use cows for. You can use this in an activity however you like, but I have used it for pupils to create mind maps from.