Science Lessons
Providing KS3 and KS4 Science lessons to all - so you do not need to reinvent the wheel :)
31Uploads
2k+Views
268Downloads
Providing KS3 and KS4 Science lessons to all - so you do not need to reinvent the wheel :)
Full lesson on types of reproduction. Starter and other activities included. You will find the printed version at the end of the slides
Read through your information sheets and use them to help you fill in the table. Information is on Crick and Watson and Franklin and Wilkins
Task: Write down the meaning and description of each hazard symbol Worksheets are differentiated Answers are included
Complete lesson on the differences between sexual and asexual reproduction. Including resources
Starter/Plenary Activity: Turn your name into a gene! Use the table to work out what your name is in different genes.
Presentation of the hazards in the laboratory - including hazard symbols and meaning. Worksheets available on hazard symbols and general safety in a laboratory. Includes: Starter Challenge, stretch and super stretch Extension work Plenary
Starter speed grid - 9 questions Explaining Blood glucose regulation Diabetes Plenary - Exam questions
Full lesson on Principle of hormonal control - including resources
Lesson on identifying and drawing scientific diagrams of different laboratory equipment. Includes: Starter Homework Mini Practical Activity sheets AFL (using mini white boards) Plenary
This Lesson discussing the main concepts of homeostasis, the structure of the nervous system, and the reflex action There is a starter 'speed-grid' with 9 questions based on previous topics learnt
Complete lesson on Gas exchange from Activate 2. Includes a starter activity 'speed grid' of 9 questions with answers and other resources
Full lesson with starter activity and plenary. Resources included in Powerpoint
Complete lesson Drugs from Activate 2 Includes starter, plenary and other resources for classroom activities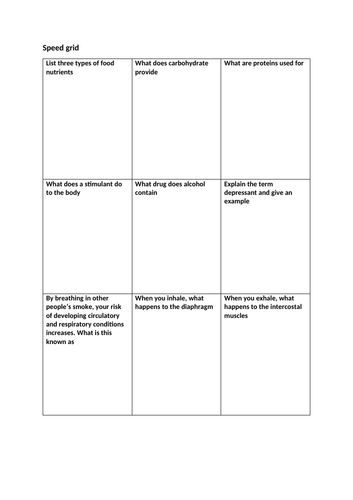 Full lesson with resources on the topic 'Unhealthy Diet' Starter and plenary are included.