233Uploads
62k+Views
7k+Downloads This is a zip file containing Literacy planning for a year 5 class (Autumn term) It consists of 14 short term plans I designed. There is one Literacy lesson per day. You will get 14 Microsoft Word documents. They are based on the Greek myths. I've also included for free some extra teaching materials that you can use. I've included too 3 medium term plans , one for each term). These cover plans and ideas not just for Literacy, but other subjects as well. I've also included an extra week from the next term. Feel free to use it to plug any gaps. This will help you do your own planning. Feel free to cut and paste into your own school's plans. Ideal for someone who had to do a term's supply like I had to do. Please bear in mind: every school is different. My plans assume you have the aide of a TA, but this is not essential. There is no differentiation in the planning. Everyone does the same thing to the best of their ability. you may want to add your own detail. These are short term plans remember. I have used walts and wilts. Your school may do something different. A very few number of weeks have a small gaps for things like tests and inset days. Use the extra week one planning for the next term (included for free) if you wish. Great planning for year 5 for the Spring Term. Jam packed with plans, ideas, powerpoints etc. You get 200 mb of material, so great value. e.g. Persuasive writing, recounts, stories from other cultures, descriptive writing, model writing Plus you get some year 5 Autumn planning I did in one school I taught in. A bundle of worksheets. 200 worksheets on decoding, Plus some great ones on Pythagoras. I have designed 200 worksheets on decoding numbers for the 11+ non verbal reasoning questions. There are 200 worksheets provided on a cd. Decoding is an important aspect of the 11+ exams. Ideal for parents, pupils and tutors. Answer sheets provided. The Decoding worksheet helps to reinforce spelling and problem solving skills for students. The letters of each word are replaced with other letters or numbers based on a pattern.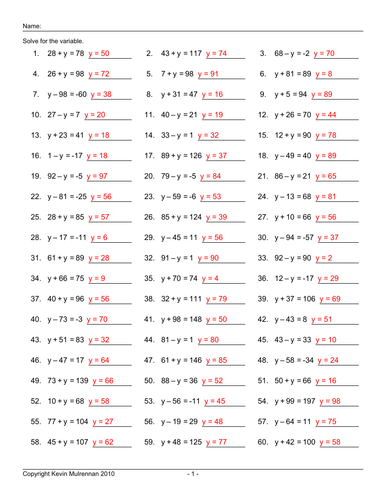 1000 questions with answers on Equations. Single variables. Pupils have to work out what y equals.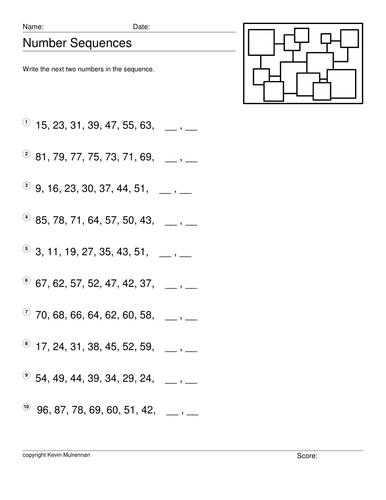 100 worksheets. 100 answer sheets. At least 10 questions per sheet. Pupils have to enter the next two numbers in the sequence. They get harder so that later sheets include decimals and 20 questions per sheet. I'm now retired from teaching after decades in the classroom. I'd like to help the younger generation. One aspect I don't miss in Sundays. Trying to fill in planning grids that were rarely used or looked at. What a nightmare! So I've put together my teaching plans etc from the various schools I was in. It's mainly to do with Kensuke's Kingdom. But there's othet stuff too included for free. There's stuff on Dolphin Boy, Butterfly boy etc. Feel free to adapt for your planning grid. You get 8.7 mb of stuff so that's good value imo. In it are lesson plans, powerpoints, questions etc. Enjoy your Sundays!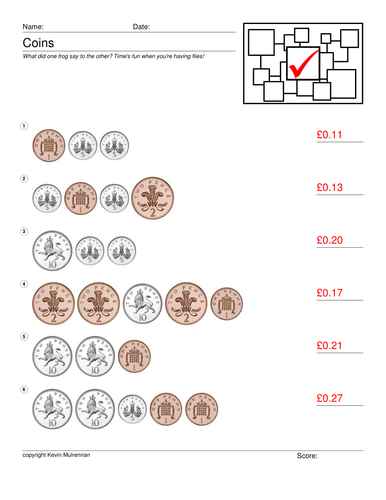 I have designed 100 worksheets on coins for primary school children. I have used a variety of coins, a variety of difficulty and a variety of numbers of questions per sheet. Pupils write on the sheets how much it all adds up to. Answer sheets are provided for all worksheets. This is some great planning for Christmas for Year 5 Literacy. I found the kids loved it. Advantages for you: kids are interested, it's non religious so can be shown to everyone, you can watch the lovely short movie umpteen times so takes the strain off you. It's based on a great little movie, voiced by the late great John Hurt. It will fill up the last two to three weeks nicely. Plus there's non literacy planning for free. Some example planning : To analyse and create a character and setting description for 23 Degrees 5 Minutes North. I can express verbally what a character may be feeling, thinking or doing I can explain why I think a character may feel, think or do something I can describe a setting using figurative language Starter 5 mins Pen portrait of key characters in 23 Degrees 5 Minutes North: Children mind map/annotate information about the key characters that they know so far around an image of The Adventurer and Professor Erit. They add information about the internal feelings, thoughts and emotions within and the external information such as physical description, or known facts Activity 1 5-10 mins Use key questions and discussion in groups to think about answers to questions such as: Why am I here? Will I be able to find Professor Erit? Emphasise the importance of chn giving evidence to support their opinion when they give a response to these questions. Activity 10 mins Return to image of the Adventurer and Professor Erit. Using a different coloured pencil, chn should add information about these characters Main 20 mins Give chn an image of the setting and ask them to mind-map descriptive words, phrases or sentences they could use to describe the narrative setting. Model using the different kinds of sentence-types to record a setting description, using the vocabulary recorder in the mind-map. Chn use sentences to build suspense if they can. Plenary 5 – 10 mins Chn share their comments about the Adventurer and Professor Erit with the class. Chn to explain what they have now learnt about each character - using their skills of inference. Share best sentences to describe setting. Take a moment to add any extra information after the class discussion to their own work, using another coloured pencil. Happily retired, decided to put together my Persuasive writing planning from my various schools. there's a mass of stuff! Save yourself a shedload of time and enjoy your Sundays! Plenty of great powerpoints. From different years but concentrating on years 3 to 6. example planning : Main teaching: Explain that we are now looking at another text under the umbrella of persuasive texts. Explain that we may sometimes need to write a letter to a person or organisation in order to put across our point of view and persuade them to take a course of action or come around to our point of view. Revise what we need to include in a persuasive argument, explain that it is exactly the same in a letter but in a slightly different layout. Read the example of a persuasive letter from page 17 of the L4 study guide. Deconstruct and discuss. Elicit that the opening of the letter needs to be powerful and state the objective of the letter. Talk about the conclusion of the letter and how it also needs to be powerful. Ensure that children understand the structure of a letter (addresses etc). Activity 1 Bring children back together and draw up a list of good opening lines 'I am writing to express my disgust' etc. Explain that, tomorrow, children will be writing their own persuasive letter. Show them the title 'TV adverts should be banned for junk foods' Briefly discuss what is a 'junk food' and brainstorm reasons for not advertising them on TV. Encourages obesity which leads to illnesses such as heart disease and diabetes. Illnesses cost money (treatment on NHS) and days off work. Junk food produces a lot of litter. The packaging cannot be recycled. If children have a bad diet their performance at school is affected. This adversely affects their education and future prospects.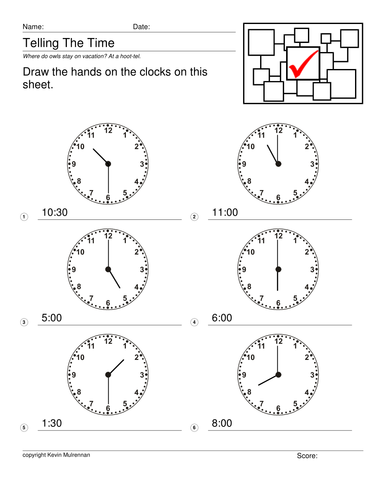 98 worksheets plus answers on telling the time. Pupils have to draw the time on the clock faces. Plenty of variety on the sheets. e.g. time on the hour, half hour, quarter hour, plus some five minute ones.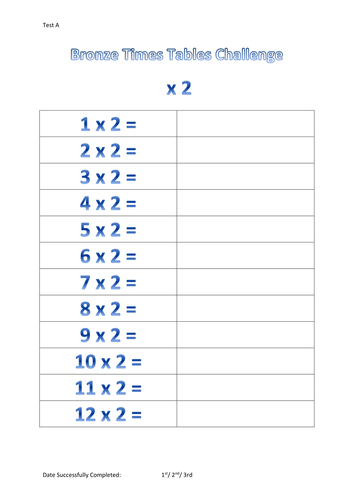 Worksheets to help times tables. The 2, 3, 4, 5 and 6, 7, 8, 9, 10, 11 and 12 times tables are tested. 3 sheets for each one. These are test A. Tests B and C are also available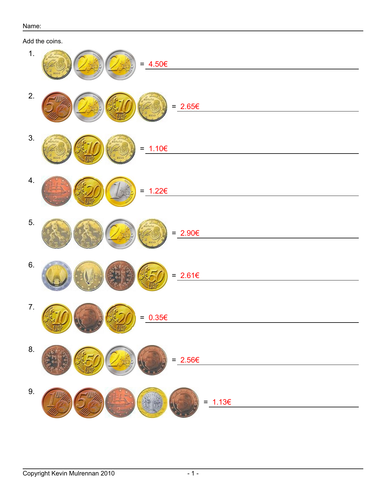 500 questions on counting up Euro coins. 5 worksheets with 100 questions each. There are little pictures of the coins and the pupils have to add them up and write the answers on the sheet.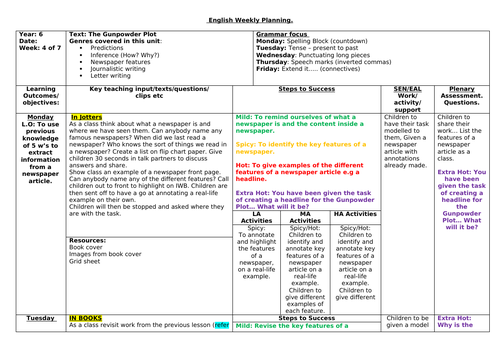 Some great year 6 short term Literacy planning. Covers the Gunpowder Plot. Brucie Bonus: some free Maths planning I've combined all my planning from the schools I taught in. I was in a few schools in the U.K., quite a few of them Catholic. There is a massive amount of planning for you to sift through. Years range all the way through from 4 year olds to 11 year olds. There's some great powerpoints, lesson plans, sheets, even a play or two. You'll have to sift through them as I am enjoying my retirement too much to do that! You get over 250 mb of stuff (300 plus files)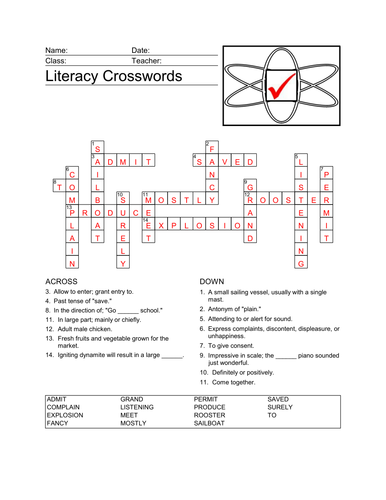 I have designed 100 worksheets on Literacy crosswords for primary school children. I have used common English words. Ideal for 11+ preparation. Ideal for Literacy. Ideal for people learning English. Answer sheets are provided for all worksheets. Great value bundle. Great preparation for the grammar school exams. Ideal for parents or tutors. All answers provided. You'll never run out of material with this great bundle! Included: 11+ Grammar School Antonym Questions Literacy Worksheets 11+ Grammar School Synonym Questions Literacy 100 Worksheets with Answers 11+ Verbal Reasoning Decoding Vol 1 Maths KS2 11+ Verbal Reasoning Decoding Vol 2 Maths KS2 11+ Verbal Reasoning Questions Letter Patterns Vol 1 11+ Verbal Reasoning Questions Letter Patterns Vol 2 A bundle. 1000 questions Equations Single Variable Mathematics KS2 Algebra 100 Questions on Pythagoras Answers Provided Half a million (500000) Fractions Questions Worksheets KS2 Mathematics Maths A freebie. A nice powerpoint on the religious aspect of Christmas. I'm hoping to interest you in buying my series of Christmas lesson on R.E.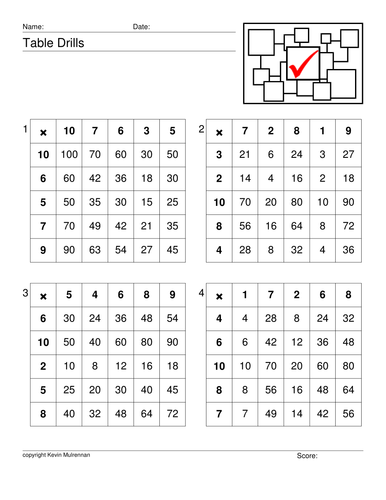 If you like this resource more available in my shop. Fill in the gaps to get the correct multiplication answer.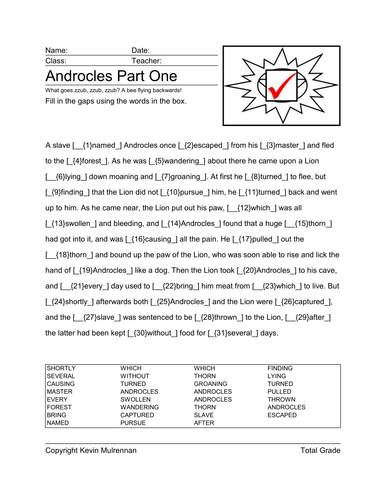 A cloze test on an Aesop fable. If you like this one I have a collection in my shop.