Bambeefly's Shop
I am teacher of German, French and Italian in a secondary school in Somerset.
19Uploads
4k+Views
450Downloads
I am teacher of German, French and Italian in a secondary school in Somerset.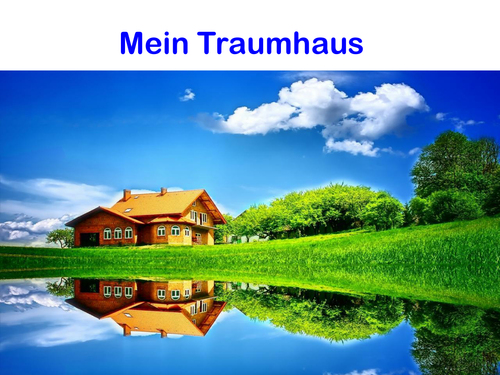 PPT to model how to talk about your dream house. Focus on conditional tense and connectives, as well as opinions. Ideal for Year 10/11 class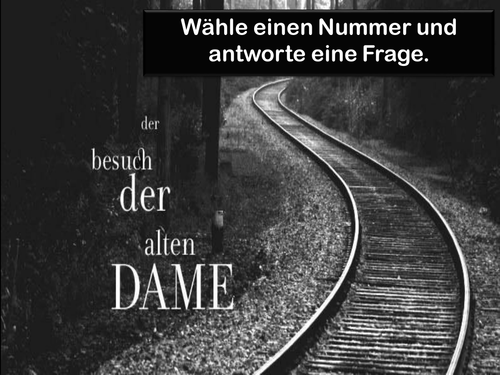 Game to revise for speaking. Choose a number and answer a question (10)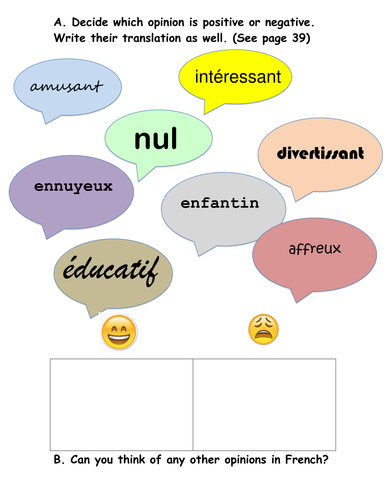 Starter on the topic tv programmes, to revise opinions and plural of adjectives as well as introduce tv programmes in French. It goes with Allez 2, unit 2.1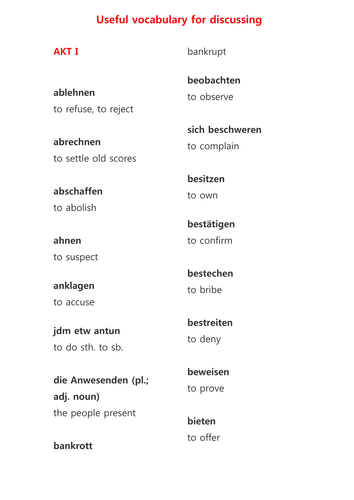 Key vocab list from the play Der Besuch der alten Dame, Dürrenmatt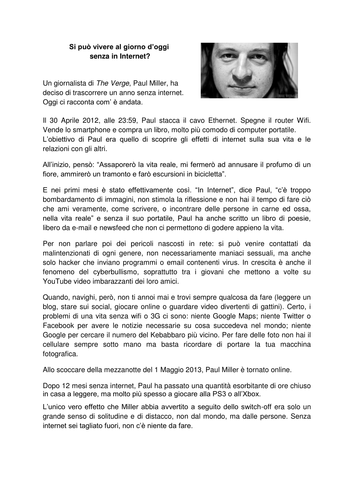 A reading I wrote adapting an article I found in Internet to discuss pros and cons of Internet, followed by questions in English and Italian. For AS Italian.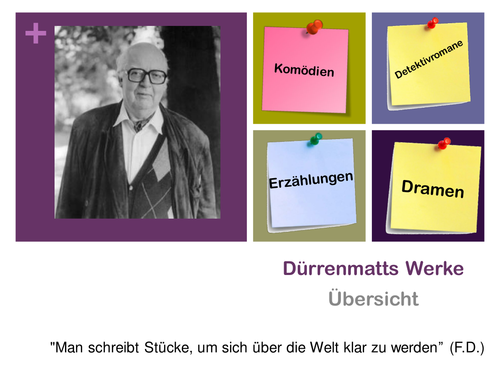 A presentation of Dürrenmatt's play, with a summary of the plot and some ideas for evaluation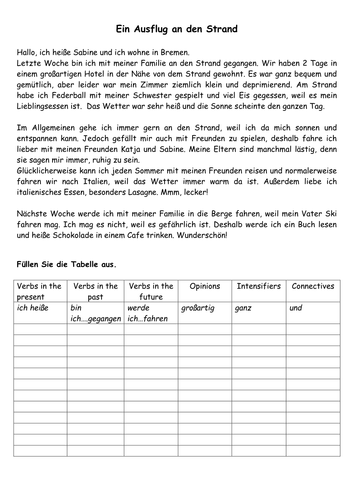 Reading and writing activities meant to help Year 10 class practise reading and writing for their IGCSE. All instructions are in German and exercise are in the style of the exam. Activity 1: find in the text the verbs in the given tense and fill the grid. Activity 2: cross the right box (reading comprehension exercise with multiple choice) Activity 3: answer questions related to the text (in German) Activity 4: write a paragraph (4 bullet points. 130/140 words)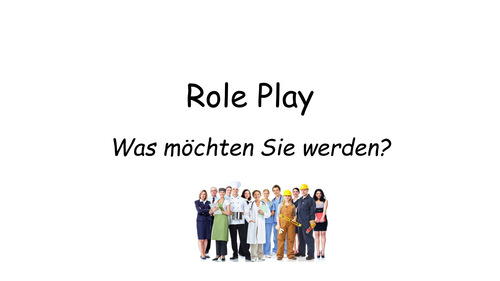 Role play (with teacher's script) to help pupils in Year 10/11 prepare for the role play speaking exam (especially with IGCSE).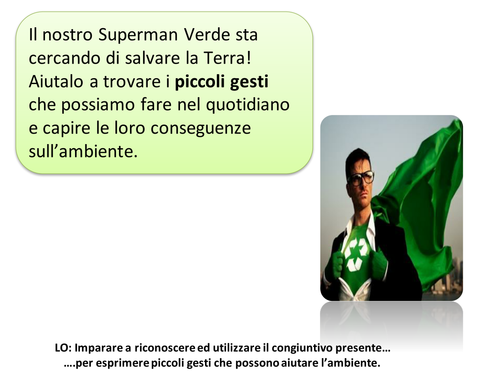 Lesson for my Y12 AS class to revise the present subjunctive practising the topic environment. Credit to emle_86 as I have updated her French resource into Italian. Activities for students are in the powerpoint. I have introduced grammar table and explanation.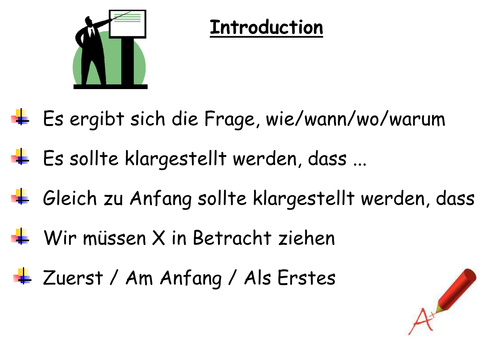 A resource that can be shared among students or you can make posters or table mats and use them in classroom during speaking or writing tasks. It is meant to support students to tackle their card in their speaking exam, as well as introduce points in their essay.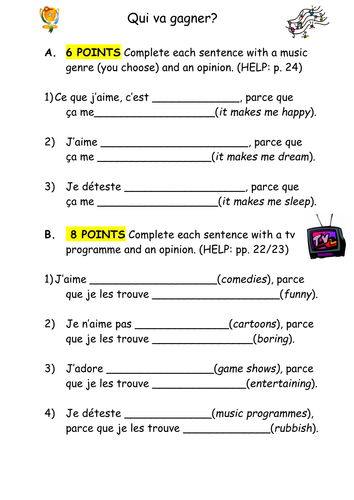 3 exercises to revise the topic media (Allez 2, unit 2): 1 : complete sentences adding your choice of music genre and the given opinion. 2: complete sentences adding the given tv programme and opinion. 3: complete parallel translation. To help weaker students, I have added the pages of the textbook related to that topic. To use it as a game, I have added points (1 for each correct word).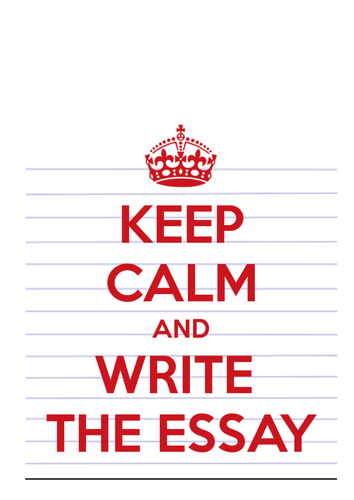 Booklet meant to support A Level students to write their essay on their cultural topic (focus on a play). Useful language structures, AQA specs, checklist and grammar revision of key points, as well as a verb list of irregular verbs.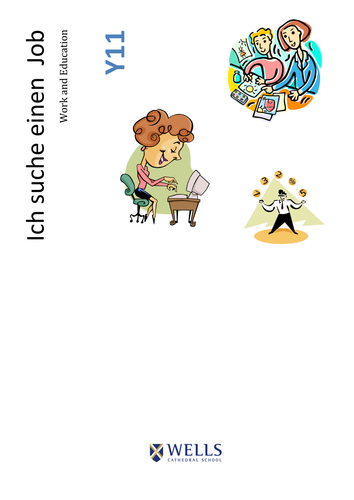 Revision booklet with different activities to revise/ consolidate vocabulary and language structures on the topic Arbeit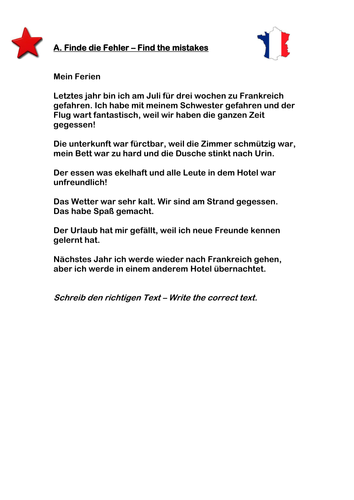 2 differentiated activities for my Year 10 class in order to improve accuracy and encourage the use of connectives. For weaker students, same exercise but multiple choice. 1. Finde die Fehler im Text 2. Verbessere die Geschichte (add connectives)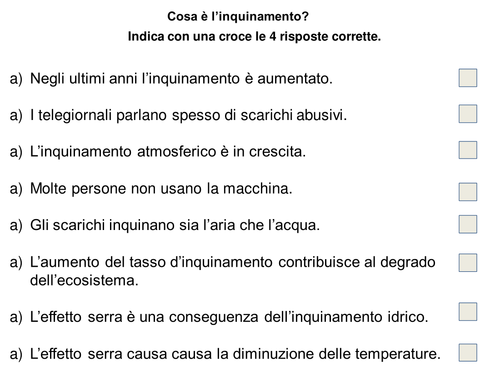 Listening task exam style (Edexcel AS), with transcript. The link to the listening is in the file.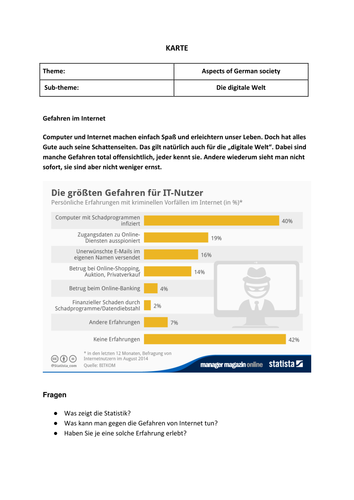 Speaking card prepared to talk about this topic (with a graphic and questions)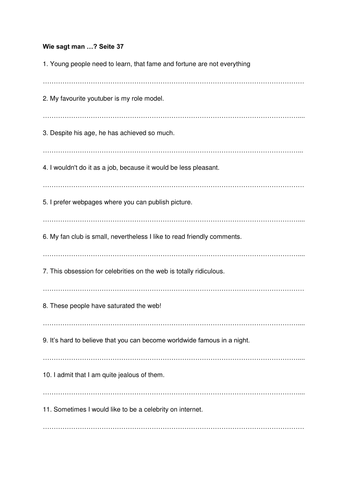 Reading exercise to help understand the text p. 37 on the new AQA A-Level German textbook. Wie sagt man...?Find the translation of these sentences in the text.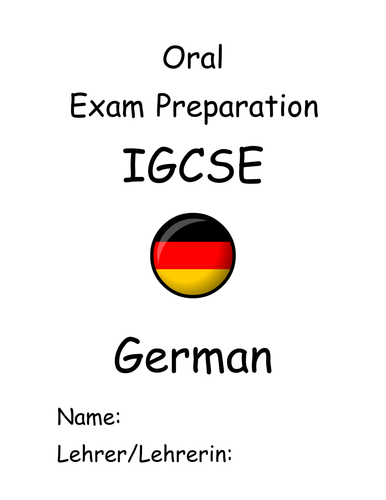 Booklet to explain the IGCSE CIE exam, some examples of role play cards and a bank of questions per each topic in German. Useful both for students and teachers.