A series of extension tasks for A Christmas Carol, Romeo and Juliet, and Blood Brothers. I have laminated them and put them in a postcard holder on the wall of my classroom. Middle- High Ability KS4.
Reading log for KS2, KS3, KS4 which includes a book tracker, entry log, and termly book review section.
A middle-high ability lesson analysing Juliet's conversation with the Nurse after she finds out about Romeo's banishment. Contains a bell-time activity, a number of tasks, a scaffolded extended writing task, and a broken down DIRT checklist based on the AOs (with ideas on how to improve after peer-assessment). A fantastic extract full of rich imagery and whole-play links to refer to in the first slide.
Two resources guiding pupils through how to answer Q4. I glued the extract onto large sugar paper and had them write their reasons for/against on either side of it. Use the Gatsby one first, then the Dracula extract as a form of assessment.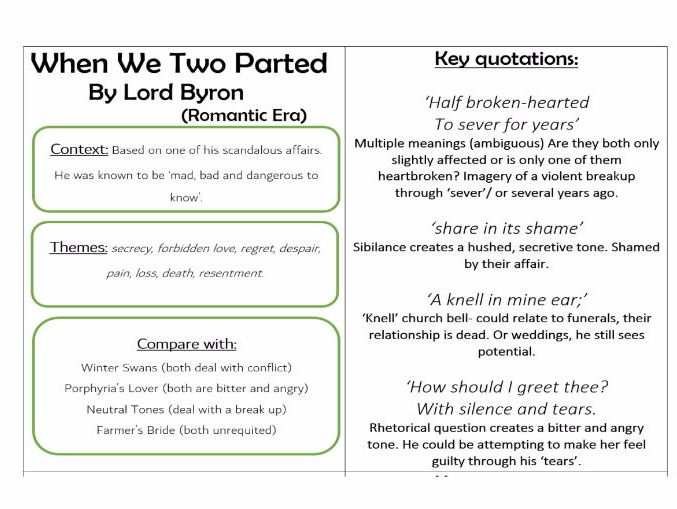 Each poem has been condensed to A5 with four key quotations, context, theme and comparative links. I recommend you print the first 8 (romantic love) on one colour card and the subsequent 7 (family love) on a different colour. Used with our whole year 11 cohort and they found them extremely useful! Low to middle ability although high ability also find them useful.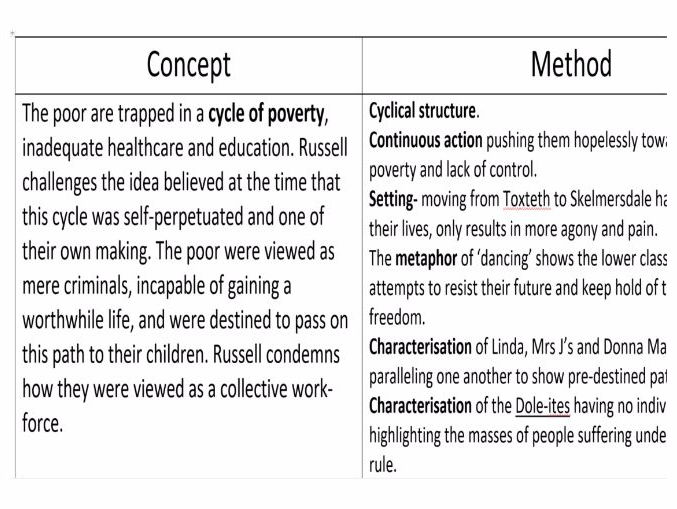 A resource detailing a number of concepts and high-ability band 6 ideas linking them with methods and quotations. Distinct lack of resources online, so spent a long time creating this. Could turn into an activity where pupils have to complete the quotation column. This is a useful resource as it allows pupils to either provide 'textual references' or 'quotations' for AO1. (spread out the information as it was all visible on preview)
Two lessons covering an Introduction to Traditional Tragedy. Contains lots of information covering a range of aspects of tragedy along with subject terminology.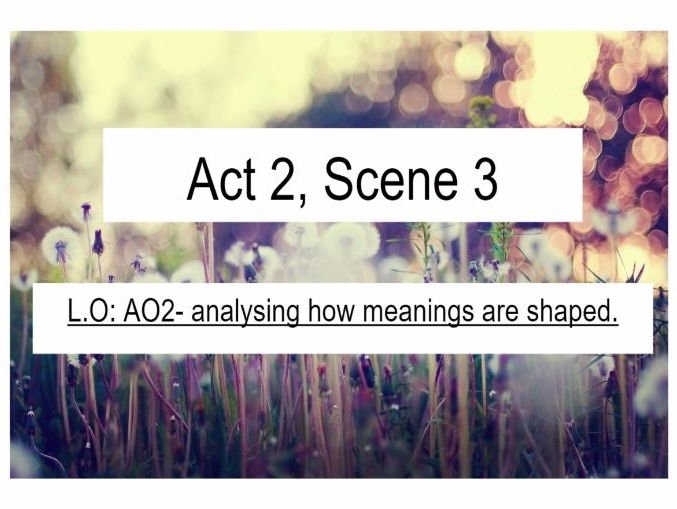 AQA A-Level Lit Spec B A lesson comparing the language used by Cassio and Iago with a focus on AO2.
Two narrative writing resources which include: an image for building a vocabulary bank (glue in the middle of an A3/A2 sheet and carousel); a resource covering language features with a column for practice, and a paragraph by paragraph writing frame including key words. Can span over a number of lessons and works with a wide range of abilities.
Engaging started challenging pupils to closely analyse a quotation linking it to AO1, AO2, AO4 and AO5. The rest of the lesson involves a carousel activity where you will need to write the motifs mentioned in the table onto big paper and place on tables around the room. Pupils then find quotations from the play and analyse them in their groups. AQA A-Level Lit B Aspects of Tragedy
A comprehensive lesson plan focusing on AO4, with an engaging starter and a plenary aimed at memorising key quotations and linking them to a tragic aspects star adapted from an AQA training course. AQA A-Level Literature B Aspects of Tragedy
Two lessons covering the analysis of Act 2, Scene 1; the latter encouraging pupils to use integrated terminology. Model answer included along with a breakdown of Aristotle's tragic hero conventions. AQA A-Level Lit B All the work needed is the photocopying of the text for annotation.
A very comprehensive lesson covering the downfall of Othello. Full of activities and high level notes and information. AQA A-Level Spec B
A selection of activities exploring the Peripeteia in Act 3 Scene 3. Addresses all Assessment Objectives and can span over the course of two lessons.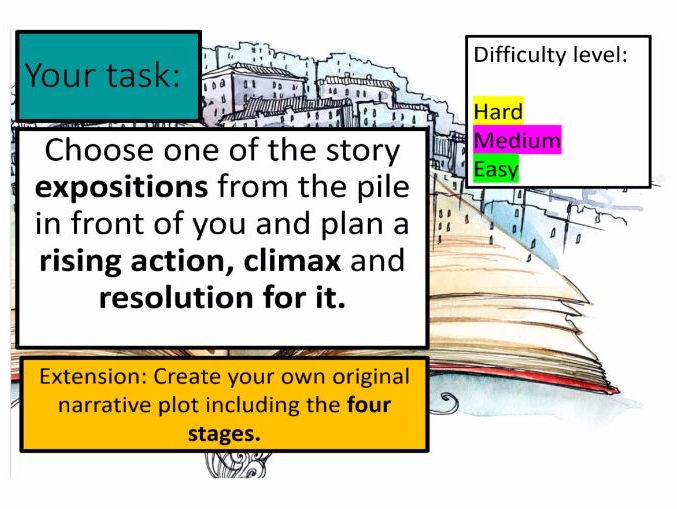 Two lessons covering narrative structure and teaching pupils how to write a Rising Action. Includes activities and 500 words stories as complete examples of the narrative structure. Video links included to engage pupils. Definitely suited to KS3, although would be suitable to low ability KS4. Designed for AQA Language Paper 1 Q5.
Lesson covering AO5 of the A-Level Spec B mark scheme- developing debating skills exploring Willy Loman's role as a tragic hero and audience response.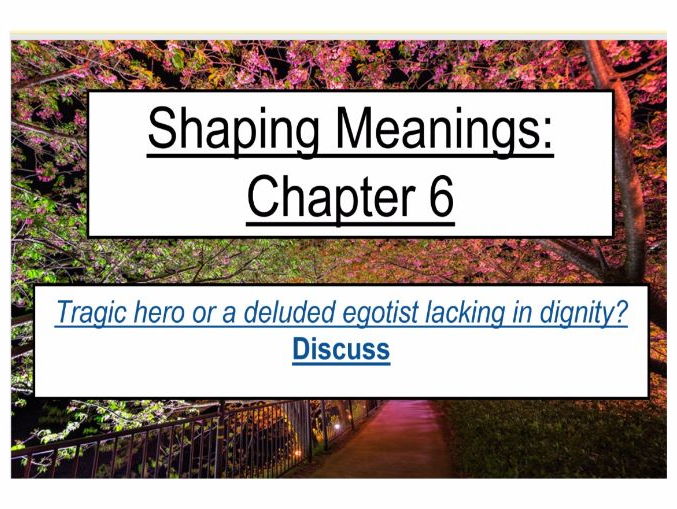 Lesson focusing on Gatsby having a 'Platonic conception of himself' (AO4) and analysing methods (AO2) in two extracts (before and after he met Daisy). Brilliant extracts which allow for a lot of discussion- could be stretched over two lessons.
Two lessons exploring Millerian tragedy and linking it to the opening scene of Death of a Salesman. You will just need to photocopy/have access to the opening scene. A-Level English Literature Spec B.
A middle-high ability lesson analysing the dagger scene- includes a close analysis activity and a great scaffolded activity where the pupils improve a WABOLL (What a Bad One Looks Like).
A great quiz which requires no editing or additional work. I spent a lot of time on this and my year 11s loved it as a recap activity. There are three activities included. May need buzzers for the 'buzzer round'- or just improvise!
A content heavy lesson outlining the main features of a tragedy along with dramatic structure of the play. Accompanied by an activity with a plot summary to help pupils.